22+ Spring Dinner Ideas that are Weeknight Winners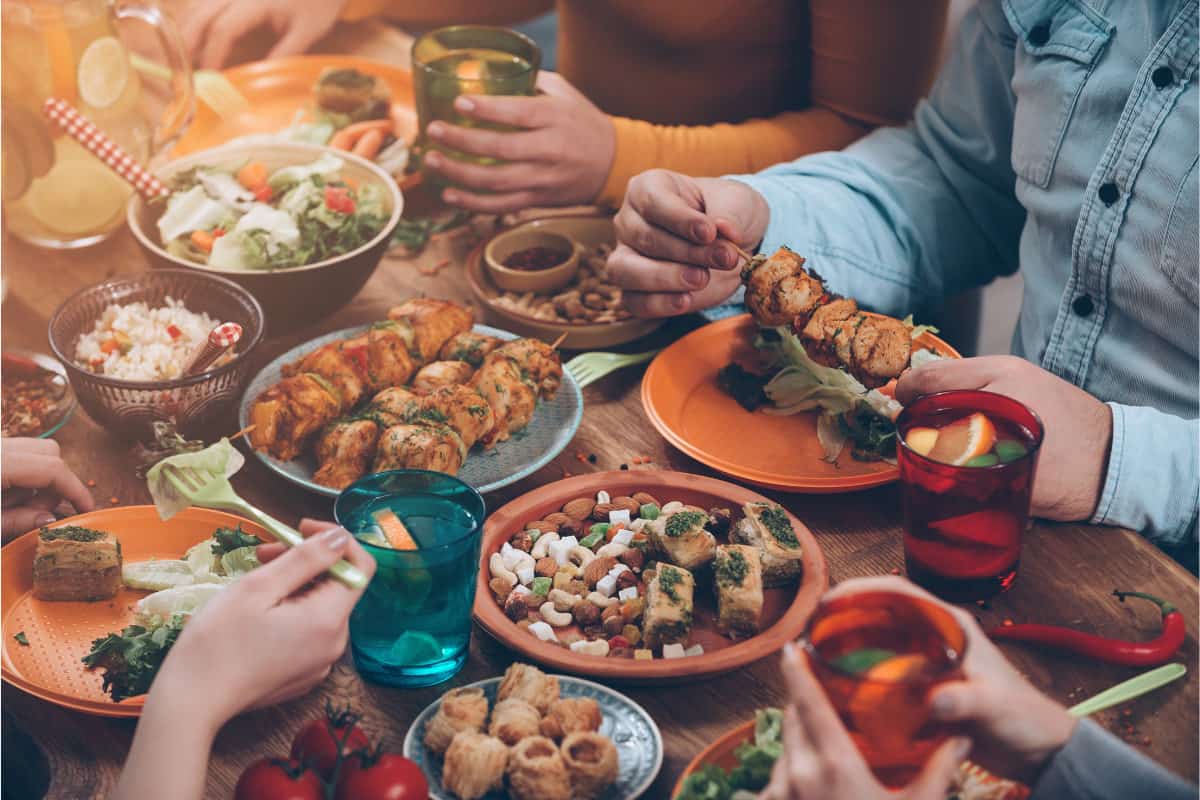 Spring is in the air, my friends! The birds are chirping, the flowers are blooming, and the allergies are, well, something…aren't they? Ah, the joys of the season! But let's focus on the good stuff, like spring dinner ideas, shall we?
Spring means it's time to trade in our heavy winter comfort foods for lighter, fresher fare. Whether you're entertaining guests or just looking to spice up your weeknight meals, here are some bright and delicious spring dinner ideas that will have your taste buds singing! So put away those crockpots and casseroles and embrace the flavors of spring!
Tips for the Best Spring Dinner Ideas
If you're not sure where to start, we've got you covered.
1. Think Light
If you're anything like me, you spend the winter eating bread, pasta, and just about every carb imaginable. And there's nothing wrong with that. But alas, all good things must come to an end. For me, it's not about fitting into that swimsuit for the summer as much as getting into better habits. Lighter foods, especially in more frequent intervals, make me feel better and more energized. Try eating a bigger breakfast and a smaller dinner, too! It's better for your metabolism!
2. Think Fresh
One of the toughest parts of winter is relying heavily on processed foods. These are frozen or boxed products that have lots of additives and preservatives and are packaged to maintain their "freshness." Unfortunately, foods like these often contain high amounts of calories, fat, salt, and added sugar. You know–boxed mac-n-cheese, packaged cookies, anything that's designed to keep for a while in your pantry.
Instead, opt for meals packed with produce. It may take a bit more organizing and preparation and perhaps more frequent trips to the grocery store or market, but it'll be worth it to taste fresher, more nutritious foods. Those flavorful ingredients will make all the difference.
3. Think Seasonal
After the short days of winter, there's hope in the promise of spring with fresh produce. Sure, you can buy most produce year-round. But you'll get the freshest, tastiest, and most nutrient-dense produce from your local farmer's markets. You may even actually end up saving money by following the natural harvesting schedule of your local produce. Why stop there? You can also find a local butcher for fresh poultry and meat from local farmers.
Our Favorite Spring Dinner Ideas
These recipes are family favorites when the weather gets warmer, so we had to share.
Baked Lemon Chicken and Asparagus
Preheat oven to 400 F. Place 1 lb of baby red potatoes (cut into 1-inch pieces) in the center of a pan and top with 1 tablespoon olive oil, 1 tablespoon rosemary, 1/2 teaspoon kosher salt, and 1/4 teaspoon black pepper. Toss to coat, then spread into an even layer. Place in the oven and roast for 20 minutes.
Place 2 lbs of trimmed, chopped, fresh asparagus and 1-1/2 pounds boneless skinless chicken breasts or thighs (cut into 1-inch pieces) into a bowl and add 1 tsp of garlic powder. Toss it all together with 2 tbsp olive oil, 1 tsp garlic powder, the juice from 1 lemon, lemon zest, 1 tablespoon rosemary, 1/2 teaspoon kosher salt, and 1/4 teaspoon black pepper. Toss to coat, then transfer to the baking pan with the potatoes.
Return the pan to the oven and bake an additional 15-20 minutes, until the chicken is cooked through, stirring once or twice throughout. The asparagus may release some liquid, which you can carefully pour off the pan. Enjoy!
Ranch Turkey Burgers
In a large bowl, mix together 1 lb of ground turkey, 1/4 cup of breadcrumbs, 1/4 cup of ranch dressing, 1/4 cup of parmesan cheese, 1/4 cup of fresh parsley, salt, and black pepper until well combined. Divide the mixture into 4 equal portions and shape each portion into a patty. Preheat a grill or grill pan to medium-high heat. Place the turkey burgers on the grill and cook for 5-6 minutes per side or until cooked through and no longer pink in the center. Assemble the burgers on the buns with your favorite toppings and serve immediately.
Chicken Caprese Pasta
Cook 12 oz of penne pasta according to package instructions until al dente. Drain and set aside. Remove all the meat from the rotisserie chicken and set aside. Heat a skillet to medium-high, then add 3 Tbsp of olive oil. Add 2 cups of halved cherry tomatoes and 4 minced garlic cloves. Cook for 2-3 minutes, until the tomatoes start to soften. Add 1/4 cup of balsamic vinegar to the skillet and stir to combine. Cook for 2-3 minutes, until the mixture has thickened slightly.
Add the cooked pasta to the skillet and toss to coat with the tomato and balsamic mixture. Add the chicken to the skillet, along with 8 oz of cubed, fresh mozzarella and 1/4 cup of chopped basil. Toss to combine. Serve hot with some crusty bread!
Lemon Garlic Shrimp Linguine
Ingredients
1

lb

linguine pasta

1

lb

raw shrimp

peeled and de-veined

4

cloves

garlic

minced

2

tbsp

extra virgin olive oil

1/4

cup

fresh lemon juice

1/4

cup

unsalted butter

salt and pepper

to taste

chopped fresh parsley

for garnish
Instructions
Cook the linguine pasta according to package instructions. Drain and set aside.

In a large skillet, heat the olive oil over medium-high heat.

Add the minced garlic and sauté for 1-2 minutes, or until fragrant.

Add the shrimp to the skillet and cook until pink and cooked through, about 3-4 minutes.

Add the lemon juice and butter to the skillet and stir until the butter has melted and the sauce is well combined.

Season with salt and pepper to taste.

Add the cooked linguine to the skillet and toss with the shrimp and sauce.

Serve hot, garnished with chopped parsley.
Nutrition
Serving:
1
g
Calories:
560
kcal
Carbohydrates:
59
g
Protein:
30
g
Fat:
18
g
Saturated Fat:
7
g
Cholesterol:
200
mg
Sodium:
400
mg
Fiber:
3
g
Sugar:
3
g
Calcium:
75
mg
Iron:
3
mg
Quick and Easy Spring Dinner Ideas
Use these quick spring dinner ideas to get inspired for your next menu on busy weeknights!
Spring Dinner Ideas with Chicken
Chicken Caesar Salad Wraps: Toss cooked chicken strips with romaine lettuce, croutons, parmesan cheese, and Caesar dressing. Wrap in a tortilla for a quick and easy spring dinner.
BBQ Grilled Chicken and Pineapple Kabobs: Cut boneless chicken, fresh pineapple, peppers, and onions into bite-sized pieces and thread them onto skewers. Brush with a mixture of barbecue sauce, pineapple juice, and soy sauce. Grill or bake until cooked through. Serve with rice and a side salad.
Chicken and Vegetable Stir Fry: Slice chicken breasts and cook in a skillet with garlic and ginger. Add sliced veggies like carrots, broccoli, sugar snap peas, and bell peppers, and cook until tender. Serve over rice or noodles.
Spring Dinner Ideas with Beef
Grilled Steak with Chimichurri Sauce: Season flank steak with salt and pepper and grill to the desired doneness. Serve with a homemade chimichurri sauce made with fresh herbs, garlic, and olive oil.
Beef and Broccoli Stir Fry: Sauté sliced beef with garlic and ginger, then add broccoli florets and cook until tender. Toss with a homemade sauce made with soy sauce, brown sugar, and sesame oil. Serve over rice.
Beef Fajitas: Sauté sliced beef with sliced bell peppers and onions. Serve with tortillas, salsa, guacamole, and sour cream.
Thai Beef Salad: Cook beef sirloin in a skillet with garlic and ginger. Serve on a bed of mixed greens with shredded carrots, sliced cucumbers, and a homemade dressing made with lime juice, soy sauce, and honey.
Vegetarian Spring Dinner Ideas
Spring Vegetable Risotto: Cook arborio rice with vegetable broth, white wine, garlic, and onion. Add in chopped asparagus, zucchini, yellow squash, and peas during the last 5 minutes of cooking. Stir in grated parmesan cheese and serve.
Veggie Pizza: Spread pizza dough with marinara sauce and top with chopped veggies like bell peppers, mushrooms, and onions. Sprinkle with shredded mozzarella cheese and bake until the crust is crispy and the cheese is melted.
Pasta Primavera: Cook pasta according to package instructions and toss it with sautéed veggies like zucchini, cherry tomatoes, and broccoli. Mix in grated parmesan cheese and a drizzle of olive oil. Serve with garlic bread.
Pesto Pasta with Peas and Cherry Tomatoes: Cook pasta according to package instructions. Drain and toss with pesto sauce, peas, and halved cherry tomatoes. Top with grated parmesan cheese.
Spring Vegetable Stir Fry: Stir fry sliced spring vegetables like sugar snap peas, mushrooms, and baby bok choy in a mixture of soy sauce, honey, sesame oil, cornstarch, ginger, garlic, and red pepper flakes. Serve over rice or noodles.
Grilled Veggie Tacos: Grill sliced spring veggies like portobello mushrooms, bell peppers, and zucchini. Serve in tortillas with black beans, avocado, and salsa. Taco Tuesday just leveled up!
Spring Dinner Ideas with Fish
Teriyaki Salmon and Broccoli Stir-Fry: Cut salmon into bite-sized pieces and stir-fry with teriyaki sauce, broccoli florets, and sliced onions. Serve over rice or noodles and top with sesame seeds.
Tacos with Mango Salsa: Cook white fish with taco seasoning. Serve in taco shells with shredded cabbage, cheese, and homemade mango salsa (diced mango, red onion, lime juice, and cilantro). Top with a creamy sriracha sauce.
Lemon Garlic Shrimp Linguine: Sauté shrimp with garlic, lemon juice, and butter. Toss with cooked linguine, chopped parsley, and grated parmesan cheese.
Are You Ready to Take Your Spring Dinners to the Next Level?
So there you have it, folks! With these spring dinner ideas, you'll be cooking up a storm. Whether you're a seasoned chef or a kitchen novice, there's no better time to experiment with fresh ingredients and flavors. And if all else fails, just remember: pizza delivery is always just a phone call away. Happy spring!