12+ Winter Crafts to Keep Your Kids Busy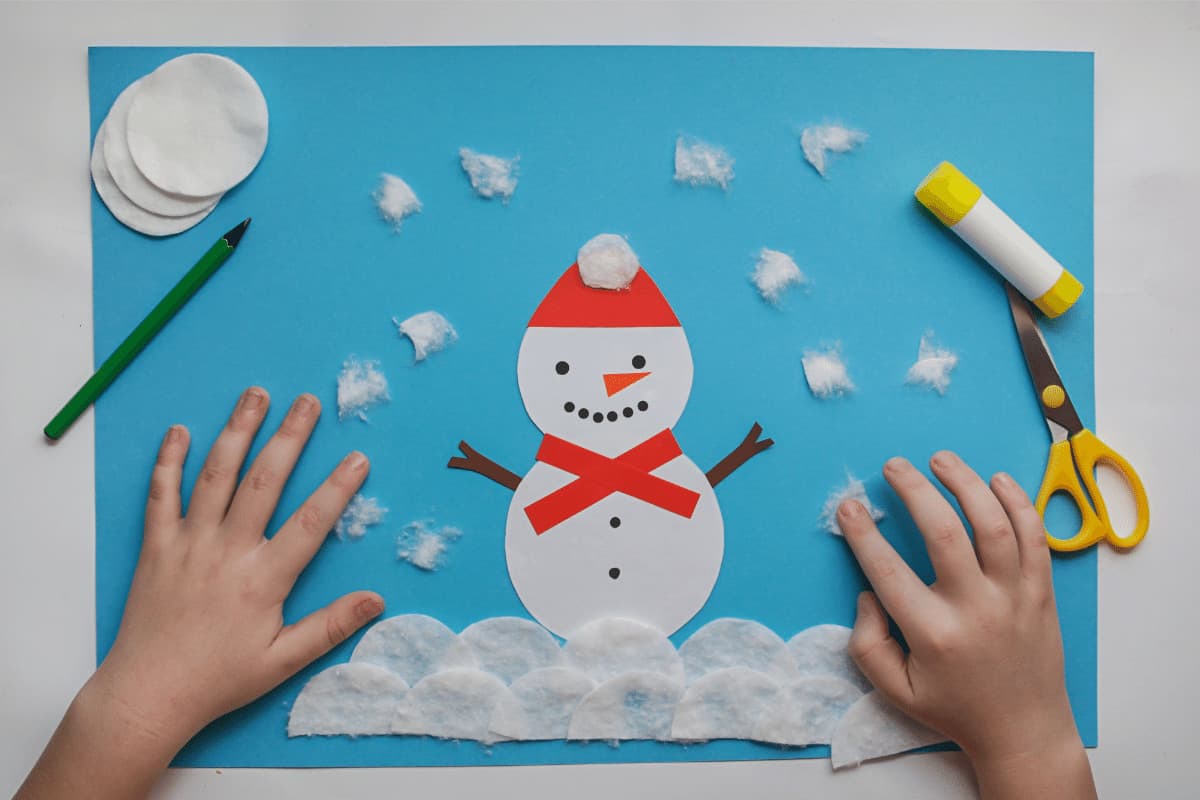 Winter is so much more than just the "holiday season." January, February, and March are some of the coldest winter months. And while it's fun to cuddle up and watch a movie every once in a while, kids can benefit from using their extra time indoors for a fun winter craft.
It sparks their creativity, engages their fine motor skills, and keeps them off electronic devices! Check out some of our ideas for favorite winter crafts to keep everyone busy.
Paper Plate Winter Crafts For Kids
Plain white paper plates are one of the most versatile craft materials out there– readily available, cheap, and easy to manipulate. Here are some of the ways you can use up all those leftover plates from the Christmas party with fun winter crafts!
Polar Bear Masks
Polar bears live in the artic, so they're used to pretty cold temperatures. That's why a polar bear craft is a perfect solution to combat indoor boredom in the winter! Start by taking a white paper plate and cutting out eye holes (you may want to measure the distance between your child's eyes first). If you'd prefer to make a polar bear craft (not a mask), skip cutting out eye holes and use googly eyes instead. Then, glue two white semi-circles on top for ears. For the snout, attach a clean, round, white, upside-down yogurt cup (Chobani or Oikos works well).
On top of that, glue a large, black pom-pom for the nose. Now, have your child tear up and crumple pieces of white tissue paper and glue them to the face for fur. Cotton balls work well, too! You can also attach a popsicle stick to the bottom as a handle to complete your mask!
Paper Plate Penguins
Like polar bears, penguins brave the below-freezing temperatures of Antarctica. They're incredibly interesting animals! They carry their eggs on their feet and migrate thousands of miles every year. Before starting this craft, do a mini-research project on penguins, or even watch a nature documentary about them!
For the craft, fold down the left and right sides of the paper plate to make the penguin's "wings." Fold down the top for the head. Paint the folded in/down portions of the plate black and allow to dry. For the beak, add an upside-down orange triangle at the bottom of the head. Above that, glue the eyes. On the very bottom of the plate's white portion, glue on two orange feet, and voila–a penguin!
Paper Plate Snowman
Snowmen are the essence of winter because making them is one of the classic snow day activities! Use one small and one large paper plate to make a stacked snowman! The kiddos will love adding features like buttons, a scarf, a hat, a mouth, a nose, and eyes. You could even go outside and look for small twigs for arms! Pipe cleaners are a little bit easier to attach, though.
If you don't have paper plates, don't panic. You can still make a fun paper snowman craft! Sarah at @asunnydayinfirstgrade had her kiddos make this fun snowman craft with things they had! She started by drawing a snowman outline, then her kiddos did the rest– cotton balls for the snow, buttons, googly eyes, a ribbon bowtie, raisins for a mouth, twigs for arms, and an orange triangle nose.
Winter Crafts for Preschoolers
Preschoolers are definitely full of energy. These fun winter crafts will keep them from going stir crazy if it's too cold outside to wear them out with exercise.
Popsicle Snowflakes
It doesn't get much simpler than this. And if your craft closet is anything like mine, popsicle sticks are always on hand. And, the possibilities are endless! Once you've glued the 3 popsicle sticks together at the center, let your child decorate with any extras you have on hand. That means glitter, pom poms, buttons, rhinestones, stickers, paint, markers, anything they'd like!
Snow Slime
Slime hit the big scene in 2016 and never stopped gaining momentum. Remember all the YouTube tutorials? "Snow slime" is one way to keep your kiddos occupied on those slow, winter days. It's so popular, there are even plenty of variations of "snow slime," including "fluffy snow slime," "glittery snowflake slime," and rubbery "flubber snow slime." Here's my favorite recipe:
Winter Wonderland Slime
A slime recipe to keep everyone entertained on the coldest days
Equipment
1 air tight container

for storage later
Materials
1/2

cup

Elmer's washable school glue

1/2

cup

water

1/2

cup

warm water + 1/4-1/2 tsp borax powder

3-4

drops

blue food coloring

glitter
Instructions
Mix all the ingredients together well, manipulating it with your hands.

Add any winter wonderland additions like fake snow, glitter, or small, round beads.
Ice Fishing
This is more of a science experiment than a "craft," but with ice cubes, a glass of water, salt, and string or twine, you can learn about how salt physically changes the properties and temperature of ice. With frosty roads and slippery sidewalks, this science experiment can be helpful in understanding how ice can freeze, melt, then re-freeze if the surrounding temperatures change.
Salt causes a physical change by altering the properties and temperature of the ice cube. However, if the surrounding temperature is still freezing, the ice will re-freeze (reversible change) and freeze the string along with it. Now you have ice fishing!
Toilet Paper Roll Snowmen
Empty toilet paper rolls have so many uses when it comes to crafts! Be sure to save them! We love this idea for toilet paper roll snowmen. If you have enough, your child can make and decorate a whole family of snowmen and snow women! Cut the roll in half to make little snow children! Have your child paint the rolls white, then add features like pipe cleaner scarves, buttons, noses, and eyes!
Paper Snow Globe
Snow globes capture a wintery wonderland of the season–even if it's not cold outside! Have your child assemble their "snowglobe" on paper. Older children can cut the shapes out themselves (a circle and pedestal), but younger kids can stick to just assembly with a glue stick. While you can always do the classic fir tree in the snowglobe, you can also encourage your child to create their own winter scene–whether that's your own house in a fresh blanket of snow, New York City, or an entire winter wonderland village!
Watercolor Doily Snowflakes
While doilies were a staple item for grandmas everywhere, they also make an excellent craft material. Fold your doily in half once, then again. Cut out your designs on the seams/corners. When you unfold, it will be a beautiful snowflake! If you're in need of some vibrant colors to brighten up your gloomy winter day, then have your child use watercolors on the snowflake before or after they dry, then hang them up on a string!
Paper Cup Luminaries
This craft is like a winter version of a jack-o-lantern! Punch holes in paper cups, then place them upside-down on top of battery-operated candles If your child is a bit older, they may want to craft a more intricate design. Use scissors or a box cutter to cut out the design (you may want an adult to do this part). Be sure to test out your new craft in a dark room, or set it up as a night light!
Cardinal Handprints
Bright red cardinals against the white snow capture and beauty that we can find in winter, even on the gloomiest days. Use red paint to make your child's handprint into a cardinal, then draw some features on the bird (legs, eyes, crest, beak, etc.). You can also draw a winter wonderland around them!
Winter Crafts For Adults
Who says winter crafts are just for kids? These crafts are so cool, even adults will enjoy spending some extra time indoors creating something new!
Frosty Pinecones
It's no secret that pinecones tend to pile up outside this time of year. So, why not put them to good use? This craft by Bude Blooms uses all-natural materials, too! Paint a flour and water paste on the pinecone edges, and before they dry, roll them in salt to add a little sparkle. Then, put them in a safe place to dry. You can add these frosty pinecones to wreaths, garlands, or even just your mantle for a bit of indoor winter whimsy.
Mason Jar Snow Globe Craft
If you want to take things to the next level beyond just paint and papercraft, this cool and creative craft has the potential to be one of your best creations yet! Start by separating the metal lid from an old mason jar. This is where you'll attach all the items that will be in your snow globe. You'll need strong glue like superglue, epoxy, hot glue, or any other waterproof adhesive to attach your items. You can attach a bottle brush winter trees, a tiny house, toy cars, or even plastic animals!
Fill the mason jar with cold water, add 1-2 tsp of glitter, then a few drops of glycerin. Add some super glue to the jar's lid, then screw on the top and flip it! Now, you have a personalized snow globe that you and your child can always cherish! If the items have the potential to deteriorate when submerged in liquid (even with sealant), skip the water! It's still an adorable decoration, even without water!
Spark Some Joy With Whimsical Winter Crafts
Which of these winter crafts are you excited to try out next? We hope your whole family gets involved with these fun and creative crafts, and hopefully, you create some new memories! Share ideas and pics of your favorite crafts with the people you love on FamilyApp!