The Best Mom Swimsuits All Summer Long
When it comes time for a family vacation, Mom may find herself panicking over finding the perfect swimsuits. A swimsuit style that was flattering on Mom before kids may not be as flattering after a baby or two! Even if Mom still looks cute in the bikini she wore when she was a teenager, she may need more practical swimwear to keep up with the kids.
*This article contains affiliate links. It doesn't cost you anything, but if you click on the link and buy something, we'll earn a small commission to help our writing team create more great articles.*
In Search of Swimsuits for Mom
The good news is that Mom can keep her style by going for a swim. Mom bathing suits can be sexy, cool, cute, or even cheeky. When choosing a bathing suit that fits mom life and is swim-ready, fashion is important. But, it may take a back seat to keeping up with the kids. Mom may also not be as concerned with looking sexy but opt for more modest yet still flattering and cute swimwear instead. Whether you go for a one-piece, tankini, bikini, monokini, or a more unusual type of swimwear, mom swimsuits should be cute, fashion-forward and most of all help you feel your best – with or without the aid of tummy control. Keep this in mind, no matter your body type.
Whichever type of swimsuit you chose, don't let your fear of bathing suits keep you from a swim or making memories with your kids. If you are not sure where to start, go to popular swimwear brands like Snapper Rock, Angerella, ASOS DESIGN, COCOSHIP, Hilor, Holipick, Lurex, CUPSHE, and Onia to start your search.
When choosing a swimsuit for Mom, body positivity and having fun with the family should be top considerations. Keep in mind that if a mom is wearing a swimsuit, then it is the perfect swimsuit for a mom!
One-Piece Swimsuits for Mom
The simplest way to ensure you don't reveal anything you don't want to while going for a swim is to opt for a one-piece swimsuit. One-piece swimwear doesn't have to be boring! Go for a cool off-the-shoulder, a funky animal print, a multi-colored color-blocked suit, a high-cut or retro-inspired swimsuit to ensure you dress well on the beach. This is a great option for any mom with rough-and-tumble kiddos!
Two-Piece Tankinis
Moms who once favored bikinis may not be ready to give up two-piece swimsuits even after bikinis no longer become practical. A tankini is a perfect solution because it provides more coverage while still giving the illusion of being a bikini and retaining some of the sexy appeal of bikinis. Some moms also think this type of two-piece swimwear is more fashionable than a one-piece. Tankinis also provide the possibility of mixing tops and bikini bottoms, opening up more possibilities for wear. Tankinis also give the option of opting for a low-rise bottom and longer top or a high-waist bottom with a skimpier top. This type of swimsuit is so versatile that every mom should be able to find one she loves.
Top It Off
No matter what type of swimwear you chose, a matching rash guard. This type of top helps Mom stay covered up while chasing after kids when going for a swim or out of the water. Rash guards provide extra protection from the sun, even if wearing a one-piece swimsuit. But, another advantage to a rash guard is that it easily turns even the skimpiest bikini or bandeau top into a modest bathing suit. This bathing suit combination is very versatile! Snapper Rock has a huge variety of rash guards, including some long enough to double as a swim dress.
Flattering Fashion
Some moms find it more challenging to find a flattering swimsuit after having kids. There are some tricks to finding bathing suits that are great for going for a swim and that she can stand up to active kids. Many swimsuits have built-in tummy control that flatters all body types. Look for ruched swimsuits that are slimming. A one-shoulder swimsuit brings the eye up draws attention away from the tummy and hips, which also gives a slimming effect. With two-piece bikinis and tankinis, go for high-waisted bottoms and coordinating bikini tops. If Mom is nursing, look for bra-sized swimsuits with adjustable straps that will help ensure that the swimsuit will fit for years to come. ASOS Design is known for inclusive swimsuits for all body types.
Cover-Up
Moms should never feel like they need to cover up! But, there are times that Mom may want to have more coverage than just a swimsuit when not going for a swim. A cover-up can also make any beachwear more modest when on land – even if wearing a revealing bikini top. Some cover-ups even double as a casual dress where no one can tell there is a bathing suit underneath.
Peek-A-Boo One Piece Swimsuits for Mom
If you like the look of a two-piece but want the practicality of a one-piece, go for a peek-a-boo swimsuit that has a cutout or sheer fabric around the mid-section or waist. These swimsuits, sometimes called monokinis, offer the best of both worlds in beachwear. You can have all of the style of a bikini with the practicality of one-piece bathing suits, so you don't need to worry if your bikini top and bikini bottom will stay in place. A monokini is a great solution for those who want a one-piece swimsuit to swim with confidence that nothing will be exposed unintentionally but still looks sexy and flashes some skin.
Better Bikinis
Moms may want to ditch the barely-there low-waisted bikini bottoms. Bikini tops that are designed to show maximum cleavage just aren't practical when keeping up with kids near the water. But that doesn't mean moms need to ditch bikinis altogether. Look for a bikini bottom with tummy control. Add a higher waist if your abs aren't what they used to be. A bikini top styled like a sports bra, or bandeau bra will be a little more forgiving. Being a mom certainly does not mean you must have a one-piece swimsuit! Just give some thought about what you need. That way, you can find a bikini you love and that works for mom life. If you absolutely must have a skimpy bikini, then add a rash guard for the times you will be more active.
Say Aloha to the Modest Mom
Some moms don't feel comfortable in any traditional swimsuits and would not be caught dead in a revealing bikini top. Those moms should still be able to feel comfortable swimming and make memories with their families. If this is you, look for a swim skirt, swim shorts or swim leggings. These swim outfits closely resemble regular clothes but are made of swimsuit material. This could also be a temporary solution in the post-baby diaper bag phase while you get your confidence back!
Make It Matching: Mom and Child Swimsuits
Up mom's cute factor with matching mommy-and-me swimsuits. Kids love to wear swimsuits that match mom! Most little girls will wear one-piece swimsuits. Several swimwear brands make coordinating swimsuits for moms in different styles. These include coordinating bikini tops and bikini bottoms, ruched suits, and high-waisted tankinis. Maisonette has adorable matching bathing suits for Mommy-and-Me swimming. Snapper Rock has matching swimsuits for the whole family so Mom can get creative with mother-and-daughter pastels. Or, she can match not just her daughter but her son and husband too! Whether you go for a one or two-piece swimsuit matching, you can't go wrong when you match your mini. Many styles are on-trend, so you may be able get a t(w)een who has outgrown the pink and white phase.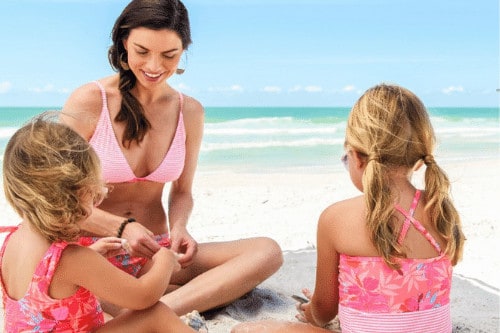 Leak-proof Swimsuits for Mom
Some moms have a confession – they may leak a little. Period-proof swimsuits work great for moms who swim during their time of the month. They also work well for those who leak a bit when they run, laugh, or sneeze. Some brands make high compression swimsuits. Modibodi makes high-waisted, bikini bottom, and one-piece period-proof swimsuits. These can help Moms look and feel better no matter the time of the month!
What are Your Favorites?
There are so many great options for moms to look and feel their best, so get out there and What are your favorites? Share favorite ideas with us on social #getfamilyapp. And be sure to share your favorite pool and beach photos with your loved ones on FamilyApp!