Practical Elegant Mom on the Street: Renelle Roberts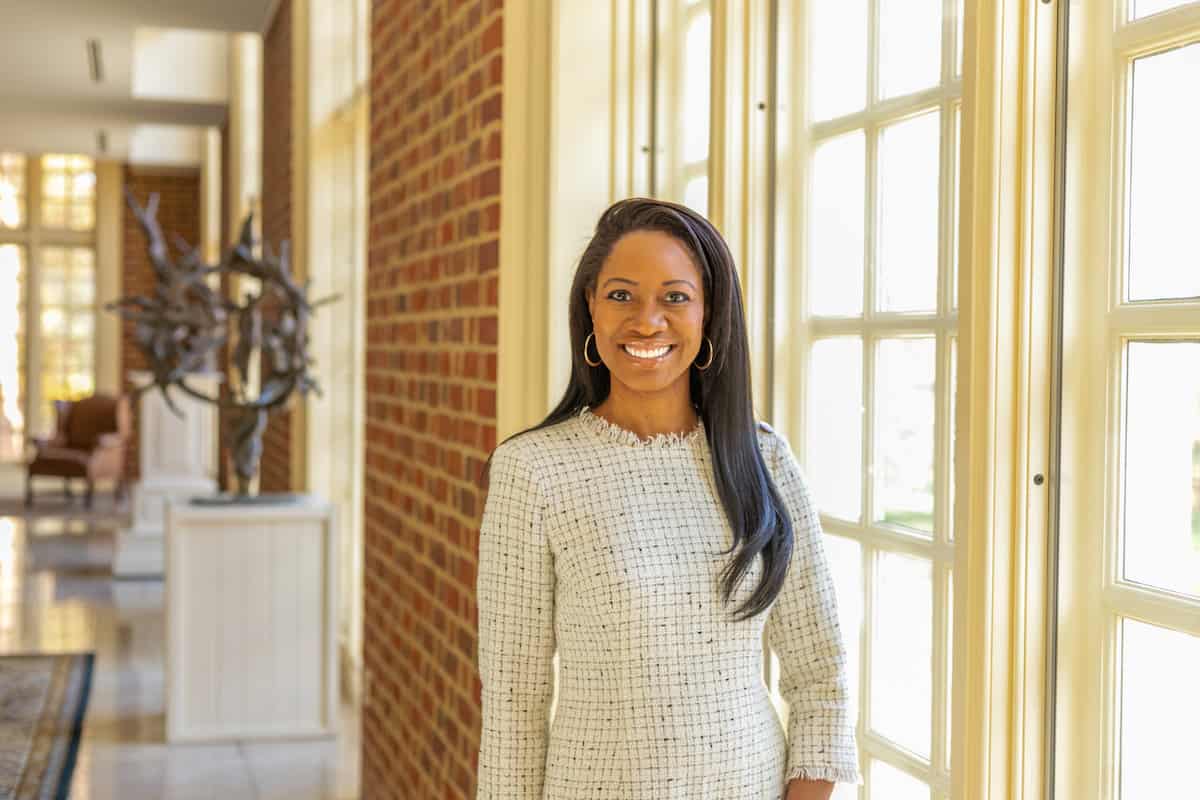 Whether she's savoring Sunday brunch with her family or inspiring moms with her parenting insights, Practical Elegant Mom on the Street Renelle Roberts approaches the world with style and grace. Read on to learn all about this dynamic mom!
*As an Amazon Associate, we may earn from qualifying purchases.
Meet Renelle
Renelle Roberts hails from Greenwich, Connecticut. In 2000, she was crowned Miss Connecticut, then earned a Master's degree in broadcast journalism. Upon graduation, she became a producer and TV reporter for nearly a decade before becoming a full-time mom and professional voice actress: www.renelleroberts.com. She is passionate about encouraging today's moms to seek the Lord for how to best connect with the hearts of each of their children, and currently hosts a teaching series on RightNow Media titled "Intentional Motherhood." She and her husband have two beautiful children. 
Practical Elegant Style
Which three words best describe your style?
Simple, practical, elegant
What are your favorite places to shop?
For clothing, I love Nordstrom and J. Crew. For food, I love a good farmer's market!
Who's your favorite style icon?
I absolutely love Meghan Markle's style. I have liked every outfit (whether casual or formal) that I have seen on her.
What's your best style advice?
Don't feel like you have to stick with one style or brand. Dress however you feel that day. Some days you may want to be formal with full makeup and heels, but other days more sporty or casual. Just as we are multifaceted, I believe our personal style can change by the day.
What article of clothing/accessory would you not want to live without?
A good, structured winter wool coat. I think they are so beautiful and chic.
Which trend would you want to see make a comeback?
Anything late 90s! Hip hop, grunge, or the amazing looks from Clueless…I'm all for the late 90s coming back!
What should NEVER make a comeback?
Early 90s, lol! We don't ever need to be quite that pastel ever again.
What fashion/style did you love at the time but now cringe when you see old photos?
None. I love old photos and feel like whatever people felt happiest wearing back then makes me happy to look at now… Except for early 90s styles!
What's your best style secret?
Coconut oil! Raw, organic coconut oil works wonders on the skin for anti-aging and moisturizing. Plus, it's completely natural.
Stilettos or flats?
Flats

Practical Elegant Family
What's your favorite way to spend time with your family?
We have brunch at home every Sunday. It is so special to linger at the table after a good meal. We all look forward to this time to relax and chat without time constraints.
What's been your best family vacation?
Our family spends most of the summer on Martha's Vineyard with extended family. It's all of our "happy place" because of the nature, food, and relaxed beach days.
Best parenting advice:
Pray about every decision you make for each of your children. If you do not feel peace about something, have the courage to say "no." Also, make time to have undistracted conversations with your children at the end of each day. My kids tend to be extremely talkative at bedtime and need to know that I care and I'm listening.
Parenting true confession:
I throw away most of my kids' artwork the day after they give it to me!
What's your go-to family dinner?
Trinidadian stewed chicken and rice. My family is from Trinidad and Tobago, and we all enjoy this comfort meal.
What's your favorite family restaurant?
A burger joint on Martha's Vineyard called Fat Ronnies!
What five things are you most likely to have in your purse at all times?
Granola bar, almonds, wallet, hand lotion, and mints
What's your best parenting hack?
Read the Bible to and with your kids. As parents, there is so much pressure to "get it right." We can give our kids our thoughts and opinions, but those may change down the road. Since God's Word never changes, my biggest parenting hack is to read and study the Bible for ourselves and with our children.

Practical Elegant Life
What's your favorite show to binge-watch?
So many! Right now, my husband and I are binging The Crown.
If you could pick anyone to star as you in a movie based on your life, who would it be?
Bianca Lawson
What's your favorite beach read?
Sadly, I do not read much when I'm at the beach. But if I did, I'd reread Life Lens: Seeing Your Children in Color by Michele Monahan Horner. I attended the author's lecture (coincidently, we grew up in the same town), and the book is a fascinating study on different personality types.
What song would you dance to when nobody's watching?
My preschooler loves a cartoon called Santiago of the Seas, and the theme song is AMAZING! I dance to it pretty often when I'm making dinner.
If you could go shopping with anyone from history, living or deceased,
who would it be?
I would shop with Princess Diana.
What's at the top of your travel bucket list?
Our family loves to travel, and I think we would all enjoy a trip to Egypt to see the pyramids!
What's your favorite way to unwind at the end of a long day?
Crazy enough, I unwind by working late at night! As a professional voice actress, I have a recording studio in my home, and I voice commercials and TV promos after putting the kids to bed. I look forward to seeing what scripts I will get from my agents each night, and the flow of creativity actually helps me to unwind after a long day of parenting
The Practical Elegant Lifestyle
We love Renelle's gracious elegance and practical wisdom! She's a strong role model for her family and friends, and we're thankful for her unique voice and insights on motherhood.
Be sure to check out her website to see the latest projects she's working on! And for more fun and interesting moms, don't miss FamilyApp's Mom on the Street.