16 Delicious, Fun, & Easy Dinner Ideas for Kids
Have you ever wondered when your child will get on board for "real food" instead of another bag of frozen chicken nuggets? Don't worry… we've got you covered. Check out these recipes for dinner ideas for kids that are sure to be a hit with the whole family, especially on a busy weeknight.
Jump to Recipe
What Are Easy Dinner Ideas for Kids?
When you're looking for a kid-friendly dinner recipe, it can be tempting to turn to fast food, the box of mac-n-cheese, or a can of sloppy joes in the pantry. Or scramble to find slices of bread for sandwiches again. We've all been there. However, with more time spent at home, making dinner together can be a great way to bond as a family. It's also a great way to develop your kid's life skills and independence! If they've helped make it themselves, they may also be more likely to eat it.
If your schedule's especially busy, having a few ready meals you can make quickly and easily can be a game changer. I constantly have some lentil soup and meatballs in my freezer that are ideal for quick dinner ideas and can be made at a moment's notice.
So you don't have to reheat old wontons from last week's Chinese takeout or the fried chicken macaroni casserole from the neighborhood potluck. Here are some dinner ideas for kids that may inspire you to venture outside your regular meal menu and try some new easy, kid-friendly dinners for your next weeknight meal.
*This article contains affiliate links. It doesn't cost you anything, but if you click on the link and buy something, we'll earn a small commission to help our writing team create more great articles.*
Easy Pasta Dinner Ideas for Kids
While most pasta dinners consist of simple ingredients, this easy kids dinner staple doesn't have to be boring. Here are a few kid-friendly recipes and supper ideas to amp up the flavor and still keep your picky eaters happy.
1. Slow-Cooker Spaghetti and Meatballs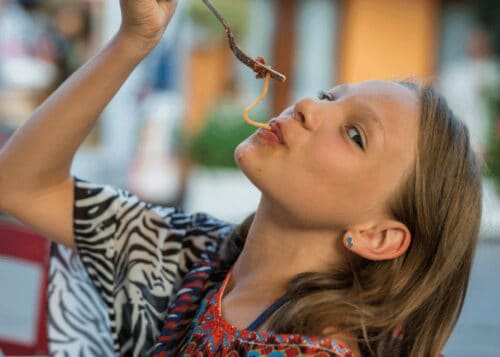 Why spend your evening toiling away over a hot stove when you can dump all the ingredients in a pot in the morning and have it ready at dinner? And spaghetti and meatballs will always be a crowd-pleaser! Bonus points if you serve some Hydrox or Oreo cookies for dessert!
2. One-Pot Baked Pizza Pasta
Throwing everything together into one skillet makes life a whole lot easier when you're cooking for kids. It's one of those easy meals you can toss together on a weeknight and not worry about having a messy kitchen. And this delicious recipe is picky-eater approved!
Start by heating 1 tbsp olive oil in a large, oven-proof skillet over medium-high heat. Add 8 oz Italian sausage (casing removed) and cook for about 3-5 minutes (about 3-5 minutes). Make sure to break up the sausage as it cooks, and then drain the excess fat. Stir in 1/4 cup pepperoni and heat for about 1 minute.
Stir in 1 15oz can tomato or pizza sauce, 1/2 tsp dried oregano, 1/2 tsp dried basil, 1/4 tsp garlic powder, 8 oz of pasta noodles, and 1 1/2 cups water. Bring to a boil and cover. Then reduce heat and simmer until pasta is cooked (about 12-14 minutes.) After removing from the heat, sprinkle with 1 cup mozzarella and 1/4 cup pepperoni. Broil in the oven until melted and golden brown, about 2 minutes. Serve meal immediately and enjoy!
Easy Chicken Dinner Ideas for Kids
Looking for a new tried-and-true family favorite? Here are a few chicken dinner ideas for kids that are as delicious today as they were years ago when Mom used to make them. They're especially great for families with gluten intolerance since most can be made gluten-free.
3. Cheesy Chicken and Broccoli Rice
Getting kids to eat their veggies can sometimes feel like a never-ending battle. The not-so-secret-weapon: cheese.
Cheesy broccoli and rice is a great dish to add other ingredients, like peas or carrots. It's also something you can easily make in the Instant Pot on those busy nights. With pieces chopped up small enough into bite-sized pieces, this makes a great toddler meal, too!
4. Honey Chicken Stir-fry
One of my favorite dishes to make is stir-fry because it's so versatile. You can always modify the ingredients to suit anyone's taste, and it's easy to throw together. While this recipe uses frozen veggies, you can also use fresh veggies to enhance flavor, like bell peppers and green onions!
Start by mixing 2 tsp of cornstarch with 1 tbsp cold water until smooth. Then, in a large nonstick skillet, heat 2 teaspoons of olive oil over medium-high heat. Add 1 pound of chopped boneless skinless chicken breasts and 1 minced garlic clove and stir fry for 1 minute.
Add 3 tbsp honey (or brown sugar), 2 tbsp soy sauce (reduced sodium), and salt and pepper. Cook 2-3 minutes or until chicken is cooked all the way through. Remove from the pan, then fry 1 package of a frozen vegetable blend in the leftover oil until tender, about 4-5 minutes. Return the chicken to the pan and then add the cornstarch mixture and bring to a boil. Cook and stir until it thickens, about 1 minute. Serve over rice if you'd like!
5. Chicken Tortilla Bean Soup
This Tex-Mex classic and so easy! In a large saucepan, combine 1 (10.5 oz can) condensed chicken and rice soup, 1 1/3 cups water, 1 cup salsa, 1 cup each of rinsed and drained pinto beans and black beans, 1 cup corn, 1 cup frozen diced cooked chicken (thawed), and 1 tsp ground cumin. Cook over medium-high heat for 5-7 minutes or until heated through. You can also let it simmer on low for longer. It's best served with tortilla chips, sour cream, and cheddar cheese!
Easy Vegetarian Dinner Ideas for Kids
You don't need to wait for Meatless Monday to try these delicious recipes the entire family will enjoy.
6. Falafel
This may be a new food for your kids, but it will help broaden their culinary palate. These are Middle Eastern chickpea (a.k.a. garbanzo bean) fritters with a mild flavor. It's the perfect protein-packed meal for the kid who will eat anything as long as they can "dip it in sauce" or ketchup.
7. Spinach-Stuffed Shells
This is something my mom made for us growing up (with a green salad on the side), and every single person in my family loved it! Start by cooking 1 box of jumbo pasta shells. For the filling, mix 15 oz ricotta, 1 box frozen spinach, 1/2 cup grated parmesan, 1/4 cup grated pecorino, 1 clove minced garlic, 1 tbsp chopped parsley, and 2 cups mozzarella.
Season with salt and pepper and stir in one egg. Spread 2-1/2 cups of tomato sauce in a 9×13-inch dish. Fill each shell with 1 tbsp ricotta mixture and place it upwards in the dish. Pour remaining sauce over shells and sprinkle with 2 cups of mozzarella. Cover with foil and bake for 30 minutes, then remove foil and bake for an additional 20 to 30 minutes. You can add ground turkey or Italian sausage to the recipe for some extra protein.
8. Grilled Cheese Glow-Up
Many parents can get tired of making the same tried and true grilled cheese, but this quick meal of fancy grilled cheese remains one of our favorite cheese recipes. It's the perfect blend of savory sweetness that's as delicious for kids as it is for their parents.
Classic American Dinner Ideas for Kids
Is anything more American than chicken nuggets, gooey cheese, or a cheeseburger tater tot casserole? Here are a few more delicious dinner ideas for the family that pack in tons of flavor.
9. Cheeseburger Tater Tot Casserole
This has all the elements of the American classic, except swap the buns for tots, and you have an easy-to-save-and-reheat casserole! Your kids are sure to love this homestyle masterpiece with a mouth-watering cheesy roux. It's one of my top kid-friendly recipes, no doubt!
Cheeseburger Tater Tot Casserole
This recipe will have everyone asking to "give me some of your tots!"
Ingredients
1

lb

ground beef (lean)

1/3

cup

diced onion

2

tbsp

yellow mustard

2/3

cup

ketchup

2

tbsp

dill pickle relish

2

tbsp

butter

2

tbsp

flour

1 1/2

cup

whole milk

1/4

tsp

salt

1/4

tsp

fresh ground pepper

2

cups

sharp cheddar cheese (shredded)

1

32 oz bag tater tots
Instructions
Cheeseburger Tater Tot Casserole
Preheat oven to 350°F. Spray a casserole dish with nonstick cooking spray.

Cook beef and onion in a large skillet over medium heat, occasionally stirring until beef is brown. Drain the excess fat.

Stir in mustard, ketchup, and relish. Add salt and pepper to taste. Pour mixture into a prepared casserole dish in an even layer.

Melt butter in a medium saucepan over medium heat.

Slowly add in the flour and whisk until smooth. Continue to whisk and cook until golden brown.

Arrange the frozen tater tots in an even layer over the roux (you will have extras).

Slowly add in the milk, whisking it to be fully incorporated with the roux. Keep whisking until the sauce is bubbly and thick (about 5 minutes). Add salt and pepper.

Remove from the heat and whisk in 1-1/2 cups of the cheddar cheese until it is fully melted and smooth.

Pour the roux evenly over the meat mixture.

Bake in the oven for 35 minutes. Remove from the oven and sprinkle the rest of the cheese onto the tots. Bake for an additional 5 minutes, or until the cheese is melted.

Garnish with parsley before serving if you'd like!
Nutrition
Calories:
285
kcal
Carbohydrates:
11
g
Protein:
21
g
Fat:
17
g
Saturated Fat:
10
g
Polyunsaturated Fat:
1
g
Monounsaturated Fat:
5
g
Trans Fat:
1
g
Cholesterol:
77
mg
Sodium:
600
mg
Potassium:
372
mg
Fiber:
1
g
Sugar:
7
g
Vitamin A:
557
IU
Vitamin C:
1
mg
Calcium:
269
mg
Iron:
2
mg
10. Mac and Cheese Glow-Up
Sometimes even the most classic dish needs a makeover, and these mac and cheese ideas will elevate this simple meal to the next level. Whether you want a healthy dinner or feel like kicking up the flavor by adding some hot sauce, there are delicious ideas for every palate.
11. Oven-Fried Cornflake Chicken Tenders
If chicken tenders are one of your child's main food groups, you're probably looking for ways to change things up. Instead of the processed, high-sodium frozen tenders you get from the store, try making these feel-good homemade chicken nuggets with your kid. You only need a few ingredients, too!
Take this classic cornflake chicken recipe and either dice them into nugget size or use chicken tenderloins for the perfect chicken tenders. This addicting chicken recipe will be an instant hit with the kids.
12. Classic Hamburgers
Few things are quite as satisfying as biting into a juicy burger with french fries or potato chips. And your favorite burgers don't have to be boring! Try adding a burger bar where your kids can add their favorite toppings, like cheese, onion rings, pickles, or tomatoes. You can find many more delicious burger ideas here.
Pizza and Tacos and Nachos, Oh My! A Trifecta of Dinner Ideas for Kids
Whether it's cheesy pizza night or taco night, here are a few kid-friendly meals that will make everyone around the dinner table extremely happy.
13. Easy Taco Pizza
I firmly believe that crescent rolls and canned biscuit dough are single-handedly the best assets known to the modern home chef. While homemade crusts and doughs are stellar, the fabulous taste combined with the convenience makes them unbeatable. Try making taco pizza using crescent rolls as the crust. It's a game-changer!
14. Tater-Totchos
I'm convinced this is quite possibly one of the best "mash-ups" known to man. First of all, my love affair for tots began when I watched Napoleon Dynamite. They made those tots seem irresistibly crispy. My affinity for nachos has no start date, as I'm pretty sure that's sequenced into my DNA. Both in the same dish? It's a match made in heaven.
For these, you'll need 2 bags of frozen tater tots prepared according to the package's instructions. Then, in a large skillet over medium heat, heat 1 tbsp olive oil. Then add 1 lb beef and cook for about 6 minutes (until no longer pink), then drain the fat. Return the skillet to the stove and add 1 tbsp taco seasoning. Then, add the beef to the top of your tots along with your favorite nacho toppings like diced tomatoes, black beans, jalapeno, cheese, guacamole, and sour cream.
15. Chicken Taco Bowls
No matter what age you are, the frustration of eating a taco can be real. You bite one side, and all the filling falls out the other. Then your taco cracks, and you have to shove the whole thing in your mouth before it disintegrates solution: taco bowls. Everyone will love this balanced, family-friendly, tasty meal. You can buy the taco bowls from the store, buy taco bowl molds, or toast tortillas in muffin tins. For the taco filling, use your favorite ingredients like chicken, beef, carnitas, shredded lettuce, cheese, rice, salsa, guacamole, or sour cream.
16. Pizza Quesadillas
While I'm sure the classic cheese quesadilla is something you've had requested more than once, this recipe takes it to a whole new level! First, preheat a greased skillet on medium heat. Fill a corn or flour tortilla with marinara sauce, shredded mozzarella cheese, and any other toppings of your choice. Add another layer of mozzarella over toppings, fold your tortilla, and cook for 2-3 minutes on each side. You can even dunk your quesadilla into your favorite pizza dipping sauce! These sweet potato quesadillas sound delicious, too! Just fill them up, fold them over, and fry on both sides!
"What's for Dinner?"
If parenthood had a soundtrack, one of the top tracks would definitely be "What's for dinner?" Now, answering that question and finding easy dinner ideas for kids just became a little easier to answer. No rummaging through the pantry for cereal, applesauce, peanut butter and jelly, or junk food. Put that bag of corndogs, or chicken patties back in the freezer! You've got some great ideas to choose from for dinner tonight
Do you have a favorite kid-friendly recipe that's always a hit? What are your tried and true easy dinner ideas for kids? Let us know on social #getfamilyapp!