The Daniel Fast: A Biblical Diet for Health and Wellness
Looking for yummy recipe ideas you can make while you're on the Daniel Fast? We've got you covered!
Jump to Recipe
What Is the Daniel Fast?
The Daniel Fast is based on the biblical character Daniel's spiritual and dietary fasting experiences in the Bible's book of Daniel. Two references particularly lay the foundation for the diet:
Daniel 1:12-13:
Please test your servants for ten days: Give us nothing but vegetables to eat and water to drink. 13 Then compare our appearance with that of the young men who eat the royal food, and treat your servants in accordance with what you see." 14 So he agreed to this and tested them for ten days. 15 At the end of the ten days they looked healthier and better nourished than any of the young men who ate the royal food.
Daniel 10: 2-3:
2 At that time I, Daniel, mourned for three weeks. 3 I ate no choice food; no meat or wine touched my lips.
Daniel experienced a renewed sense of vitality and strength after eating a plant-based diet for three weeks. The modern diet plan was created based on achieving his results of greater spiritual, physical, and mental, and well-being. It's not as much about achieving weight loss, as three weeks is not a healthy amount of time to see any significant results. This plan is much more about feeling better.
What Can You Eat on the Daniel Fast?
While only vegetables and water are listed in the scripture, the word "pulse" used in the King James Bible is defined as "bean or seed-grown food." Therefore, this allows fruits, whole grains, and other plant-based foods to be included in the diet plan.
Daniel Fast Food List
Whole Grains: Amaranth, barley, brown rice, buckwheat, bulgur, freekeh, millet, oats, purple rice, quinoa, rye, sorghum, spelt, teff, whole grain pasta, whole wheat, and wild rice.
Beans and Legumes: Black beans, black-eyed peas, cannellini beans, garbanzo beans (chickpeas), great northern beans, kidney beans, lentils, peanuts, pinto beans, and split peas.
Nuts and seeds: Almonds, Brazil nuts, cashews, hazelnuts, macadamia nuts, nut butters (natural, sugar-free), peanuts, pecans, pepitas (pumpkin seeds), pine nuts, pistachios, poppy seeds, walnuts, sesame seeds, soy nuts, sunflower seeds.
Vegetables: Fresh, frozen, dried, juiced, and canned.
Fruit: Fresh, frozen, dried, juiced, and canned. However, any dried fruit shouldn't contain added sugar (check ingredients to be sure).
Oils: Oils (such as coconut, olive, and sesame) should be used minimally. For example, you can sauté foods in olive oil but avoid deep-frying them.
Unleavened bread: Whole grain bread made without yeast, sugars, or preservatives.
All herbs, spices, and seasonings (including salt and pepper).
Soy products: Such as edamame and soy nuts and tofu.
Foods NOT a Part of the Daniel Fast
Animal products
Added sugar: this includes granulated sugar, agave nectar, artificial sweeteners, brown rice syrup, brown sugar, cane juice, corn syrup, honey, malt syrup, molasses, and raw sugar.
Deep-fried foods
Yeast
Refined grains
Solid fats
Chocolate
Caffeine and alcohol
Recipes for the Daniel Fast
Main Dishes
Sweet Potato Protein Bowl: This is so yummy and packed with protein. Start by putting  1 tablespoon coconut oil, 1/2 cup chopped red onions, and 2 cups chopped sweet potatoes in a large skillet over medium heat. Cook about 10-12 minutes. Then add 1 cup cooked edamame, 2 cups torn kale, 1/2 cup chopped walnuts, 1 clove minced garlic, and salt and pepper to taste. Stir frequently and add 1-2 tbsp water if it becomes dry. Remove from heat and serve when sweet potatoes become tender and crispy.
Taco Salad: Use your favorite beans, veggies, and brown rice, lettuce, and taco seasoning to make a taco bowl! This is an especially good recipe idea if you're cooking for the whole family. Meat and cheese can be added for those who are not on the Daniel Fast.
Spicy Vegan Potato Curry: Check out this yummy recipe, which the creator claims is better than anything she's ever eaten at a restaurant! Replace the white rice with brown rice, or enjoy it on its own!
Black Bean Burgers: This is one of my favorite vegan options for a burger alternative, and black beans have plenty of protein! While the beans make the base of the burger, other flavors like garlic, onion, peppers, cilantro, cumin, and cayenne pepper make this burger better than anything store-bought!
Hearty Vegan Crockpot Chili: Crockpot meals are perfect for those busy days when you just want something easy and tasty!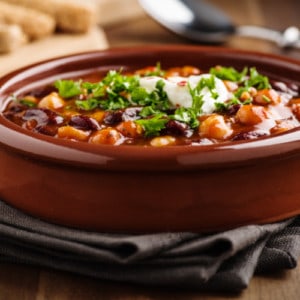 Hearty Vegan Crock Pot Chili
The perfect, hearty meal you can make ahead–and it's Daniel Fast-approved!
Ingredients
1

tbsp

olive oil

1

green bell pepper

diced

1

red bell pepper

diced

1

yellow bell pepper

diced

2

yellow onions

chopped

4

cloves

garlic

minced

1

10 oz. package

frozen spinach

thawed and drained

1

cup

frozen corn kernels

thawed

1

medium zucchini

chopped

1

medium yellow squash

chopped

6

tbsp

chili powder

1

tbsp

ground cumin

1

tbsp

dried oregano

1

tbsp

dried parsley

1/2

tsp

salt

1/2

tsp

ground black pepper

2

14.5 oz cans

diced tomatoes

with juice

1

15 oz. can

black beans

rinsed and drained

1

15 oz. can

garbanzo beans

rinsed and drained

1

15 oz can

kidney beans

rinsed and drained

2

6 oz. cans

tomato paste

1

8 oz. can

tomato sauce

1

cup

vegetable broth
Instructions
Heat olive oil in a large skillet over medium heat, and cook the green, red, and yellow bell peppers, onions, and garlic until the onions start to brown, 8 to 10 minutes.

Place the mixture into a slow cooker. Stir in spinach, corn, zucchini, yellow squash, chili powder, cumin, oregano, parsley, salt, black pepper, tomatoes, black beans, garbanzo beans, kidney beans, and tomato paste until thoroughly mixed.

Pour the tomato sauce and vegetable broth over the ingredients.

Set the cooker on low, and cook until all vegetables are tender, 4 to 5 hours. If chili is too thick, add more tomato sauce and vegetable broth to desired thickness. Cook an additional 1-2 hours.
Nutrition
Calories:
179
kcal
Carbohydrates:
31
g
Protein:
6
g
Fat:
7
g
Saturated Fat:
1
g
Polyunsaturated Fat:
2
g
Monounsaturated Fat:
3
g
Sodium:
820
mg
Potassium:
887
mg
Fiber:
9
g
Sugar:
9
g
Vitamin A:
5090
IU
Vitamin C:
140
mg
Calcium:
125
mg
Iron:
5
mg
Smoothies
These make a great snack or meal, as smoothies lend themselves to healthy ingredients like fruits, vegetables, and milk alternatives (almond, rice cashew, soy, coconut, oat). You can also include natural nut butter for a protein boost. Just make sure there's no added sugar. If the consistency is too thick, add some more liquid.
Strawberry Fields: 1 cup unsweetened almond milk, coconut milk, rice milk, or rice milk, 1 cup of sliced frozen banana, 1 cup sliced frozen strawberries, 1 cup fresh spinach or kale, one tbsp flaxseed meal or chia seeds.
Tropical Island: 1 cup frozen mango, 1 cup frozen sliced strawberries, 1/2 cup of unsweetened coconut milk, 1/2 cup pineapple juice.
Acai Bowl: Hannah and Ross Byrd, former mom and dad on the street (respectively) have been proponents of the Daniel Fast for years, and have had lots success. Check out their "Byrds of Paradise" acai bowl recipe!
Snacks/Sides
Cilantro Edamame Hummus: A light, Mediterranean-inspired dip perfect for dipping veggies or adding to a salad.
Baked Kale Chips: I always enjoy these as my go-to snack, as they're packed with vital nutrients and give a satisfying crunch that you're craving. They're also great seasoned with garlic, salt, and nutritional yeast.
Cauliflower Rice: Cauliflower has had it's moment in the spotlight for the last couple of years, and for good reason. When chopped up small enough, the mild flavor lends itself to absorbing other flavors around it, just like rice.
Doing the Daniel Fast
If you're doing the Daniel Fast, you're probably looking for lots of recipes to keep you full and feeling nourished. You may even be looking for recipes that the whole family will love! If other people in your community are doing the Daniel Fast, share your favorite recipes on FamilyApp!