The 14+Best Running Apps for Everyone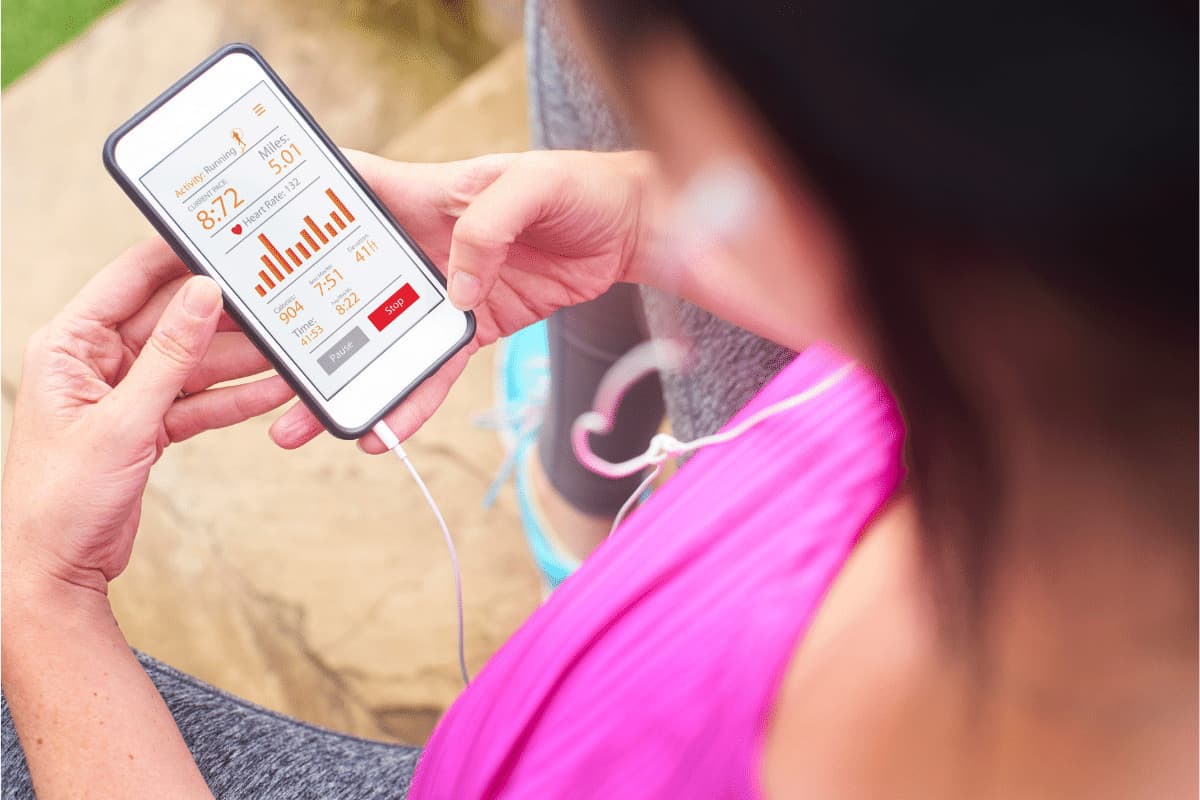 Ready to take your workout to the next level? Running apps are a fantastic way to maximize your workout so you can reach your health and fitness goals.
But before we delve into the details of these fantastic gadgets, you have to answer one initial question:
Should I Use a Running App?
The answer to this depends on your specific fitness goals and motivation. If you would say "yes" to several of the following, then a running app might be a fantastic addition to your workout gear.
Are you training for a race like a 5k, half marathon, or a marathon?
Do you want to improve your running times and track your pace and/or distance?
Are you wanting to monitor your heart rate while working out?
Do you enjoy connecting and/or competing with friends and family through virtual platforms?
If any of these apply, a running app could be a fantastic investment. On the other hand, if you're more a fan of walking for leisure and don't really care about tracking your progress, you probably don't need one.
What Do Running Apps Do?
Different apps will provide different values, and we'll get into some of the specifics a little later. But here are a few features of many running apps.
Track your distance. You can see how far you've gone and your total running time.
Map your distance. You can see where you've gone.
Calculate your pace. You can see how fast you're going.
Calculate your calories burned. You'll know how much energy you've used.
Guide your workout. Some offer different pacing options to keep you on track.
Easy-to-use touchscreen. That way, they can help you refine your goals.
Offer training plans. If you have a specific race in mind, many running apps offer step-by-step instructions.
Others have different social components, so you can connect with friends during your run. You might also find some that incorporate elements of overall health, like high-intensity strength training or breathing exercises. Some running apps also have an audio component, so you can either listen to their playlists or sync up with your favorite music app.
What Is the Best App for Running?
The answer to this question depends on your goal and your gear. But we've got lots of fantastic options below.
Strava. If you want to track your miles, train for specific goals, and compare notes with your running mates, Strava is an ideal fitness app. Strava is a free app, which includes social components, like an activity tracker (so you could record bicycling instead of running) and support. But if you really want more advanced analytics like route planning and a training log, you might want to pay for the pro version. After the trial period, an annual membership costs $60, or $7.99 per month if you want to pay in installments.
Runkeeper. For athletes and amateurs who are looking to go the distance, Runkeeper offers lots of functionality that will help you with goal-setting, your cadence. With its built-in GPS, this app, made by Asics, can also provide a turn-by-turn description of where you're going. The premium version costs $10 per month or $40 for the year.
What Are Some Innovative Running Apps?
3. Charity Miles. Exercise for a purpose with Charity Miles! This innovative app keeps you motivated by letting you choose a charity, then rewarding your athletic endeavors by raising money for your favorite causes. Many businesses offer corporate programs through Charity Miles, so you might even be able to maximize your donations.
4. Zwift. Athletes who love the treadmill or biking in the gym should check out the Zwift app. It offers virtual courses, so it's almost like you're exercising within a video game, and you can compete against other people, too. It's $15 per month but definitely makes exercising indoors a lot more fun.
5. Stride. If you're looking for a way to track your run with friends and neighbors, this app is an excellent option for all fitness levels. Stride turns your neighborhood into open territory that you can claim as you run nearby. There's a free version, but you can get detailed stats and access to the leaderboard for about $40 per year or $3.99 per month. It's also compatible with Garmin devices.
6. Zombies, Run- Over a million runners worldwide have accepted one of the hundreds of missions to survive the zombie apocalypse (and stay moving). Who wouldn't want to pick up the pace when zombies are chasing you? Just watching the trailer was enough to get my heart rate racing.
What Is the Best Running App for Beginners?
Most of these apps are great for beginners, too. But if your goals are more recreational in nature, you probably don't really care too much about your stride or pace. Many of us just want motivation to get off the couch, find our running shoes, and start moving. So here are some options to help you do just that!
7. C25K 5K Trainer. This app is a fantastic way to gradually ease your way into increasing your activity level. Each workout is around 30-45 minutes long, so you can easily fit it into your daily routine. Its 8-week guided program also provides excellent audio cues telling you when to walk and when to run, and you can build up your stamina over time. This app is compatible with Apple and Android devices and many other fitness accessories and smart devices like Fitbit and AppleWatch. Even if you don't make it to race day, you'll enjoy the benefits of creating a new running routine.
8. Human- Rather than working on maximizing mileage, Human provides basic motivation to start moving. It sets a target of just moving for 30 minutes a day and basic things like going to the grocery store or moving around the house count towards that goal. It's also compatible with other fitness trackers.
9. NHS Couch to 5K. This completely free app may provide some fantastic motivation to get going. It's similar to C25K but completely free and is structured over 9 weeks, rather than 8.
What Other Apps Can Inspire My Next Run?
10. Runtastic- This free app from Adidas offers lots of training plans and a run tracker to help inspire your workouts.
11. Nike Run Club- It's full of encouragement and fitness tracking to take your run to the next level. This Run Club's guided runs are especially beneficial for focusing on your goals.
12. Pacer- This highly-rated app offers guided fitness plans and activity trackers to accommodate your health and fitness goals.
13. Runcoach- Ready for your next marathon? Let Runcoach's personalized training help get you there! In addition to free features, including compatibility with other fitness apps and trackers, you can pay $129.95 for the gold version that includes personalized coaching from one of a team of elite runners.
14. MapMyRun- Oh, the places you'll go with MapMyRun! Created by UnderArmor, this running app provides unique workouts, routes and has robust community features. Users who want more features, like no ads, a heart rate analysis, and mobile coaching, can pay $29.99 for an annual subscription.
What Are Some Great Running Apps Compatible With Other Accessories?
Apple Watch– While Apple Watch takes you beyond running into several other workouts, it's a fantastic health tracker. It's compatible with Apple Health, so you can get tremendous insights into other health metrics.
Fitbit- Like the Apple Watch, the Fitbit app is designed for overall fitness rather than just running. You need one of several wearable devices depending on what you're looking for in a smartwatch.
Garmin- Garmin's been a pioneer in the smartwatch space and offers several wearable options that will help you stay fit.
Peloton- Even if you don't own their popular spin bike, the Peloton app has lots of fantastic workout options to keep you fit. They offer thousands of classes, including guided outdoor runs, to help you reach your fitness goals. It's a fantastic cross-training option.
iFit- iFit works best when connected to one of several compatible devices, including NordicTrack and ProForm treadmills, bikes, and rowers. But it also offers guided runs and cross-training recommendations you could do anywhere.
What Can I Listen to When I Run?
Several of these apps have in-app music and/or motivational mixes to inspire your next workout. But if you want extra motivation, try these apps to boost your training.
Apple Music- Great selection of music, playlists, and podcasts.
Spotify- Create your own playlist, or listen to one of theirs.
Audible- Excellent selection of audiobooks and podcasts.
Scribd- Also has a comprehensive selection of audiobooks and podcasts, but is a monthly subscription for unlimited e-books and audiobooks.
Do Running Apps Really Work?
When it comes to running apps and pretty much everything in life, you get what you give. So if you have a specific running program you want to follow on your phone or smartwatch and want extra accountability, running apps can provide fantastic support! But if you're not really invested in your fitness routine, it might not necessarily be worth downloading. But judging by the number of running app downloads and extra fitness accessories, many beginner and seasoned runners swear by their running apps.
Do you have a favorite running app that strengthens your workout? Be sure to share your experience with friends and family on FamilyApp or social #getfamilyapp!
For more family fitness tips and advice, check out the Fitness Category on FamilyApp.