When it comes to tea, there is no shortage of health benefits. With so many types of teas available, everyone should be able to find one they like. Whether you prefer oolong tea, black tea, green tea, oolong, hibiscus tea, rooibos tea, or white tea, drinking tea is good for you!
Jump to Recipe
Benefits of Drinking Tea
Some tea, like black tea, is caffeinated for those who need a jump start to their day. Other teas, like herbal teas, are heart-healthy and caffeine-free. Drinking these teas can help you wind down at night.
Tea, with or without caffeine, has many health benefits. Some prefer drinking tea straight, while others add a bit of sugar or honey before drinking to make it sweet.
Tea consumption is full of health benefits, which is why there are tea drinkers all over the world. Drinking tea is a ritual for many cultures because true tea not only tastes delicious but has long-term health benefits. Drinking a glass of warm tea is also very comforting, and some feel their blood pressure go down as it helps them unwind.
Tea Benefits for Health
In many cases, tea is also calorie-free and can help with weight loss. Teas contain antioxidants and compounds like catechin, polyphenol, and Sinensis. These make drinking tea a good idea for nearly everyone – even if you are not sure what health-promoting terms like flavonoid and antioxidants mean.
If you are not already a tea drinker, you may become one after reading about the health benefits of drinking tea. These include promoting brain health and reducing the risk of heart disease. Some teas also have cancer-fighting and blood pressure benefits. Many have anti-inflammatory properties. Some teas, like Pu-erh, are even cholesterol-lowering.
Whatever your favorite tea might be, from black tea to green tea, with or without caffeine, the possibilities are endless! While we may enjoy tea for its diverse flavors and healthier energy kick, there are actually several health effects that come with drinking tea regularly.
Once you find a tea you love, you may find yourself reaching for it over non-tea beverages regularly. Pay attention to taste. If you are sensitive to caffeine, stay away from stronger black tea and green tea. Instead, opt for calming chamomile, rooibos, white tea, or herbal tea with low caffeine content.
Expert Tea Benefits
Jaya Jaya Myra, a former immunologist, turned mind-body wellness expert and bestselling author, highlights the wonderful mental and physical health benefits of drinking tea every day.
Jaya Jaya Myra says that "tea is one of my daily routines because it helps build synergy with everything else. This simple act has tremendous benefits for physical and mental health and emotional wellbeing. Tea can boost the immune system, help fight viruses, and even decrease stress and anxiety, which we all need right now."Here are Jaya Jaya Myra's top mind-body benefits of drinking tea:
Tea Fights Viruses and Boosts Immunity
Black tea and green tea are known to have antiviral properties that can help your immune system combat viruses. That means that black tea and green tea can help combat viruses like the common cold and maybe even Covid-19. Anything extra we can do to support the immune system right now is a win-win.
Antioxidant-Rich Green Tea
Try this yummy, herbal tea that will help boost your immunity!
Ingredients
6

cups

water

4

green tea bags

1/4-1/3

cup

clover honey

3

tbsp

fresh lemon juice

ice cubes

garnish

lemon slices

garnish

fresh mint leaves

garnish
Instructions
Antioxidant-Rich Green Tea
Bring the water almost to a boil in a large pot, then turn off the heat.

Add the green tea bags to pot and cover with lid. Steep the tea bags for 3 minutes, then remove.

Pour the tea into a blender. Add the blueberries and blend for a few seconds.

Pour the tea through a strainer into a large pitcher. Push the mashed berries against the strainer to get all of the juice.

Stir in the honey and lemon juice until completely dissolved.

Chill in the refrigerator for at least 2 hours.

Serve in tall glass over ice.

Garnish with lemon slices and mint leaves.
Nutrition
Calories:
268
kcal
Carbohydrates:
73
g
Protein:
1
g
Fat:
1
g
Saturated Fat:
1
g
Polyunsaturated Fat:
1
g
Sodium:
75
mg
Potassium:
90
mg
Fiber:
1
g
Sugar:
71
g
Vitamin A:
3
IU
Vitamin C:
18
mg
Calcium:
50
mg
Iron:
1
mg
Tea Contains Powerful Antioxidants to Fight DNA Damage and Reduce Signs of Aging
Want to maintain that youthful, radiant glow and stay healthy at the same time? A cup of tea, particularly green tea or matcha, a day may be just the thing. Green tea, in particular, is loaded with powerful antioxidants that fight DNA damage and oxidative stress on the body. This keeps you looking and feeling young. Those green tea and matcha antioxidants can also help prevent heart disease and even cancer.
Tea Drinking Reduces Stress and Anxiety
Black tea and green tea contain L-theanine, a compound that helps fight stress and anxiety naturally. It can also promote a sense of calmness while helping you focus on whatever task is at hand. This makes drinking black tea or green tea a great pick-me-up in the morning or mid-afternoon. Theanine can also minimize the jitteriness of caffeine. But, if you are sensitive to the side effects of caffeine, go for a tea that has a little less caffeine, like green tea or oolong.
Tea Contains Drinkable Medicinal Spices
People have been making "tea" with herbs and spices for centuries. Many of these come from the camellia Sinensis plant. While these herbal teas are technically tisanes, if tea leaves are not used, we're not keeping track. That is because the potent health and wellness benefits are profound. A common Ayurvedic staple is cumin coriander fennel tea. According to Ayurveda beliefs, this tea contains a host of health benefits, including stimulating digestion, which is the root of all health Lavender and chamomile teas can help promote sleep and relaxation. You can make tea to have practically any health or wellness benefit you want!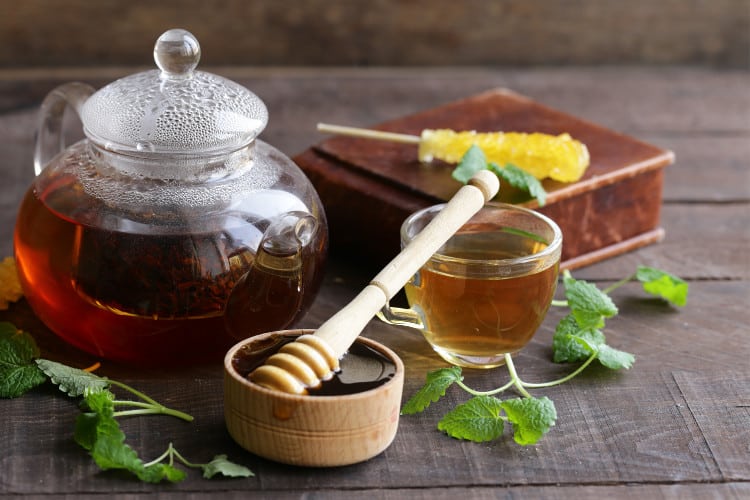 Tea Consumption Is Part of a Great Social or Self-Care Routine
Whether used as a daily self-care routine or a way to spend time with friends and family, tea has you covered. It's one of those things that can be enjoyed just as much alone as in a social setting. Keep a variety of tea on hand to offer guests when friends stop by. Be sure to branch out from good but common black tea! Include some high-quality green tea, white tea, rooibos, oolong, chamomile, Pu-erh tea, and others as well! Ensure some teas have caffeine for those who are normally coffee drinkers while others are caffeine-free. Since tea is naturally plant-based and gluten-free, it is a drink nearly everyone can enjoy! Tea extracts like green tea extract may provide some health benefits. However, tea extracts do not provide the same social or self-care benefits.
Tea just may be the perfect beverage! No matter which type of tea you chose, there are likely to be some very good health benefits or even weight loss. The antioxidants, flavonoids, catechin, polyphenol, and Sinensis in tea mean nearly every kind of tea is good for you. Go beyond green tea and find a type of tea you love and look forward to drinking every day.