Teen Makeup Tips to Help You Look and Feel Gorgeous
Whether you're the parent of a tween or teen just dipping their toe into the world of cosmetics or a seasoned teen makeup pro, read on for some tips and ideas to help you look and feel your best.
My Teen Makeup Story
I'll never forget the feeling of standing in my mother's bathroom putting on black mascara for the very first time. I felt a sense of power as I watched a few strokes of color enhance my features. It has taken several years before I settled in on a standard makeup routine, which continues to evolve.
But as shallow and vain as it might seem, the simple ritual of wearing makeup, especially my eyebrow pencil and mascara, still makes me feel just a little bit more beautiful. And maintaining the simple act of this makeup ritual helped to boost my mood during the long months of COVID quarantine, even though nobody would ever see me outside of my immediate family.
As my oldest daughter enters her teenage years, I've been able to share some of my tried and true teen makeup tips with the next generation. Here are a few insights to get started.
When Should My Teen Start Wearing Makeup?
There's not necessarily a right or wrong answer here. Some parents don't allow their kids to wear makeup until they are older teens, if ever. Others purchase "kid makeup" so their little ones can experiment with lip gloss during preschool.
Middle school is often a great time to start with natural makeup for teenage girls, as it's a time of a lot of physical and emotional changes. Something as simple as a tinted moisturizer that can cover any acne blemishes can do wonders towards building confidence.
Caveat: When it comes to wearing makeup: make sure your daughter wants to wear it for herself, rather than pleasing anyone else. She shouldn't feel pressured to wear eyeshadow or lipstick to impress boys. Instead, it's more of an extension of her self-expression. At its best, teen makeup can enhance natural beauty and builds confidence. If it seems like wearing teen makeup is creating anxiety for whatever reason, it might be time to re-evaluate this choice.
How Can I Apply Natural Makeup?
While it's not uncommon for teens to experiment with crazy makeup styles and colors, a natural look with fresh, dewy skin will always look fantastic! Here are some tips to set you up the path for lifetime makeup success.
1. Start With Your Canvas.
Makeup should serve to enhance natural beauty, rather than cover it up, so it's a great idea to start with a good cleansing regimen. Find a gentle cleanser, toner, and moisturizer that work well for your teen. Teens with acne or acne-prone skin types might need a good acne treatment like Accutane to clear up problem areas. But overall, a simple skin routine is all you need for teenage skin. Teens are often blessed with naturally dewy skin, so less is more.
2. Find Your True Colors.
Before you start scouring makeup counters, take a minute and figure out which colors look good on you. Look at your veins- if they're bluer, look for cool-toned makeup shades. If they're greener, look for warmer-toned ones. If you see blue and green, you probably have neutral undertones.
If you tend to look the best in colors like mustard yellows, greens, golds, or orange, you probably have a warm skin tone. If you gravitate towards blues, pinks, or purples, you probably have a cool skin tone.
Still not sure? Most of the time, we like to surround ourselves with colors that look good on us. So if you gravitate towards earth tones, you probably have warm undertones, but pastels or jewel tones are more your style then you might have cooler undertones. There are lots of exceptions, of course, but it's a start.
3. Embrace Your Skin Type.
After you figure out which colors work well for you, have a general sense of your skin type, whether it's dry, oily, sensitive, combination, or "normal." How do you figure out your skin type? Try this little test.
Wash your skin with a mild cleanser and wait 20 minutes. If your skin feels tight and itchy, you probably have dry skin. If it's still shiny, you have oily skin. Is some of your skin shiny but other parts feel dry? Then you probably have combination skin. If your skin feels irritated, it's probably sensitive skin, and if your skin feels fine, you have normal skin.
An oil-free moisturizer might be transformative for someone with oily skin but could cause additional dryness for someone whose skin is on the dryer side. Similarly, some people with sensitive skin might need to avoid specific chemicals or products that could be too harsh for their skin.
The simple knowledge of your skin type is essential to having success while purchasing makeup. 
4. Start With Your Base.
Now that you know which colors to pick and which skin type you have, choose a tinted moisturizer, concealer, BB Cream, or foundation with SPF. Take the time to find the right shade that matches your skin tone, and this shade might vary based on the time of year.
If you're outside for much of the summer and can tan, you might need a darker shade or two than during the winter. But if your foundation no longer seems to match, it might be time to re-evaluate. You can always save it for the next season.
Determine how much coverage your teen needs. If you only want some light coverage, especially for wrinkle-free teens, you can probably just use some tinted sunscreen, like Supergoop's Glowscreen which adds a nice finish to your skin but blends with every complexion. It's the perfect barely-there skin tint and offers subtle coverage.
If you have acne-prone skin, you might want extra coverage. Pay careful attention to ingredients, and opt for an oil-free foundation or tinted moisturizer. Look for options that provide good coverage, but won't clog pores.
5. Add a Little Color.
Once you find your skin tone and the right base, you might want to add a hint of color to your complexion in the form of blush or bronzer.
While there are plenty of helpful makeup tutorials that can teach you how to create a contoured face or complicated makeup applications, they might not be the most helpful when you just need simple makeup for teens. Often what looks fantastic on camera could look ridiculous in real life, so watch those Tiktok and YouTube tutorials with caution.
If you want a really natural look, use cream blush to add a pop of color to your cheeks. You should look awake, but not like a clown. Then add some bronzer to brighten up your skin tone. 
For natural eye makeup, you can just use your bronzer as an eyeshadow for some sheer color, rather than blending combinations in a complicated eyeshadow palette. 
Stick with neutral colors and tones, and moisture-rich lipsticks and balms.
6. Apply Eye Makeup.
Quickly applying mascara to your eyelashes helps define them without looking overly made up. Those blessed with naturally thick, dark lashes might be able to use clear mascara. But brown or black mascara can help enhance your eyes if your lashes are lighter. One makeup artist I've talked with liked using blue or purple mascara to give the eyes some extra oomph. While it sounds bold, it can be a fun way to add some subtle color to your eyes.
Eyeliner can be great, but you might want to stick with some brown eyeshadow applied with a flat eyeliner makeup brush that can create the same effect. An eyeliner pencil can softly define the eyes. If you're feeling bolder, liquid black eyeliner can make a more dramatic statement for evening or special events. 
7. Don't Forget the Brows.
While a few lucky ones have perfect eyebrows, the vast majority of us fall into one of two categories. Either we have thick eyebrows we need to groom with a little eyebrow gel or serum, or we have spare eyebrows we need to draw in with a little eyebrow pencil. In either case, eyebrows are crucial for framing your face, so make sure you treat them with the care they deserve.
How Do I Create an All-Natural No-Makeup Look?
Less is more, and you don't need ridiculous artificial enhancers to let natural adolescent beauty shine through! For an easy makeup routine for teenage girls, try this easy six-step regimen. They're a great template of makeup for teenage beginners.
Start with tinted moisturizer, foundation, or even makeup primer to even out the skin tone.
Add a pop of color with a hint of natural cream blush or bronzer.
Add some natural eye shadow, which could even be your bronzer.
If you need to, fill in or shape your eyebrows to frame your face.
Finish your look with a lip balm or natural lip gloss.
This 6-step routine doesn't take a lot of time and will enhance anyone's natural beauty. You can even take this basic routine and dress it up like adding a red matte lipstick if you want some extra drama. But especially for young girls, natural looks tend to be the most beautiful.
In-Store Makeovers for Teen Makeup Advice
Makeup tutorials can be fantastic, but if you need help getting started with beautiful makeup, visit the experts in person. While several department stores have fantastic resources, many times, the makeup consultants are paid by one brand, so you might not see additional products and colors from competing lines. If you're able to go to a store that only sells makeup and cosmetics, like Ulta, Sephora, or Blue Mercury, the reps might be able to recommend a wider range of brand options that help you create the look you want. 
Most stores eliminated in-store makeovers during COVID, but many have brought them back. Be sure to check with a store before you go to make sure they're still offering these services. Some, like Sephora, might charge $50 for a scheduled makeup application. Others offer free services with the assumption you'll buy products from them after they give you a makeover. Do a little research before you go.
Word of caution: Not all makeup artists are the same, and while I've usually had great experiences, that's not always the case. You might want to ask a friend if they have someone they'd recommend before entrusting your face to a stranger. The good news: even if your makeover goes terribly wrong, you can quickly wash it off!
Another word of caution, avoid overly pushy salespeople or anyone who makes you feel uncomfortable. It can be way too easy to feel pressured to buy something you don't necessarily want or need.
Virtual Try-Ons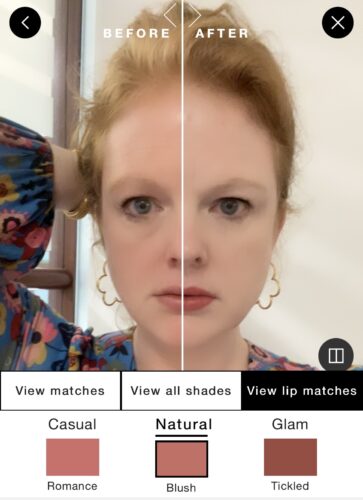 If you're not comfortable getting your makeup done in person, there are several cosmetics companies that offer virtual try-ons so you can get recommendations on which makeup colors would look the best on you. These can be a great option if you've always wondered if you could pull off a certain makeup color without having to test it out on your skin. They also offer quizzes to help recommend helpful products.
Word of Advice: Go with your gut. While these augmented reality assistants can be pretty helpful, if they recommend a skin tone shade that doesn't look anything like your actual skin, take another photo in a room with different lighting. Their technology might be great overall, but it's definitely not a perfect science!
Gorgeous Teen Makeup
You can't go wrong with a natural approach to makeup, haircare, and fragrance. But especially during these formative years, everyone will make cringe-worthy style mistakes. I know I certainly did (and still do)!
For this reason, you're probably better off not spending money on the most expensive makeup brands. You can often find great mascara at the drugstore that costs substantially less than elsewhere. Even if you use one brand's virtual try-on, don't feel like you have to purchase from them. You can often find the same shades elsewhere.
Instead, invest in a teenage makeup kit that has a mix of a few great staples, like your tinted moisturizer, and fun extras. While natural looks are great, teenage makeup products are supposed to be fun! So don't be afraid to try some of the latest makeup trends or draw inspiration from what you see around you. Enjoy the freedom to express yourself!
What are your best teen makeup tips? Let us know on social #getfamilyapp!