It's no easy task to get out the door in the morning with your makeup looking good- or is it? These easy makeup tips will have you looking gorgeous in no time!
Easy Makeup Tips from Professional Artist Taniya Perry
You're rushing to the office, the carpool line, or another appointment. Who has time to think about makeup?! Fortunately, we've got some easy makeup tips for how to transform your look in just 5 minutes.
First, professional makeup artist Taniya Perry shows us how to look gorgeous with minimal makeup. Then, I'll show you my speedy hair/makeup routine.
When I first met Taniya, I was struck by her gorgeous skin. She is simply radiant! As a busy mom of a 1-year-old, she also understands the importance of a quick makeup routine, and here's how she achieves her gorgeous natural-looking makeup.
Taniya's Four Steps Easy Makeup
Step 1. After applying moisturizer and color-correcting necessary areas (those areas with hyperpigmentation), I apply foundation using a damp beauty blender. For color correction, you should match the color of the corrector to the intensity of the discoloration and the type.For myself, I have dark circles and hyperpigmentation which carries a blue undertone, therefore I use an orange corrector to neutralize that discoloration. People with fair skin should opt for a pink corrector, and those with light-to-medium skin should opt for a corrector in light peach. Only apply the corrector to discolored skin.Step 2. With the same beauty blender, using the tip for a more precise application, I apply concealer to my undereye and anywhere that could use some additional coverage across the rest of my complexion.Step 3. I apply a setting powder to help make the foundation last longer. Then I follow with a bronzer in a "3" motion or backward "E" across the perimeter of the face to help warm my complexion and shape my face.Step 4. To fill my brows, I apply a fibrous brow gel that deposits fibers to make the brow appear fuller and add a tint to the existing brow hairs.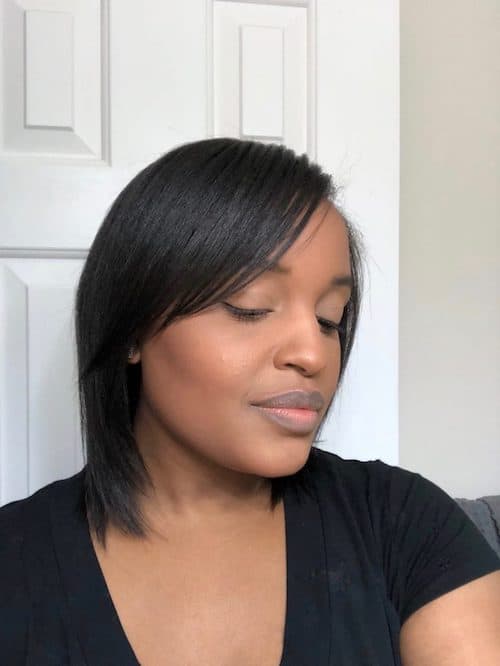 Concealer: Too Faced Born This Way Super Coverage Multi-use concealer (shade "Maple")
Powder: Laura Mercier Candleglow powder. Perfect for setting makeup or on its own for a sheer, radiant finish to the skin.
Bronzer: Anastasia "Mahogany"
Brows: Benefit Gimme Brow (shade 5). I love the fibers built into this formula that help to make the brows appear fuller.
My 5-Minute Makeup and Hair Routine
Admit it–you're jealous your hair doesn't stand straight up like this first thing in the morning. Ha!!
But here I am – and the only makeup I'm wearing is whatever traces of eye makeup didn't come off when I washed my face the night before.
Now let the magic begin:
Minute One: Though my natural hair color is strawberry blonde, my eyebrows are platinum blonde, so I constantly have to color them in or it looks like I have no eyebrows. I always start with my brows, and like the Hourglass brow gel pencil in blonde.
My eyes are pretty sensitive, and most eyeliners cause me to have allergic reactions so my contacts cloud up. Fortunately, the Chanel Khol eyeliner pencil in ambre is not one of them. It's expensive, but a great shade for paler complexions. Since I have almond-shaped eyes and fairly heavy eyelids, I only apply eyeliner to the outer corners so my eyes don't look closed in
Minute Two: I added eyeshadow and mascara. I used the Urban Decay Naked 3 makeup palette, and I usually just blend various neutral shades together from there. There's no rhyme or reason to my exact process.
I put mascara on next, but have to be careful that that mascara from little eyelashes doesn't get mascara stuck to my eyelids. I love the Sephora Lash Favorites sample kits, and usually, just use any of those mascaras. It's a great way to try a lot of different options.
Easy Makeup Minute 3 and 4: Face and Lips
Minute 3: I inherited my grandmother's Irish skin, and even though I need to use tons of sunscreen, I've never had to worry about finding products with salicylic acid for acne used any fancy skincare regimen. Today I used a little Becca liquid concealer in Porcelain under my eyes and rubbed Bare Minerals tinted moisturizer in Opal over my face. Should I have used makeup brushes or sponges? Yes! Could I find them this morning? No– so I just used my fingers to blend. You can see in the photos that this probably wasn't the best call; it still needs a little work.
Minute 4: I used this last minute to better blend in my tinted moisturizer and concealer. I finished off the minute with Chanel Rouge Coco ultra-hydrating lipstick in Mademoiselle (no lipgloss for me today) and two tiny dots of NARS Orgasm liquid blush on my cheeks. I forgot to use a setting spray to prolong my makeup. Maybe next time? (But probably not.)
Easy Makeup Minute 5: Hair
It's not perfect, but my last minute was all about my hairstyle. I turned my BaBylissPro Nano Titanium Steamtech MiraCurl on at the start of my 5 minutes so it would be ready to go at the end. Then, I quickly curled my hair, starting with the craziest strands first. You're supposed to wait for the beeps to know when your curls are ready- I didn't have time for that. As soon as I heard the click that my hair was in the machine, I released it and was on to the next curl. The curls are a little tighter now than I'd like, but they should relax fairly shortly. Carpool dropoff, here I come!
Easy Makeup Tips for All
So what's the bottom line? It's possible to have an easy 5-minute hair and makeup routine, even if you've never been to cosmetology school. It might take a while to figure out your routine, but once you find something that works for you, it's easy to give yourself a whirlwind makeover. No permanent makeup is required!
As you can see from Taniya's perfectly even skin tone, using beauty blenders and brushes really make a big difference in creating an even, radiant look.
Even though most of the brands we used today aren't cheap, I bought them over the course of a couple of years and use the products as long as I can. I go through mascara every 3 months or so, but eyeshadows or powders can last a couple of years! My curling wand is about 4 years old and still going strong. You don't need to get everything at once!
You can get fantastic makeup at the drugstore– it doesn't need to be expensive. Everyone's face and skin are different, so find whichever products and techniques work well for you. Then, throw on those jeans and tee-shirts and you're good to go!
For more family beauty tips and advice check out the Beauty Category on FamilyApp.