Plogging: All About the Most Eco-Friendly Exercise
Want to make the world a better place while also working up a sweat? Plogging might be your new favorite activity!
What Is Plogging?
Plogging is simply a form of exercise combining picking up litter while jogging. The movement officially started in Sweden in 2016 when Erik Ahlström moved from a small mountain community to Stockholm. He was frustrated by the amount of litter he saw on his daily commute and decided to take action. Ahlström started picking up extra trash during his daily runs, others started joining him, and the plogging movement quickly gained momentum. 
The term "plogging" comes from the Swedish phrase "plocka upp"- meaning "pick up" and the English word "jogging." So there's no right or wrong way to do it. 
Some ploggers will sprint down the road, adding in the extra squat to increase leg strength when they see a stray piece of litter. Others take a more leisurely approach to this fitness craze. But no matter how you do it or where you are, as long as you're moving and picking up litter, you're doing it right!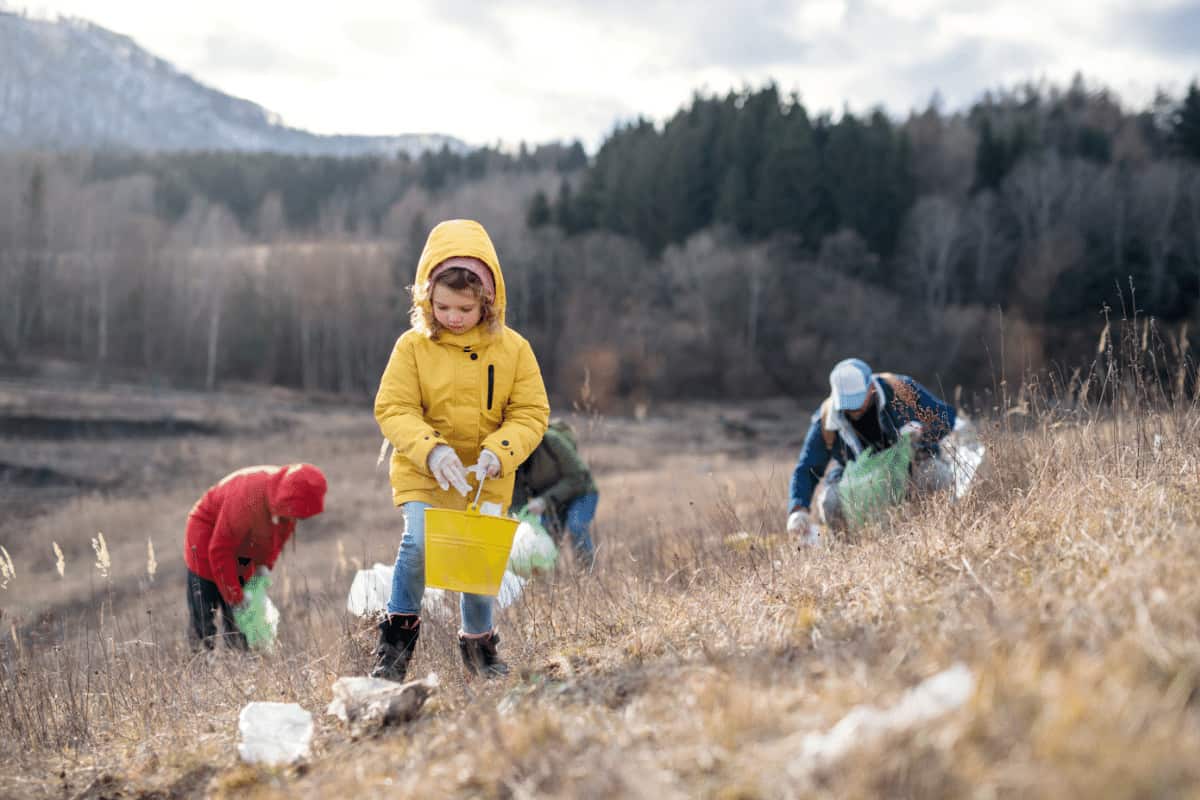 Can I Plog With Kids?
Absolutely! This is an ideal exercise to do with kids of all ages, as you combine physical activity with environmental activism. Even if you're just strolling down the beach with toddlers, you can all pick up plastic bottles or other types of litter. It might not be quite as robust a workout as some of the more intense ploggers, but it's definitely a good start to raising good eco-friendly citizens. 
What Are Some Games You Can Play While Plogging?
Some kids might not be overly excited about this new activity, but with a few games or a friendly competition, you can easily inspire them towards greatness. 
Who can find the most litter? This one is pretty straightforward- go for quantity and see how many pieces of trash you can find in a day or over the course of a week.
Who can find the most interesting piece of trash? Anyone can find a food wrapper or soda can– but what about those unusual items you might find? The possibilities are endless! 
Who can find the grossest trash? Don't pick up junk without gloves or some form of protection. But it can be kind of cool (and totally disgusting) to find these types of "treasures."
Extreme plogging: Anyone can plog when the weather's beautiful, but if you're the type of person who enjoys splashing in mud puddles, extreme plogging might be your best bet! Assuming it's not dangerous to be outside and you have decent visibility, pull up those rain boots and start making your neighborhood litter-free.
How Do I Find a Plogging Group?
Plogging is a fantastic outdoor workout, which you can do with friends even during COVID-19. Of course, be sure to follow guidelines and keep a healthy social distance on your plogging adventures.
If you look on social media, you can often find groups in your area. So you'll be exercising, improving the environment, and making new friends! Or, if you'd rather keep a distance, you can probably find a virtual plogging group to get started. 
What Are Some Plogging Tips?
Looking for some ways to get your plog on? Read on for some fun ideas.
Make it a friendly competition: Whether you're with other ploggers in-person or virtually, get together with your friends and try out one of the plogging games listed above. 
Find a beautiful path: While you can plog along your typical walking trail, step outside your comfort zone and go jogging in new territory. 
Make it educational: If you're plogging with kids, make it a counting game. See how many bottle caps they can find, or ask them the color of the plastic bag you might find. You could even help your toddler learn colors by looking at pieces of plastic or styrofoam.
Be social: If you're a social media fan, share your plogging adventures in your story. You might encourage your friends and followers to join in on the fun. Or if that isn't your thing, share your plogging adventures of picking up trash on your favorite family app!
Why Is Plogging Important?
Especially with COVID disrupting many of our favorite exercise rituals, adding plogging to a hike or jog can improve your health and the environment. If you add an element of healthy competition, it's also a fantastic way to bring your family together for a fun activity.
So what are you waiting for? Whether you're in the United States or Sweden, Plocka upp the pace and start plogging today!