Instant pot or slow cooker? What's the best way to make easy, delicious meals for the whole family? We help you find answers to this question here to spice up your dinner while taking the stress out of cooking.
Jump to Recipe
*This article contains affiliate links. It doesn't cost you anything, but if you click on the link and buy something, we'll earn a small commission to help our writing team create more great articles.*
What's for Dinner?
Is an Instant pot really the magical appliance people swear by? Or perhaps a slow cooker is your tool of choice? Making nutritious, delicious family meals is no simple task, but these cookers can make cooking your favorite comfort food a lot easier! Which one should you use? We'll show you some benefits of both, and have some great recipes so you can start cooking!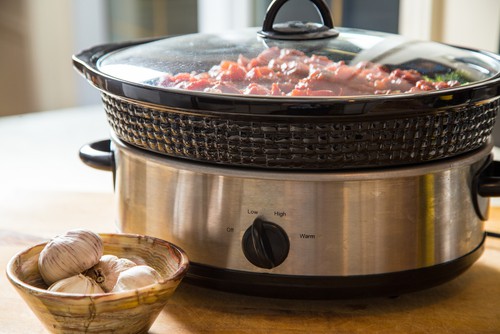 Slow Cooker
Do you like to do meal prep in the morning and come home to a finished dinner? Then the slow cooker might be the appliance for you!
Slow cookers, like the popular Crock-Pot, cook food at a very low temperature over several hours, so you can put your ingredients into the cooker in the morning, and return after a long day to a delicious hot meal.
Slow Cooker Pros and Cons
Advantages: The low-temperature results in really tender meats and vegetables that are still tasty, even when overcooked a little bit. It's also virtually impossible to burn food in a slow cooker, which is another plus for many overzealous cooks! Another benefit? You can buy a new Crock-Pot for little as $15, so they're very cost-effective.
Disadvantages: The "slow" in a slow cooker is there for a reason- cooking with this device takes a long time! You can't just throw something together with this appliance. Even with the lower temperature, since not every food has the same cooking temperature, the slow cooker could prepare food a little bit unevenly.
Instant Pot (America's Most Popular Pressure Cooker)
Are you more of a last-minute cook? Then the electric pressure cooker might be your tool! Pressure cookers, like the Instant Pot (sometimes shortened to Instapot), have become very popular in recent years since they're so easy to use.
How do they function? Electric pressure cookers work differently than slow cookers since they use pressure and steam to cook food. The high temperature means food cooks in minutes, rather than several hours like the slow cookers. Many have extra functionality, including a sauté function, rice cooker mode, so you can make lots of different kinds of food. You can make falafel, meatballs, pulled pork, and even cheesecake in a pressure cooker!
Instant Pot Pros and Cons
The Instant Pot, get the job done quickly and efficiently! The steam helps to lock in the flavor, so food is tender and moist. Even though they quickly cook food, most have a delayed timer, so you can put your ingredients in the pot for a few hours and return home to a finished meal. Another advantage is that you need less energy due to pressure. With a pressure cooker, you can enjoy the fruits of summer even in autumn and winter, by making delicious fruit preserves or jam. It's also perfect if you cook your own baby food. Many pressure cooker fans like to make extra quantities of their favorite foods so they don't have to cook up new things every day. Preserve your favorite porridges, soups, or other meals in the refrigerator or freezer and reheat later.
Disadvantages: It's fairly easy to overcook food in the Instant Pot since everything's done in a matter of minutes (once the electric pressure cooker heats up!). This means there's a learning curve when you start to use the appliance. Pressure cookers release vast amounts of steam before you open them, which could wreak havoc on the wood of your kitchen cabinets if you're not careful. Make sure the lining in the lid is firmly in the pot when you're pressure cooking so that you don't lose too much steam before you want to.Another caveat: it takes the pressure cooker several minutes to heat up, so even if the timer says "3 minutes," it will probably be closer to 15 or so depending on the recipe.
Instant Pot and Slow Cooker Recipes
Here are a few recipe ideas to get you started with a slow cooker or Instant Pot. You can usually adjust the recipe to use either type of cooker.
Honey Sesame Chicken: My children call this "candy" chicken, and the sweet/salty diced chicken is a huge hit in my house! We adjust the recipe to omit the pepper flakes and often the sesame seeds, but either way is great. Cook this meal in a matter of minutes, and it pairs really well with rice or cauliflower rice. Substitute pork, shrimp, or beef for equally delicious results.
Sesame Chicken
Sweet and tangy dinner perfection.
Ingredients
2.0

lbs

boneless chicken breasts or thighs

2.0

tablespoons

olive oil

or sesame oil

2.0

tablespoons

rice vinegar

1/3

cup

brown sugar

1/3

cup

soy sauce

can sub coconut aminos
Instructions
Sauté the chicken.
Turn the Instant Pot on the sauté function. Add 1 tablespoon olive oil and while it's heating up, cut the chicken breasts into bite-size pieces.

Once the chicken is lightly browned (not cooked all the way through- just white on the outside) turn off the sauté function.
Pressure Cook.
Add brown sugar, soy sauce, water, rice vinegar, garlic, ginger, corn starch, and orange juice to the chicken.

Stir together, and seal in the Instant pot. Set to high pressure for 3 minutes.

Serve with rice and garnish with sesame seeds and scallions.
Nutrition
Calories:
535
kcal
Carbohydrates:
19
g
Protein:
49
g
Fat:
28
g
Saturated Fat:
7
g
Polyunsaturated Fat:
5
g
Monounsaturated Fat:
14
g
Trans Fat:
1
g
Cholesterol:
145
mg
Sodium:
1228
mg
Potassium:
565
mg
Fiber:
1
g
Sugar:
18
g
Vitamin A:
188
IU
Calcium:
45
mg
Iron:
2
mg
BBQ Chicken: This delicious recipe makes the perfect barbecue to pack
into sandwiches for a summer picnic. You can also serve at home with tortillas and cheese for a different twist.
Shipwreck Casserole: It's not going to win a beauty contest, but shipwreck casserole is an easy and kid-friendly addition to your weekly meal plan. Enjoy!
Creamy Coconut Lentil Soup: I usually make a double batch of this delicious soup, which has become my go-to meal. It's easy, filling, and delicious
Need more recipes? You can always find them online, or start a new chat with your family on FamilyApp to get their suggestions and favorite family recipes.
Instant Pot vs. Slow Cooker – The Verdict?
There's no "right" tool for making dinner. Sometimes, after a hard day's work, having "breakfast for dinner" and eating cereal is a huge hit with my family! Other times, I'm better organized and can make a more elaborate meal. If you're able to plan ahead and wait, slow cookers are quick and easy.
But if you only need one cooker-type of an appliance, I'd go with an Instant Pot, since you get a little extra versatility and functionality. Of course, both provide are fantastic tools to help minimize dinner stress and maximize your family mealtimes.