The Prescription Shoppe is a community pharmacy. And owners Drs. Henry and Jade Ranger are ready to treat you like part of the family.
Meet Dr. Henry Ranger and Dr. Jade Ranger
Henry and I met in pharmacy school at Hampton University. He is originally from the beautiful, Beaufort, SC. And I am from Bowie, MD. Henry's first job upon graduation was the pharmacy manager at the Farm Fresh in Norge, which is how we initially made our way to Williamsburg.
After almost 10 years, we are thankful to have had the opportunity to build a life here and become a part of this wonderful community. Not only have we built our home in Williamsburg, but we have also built our very own small business from the ground up. In addition, we are raising our two beautiful little boys, Jacob (7) and Joshua (3).
Prescription Shoppe Story
When we first opened The Prescription Shoppe, a full-service mom and pop, community pharmacy, we had no idea that in just two short years we would have had such a major impact. Our neighbors and other local business owners have embraced us and welcomed us with open arms; for that, we will always be grateful.
The Prescription Shoppe is not a franchise. We got that question often when we first opened. While there are other "The Prescription Shoppes" in the country, this is the only one in the state of VA. We are each our own entities and have different logos, mottos, etc.
Prescription Shoppe Difference
The Prescription Shoppe is more than just a pharmacy, we are a community pharmacy that truly encompasses every part of the word "community." We know our patients and customers by name, and they know that we genuinely care about what's going on in their lives. In return, we get to go to work every day and do what we love. The reward of opening our own business has been immeasurable.
We have a real team effort and we value each staff member for their contributions. Without their dedication to our vision, we definitely wouldn't be where we are today. Plus, the people in this community believe in supporting local, and that is major for a small startup like ours.
Prescription Shoppe Marriage
Initially, people joked about whether or not we would be able to work together. As it turns out, we are pretty good business partners after all. Our formula is simple: we work hard all of the time and usually, my way goes (insert laughter here).
We had not planned on working together. Honestly, it kind of just happened. In July of 2018, Henry said that he was tired of dealing with the corporate side of pharmacy and wanted to get back to good old-fashioned patient care. I was apprehensive at first. However, after much prayer, counsel from our pastor, and discussing our vision with our close family, we decided to take this leap of faith.
Pharmacy Partners
Henry is more analytical. He's always thinking of our next big move and focuses on the numbers in every situation. I am more of a public relations and community engagement person. I keep the store clean and make it look welcoming for all who come through our doors. Plus, I manage our website and all of our social media sites, which is more involved than I originally realized.
Our differences definitely complement each other. We are able to focus on our areas of expertise, but we also reference each other before we make any decision big or small.
Pharmacy Kids
Right now our kids just spend time with us at the pharmacy in the evenings or on weekends when we need to catch up. However, the patients love to see them zipping through the store, or hear them giggling in the back. Their presence is what solidifies The Prescription Shoppe as a true family business. Henry always jokes that when Jacob turns 9, he's going to be running the cash register. I doubt that, but we do hope to include them as they get older and our business grows.
Prescription Shoppe Parents
We developed our parenting style around Mary Rita Schilke Sill's 1980 poem When You Thought I Wasn't Looking. The poem is framed and hanging on the wall in our older son, Jacob's room.
Our main goal is to constantly set an example for our children. We teach them to have the faith of a mustard seed because anything is possible. Treat people the way you want to be treated in every circumstance and you will never go wrong. Be honest and show integrity no matter what everyone else may or may not be doing and always pay it forward. These are all things that we try to model for not only our children but also for our staff and community as a whole.
Family Business Challenges
The most challenging part of business ownership is achieving a good work/life balance. Before we owned our own business, we worked our set schedule, and then when we were off, we were really off. As entrepreneurs, we are always working around the clock. There is very little downtime to just relax. Thankfully, we have a phenomenal support system in place; our boys are looked after and loved and that is something that is really important to both of us.
Sometimes it's organized chaos and other times things are running more smoothly. Everything is a learning process and we learn what works for our family a little bit more every day as we go. One thing that we emphasize is spending quality time with one another, and also with the boys. We have a weekly date night on most Friday nights (thank God for grandmothers). We also try to have our family day on Saturdays after the pharmacy closes at 2 pm.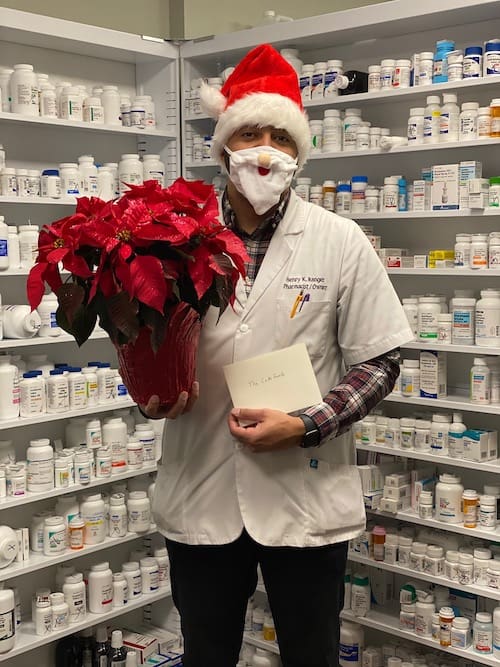 Good Days
A good day looks like going to the pharmacy and being able to manage all of our tasks throughout the day without things getting too chaotic, finishing up our deliveries by 7 pm, and being able to eat dinner as a family. Being able to play a round of Jenga or Mrs. Pacman before the boys' bedtime story is icing on the cake!
I can't say that we ever fully turn work off honestly, but we do definitely attempt to scale it back. We usually do so by taking the boys for a walk or bicycle ride either around our neighborhood or on one of the local trails. The Rangers are a pretty competitive bunch, so we enjoy playing games with each other whether it's Trouble, Checkers, or Spot it. And movie night is a must. Joshua is really into the Disney Pixar Cars movies right now, so those have pretty much been on repeat recently.
Prescription Shoppe Wisdom
We would tell married couples starting a business together that communication really is key. Don't expect the other person to know what you are thinking or how you are feeling. Be open and honest with your thoughts and feelings.
Also, we would encourage them to set quarterly goals and then put their plans into action in order to accomplish them. Lastly, don't be afraid to grow and evolve together. Give each other the space to shine in their own right.
Coming Up for The Prescription Shoppe
Our follow-up drive-thru, COVID-19 vaccine clinic will be taking place on Saturday, May 8th. This event is by appointment only and we are looking forward to giving the folks who came to our April 10th event their 2nd dose of the Moderna vaccine.
You can follow us on Facebook @RxShoppeVA, Instagram: @therxshoppeva, and Twitter: @TheRxSh. Stop by and visit, we would love to treat you like family!