Healthy Lunch Ideas: Pack a Delicious Lunchbox in Style
Lunchtime is an important part of the school day, and your child needs a good one to stay nourished and focused. Here are some great healthy lunch ideas they'll actually eat!
Jump to Recipe
*As an Amazon Associate, we earn from qualifying purchases.*
How Do I Get My Child to Eat a Healthy Lunch?
Most parents know the drill. You slave away making a delicious, healthy lunch, only to have it return home untouched. Or maybe they'll nibble away at the bread crust. Maybe.
Packing school lunches can be a fairly stressful experience! Parents are often afraid that their child won't get enough nutrients, which will negatively impact their brain development. After all, the child is in school a large part of the day. And they only get one lunch break.
They might end up surrendering the lunch battle entirely, just so their child will eat something. Anything. Some days, candy, unhealthy snacks, fast food, and junk food will end up in the school lunch box instead of hummus and carrots. And processed snacks with lots of added sugar may give them a temporary boost of physical energy, but it'll leave them crashing in the afternoon.
So how can you get your kid to eat a healthy lunch at school?
Presentation Matters!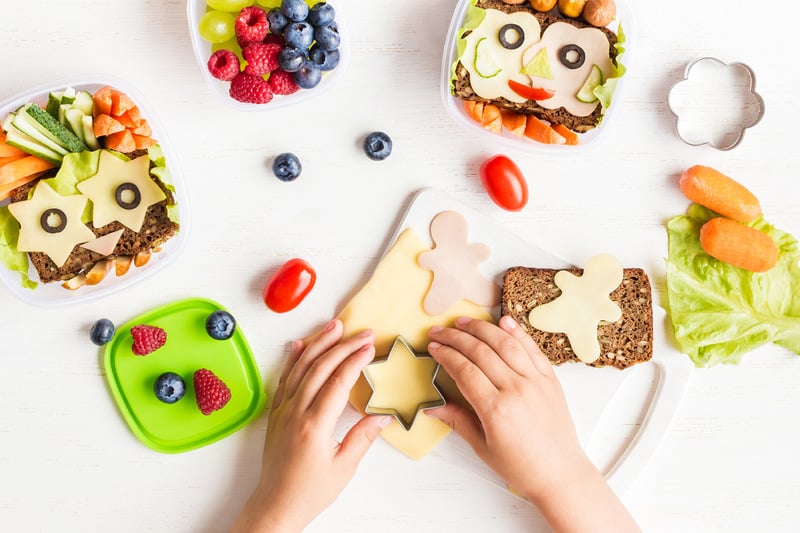 Let's start with the lunch box itself. The presentation can play a large role and an appealing lunchbox encourages your child to eat. Plus, reusable lunch boxes are more eco-friendly than brown paper bags.
Many parents and children love using a bento box to keep lunch looking and tasting delicious. You can put something different in each compartment. You'll be able to divide their lunch into small portions where different foods won't touch each other. Children who tend to eat less may be extra proud when they have finished a container or portion of the meal. Plus, it encourages healthy eating habits by offering multiple nutritious options.
If you have a large lunch box without dividers then you can store small boxes inside. For smaller children, fun-shaped food containers can go a long way.
Bento boxes also are reminiscent of the oh-so-coveted Lunchables! Make it a DIY Lunchable with mini chicken sausages, deli cheeses, crackers, and applesauce. Look up the different kinds of Lunchables and see if you can replicate the experience with healthier alternatives.
The Right Foods for the Lunchbox
It's not just the outside that matters–it's what's inside that counts! A healthy, balanced lunch usually has a colorful variety of foods. Let their eyes guide their culinary experience. Here are some more kid-approved suggestions.
Including different foods in different colors ensures that all the necessary nutrients are present. Every lunch should contain good carbohydrates, protein, and healthy fats.
Pack whole grains, fruits, and vegetables for a good dose of carbs. Protein and healthy fats from meat, string cheese, eggs, yogurt, and nuts.
You can fill the small compartments of the lunch boxes with different snacks every day. This can be done the night before. Cut fresh fruit and vegetables into different shapes. Some easy options include apple slices (with cinnamon and lemon juice to spice it up), veggies, or even simple penne pasta salads.
Most kids love finger foods and kebab skewers with different vegetables or fruits make eating even more fun. You can also add sausage and cheese to the kebabs. If kebab style isn't your thing, you can make meat and cheese roll-ups with a side of crackers.
There are endless easy ways to make lunches interesting. For example, adding sprinkles to the yogurt is a fun way to ensure your child eats their yogurt for a protein boost. When choosing a yogurt, try Greek yogurt or one that isn't packed with sugar. Additions like blueberries, raspberries, strawberries, banana slices, dark chocolate chips, or granola can give plenty of sweetness and texture.
You can also write little notes of encouragement to your child either on paper or even the napkin!
Colorful School Lunch Drink Ideas
Adding a nutrient-rich beverage to your school drink is another way to pack in nutrients. Instead of orange juice and apple juice, which can be high in sugar, opt for a fresh fruit smoothie. A low-fat smoothie with fresh fruit like raspberry, blueberry, strawberry, or apricot with a dollop of granola for the topping will be a bit hit with other kids in the cafeteria. If you use banana as a base, you'll also get in an extra hit of potassium. And incorporating coconut water as the smoothie base will provide your child with lots of great electrolytes.
You might even be able to sneak in extra veggies like cauliflower, cucumber, or spinach to your smoothie. But be sure not to go overboard! Really picky eaters might reject the smoothie entirely if it tastes more like vegetable soup than a fruit drink.
Healthy Lunch Ideas for Vegetarians
If your son or daughter is not enthusiastic about vegetables, try egg muffins. These are a great protein bomb if you don't like meat or are vegetarian. Whisk eggs and pour them into muffin molds filled with various vegetables. After baking, you won't see the vegetables.
Another great option is protein bites! They are super quick to make ahead of time and are sweet little treats for packed lunches.
Cookbooks like Deceptively Delicious and The Sneaky Chef also have great ideas for delicious kids' meals. The grilled cheese muffin recipe is a huge hit at our house!
Another suggestion: different salads, like quinoa or noodle salad, are a great addition to the lunchbox. Quinoa is an especially great superfood that's recommended to vegetarians and vegans.
Hummus is also a great way to get protein in your child's lunch. They can dip veggies like cucumbers, bell peppers, cherry tomatoes, and carrots. Hummus doesn't have to just be savory, either! Dessert hummus is a great way to get a sweet treat with some protein and added nutrients. You can easily make it on your own, too! For chocolate hummus, in the food processor, blend chickpeas, tahini, maple syrup or agave syrup, cocoa powder (dark chocolate), vanilla extract, and a pinch of kosher salt. Top with cacao nibs for some texture. They can dip fresh fruit slices, crackers, or pretzels!
A Sandwich Is Not Just a Sandwich
For many children, the same sandwich every day can be a little dull. So add variety here, too. Take different sauces and make different sandwiches. Why don't you ask your kid what he wants? Every now and then peanut butter and jelly sandwiches are fine. But maybe they'd prefer ham and cheese instead? Embrace the variety!
Is your little one a budding foodie? Who said you have to stick to the simple meat, cheese, lettuce, tomato, and mayo sandwich? What about a barbecue chicken sandwich on a fancy whole-grain bun? What about a homemade burger with avocado, fresh tomato, and sharp cheddar cheese? How about a fancy grilled cheese sandwich with pimento cheese? You don't necessarily have to get caught in a sandwich rut.
In many stores, you can buy cute cutters for bread that waste little to no bread at all. The cookie cutters for Christmas cookies can work beautifully. Just keep in mind that you might have to eat the crust yourself!
Try different types of bread. Wraps and tacos offer a great variety. They have different consistencies. From soft to granular to crispy, you've got all your textures covered for different sensory experiences.
Here is one simple wrap recipe that will almost certainly be a favorite!
Turkey Hummus Wrap
Easy and healthy lunch wrap
Ingredients
1

Tortilla

1

tbsp

Hummus

1

Carrot

1

Pickle

Mustard (to taste)

1

Turkey slice

1

Roast beef slice

Lettuce (optional)
Instructions
Turkey Hummus Wrap
Use a knife to spread a thin layer of hummus all over one side of the tortilla. Then add desired amount of mustard.

Place protein choices (turkey, roast beef) in center of tortilla.

Slice one pickle and add to tortilla.

Shred or slice carrot and add to tortilla. (Optional: Add lettuce.)

Roll up tortilla, cut and enjoy!
Nutrition
Calories:
193
kcal
Carbohydrates:
25
g
Protein:
13
g
Fat:
5
g
Saturated Fat:
1
g
Polyunsaturated Fat:
1
g
Monounsaturated Fat:
2
g
Cholesterol:
22
mg
Sodium:
1412
mg
Potassium:
476
mg
Fiber:
4
g
Sugar:
5
g
Vitamin A:
10314
IU
Vitamin C:
17
mg
Calcium:
164
mg
Iron:
2
mg
Healthy Lunch Expectations vs. Reality
We hope these suggestions inspire you to pack delicious healthy lunches your children will happily devour. But the reality is, some days, your picky eater might not eat anything. Or maybe they'll just eat the one cookie you packed as a special treat. Sometimes you might run out of steam and will just grab random things from your kitchen for lunch. And that's okay.
If you're worried about what they're eating at school, make sure they're at least getting a healthy and filling breakfast to help them power through the day. Whether it's a whole grain bagel with cream cheese and fresh fruit, oatmeal with a dash of brown sugar and strawberries, or egg, sausage, and cheese on an English muffin, a balanced breakfast is a great way to make sure their day is off to a great start–and will encourage them to make good choices throughout the day when it comes to nutrition.
The important thing is that your children have nutritious food choices so they'll stay healthy and happy this school year.
What do you think? Talk it over with family and friends on FamilyApp.