Healthy desserts are possible, and you have more choices than banana bread and carrot cake. When you need some sweetness after the meal or into the night, try one of these delicious recipes.
Jump to Recipe
*As an Amazon Associate, we earn from qualifying purchases.*
Healthy Desserts for Everyday Enjoyment
I finished off a pint of Ben and Jerry's ice cream last night. When there's only about 1/3 left, you must go at it with a spoon, skipping the bowl, right? It was late, and I couldn't go to bed knowing Chocolate Fudge Brownie was in my house, waiting for me.
But I'm not sure this helped my wellness goal of fitting back into real pants by spring. And I'm trying to give my body more of what it needs. But sometimes, dessert just calls.
Here are some delicious dessert ideas that don't feel sacrificial but with ingredients that meet your healthy eating goals.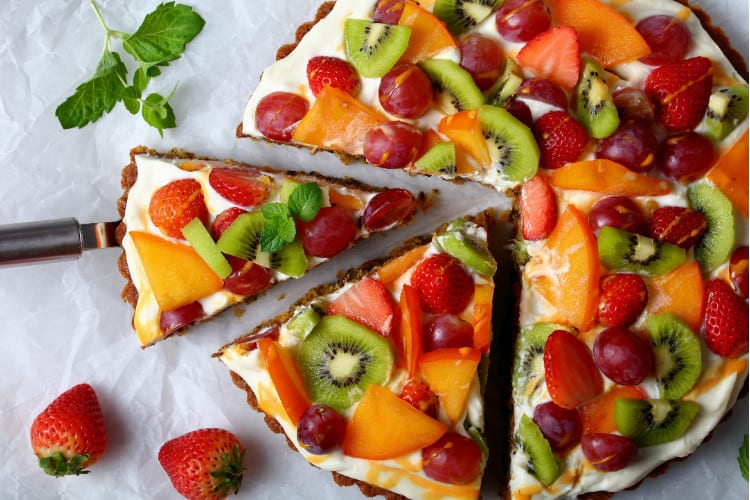 Fruit Dessert Recipes
Fruit's natural sweetness provides endless healthy alternatives to typical sugary desserts. So try baked fruit desserts that use natural sweeteners such as lemon juice and cinnamon for a low-sugar treat. Toss some sliced fruit, like apples, peaches, or pears, in a bowl with lemon juice, cinnamon, and maple syrup, and then bake in a glass baking dish at 350 degrees for 25-30 minutes, or until soft.
Fruit pizza is popular with both adults and kids and is pretty enough to serve at a party. Strawberries, blueberries, blackberries, and kiwi create vibrant colors on a serving tray. If you use Greek yogurt instead of frosting and bake this Paleo and Gluten-free crust, you have a clean-eating dessert that will be a new favorite, even for breakfast.
Frozen fruit skewers are also a great way to satisfy that sweet craving, especially on a hot day. Drizzle on a bit of semi-sweet chocolate and freeze for a grab-and-go dessert anytime the craving calls. If you've got the grill fired up, pop your fruit skewers onto the grill for a caramelized, sweet treat that you can dunk in a cream cheese dip.
You know something everybody likes? Parfaits. Use fruit, low-sugar granola, and greek yogurt, and whipped cream to make this layered snack or dessert that's packed with protein and antioxidants. Filling, not too sweet, perfect.
Apples: The MVP of Healthy Dessert Recipes
You know what they say about apples, right? The word on the street is that one of those will keep the doctor away. Whether or not they will solve your lower back pain from lifting a 6-year-old, this fruit is an enormous asset when it comes to healthy desserts.
Apple Nachos are a sweet twist on the classic Mexican dish. Use slices of granny smith apples instead of chips, add toppings like peanut butter, caramel, pretzels, chocolate chips, or coconut.
Do you ever find yourself alone with your feelings and a box of girl scout cookies? Samoa Apple Slices are perfect for when you feel your self-control dwindling. Drizzle your round (cored) apple slices with caramel, dark chocolate, and coconut for a crunchy, satisfying treat that won't disappoint.
If you love Chilli's blooming onion, and you're also a fan of grilled fruit, do I have a dessert for you! Three words: blooming grilled apple. Prepare your apple similar to how you would a blooming onion: using a paring knife, make a deep cut around the center of the apple. Flip over apples and make narrow cuts all around, making sure to not cut through the bottom. Brush with melted butter, sprinkle with cinnamon sugar, then fill the center with caramel and pecans. Wrap apples in foil and grill until tender, about 15 minutes. Pure heaven.
Vice Cream Healthy Dessert Recipe
I found my favorite healthy dessert in Jessica Seinfeld's cookbook, Food Swings. She features some vegan desserts and her Vice Cream is by far my favorite. This easy dessert recipe uses peanut butter and frozen bananas and is a guilt-free substitute for ice cream. it's delicious, easy, and a great make-ahead treat for after-dinner, or as a snack. If you eat it right away, it tastes like frozen yogurt. But if you freeze it for later, you'll have more of an ice cream experience.
Peanut Butter Banana Vice Cream
Jessica Seinfeld's famous yummy dessert alternative. It's vegan and gluten-free, too!
Ingredients
4

ripe bananas

frozen

1/2

cup

peanut butter

1

tbsp

coconut oil

1/2

tsp

cinnamon

1/4

tsp

nutmeg

1

pinch

kosher salt
Instructions
Put the bananas, peanut butter, coconut oil, cinnamon, nutmeg, and salt in a food processor and let them rest for 2-3 minutes.

Puree until smooth and creamy.

If you want a frozen yogurt consistency, then serve it up as-is! Or, if you like a firmer ice cream consistency, put it into a container and freeze for an hour. Garnish with dark chocolate shavings or cinnamon!
Nutrition
Calories:
326
kcal
Carbohydrates:
34
g
Protein:
9
g
Fat:
20
g
Saturated Fat:
7
g
Polyunsaturated Fat:
5
g
Monounsaturated Fat:
8
g
Sodium:
159
mg
Potassium:
633
mg
Fiber:
5
g
Sugar:
17
g
Vitamin A:
76
IU
Vitamin C:
10
mg
Calcium:
23
mg
Iron:
1
mg
Chia Seed Pudding
This is one of the tastiest, most versatile snacks out there. And you can easily modify it for even the pickiest eaters or most restrictive dietary needs. When you add liquid like coconut cream to chia seeds and leave it in the fridge for a few hours, it creates a creamy texture, just like pudding! Add some honey and fresh berries for sweetness, or some cocoa powder for a chocolate flavor. You can include any other mix-ins you like, including granola, cacao nibs, coconut, nuts, flaxseed, or nut butter. If you crave the creaminess of ice cream or pudding, this is a great alternative. And there's very rarely a time when I'm not craving ice cream or pudding.
No-Bake Cookies: A Healthy Dessert Recipe
No-bake cookies don't use flour and don't need butter. You can use vegan ingredient substitutes such as honey, coconut oil, or ghee instead of butter with these No-Bake Chocolate Peanut Butter cookies. On the stove, heat and mix 1/2 cup creamy nut butter, 1/4 cup honey, 1/4 cup coconut oil (solid), 2 Tbsp unsweetened cocoa powder, 1/4 tsp sea salt, 1 tsp vanilla, 1 cup quick-cooking oats, and 1/4 cup shredded unsweetened coconut. Drop in heaping tablespoons onto your prepared baking sheet, then let them chill in the freezer. These no-bake cookies are better-for-you but still delicious.
Healthy Truth About (Dark) Chocolate
I do love fresh fruit. I do love peanut butter. But let's cut to the chase. Dessert has to mean chocolate at least some of the time, right? Great news: dark chocolate contains good-for-you antioxidants, micronutrients, and fiber, meaning dark chocolate dessert recipes are your friend for always. If you want to include chocolate in your healthy dessert recipes, use chocolate with at least 70% cacao or higher. Bars with lower percentages of cacao have more added sugar and unhealthy fats.
You can also use cocoa powder to get your chocolate fix and the benefits of dark chocolate in your oats or melt and drizzle for chocolate-covered on popcorn. You could also add a spoonful to your Vegan Vice Cream for a guilt-free chocolate peanut butter twist.
Healthy Desserts Are Smaller Desserts
Sometimes there is no substitute for chocolate cake or cheesecake, with all the original ingredients and calories. Don't stress the occasional sweetness splurge. It's about balance.
But it's also about smaller portions. When you bake those fudgy chocolate brownies or flour-filled cream cheese dessert bars, cut them into bite sizes. The Pioneer Woman, whose life is committed to delicious eating, uses this trick to enjoy dessert every day, sometimes multiple times. Bake her dark chocolate brownie bites and enjoy chocolate antioxidants after lunch and dinner.
Healthy Happy Sweets
Healthy eating doesn't mean you can't indulge or celebrate! Enjoy the sweetness of life and food with healthy desserts that satisfy, without setting you back.