There are as many haircuts as there are women, yet some styles are more complementary than others. Learn your face shape and find the best haircut for a style that's uniquely flattering for you!
As women, we all struggle with our hair sometimes. It can trouble us when we're sweating in the hot summer air or dealing with frizz from the rain. Fortunately, knowing your face shape can be one way of canceling out the woes of your haircut appointment. By being aware of this, you'll have an idea of what style works for you. Once you have your optimum hairstyle, all you'll have to deal with is conditioning and styling.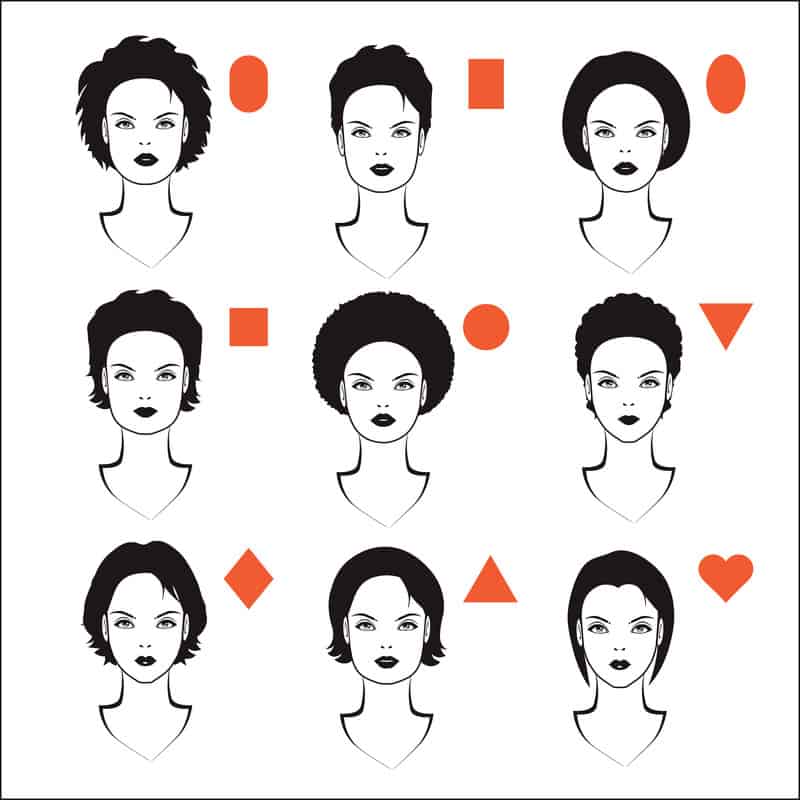 How Do You Determine Your Face Shape?
There are at least nine different face shapes, but six major categories. While we're all born with a specific face shape, itcan change over time due to aging or weight loss. To determine your face shape, you can take a photo and trace around the hairline, cheekbones, and jawline. Roughly what shape do you see? That's your face shape.
Another option is to look into a mirror and draw your face outline on it with lipstick or a makeup pencil. Then take a step back and compare the geometric shape to the face shape types below:
Round – The round face shape is symmetrical with the width of the face being about the same as the length. Those with round faces tend to have soft, delicate features like celebrities Ginnifer Godwin, Isla Fischer, and Mila Kunis.
Square – If you have a square face shape, your forehead, cheekbones, and jaw will be roughly the same width. However, as opposed to a round face, your jaw will have sharp angles to it, like Keira Knightley, Angelina Jolie, Jennifer Anniston, and Demi Moore.
Diamond – Those with diamond-shaped faces have narrower foreheads and chins with more prominent cheekbones. Celebrities with a diamond-shaped face include Megan Fox, Vanessa Hudgens, Shakira, and Jennifer Lopez
Heart-Shaped – Those with heart-shaped faces have a wider forehead and slightly pointed chins. Think of celebrities Reese Witherspoon, Scarlett Johanssen, and Eva Longoria-Parker.
Oval – The oval face shape is often known. An oval face has more length than width and the lower part of the face will seem longer than the top. If you have an oval face, you're in the company of celebrities Beyonce, Meghan Markle, Charlize Theron, Rihanna, and Jennifer Lawrence.
Long – The long or oblong face is similar to the oval, but there's a more pronounced length than the oval face, like celebrities Giselle Bundchen, Sandra Oh, Cate Blanchett, and Liv Tyler.
Which Haircut Suits My Face?
Your face shape and hairstyles go hand in hand to create your ideal look. The key here is to strike the right balance, so you can bring out your best features, and your hair works with your face shape, rather than fighting it.
From pixie cuts to skimming lengths, these options will make you feel good at the office and on date night!
Round Faces – For a round face shape, you have a few options that will best complement your features. While a long, layered style can flatter, so can pixie hairstyles or a cut with short side-swept bangs. Short curly hair isn't the best look for those with round faces since it can add extra width that you don't really want.
Square Faces – Long hair with waves at the end can be a particularly flattering look for this face shape, as it can soften your natural angles. Blunt bobs might not be the best choice but instead, think of soft layers. Share your own ideas with others on your favorite family app!
Diamond Faces – A diamond-shaped face can be complemented by short hair lengths that end along the jawline or cuts that wave below the ear. A layered cut that emphasizes side-swept bangs can also balance out this shape and draw attention to the eyes. You probably want to avoid styles with wispy or blunt bangs, but softer ones are great!
Heart-Shaped– The key to a great haircut for a heart-shaped face is to play up the eyes. Bangs often work well on this face shape, as do styles that add extra volume to the top of your head in order to draw attention upward.
Oval Faces – When it comes to an oval-shaped face, you can take a few more risks than other face types. Something like a choppy cut that shows off your face shape or even a bob with bangs will add some softness. Since the oval face is already pretty symmetrical, you're able to take some risks.
Long Faces– Those with long faces might like a cut that adds balance and extra width to their faces. A wavy look with choppy, loose, long layers will look great on those with long faces. You might want to steer clear of styles that add extra volume on the top, which only accentuates your face length.
Most of us find a haircut we like whether we know the shape of our face or not. However, knowing our face shape can help to find a flattering cut that truly puts your best face forward! When in doubt, come to the hairdresser with photos and ideas of haircuts you'd like to try out. You might even be able to find an app that lets you virtually try on different hairstyles.
Do you have a perfect haircut for your face shape to share? Share them with us on FamilyApp's Instagram or Facebook pages! The look you like is what's going to suit you, but knowing what might work can provide some brilliant ideas.
For more family beauty tips and advice check out the Beauty Category on FamilyApp.