Whether she's taking her kids out of school to stay on a houseboat in Mallorca, Spain, or writing the next great American novel, Adventurous Author Mom on the Street Kerry Reichs approaches life with zest, humor, wit, and a playful, larger than life escapade for her family.
Meet Kerry
"Skeptics chuckled when I announced I was leaving my job as a lawyer to write a novel. Having never taken a writing class, it was a little unhinged to think I could. Today, I'm often asked, "how I did it." I don't really have a good answer. I know only one way to be a writer, and that is to start tapping the keys. I took a sabbatical. I made the time."Kerry's approach to becoming a mother is equally as bold. She's a solo parent by choice of Declan (10) and Hazel (5). She makes the time to mother with passion while also juggling a successful writing career and serving as the Interim Director of Marketing at Chief Executives Organization. She's a gracious entertainer with a razor-sharp wit, a master at hosting the best cocktail parties in Washington DC, and a former lawyer turned writer with an adventurous spirit. She's a dynamo that wears many hats as a social connector,  a devoted mother, a global traveler, a fiercely loyal friend, and an accomplished author, and most importantly,  a dreamer that actually makes her dreams come true.
Adventurous Author Philosophy
Describe yourself in 3 words:  I am a Caring Curious Connector, who is Adventurous, Divergent, and Resilient, a southern woman with Savannah manners and a New York walk. I laugh a lot, am not shy, have incredible energy, do rather than watch, and practice bravery, charitable assumptions, and experiencing all that life has to offer, even gross foods…but maybe only once.
What is your mantra? My mantra is from Confucius: "We have two lives, and the second begins when we realize we only have one."What three words best describe your family? We are an Intrepid Playful Team.
You're an author; what inspired you to pursue a writing career after being a lawyer? No one likes my how-I-became-a-writer story. It was akin to waking one morning and thinking, "Today I'm going to write a novel!" I had no formal training, hadn't been scribbling for years, and didn't have exposure to other writers (with one notable exception).
But, I always intended to write a book. In my mind, when I was older and had something to say after some life nadir had given me sadness and wisdom like the Mona Lisa. I would tell the incredible journey to that smile. As I approached 35 and partnership in a Large Law Firm, I realized that you don't have to be a James Joyce to write something people want to read. You simply have to tell a relatable story and I had that in spades. I write so that people feel seen in their experiences.
Family Travels
How long have you been traveling the world? When I was sixteen I went on Semester at Sea, studying and sailing around the world for 6 months. I was hooked after that.
What's your favorite place you've visited with your kids? We traveled to Latvia, where my Dad was born, with a large contingent of family, to see a large contingent of family. It was during the Latvian song festival, which is a huge deal there, so it was fun, festive, and full of folklore (and folk dancing—Latvians have a real thing for folk dancing). It meant a lot to share our origins first-hand, see family, explore the stunning city of Riga, and the surrounding beautiful countryside.
What's the craziest trip you've ever taken with the kids? I pulled them out of school the fall before the pandemic and moved us to Mallorca, Spain to live abroad for a while, kicking it off with a stint staying on a houseboat in Barcelona, just to try something new. They got to experience another country and attend an international school, and I got to write my new novel overlooking the Mediterranean. Though, I don't know if that's as crazy as taking two little kids on the 17-hour flight to Latvia.
What's been your best family vacation? Every February we take an extended family trip to somewhere in the Caribbean with my parents, siblings and their families. We each have two kids, and the six cousins are pretty much the same age and love to be together. It's fun to explore a new island each year, and we each have a different favorite—I loved St. Maarten, Declan loved St. Croix, and Hazel loved the Dominican Republic. For my small family, we love to ski, so our trips to Park City are always fantastic.
Adventurous Author Family
What's your favorite way to spend time with your family? Discussing our obsession with the Royals and whether Harry made the right decision to step back from his princely role. I kid! We all love to ski. We love traveling and experiencing new places and things. We just tried falconry. Next up, a dude ranch and a stay on the "spirit floor" of the Stanley Hotel (setting for The Shining). I like making them dress in seasonal attire for every holiday and taking pictures, but I can't say they enjoy that as much as I do….
What's your favorite family game? Today it seems to be "How widespread can my son distribute dirty socks around the house," but on a normal day more likely Would You Rather or Kids Against Maturity (the clean version of Cards Against Humanity). Go Sushi is a strong runner-up. We do "rose and thorn" every night at dinner, sharing the best and worst of our day.
What song gets everyone in the family dancing? Old Town Road
What's your go-to family dinner? If I want to be a crowd-pleaser, I make artichokes. Ordinary weekday dinner is usually whatever came in the Hello Fresh box, salmon, or pasta. My son loves my variation on chicken parmesan.
What's your favorite family restaurant? We try to constantly change our routines so the ninjas never catch us. I like variety and checking out new places. My kids would eat Chipotle and sushi every night. Their ninja defensive moves need refinement.
Adventurous Author Parenting Style
Best parenting advice: Trust your gut. You know your kids best. The way everyone else does it may not be your way, and there are no secret special skills required to parent. All you need is love and diapers. And don't waste time trying to fold the fitted sheet. It never comes out right and you've got better things to do.
What are some of the best things your kids have taught you? Patience. How to be fallible. How to let my heart walk around outside my body. How to be brave, so I can model who I want them to become.
Parenting true confession: My kids will never be Olympians because I do not want to spend my whole life hanging out on the side of a field or pool or ski slope. I'm a fan of diversification. Soccer and chess and skiing and art. Not just one.
What 5 things are you most likely to have in your purse at all times? I alternate between carrying a purse that would get us through 90 days trapped in a Chilean mine and traveling with nothing but a phone that holds my license and credit card. The purse would always have water, snacks, lipstick, a three-foot-long CVS receipt, reading glasses, my kindle, and some random migrants like a fork or Connect Four-disc or RBG bobblehead.
What's your favorite part about being a parent? Loving something more than myself. Seeing these brains I grew from scratch turn into independent people. Pre-boarding flights. Parking close to the grocery entrance in the reserved spot for moms with little kids. Leftover crusts of peanut butter and jelly sandwiches.
Favorite parenting hack: Peanut butter on a spoon makes great breakfast-on-the-go for running late moms.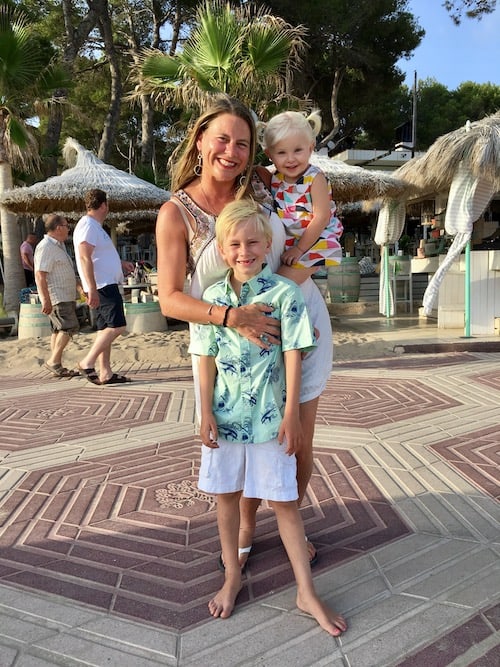 Adventurous Author Working Mom
What's your favorite hack to balance working and motherhood? Getting up at 4 AM. You get a lot done in the o-dark-quiet.
What's been your favorite pandemic working mom tip? Outlawing weekday iPad usage. It gave me my kids back and they adapted quickly.
You also have an office job, how do you juggle motherhood, working, and writing? Being firm about your priorities. My house is a mess but my kids get my attention every day, and we sit down to dinner and "rose and thorn" together every night (this is when you share the best and worst of your day). I may not sleep enough, bake enough, or have the cleanest car on the block, but I'm fully present in each of the things I do when I do them because I focus on the ones that matter to me.
What advice would you give other working solo moms? Ask for help. Unless you have cracked human cloning, you can't do it all alone.
You have only 5 minutes to get ready for a zoom meeting, what do you prioritize? Lipstick and a blingy necklace to create a facsimile of put-togetherness and distract from whatever else didn't get coiffed.
Adventurous Author Lifestyle
What's your favorite show to binge-watch? Ted Lasso.
If you could pick anyone to star as you in a movie based on your life, who would it be? The incomparable Cate Blanchett.
What's your favorite beach read? To sell more books, I should say mine, looking coy and blushing. I like to read what I seek to write: Well-written novels about decent imperfect people being decent to each other. Recent standouts were Less by Andrew Sean Greer, Anxious People by Fredrik Backman (really anything by him), Where'd You Go Bernadette by Maria Semple, Run by Ann Patchett (again, anything by her). For laugh out loud, everything by David Sedaris.
If you could spend a day with anyone from history, living or deceased, who would it be? My Vecamama, which is "grandmother" in Latvian.
What's at the top of your travel bucket list when the pandemic is over? So many places. I have already booked a spa in Utah, two weeks in Greece, taking my kids to a working dude ranch in Wyoming, and I am about to pull the trigger on Antarctica.
Do you have any guilty pleasures? The Hallmark Channel. But I refuse to feel guilt. My viewership supports a full industry of plot-recyclers and D-list actors that need work too. Everyone has perfect teeth. #dentalgoals
What's your favorite form of self-care? Solo travel. Whether I'm driving on a country road, sitting on a beach, or hiking in the woods, time alone is important to stop being Hazel's mom and feel like Kerry again.
What's your favorite way to unwind at the end of a long day? A glass of wine with friends.
Your Adventurous Author Vibe
Kerry has mastered the art of how to live fearlessly, all while making it seem effortless and fun. Her razor-sharp wit combined with a passion for the open road can inspire us all to add more exuberance and humor to our daily lives. She reminds us to book that off-the-beaten-track adventure with our kids, write the novel, let go of perfection and just go for our dreams. Most importantly, Kerry's approach to life and parenting can inspire us all to laugh more, live larger, be braver, write out our dreams, and just do it!
You can learn more about Kerry by visiting her website and on her Facebook page. And for more inspiring and adventurous moms, be sure to check out FamilyApp Mom on the Street!