16+ Fun Family Activities With Teens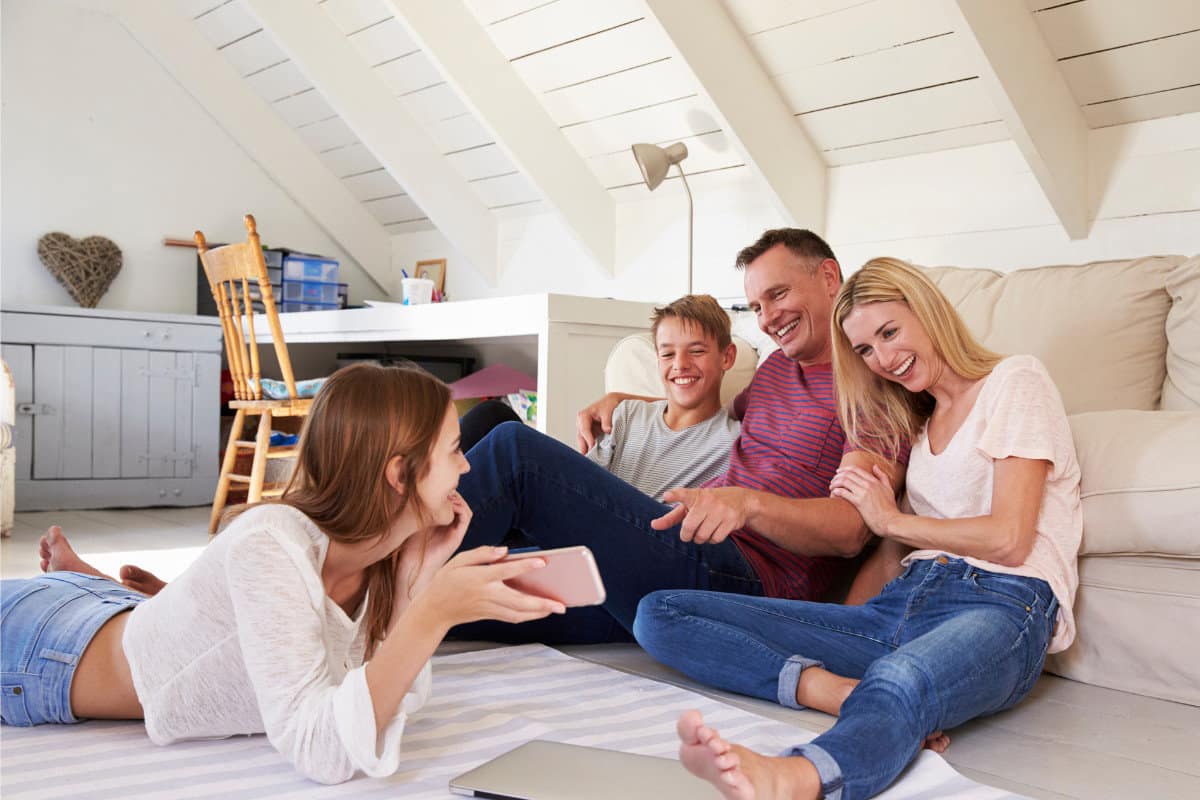 Family activities with teens can seem few and far between these days, especially in the age of technology. But making the effort to spend meaningful time with your teenager helps to set them up for life. Here are a few of our favorites.
The Best Family Activities With Teens
Beyond basic benefits like having fun together, spending intentional family time together can have significant positive impacts on your teens' overall growth and development. Even simple family activities with teens can greatly improve their lives. Studies show that teens who eat 5-7 meals with their family each week have less stress and are less likely to use drugs or alcohol. A team at Yale found a significant that more parental involvement during the teen years curbed drunk driving use amongst teens.
Naturally, teens fall into a no man's land where they think they're "too cool" to do most things. The truth is– you should continue to try to include teens engaged in family activities. We've got some activities for the whole family that may just be *cool enough* for your teen to enjoy.
Enjoy
Amusement Parks
The wonderful thing about amusement parks is that they're built to entertain all ages–from toddlers to seniors. Theme parks like Busch Gardens (Williamsburg) have Sesame Street attractions, entertainment, and shows where you can sit and cool off. But most importantly–they have rollercoasters. Teens love nothing more than a rush of adrenaline they get from a 200-foot free-fall or a double loop. And amusement parks have the other thing teens are usually interested in– good food. It may be pricey, but getting your teen on a family outing may be worth the splurge.
Embrace the Need for Speed With
Go-Kart Racing
Most cities have one of these indoor (or outdoor) parks built for speed. Everyone's hearts will race as you zip around turns, pass each other, and hurdle toward the finish line. Your teen will love seeing the goofy racing name they chose on the leaderboard.
Play
Laser Tag
Laser tag is arguably one of the best family activities with teens. They get to sneak around in black lights and shoot cool lasers. It'll also tap into their competitive spirit. What's not to love? The whole family will enjoy wearing those fashionable vests, too. I'm kidding; they're ridiculous. But you do whatever it takes to shoot lasers at your family. 
Go
Bowling
Bowling is one of those activities where you can have good conversations with a little bit of activity, so teens don't get bored. Some bowling alleys also have arcade games if they get tired of bowling. And you can't go wrong with bowling alley pizza or nachos.
Play
Disc Golf
Being out in nature is one of the best ways to combat the onslaught of hormones teens experience. They'll also be able to practice their frisbee-throwing skills, which will definitely come in handy during college. And disc golf is free! Do a quick internet search to see if any local parks around your area have disc golf courses.
Have
a Day at the Beach
Going to the beach is one of the classic teen activities that will never go out of style. If you don't spend the whole time hopping over waves, you can bring fun activities like bocce ball, spike ball, or Kan Jam. And let's not forget the beach activity you can never grow out of: digging holes and building castles. And if they're not too keen on an organized activity or games, your teen can enjoy the day listening to music, reading, napping, and enjoying the sunshine.
Enjoy
Festivals, Concerts, or Local Events
Depending on the type of event, this idea could be fun for the whole family! Pack lots of sunscreen, snacks, and water if you can. Some don't allow outside food and drinks so do some research before you go. Whether it's a blues festival, art show, or rock concert, the whole family can enjoy an exciting, local cultural experience!
Practice Your Swing
While I never was a golfer, one of my best memories from my teenage years is my grandfather taking me to the driving range. It's a fun way to practice your swing and have good conversations. And the normal driving range is a lot cheaper than TopGolf. Although if it's within the budget, TopGolf is another excellent idea for family activities with teens. Putt-putt golf is another great option, if that's more your style. There's something for all ages, and you can order food and drinks.
Archery or Skeet Shooting
Nothing will make you feel like a boss quite like archery or skeet shooting. Make sure you take all safety precautions and follow all instructions or safety measures. If you have younger kids who aren't old enough for these activities, you may want to skip them.
Learn a TikTok Dance
Some of the best content on TikTok is when teens and their parents work together to dance to a TikTok audio. It's a great way to loosen up, be silly, and have fun. The odds of your dance going viral are slim to none, don't worry.
Make a Time Capsule
This is always something I wanted to do as a teen. While most of us have boxes of yearbooks, ribbons, trophies, photos, and knick-knacks from our teen years, there's something special about a time capsule. It's the ultimate nostalgic delayed gratification. As a family, decide on an element-proof container that will be able to fit your items. Then have everyone put 1-2 items in the capsule that they think represent what life is like for your family right now. Then, bury it a few feet deep on your property. You can dig it up and reminisce when you move away. Or, you can leave it for some lucky stranger to find in the far future!
Cook a Gourmet Meal as a Family
Cooking is one of those life skills many wish they had mastered early on, making it one of the most productive teenage activities. Fortunately, with the wealth of tutorials and information on the web, cooking skills have never been as accessible. Start by picking a recipe that everyone agrees they'll like. It doesn't have to be anything too complicated. You could even go with a made-from-scratch pizza! Assign steps that everyone can individually tackle, then put the whole thing together. Even the little ones can help with mixing, measuring, and tasting. Don't forget to pick a good playlist, too. You may even ask your teen to play some of their favorite jams (within reason, of course).
Volunteer Together
Teens can often get caught up in their own little worlds. Stepping outside that world and caring for their community is a great way to help shift their perspective. It's as simple as a quick google search for "volunteer opportunities near me." Don't forget to log their hours so they can put them on a college application and potentially get scholarships or accolades for their service. With these kinds of family activities with teens, they may even make some valuable connections or find a possible career field. 
Have a Game Night
Nothing like a little friendly competition to get your teen involved. Whether your family loves board games, card games, or video games, set aside a night for a good, old-fashioned family bonding activity. Be sure to plan ahead so you don't waste your quality time trying to decide what to do. You could even add some incentive (beyond bragging rights) for the winner, like choosing the next place to dine out or choosing the movie to watch!
Go Shopping
While this might be one of the family activities with teens that can be a bit stress-inducing for the parents, it can also be a wonderful opportunity to spend time together. Whether you're hunting for bargains at the thrift store or TJ Maxx, or looking for some room decor for next year's college dorm room, it's quality family time.
Play Pickleball
You don't need to be a tennis star to enjoy some quality pickleball competition, and there's a reason this is the fastest-growing sport in the US. It's a fantastic way for you and your teen to spend some time together, and even work through out any frustrations or arguments on the court.
Family Activities With Teens: Making the Most of the Journey Through Teenage-hood
The teen years aren't always easy. The transition from a child to an adult is occasionally fraught with eye rolls, lots of food, general angst, big sighs, rebellion, and rollercoaster emotions. But prioritizing family activities with teens can be instrumental in making sure your teen feels seen, supported, and included. It's also a great way to build fun, lasting memories together.