The Best Family Board Games to Play This Year
Nothing brings everyone together quite like some quality family board games! Whether it's classic Candy Land or Monopoly mayhem, there are plenty of options for the entire family.
Whether it's a cold, rainy day or you need an excuse to get out of the heat, staying indoors can be a good opportunity to get out the board, some playing cards, or your favorite party game.
There are plenty of family board games that will appeal to the little ones, the teens, and even parents too! So instead of heading outside, plan a fun family game night indoors with some of the following games soon.
What Are the Best Family Board Games for Young Kids?
Memory is a classic game for ages 3+ that is sure to challenge your little ones. While this will test your child's memory skills, it's a good opportunity for everyone to get some practice! Don't be surprised when your 5-year-old beats you!
For those who are a little bit older, Trouble is perfect for a fun night. By landing all your pieces in the safety area, you'll win the game. And, your young ones will love popping the dice and sending the other players back home!
Need a strategy game that will build fine motor skills? Try playing some Jenga. Little ones especially love seeing the grown-ups knock the tower down.
If you're looking for something a little different, Trivial Pursuit Family Edition is perfect for all ages. Though very young children may not know a lot of the answers, they'll have a good time making a guess!
What Are the Best Board Games for Teens?
What will get your teens playing board games? 7 Wonders is a unique new take on a classic card game. While dealing with a stack of playing cards, you and your fellow players will be building famous structures to earn points. Though teens will love learning about the wonders of the world, this game works for 10+ too!
For teenagers, one of the best-rated games out there is Pandemic. In this game, you'll be racing to provide a cure for a number of epidemics sweeping the world. As a board game that provides a challenge and a bit of learning, there's also plenty of teamwork involved.
If all else fails, there's the classic game of Monopoly where players buy property to see who takes all. A balancing mix of buying and selling, this classic game will be sure to rev up your family's competitive spirit! While it can usually be hard to finish a game, since we have endless hours at home with the family, now's the perfect time to get this one going!
What Are the Best Special Edition Board Games?
While good board games are great, there are many special edition family board games for those who love to play. Risk has its very own Game of Thrones edition for 18+ based on the popular television series! Like the show, players fight for power over Westeros using three types of play: Skirmish, Dominion, and World at War.
Many companies create special editions of their most popular favorite games. Whether it's Monopoly: Clone Wars or Trivial Pursuit: Pop Culture, there are lots of new takes on old gems! Yes, even Operation has a Star Wars Mandalorian edition and BB-8 edition.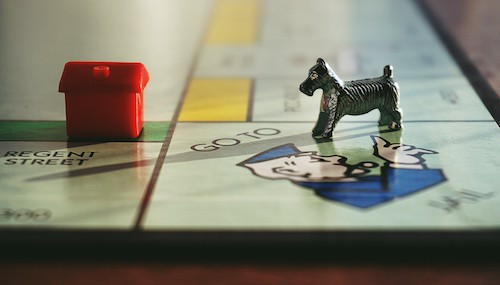 What Are Some More Fun Family Games?
If none of these work, we've got more favorites for you to try. They're also great gift ideas your friends and family will enjoy.
Throw, Throw Burrito! One part card game, one part dodge ball. This fun game is sure to be a huge hit with the whole fam!
Chameleon–  Use hidden codes, carefully chosen words, and a bit of finger-pointing to track down the guilty player… before they blend in and escape! 
Quirkle– In this game of shapes and colors, players can hone their skills with tactical maneuvers, strategic planning, and forward-thinking. Will you see the strategic move that catapults you into first place?
Bananagrams – If you have a budding intellectual in the family, this fast-paced game of word-building is perfect for them to practice their expansive vocabulary. It combines the best parts of scrabble with a race to finish first! 
Telestrations – When a game of telephone meets illustrations, chaos will ensure! The outrageously fun party game Telestrations will keep your family and friends entertained and laughing! Draw what you see then guess what you saw for hilarious and unpredictable outcomes.
Scrabble– this classic never gets old! 
Strategy Games for Family Game Night
Strategy games are great for the older kids who need a little bit more substance to challenge their growing brains. Games like Settlers of Catan are great for teens and adults who want to build and rule an empire–or just have some fun. You can also try the family edition, perfect for everyone at the family game night. In Carcassonne, you develop the landscape of a medieval fortress city one tile at a time. Whether blocking a city's growth or connecting with your opponent's road to share the points, Carcassonne provides plenty of ways to use your intelligence and outsmart your opponents.
Ticket to Ride by Days of Wonder is a multiple-award-winning, challenging game that offers players the chance to build their own railroad. Using decision-making and strategy, players collect train cards and claim rail routes to earn points.
Classic Family Board Games That Will Always be a Win
You can't go wrong with a classic. Many of these tried-and-true games have been around for decades and have stood the test of time. 
The Game of Life- Even if you're feeling a little financial pinch this Christmas, you can still retire a millionaire, along with your spouse and 2 sets of twins!
Clue- This classic Whodunnit game continues to be a big hit with the family, and try Clue Jr. for littler friends.
Sorry!– Slide, collide, and score to win the Sorry! game. You'll have everyone seeking revenge as you send their pieces back to the start. 
Scrabble– This classic never gets old! Form words with tiles and rack up some points! 
Pictionary– Count on big laughs as players find out who's an artist and who really isn't! In this game, the guesses can be just as hilarious as the sketches.
Card Games for Family Game Night
If you're more of a card game family, that's okay! We've got plenty of suggestions for card games that will keep everyone entertained!
Apples to Apples – It's like comparing apples to apples….or is it? Each round is filled with surprising and outrageous comparisons from a wide range of people, places, things,  and events. See who is the best!
Cards Against Humanity (Family Edition)- While the standard version of this game is definitely more for the adult players, this family-friendly version will have everyone in stitches! 
Exploding Kittens– This Kitten-Powered Russian roulette card game is the purr-fect party game for family and friends who are into kittens and explosions and laser beams and sometimes goats.
Be Bored No More!
Family board games are so much fun to play at home and liven up any holiday gathering! If your family has a few favorite board games, let us know in our comments section, or plan a family game night with FamilyApp! Whether you're trying to please the little tikes or the too-cool teens, there are fun options for everyone.