10 Easy and Fun Dessert Recipes for Kids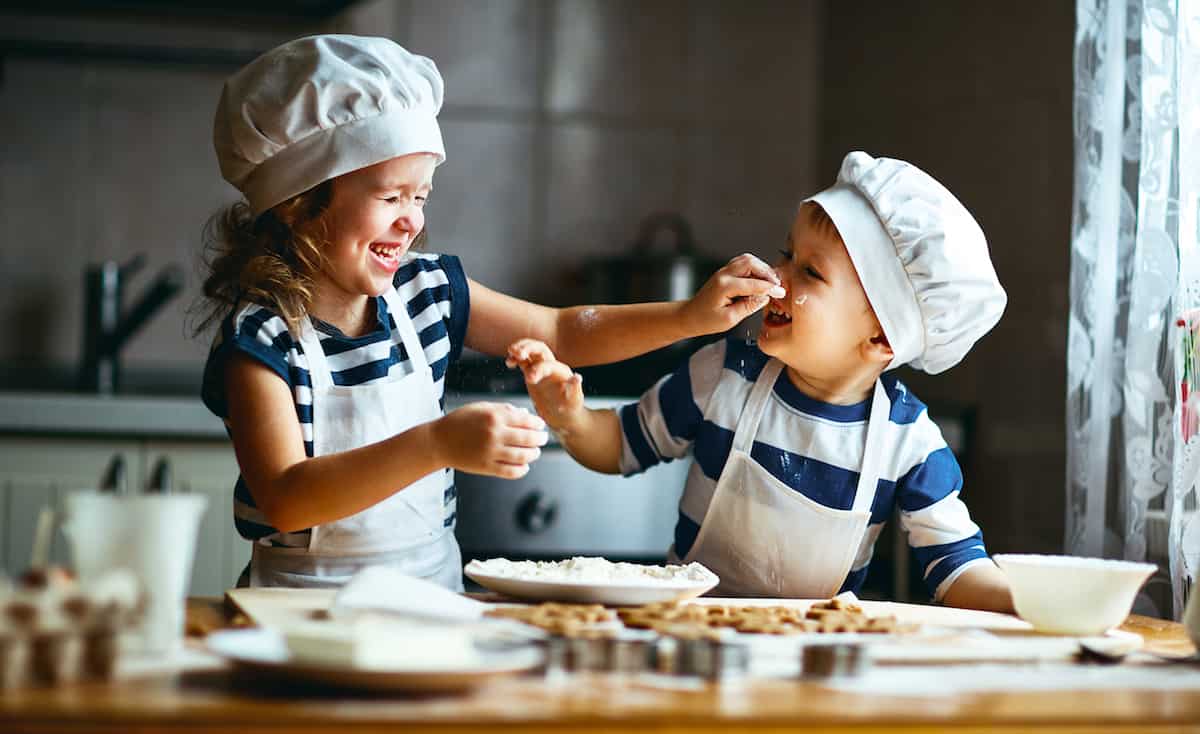 Baking can be a great way to keep the kids engaged in a directed activity. It also can be a fun way to introduce basic life skills, independence, and fractions. Check out these easy dessert recipes for kids and get your little ones involved in the kitchen!
When I was a kid, there was one thing I would look forward to all summer: making my own chocolate ice cream in a bag. We would toss that bag around until we were exhausted. A dessert like ice cream always tasted better when you made it yourself, especially after a scorching hot day. That's why we've made a list of desserts your little one can help with! Whether it's a hot day outside or a rainy day in, they'll love spending time with you making a delicious treat!
*As an Amazon Associate, we earn from qualifying purchases.*
Baked Dessert Recipes for Kids
Sometimes the best dessert recipes for kids need a little parental supervision when it comes to using the oven. Here are some of our favorite easy options for kids' baking.
Funfetti™ Cookies
Using a box cake mix as a base can be a great way to cut out all those extra steps while still getting the experience of baking. For this easy recipe, all you'll need is one box of Funfetti™ cake mix, 1/3 cup of oil, 2 eggs, and 3/4 cup of Funfetti™ frosting. In a large bowl, stir cake mix, oil, and eggs until well mixed. Shape tablespoonfuls of dough into 1-inch balls; place 2 inches apart on cookie sheets. Bake for 6 to 8 minutes at 350 degrees or until the edges are light golden brown. Enjoy them as-is, or top with frosting and sprinkles and enjoy!
Three-Ingredient Peanut Butter Cookies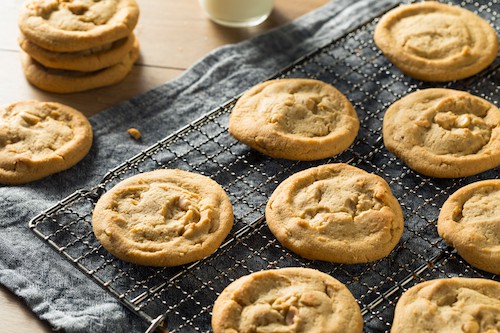 How could it get any easier than this? And you skip the mess that comes with flour! Mix 1/2 cup of peanut butter, 5 tbsp sugar, and one egg in a large bowl until combined. Put heaping tablespoons onto an ungreased baking sheet 2 inches apart. You can even press mini marshmallows or chocolate chips onto the top for extra flavor! Bake for 10 minutes at 350 degrees, let them cool, and dunk in some milk!
And if you love peanut butter but can't eat much sugar, be sure to read our delicious no-sugar peanut butter cookie recipe!
Cake Batter Cookie Bars
These cookie batter cake bars are so simple and fun! And if there's anything kids love more than cake, it's cake batter. In a large bowl, combine one pouch of sugar cookie mix with one box of white cake mix, 1 cup of melted butter, three eggs, and 1 tsp of vanilla. Stir in 4 tbsp chocolate chips, and bake for 32 to 34 minutes at 350 degrees or until golden brown. Top with homemade buttercream frosting and sprinkles for an extra shot of sweetness, or enjoy as-is!
No-Bake Desserts Recipes for Kids
Some of the most fun dessert recipes for kids to make are the ones where you can just combine all your favorite ingredients together with no oven or stove required. Here are some of our favorites!
Dirt Cup
Have you ever caught your kid eating dirt? I think that's a right of passage for a parent. Fortunately, this will give your kids the experience without the, um, eating actual dirt part. Besides, who doesn't love chocolate pudding? It's the perfect dessert!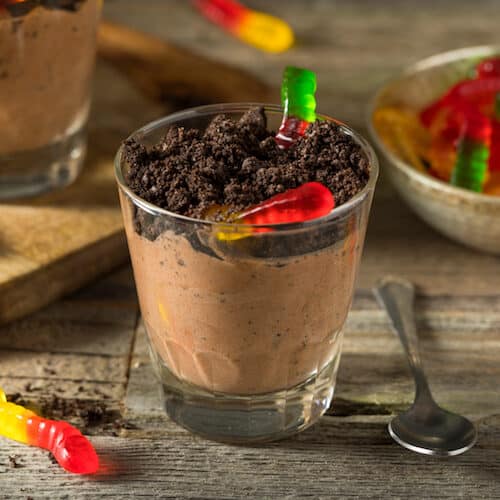 Kids Dirt Cup
A fun and creative dessert that your kids will love to help make!
Ingredients
2

cups

whole milk (cold)

1

package

chocolate instant pudding

8

oz

whipped topping

1 1/2

cup

chocolate sandwich cookies

20

gummy worms
Instructions
Kids Dirt Cup
Whisk together instant pudding and milk for 2 minutes and let sit for 5 minutes to thicken.

Stir in frozen whipped topping and 1/2 cup of crushed cookies.

Pour into individual cups and top with a later of remaining crushed cookies. Top each cup with 2 gummy worms.

Chill until ready to serve!
Nutrition
Serving:
1
cup
Calories:
334
kcal
Carbohydrates:
35
g
Protein:
9
g
Fat:
16
g
Saturated Fat:
10
g
Polyunsaturated Fat:
2
g
Monounsaturated Fat:
6
g
Trans Fat:
1
g
Cholesterol:
1
mg
Sodium:
345
mg
Potassium:
186
mg
Fiber:
2
g
Sugar:
45
g
Vitamin A:
43
IU
Calcium:
53
mg
Iron:
5
mg
Homemade Ice Pops
The beauty of homemade ice pops is that you can customize the flavors to your kids' favorites! Another bonus: you can create endless easy dessert recipes with few ingredients as you create your own pops. With some popsicle molds, you can create a yummy and healthier dessert that everyone will love, and you only need a little bit of parental supervision. Use a food processor or blender to combine fresh fruit and fruit juice. My favorite ingredients are banana and strawberry. Kiwi and watermelon are delicious, too! If you want a creamier popsicle, add vanilla yogurt or coconut milk! Pop them into the freezer for at least 4-6 hours. Break them out for a cold treat on a hot afternoon for some tasty treats!
Peanut Butter Rice Krispie Treats
I think we can all agree that when it comes to Rice Krispie treats, homemade is the way to go. And they're no-bake, too! In a saucepan, melt 4 tbsp butter on low heat. Once the butter has melted, keep the heat on low and add 5 cups of mini marshmallows. Once marshmallows begin to soften and melt, add 1/2 cup of peanut butter.
Constantly stir the mixture. Once the mixture is combined and melted, turn off the heat and remove the pan from the stove. Add 6 cups of crispy rice cereal to the saucepan and stir until evenly coated with the mixture. Pour mixture into casserole dish. Spray your hand with some nonstick cooking spray and pat down the mixture until it's firmly compacted. Press some M&Ms or top with chocolate for an extra sweet treat! One of the best things about the "Rice Krispie Treat" recipe is that it can be modified to any of your favorite cereals, including Lucky Charms, Cocoa Puffs, or Fruity Pebbles! 
Puppy Chow
This was a staple at Thanksgiving and Christmas at my house, but it's actually great for any time of year! We used to make such a large batch that we'd put it in a trash bag and toss it around to mix it up (Although, I would recommend a tight knot in the bag. Never forget: The Powdered Sugar Christmas Incident of 2011).
Start by melting together 1 cup of semi-sweet or dark chocolate chips and 1 cup of creamy peanut butter. Then, add 3 cups of rice square cereal to a large bowl and pour 1 cup of the chocolate peanut butter over it. Repeat with the rest of both mixtures and mix well. Let it cool slightly, then gradually add 1-2 cups of powdered sugar, mixing as you go. This recipe is so easy and perfect to pack on a picnic!
Ice Cream Dessert Recipes for Kids
You can never go wrong with ice cream, and these easy desserts for kids are sure to be more exciting than a basic ice cream cone!
Simple Ice Cream Sundae Bar
All you need is simple vanilla ice cream and toppings, and you've got a crowd-pleasing dessert for everybody. We're big fans of caramel sauce and chocolate sauce, but you can always liven things up with sprinkles. Or drizzle the chocolate syrup in a beautiful design to add a little flair. If you really want to make an impact, try it with multiple ice cream flavors and toppings.
Quick Banana Ice Cream
Ice cream or vegan "nice cream"? This is one of our favorite healthy kid desserts. Take four frozen bananas, 2 Tbsp of coconut or almond milk, 1 tsp of vanilla, blend them together, and you've got a delicious potassium-rich dessert for kids. If you want to amp up the flavor, add some chocolate or another flavoring of your choice. You can even put a little between two graham crackers for some banana ice cream sandwiches. Of course, nothing's quite like eating ice cream from a cone.
Doughnut Ice Cream Sandwiches
They taste as good as they sound! You can easily build your own donut ice cream sandwiches by slicing a donut in half length-wise. Put a scoop of ice cream in the middle, and garnish the middle with sprinkles or mini-chocolate chips for extra color. We recommend using mini doughnuts if you have them, which are better for smaller hands.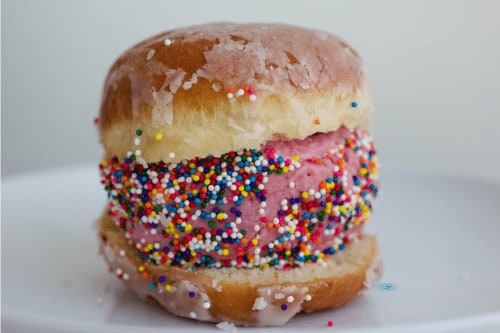 Who's Ready for Dessert?
With all these ideas for fun dessert recipes for kids, you're sure to find one that your kids will love! If you're looking for more easy dessert recipes for kids, check out our recipe for oven-baked s'mores! Do you have a recipe that your kids love to make again and again? Let us know on social #getfamilyapp!