12+ Easy Kids Baking Recipes and Tips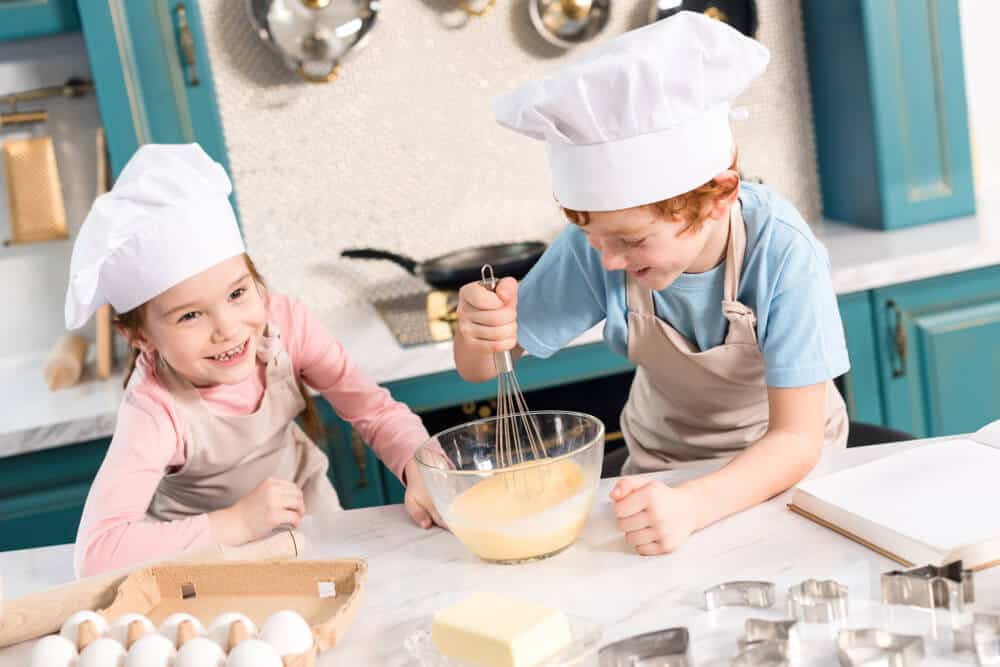 If your little ones are ready to hop in the kitchen, we've got some easy baking recipes for kids that will be the perfect place to start. So let's get the kids baking!
Jump to Recipe
Whether it's chocolate chip cookies or preparing family dinners, kids love helping out in the kitchen. But, sometimes cooking can be a little too involved for little ones, especially around stoves. Fortunately, baking can be a great way to introduce your kids to the basics in the kitchen.
Using easy baking recipes for kids can teach your child many life skills, from math to following instructions. It can also be great for their self-confidence. By learning about math, organization, and sharing, you and your kids will have to work together to make the end result succeed.
How Does Baking Help Children's Development?
Easy baking as a family can provide more than just yummy treats. Most of us take basic math for granted, but following a recipe can help kids develop their math skills. They'll also get to practice reading, step-by-step directions, and working together.
And when kids help make their own food and get hands-on experience cooking and baking in the kitchen, they're more open to trying new things! Luckily, if your little ones don't get along, baking can also help to encourage cooperation. Whether they're making simple cookies or chocolate cake, they'll have to work together to follow the recipe. If they really enjoy it, you may even want to consider kids baking classes in the future.
What Are Some Kids Baking Tips?
There are many ways to approach kids baking, so everyone has a good time. With the following easy tips, you can create your own yummy treats and snacks instead of heading to the bakery!
Be Prepared
Before you begin, collect your ingredients and supplies. This includes any bowls, measuring cups, and spoons. Kids can be easily distracted, so making the activity flow will keep them engaged.
Read the Recipe
All recipes are not made equal. So read the recipe out loud beforehand so you can follow it together. This will keep your kids part of the process. It will also ensure that there are no unexpected hiccups along the way.
Give Them a Task
It's easy to take the lead when baking with the kids. But, it's important to give them a duty they can feel good about! If you're baking with two kids, let one use the microwave and the other stir. It will give them a sense of responsibility, and they may learn something new!
Choose an Easy Dessert Recipe
A difficult recipe isn't the place to start when you're baking with kids. Instead, choose a pastry or dessert, like chocolate cake or an oatmeal cookie. You could also choose a simple sugar cookie recipe–perfect for using cookie cutters and making shapes with the dough. You could even start them off with a kids' baking set that's specially made for small hands.
Don't Worry About the Mess
Many cooks take pride in keeping the kitchen clean from start to finish. However, this probably won't happen when you bake with your little ones! While you can encourage tidiness, don't fret if things don't go quite as planned.
Easy Baking Recipes for Kids: Sweet Treats
1. Big Chocolate Chip Cookie
There's nothing most kids like more than a chocolate chip cookie. This BIG cookie makes for even more fun! Your kids will love pressing it onto the baking sheet, and it will provide a perfect opportunity for dividing and sharing too.
2. Peanut Butter and Jelly Blondies
Blondies are a fun twist on regular dark chocolate brownies, and this dessert will remind them of their favorite school lunch! Adding peanut butter and jelly to your favorite blondie recipe can spice things up!
3. Cupcakes
Whether you use a box cake mix for your cupcakes or find a recipe from scratch, cupcakes are just as delicious and sweet as a big cake but so much easier for little fingers to eat! Decorate them with frosting, chocolate toppings, sprinkles, and more!
4. Homemade Ice Cream
Technically, this is a no-bake recipe. But you don't even need an ice cream maker to make this kid-friendly dessert! Just use salt, ice, half-and-half, and sugar. Add flavorings to customize it–chocolate, vanilla, strawberry, whatever is your favorite! Turn it into a family-friendly game as you shake and toss the ice cream around to let the science do its work!
5. Birthday Cake Balls
These homemade bite-sized treats will save you a trip to Starbucks. Prepare and bake a box of birthday cake according to the box, then let them cool. Pulse the cake in the food processor, then mix in a can of frosting. Form them into 1-inch sized balls, add a skewer, then dunk them in melted chocolate. Before the chocolate cools, decorate with sprinkles or mini white chocolate chips!
6. Easy Oven-Baked S'mores
This is the perfect dessert to get your kids baking. It's complete with chocolate bars and marshmallows if you're avoiding a messy kitchen and smokey campfires!
Easy Oven-Baked S'mores
An easy-to-make alternative to the campfire classic!
Ingredients
18

graham crackers

1/4

cup

granulated sugar

pinch salt

8

tbsp

unsalted butter ( melted)

non-stick spray

7

Regular-sized (1.55 oz) Hershey bars (or 3 extra large)

24

jumbo marshmallows
Instructions
Graham Cracker Crust
Preheat the oven to 400°F. Lightly grease a 9-by-13-inch baking pan with nonstick spray and line with parchment paper. Let a little bit of extra paper hang off the edges.Preheat the oven to 400°F. Lightly grease a 9-by-13-inch baking pan with nonstick spray and line with parchment paper. Let a little bit of extra paper hang off the edges.

Pulse the graham crackers in a food processor until they are finely ground. Transfer the crumbs to a medium bowl. You can also task the kids with crushing the graham crackers into crumbs in a secure plastic bag!

Add the sugar, salt, and butter to the crumbs and stir to combine until evenly coated. Pour the crumb mixture press evenly into the pan

Bake the crust for 8 to 10 minutes, or until the edges are lightly golden. Let the crust cool.
Toppings
Arrange the chocolate bars evenly on top of the slightly cooled crust, leaving a bit of crust uncovered around the edges.

Arrange the marshmallows on top of the chocolate. Leave some space between them (they will expand).

Bake until the chocolate is soft and starting to melt, and the marshmallows are evenly toasted golden brown on top, around 10 to 12 minutes.
Nutrition
Serving:
1
smore
Calories:
351
kcal
Carbohydrates:
58
g
Protein:
3
g
Fat:
14
g
Saturated Fat:
8
g
Polyunsaturated Fat:
1
g
Monounsaturated Fat:
4
g
Trans Fat:
1
g
Cholesterol:
15
mg
Sodium:
157
mg
Potassium:
87
mg
Fiber:
2
g
Sugar:
39
g
Vitamin A:
175
IU
Calcium:
20
mg
Iron:
1
mg
What Are Some Healthy and Easy Baking Recipes for Kids?
Check out these fun and easy baking recipes for kids! Healthier sweet treats can be a good place to start your kids baking! Don't be surprised if you see them frequently watching the oven, waiting for their yummy treat!
7. Apple and Carrot Oatmeal Cookies
For this, you'll need traditional oats, flour, honey, baking soda, coconut oil, and spices. But you can include ingredients like raisins, sunflower seeds, apples, and carrots to add some extra nutrition to the cookies! It's a great way to integrate some fruits and veggies into their diet!
8. Apple Bread
Keeping the fruit in your food is good for kids. Luckily, this doughy treat will inspire your kids to get their hands dirty. You can even add some oats for some extra fiber. They'll love mixing brown sugar, apples, and lemon zest with their hands for a fun baking experience. Banana bread is another great way to use up those too-ripe bananas, and you can always modify the amount of sugar you put in the recipe.
9. Sweet Potato Mini Muffins
When it comes to muffins, a mini one is perfect for tiny hands, making it even more enticing than a regular-sized muffin. These are tasty in any size! With standard baking ingredients like brown sugar, flour, and butter, this one even has sweet potato for some added nutrients. It's perfect for a snack or breakfast, too.
What Are Some Baking Recipes for the Whole Family?
Whether you've got younger children who need adult supervision or older kids who have already mastered simple sugar cookie dough and want a greater challenge, here are a few more fantastic options for kids baking.
10. Gluten-Free Almond Dream Cookies
They're definitely not for the novice kid baker, but these gluten-free dairy-free cookies are a delicious option for families who have food intolerances. Obviously, as the name clearly states, this wouldn't be great option for those with nut allergies.
11. Frosted Sugar Cookies
Whether you opt for slice-and-bake from the grocery store refrigerator or make your own, this is always a winning option for adults and kids alike. Don't forget the frosting and cold glass of milk!
12. Pancakes
Another winning choice to cook for breakfast. Pancakes are an ideal first step towards getting your children excited about cooking, and even though they use really simple ingredients, there are so many ways to enhance the flavors. Try sweet banana pancakes with maple syrup, or savory turkey pancakes on Thanksgiving complete with a dollop of cranberry sauce.
Enjoy Kids Baking!
Family time in the kitchen is a great way to get everybody in on the action! While they'll have fun stirring and mixing, there's a good chance they'll learn important life skills too. Whether you're baking pizzas and bread or cakes and pies, you're spending quality time with the ones you love.
Do you have some favorite easy baking recipes for kids? Share them with the people you love on FamilyApp!