7 Easy Christmas Treats to Bake With Kids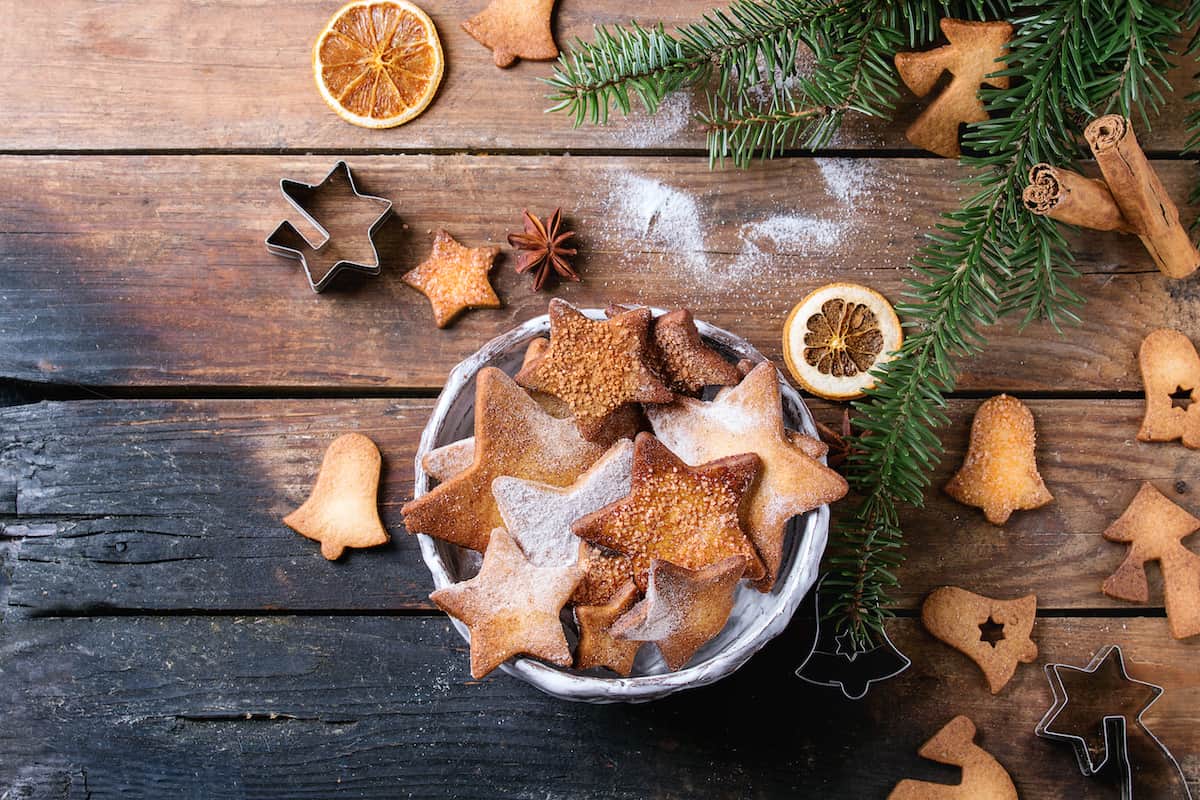 Holiday baking doesn't have to be difficult! Try out these 6 easy Christmas treats to bake with your kids.
Jump to Recipe
Baking Easy Christmas Treats
Oh, Christmas baking with children. It has such a whimsical reputation. Christmas picture books always show families baking together. TV Commercials show happy, well-groomed mothers pulling beautiful sugar cookies out of the oven for ecstatic children, who are drinking eggnog. And yet, when I bake with my children my watch alerts me that I'm in distress based on my pulse. And no children, ever anywhere, like eggnog.
Baking and being with children are two totally separate, fully-consuming experiences that, not unlike last year's failed Christmas "smoothies," do not always blend. But having fun while baking Christmas treats with kids is possible when we choose carefully what we bake.
Children get excited about the familiar: choose recipes that include known snack items, also, children have shorter attention spans, so when baking with them, choose recipes that move quickly to the fun of decorating.
Christmas White Chocolate-Dipped Rice Krispie Treats
The brilliance of baking this Christmas treat with kids is that she gives you absolute permission/if not instruction to go ahead and buy the store-bought Rice Krispie Treats. This way your kids just unwrap, dip, and sprinkle with festive colors. Does this count as baking, you may ask? Yes. You are decorating something filled with sugar, that you will soon eat. That's baking.
Christmas White Chocolate-Dipped Rice Krispie Treats
An easy, affordable and fun holiday treat that everyone will love!
Ingredients
1

package

Rice Krispie Treats (store-bought or homemade)

1

lb.

white (or dark) candy melts or chocolate bark coating.

2

tbsp

shortening

Christmas sprinkles or M&Ms
Instructions
Christmas White-Chocolate Dipped Rice Krispie Treats
Unwrap Rice Krispie Treats (or cut homemade into 3×2-inch rectangles).

Melt candy melts or bark coating in microwave as instructed (typically in 30 second batches, stirring throughout) and mix together with shortening.

Dip desired amount of each Rice Krispie Treats into candy coating. Let excess drip back into container to prevent waste. Sprinkle with Christmas sprinkles or M&Ms until desired amount is reached.

Place treats on wax paper and let sit until coating has begun to set.

Store in an airtight container (lasts for up to 2 weeks).
Nutrition
Calories:
223
kcal
Carbohydrates:
22
g
Protein:
2
g
Fat:
14
g
Saturated Fat:
8
g
Polyunsaturated Fat:
1
g
Monounsaturated Fat:
4
g
Trans Fat:
1
g
Cholesterol:
8
mg
Sodium:
35
mg
Potassium:
108
mg
Fiber:
1
g
Sugar:
22
g
Vitamin A:
17
IU
Vitamin C:
1
mg
Calcium:
75
mg
Iron:
1
mg
Chocolate Dipped Fluffernutter Ritz Cookies
Do your children know what Fluffernutter is? Do they know that this was a legitimate sandwich option for us in the late '80s? It's time they learn. Baking this Christmas treat with kids is filled with the familiar: peanut butter, Ritz crackers, marshmallow fluff, but also integrates once again the sacred acts of dipping and sprinkling.
Again, no oven needed. Yes, this might be considered a "no-bake" Christmas treat, but, again, this totally counts as baking with your kids.
White Chocolate Peppermint Popcorn
A perfect Christmas treat for kids to hand out to bus drivers, teachers, and neighbors, children will once again appreciate working with familiar items such as the ever-gourmet microwave popcorn, M&M's, and peppermint candy canes. This recipe also involves crushing and drizzling which are active tasks for active little people. You could also make baking this Christmas treat with kids strictly about the process, as the kids (and you), in the true spirit of Christmas, might eat it all before it can be given away.
Rolo Pretzel Reindeer
Baking this Christmas treat for kids produces all the things: Dessert, candy, snack (because of the pretzels), use for old Halloween candy. My kids love placing (smashing) the Rolo (or Hershey kiss) onto the pretzel.
In case you just don't have time for eyes and antlers, or your inner Grinch has taken over (there's space for us all at the table) don't sweat the reindeer look. Simply get some red and green M&M's, Rolos, or Hershey Kisses (which can be easier to find in the old Halloween bags) and make this basic version happen. They don't have to know there was a reindeer option. And in July, just switch the color of M&Ms. You will instantly have an Independence Day treat and be a genius.
Gingerbread Christmas Tree Cookies
This is a more of a roll up your sleeves Christmas cookie adventure, but do not be afraid! For this Christmas treat to bake with kids, make the dough and frosting the night before. That way, you can jump into the fun part when your little people wake up. Gingerbread tastes like Christmas in so many ways, it's hard to imagine skipping it entirely.
You can use the same recipe to make Gingerbread people. Children love to decorate them, but I enjoy the sweet whimsy of these little Christmas trees, the lack of cookie cutters, and the need for only green frosting.
Santa Hat Cookies
Baking these Christmas cookies with kids, yes, requires homemade frosting. But you can make up for it with the use of store-bought dough. And what is Christmas without red gel food coloring?
Again, the presence of mini-marshmallows and sprinkles is significant, as is the overall cuteness that is pretty hard to mess up. Also, the recipe makes 48 Christmas cookies, read: both class parties can be covered with one batch. Get on it!
Oreo Truffles
While this dessert might sound fancy and intimidating, with just five ingredients and some sprinkles, you and your kids will be able to wow your friends and neighbors, or just enjoy them at home. Add a few drops of peppermint extract to your Oreo truffles for an extra delicious chocolate treat. Or if you want portable cake pops instead, add a little lollipop stick to the bottom.
Making Memories With Christmas Treats
Yes, you can do it! You can bake with your kids and make sweetness and memories. Choose the right Christmas treat to bake with your kids and you might just start an easy, enjoyable Christmas tradition. Yes, those ARE possible, Elf on the Shelf.