Creative Ideas for Christmas Stockings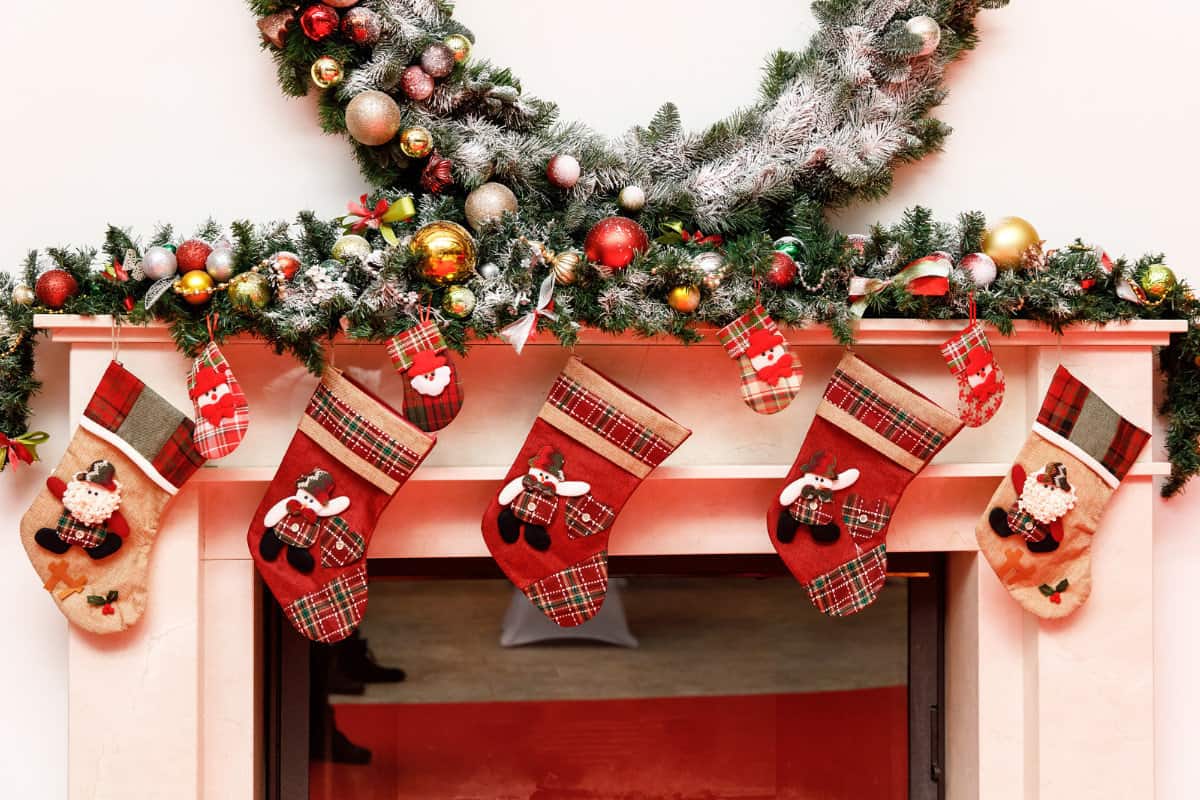 "The stockings were hung by the chimney with care; in hopes that Saint Nicholas would soon be there." Clement Clark Moore wrote the famous poem that depicted one of the holiday's most familiar icons: Christmas stockings.
*This article contains affiliate links, and we may earn from qualifying purchases.
What Is the History of Christmas Stockings?
The tradition of the Christmas stocking goes back for centuries, but its true origins are unknown. Many cultures and traditions used different iterations of a sock hung up for a mystical figure to fill with treats during the holiday season. However, most can agree that the modern image of the sock hung by the chimney originates with the Big Guy himself, Saint Nicholas around 300 AD, who was known for his generosity and gift-giving.
We love this tradition so much, we've rounded up some of our favorite looks with Christmas stockings so you can be inspired! Get ready to revamp your whole living room look!
Creative Ideas for Christmas Stockings
It's that time of year! Your annual Christmas party is just around the corner, the Christmas lights are hung, the Christmas markets scoured, and the Christmas tree is decorated with ornaments…but have you found the perfect stockings yet? If you want to make your fireplace shine this year, check out some of our favorite ideas.
Ice Skate Stockings
If one of your family's favorite winter activities is ice skating, whether that's at the rink or local pond, then these are the perfect stockings. They're so unique!
Woodland Creature Stockings
If you want everyone to have a different stocking look, but still in the same theme, make them different woodland creatures like a reindeer, a fox, an owl, a bird, or a squirrel. These whimsical stockings would look great with packages wrapped in brown paper with baker's twine (I also like to attach a sprig of greenery) and an overgrown wreath above the mantle. These stockings from Anthropologie are a little more understated but equally elegant.
Tartan Stockings
Plaid and tartan accents, especially on wrapping paper, always make me think of the Bing Crosby song, "Christmas in Killarney." Even if you don't have Scottish heritage, using plaids and tartan prints is a fun way to bring a traditional touch to your decor.
Burlap Stockings
Burlap always has its place in rustic-chic farmhouse decor, and stockings are the perfect place. The classic brown with white accents is a look you can't do wrong with. Don't forget to customize it with initials or names in white lettering and accents like soft satin or lace ribbon.
Coastal Stockings
I live by the beach, so everybody in my town likes to adapt their decor to make it ocean-themed. Nautical stockings are an unexpected choice, especially during a festive season that's always saturated with red and green. But we love the idea of switching it up with blue, white, gold, and silver accents, along with pictures of waves, crabs, dolphins, sand dollars, sea urchins, and starfish. Check out this adorable stocking on Amazon.
Christmas Shoes
Who says we should be limited to socks? This high-heeled boot "stocking" is really an off-the-wall look that will have just as much style as you. If you have more of a cowgirl/cowboy style, we also love this cowboy boot stocking!
Piñata Stocking
This is not implying that you will be smacking your stocking with a bat to get all the candy out. It's simply the fringe-y fabric style and pom-poms that make this style really pop. Glue lots of fringe all the way down each stocking to make this frilly, unique style of stocking.
Chunky Knit Stocking
Chunky knit items are one of the signs of the season because they just make you feel warm and snuggly. So add some coziness to your family room with knitted stockings that are reminiscent of Christmas Days gone by.
Reuse, Reduce, and Recyle: Christmas Stockings Edition
Who says Christmas stockings have to be brand-new? Re-purposing old fabrics and materials is the perfect way to save the planet and reduce waste! And, you'll have a Christmas stocking that's different from everyone else's!
Dish Towel Christmas Stockings
Do you have so many holiday dish towels, you don't know what to do with them? I'll bet you never expected you could make stockings out of them! Check out this tutorial so you can recycle your old seasonal dishtowels!
Blanket Stockings
If you just have too many blankets laying around your house (can't relate), then put them to good use with a DIY blanket stocking. You can also find wool blankets at thrift stores and antique stores that are perfect for crafting.
Sweater Stockings
Don't throw away that old sweater! They make the perfect fabric for stockings! Ugly sweaters have made a comeback in a HUGE way in fashion, so with a sweater stocking, you'll definitely be on-trend, no matter how old the sweater is. Just outline the stocking shape and carefully cut out the sweater. Then, sew the pieces together and attach a knot. Easy as that!
Macrame Stockings
Boho chic is in–and nothing says bohemian like a good macrame piece. We love this idea for a versatile, classy, laid-back stocking. Even if you don't go ALL macrame, you can just use small embellishments or fringe to achieve this look.
Denim Christmas Stockings
Didn't you hear? The '90s are back! And who could forget our obsession with the all-denim aesthetic? Denim stockings with patch accents will undoubtedly bring back the nostalgia of the Y2K era.
Quilted Stockings
If you have an old quilt sitting in the linen closet that you just don't know what to do with, this may be the perfect DIY moment. If you're not handy with the sewing machine, you can find them at plenty of retailers. But we recommend finding a small business to support by buying one of these beauties!
Make a Statement With Christmas Stockings
It's time to hop into some cozy pajamas, light the fire, eat some gingerbread men, and admire your stockings that are hung by the chimney with care. Don't worry, Santa Claus will soon be there on Christmas Eve. Share these festive ideas with the people you love on FamilyApp! And don't forget to check out all of our other holiday articles, like advent calendars, outdoor decorations, and DIY decor!