Top 23 Gifts for Competitive Swimmers
Whether it's the holidays, a birthday, or swim season, swimmers are always in need of some new gear or swimwear. These gifts for competitive swimmers are sure to make any water-lovers dive into their local pool quicker than their last race time!
What Does Every Competitive Swimmer Need?
With the holiday season in full swing, a competitive swimmer can need anything from a new suit, kickboard, goggles, a backpack, and much more. This list compiles many different essentials for competitive swimmers, swimmer kids, and even coaches. We covered many items throughout different prices ranges, so you are sure to find the perfect gift. Read on for the best gifts for swimmers of any age!
1. Swim Goggles
Swimmers tend to wear have a favorite pair of swim goggles. To them, goggles are very important as they need to be top quality, so they don't leak. A good pair of goggles will last throughout many practices and meets. Often times a good swimmer will have a backup pair or two if the goggle strap breaks. No one wants to be stuck without their favorite brand of goggles when they're next up on the starting block! We love these blue mirrored goggles from Speedo, which are also available in a junior size. We also are a big fan of these goggle replacement straps, which are always good to have just in case a goggle strap breaks!
2. Towels
Swimmers need towels, but not just any towel they need a thick durable, quick-dry towel that will last them through many meets, being toted around in their swim bag. Beach towels are some of the best gifts for competitive swimmers because they tend to be larger than standard towels. We love this 4 pack of colorful towels pool or beach towels on Amazon.
3. Swim Conditioner
Ask any swimmer and they'll tell you that their hair can really take a battering from the chlorine and other chemicals in the pool water. Chlorine can make swimmers' hair dry, frail, and thin. This, along with the battering that comes with wearing a cap and goggles, chances are your swimmer's hair needs some TLC. The good news is that you can gift your competitive swimmer with a quality conditioner that can help re-moisturize and target the dead spots in their chlorine-filled hair. This conditioner from Ultra swim is a go-to brand for swimmers. We also love this conditioner from TriSwim which smells like pineapple and mango. It also has proteins and keratin to strengthen, smooth, and add a healthy shine.
4. Lotion
Dry crunchy hair also means dry skin. Just like with swimmer's hair, swimmer's skin is always screaming for more moisture! The more time they spend in the chlorinated water the more likely they'll be wanting a nice moisturizer to keep their skin healthy and smooth. Triswim lotion makes an ideal gift as it helps to restore, hydrate, and nourish dry skin. Or if you're looking for a total package, you can get this gift set that comes with body wash, lotion, and a loofah that would make for an all-in-one swimming kit.
5. Swim Snacks Make Great Gifts for Competitive Swimmers
If there is one thing you should know about swimmers, it's that they like to eat! That's because, after a long practice and many laps in the pool working their whole body, they are hungry. Especially during all-day meets, they may not want to eat an entire meal but love to snack.
Gift them with some swimmer favorites like energy or granola bars, energy gels, or energy Stroop waffles. We love these variety packs of Clif bars, Huma Chia energy gels, and Gu Energy Stroop Waffles that each come in a ton of different flavors. You can always purchase multiple in bulk for the whole swim team making for the perfect swimmers' gifts. The swimmer in your life is sure to love any of these quick snacks that will give them a boost of energy before their next practice or meet!
6. Foam Rollers
Competitive swimmers definitely can have their fair share of days where they feel worn out and sore from a hard practice or intense meet. Gift them with a foam roller or set of rollers to ease their sore muscles. This set of multiple rollers is great for the swimmer who wants to roll out their whole body and makes a great gift. If your looking for general rollers this Doeplex muscle roller or this Gimmie 10 foam roller is perfect for soothing sore muscles.
7. Kickboard
Diving into the world of essential equipment for swim training, we will start out with a classic kickboard. Kickboards are made to help train swimmers for a faster kick and to solely train their legs. Sometimes pools have kickboards or other training equipment, but nothing makes the swimmer in your life feel special like having their own kickboard. One that they feel comfortable with and is personal to them.
Kickboards can come in a variety of shapes, sizes, and colors. We love this one from Sporti which comes in multiple colors and also has a junior version for young swimmers. This kickboard from Speedo is also a go-to and is made from a super durable material to ensure it'll last throughout many practices.
8. Swim Hand Paddles
Swimmer hand paddles are great for training as they help swimmers build upper body strength and power. They're also a great training tool for developing proper stroke mechanics and form. These power swim paddles from Sporti are great because they have adjustable finger and wrist straps and also come in three different sizes. These are a fun gift for a swimmer of any age.
9. Pull Swim Buoy
Another common training essential is a pull swim buoy. Swimmers place a pull buoy between their legs, the lightness of the buoy keeps their body afloat while their arms work to train. This essentially makes the swimmer pull their own weight and strengthen their arms and whole body. Pull swim buoys are great for muscle training, endurance training, and resistance training. Check out this one from Sporti on Swim Outlet that comes in many colors. And this one from MARU on Amazon comes in an adult and kids size, as well as multiple colors.
10. Fins Are Fun Gifts for Competitive Swimmers
Fins are great for swim training because they can add velocity and speed to each stroke or kick and. They can also train the body to move more quickly over top or underneath the water. Fins can make for a fun workout that also gives the swimmer better strength, endurance, and swimming technique. Fins can also come in many different shapes, sizes, and colors. These ones from Sporti come in a variety of colors and can be for kids, youth or adults. We also love these high-quality TYR fins off of amazon.
11. Snorkle
You may be thinking by now, dang, swimmers use a lot more equipment than I thought! Yes, the more competitive a swimmer gets, the more swimming gear they may use to help them train more efficiently and in different ways. Swimmers use a snorkel to help with breathing, stroke technique, and body position in the pool. Using a snorkel keeps a swimmer's head down in order to help them better focus on the placement of their head in the water and keep their breathing in check. We like this best-selling snorkel on Swim outlet from FINIS that comes in two different colors and has an adjustable strap.
12. Waterproof Headphones
We'll let you in on a special secret about swimmers. Swimmers love music. A lot. Whether they are on a bus traveling to or from a meet, pumping themselves up before a meet, or jamming with a friend on the pool deck, you can often find swimmers with some music headphones on! That's why waterproof headphones would make the ultimate gift!
Regular headphones are great and a common item for swimmers, but the chances of them getting wet and ruined are pretty high in the swimmer world. Most times swimmers listen to music outside of the water, but there are headphones that are designed specifically for swimmers to listen to music under the water as they are swimming! These are great for solo practices or long-distance practice swimming.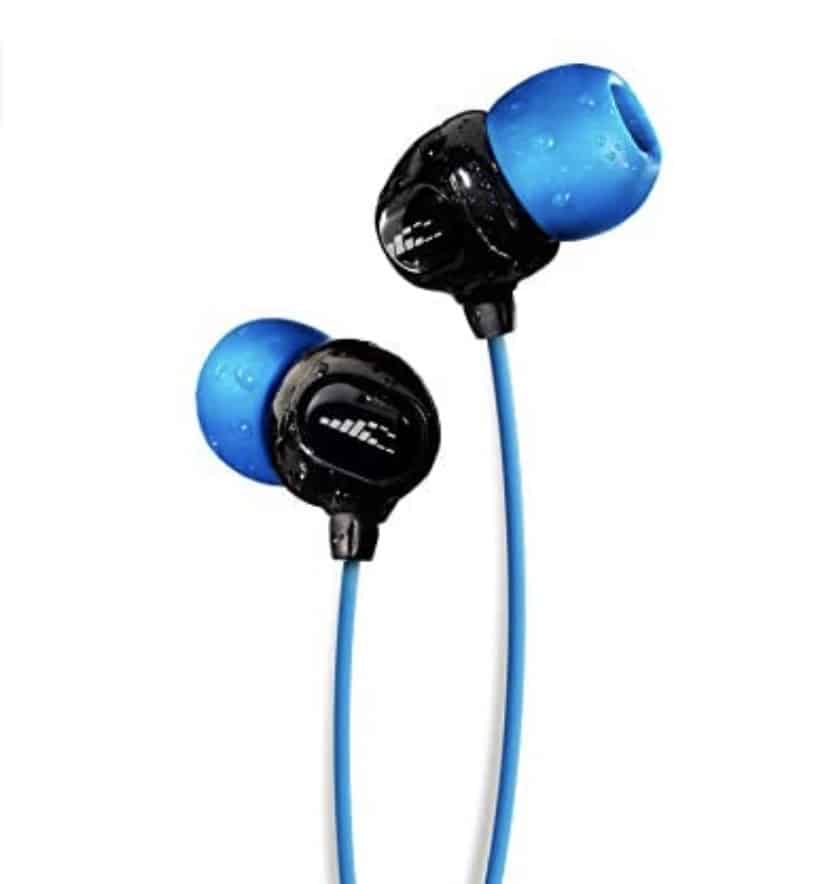 13. Water Bottle
For the amount of time swimmers spend in the water, they often forget to drink enough water to stay hydrated. Sometimes it comes down to the right water bottle. Swimmers need a water bottle that is easy to drink from and it's always a plus when their bottle is easy to clean. Quirt water bottles are great for practice in between sets or sprints for a quick drink of water. We love this one from FINIS which is easy to clean and use.
14. Swimmer Ear Drops
If you have ever known or had a swimmer in your life, chances are they have probably had general ear pain from having water in their ear. Ear drops can help with this common problem with swimmers. This swim-ear drying aid makes for a perfect gift and is a popular ear drop brand on amazon for swimmers.
15. Swim Cap
As we move along in this list of gift ideas for swimmers, we hope you are seeing a few things that have already caught your eye. Finding the right gift will make the swimmer in your life feel like they are going a great job in their sport and can find inspiration from the gifts you may give.
Swimmers can truly never have enough swim caps. Caps can especially help swimmers with long hair, keeping it up and out of their face. Caps can also help to keep long hair back to create less drag in the water. A swim cap can come in all different colors and materials. We love these caps from TYR and Sporti, which are wrinkle-free, made of silicone, and come in multiple light and bright colors.
16. Swimsuits
Swimmers love a new suit! Often swimmers have a favorite suit that they'll wear until it's worn to the threads after hours of hard training. At this point, it's time to find them their next new favorite swimsuit. But one thing we know and love about swimming is that it's a diverse sport!
Almost anyone at any age can swim, and teams often include boys and girls. There are tons of suits to swim from but we will tag just a few popular suits for adult women, young girls, adult men, and young boys here. You can also peruse the Swimoutlet website to find a good match for your swimmer kid, friend, or family member! Just make sure you know their size and the style and colors of a swimsuit they may like.
17. Sweat pants
During meets, swimmers are in and out of the swimming pool and oftentimes want to keep warm in the in-between periods. That means there's no better gift than sweat pants that are easy to slip on in between events and after a long meet. Cozy, warm, and durable sweat pants are also great for swimmers, as typically swim seasons run during the winter season. These boy's youth sweat pants come in a few different colors on Amazon. We also are digging these unisex sweat pants on the Swim Outlet website that look extra cozy.
18. Waterproof Shoes
Any swim team member can attest that they've gotta have a pair of waterproof shoes on hand at any meet or practice. Whether swimmers are in an indoor pool or outdoor pool, some easy-to-slip-on shoes are always needed. On the pool deck and especially in the locker rooms and showers shoes are recommended to avoid getting any sort of foot ailments and keep one's feet off the locker room floor. Croc's are completely waterproof, as are flip flops, and water shoes can be good for younger swimmers. If you're looking for a perfect gift that can often be overlooked but is necessary, water-resistant or waterproof shoes are it.
19. Swim Bags Are Great Gifts for Competitive Swimmers
Almost everything we have listed thus far has to fit into a bag, and this is why swimmers usually have a pretty big waterproof bag or even two bags to carry with them. Swim backpacks are a hit, especially when they have multiple compartments or a side pocket that can hold all the things a swimmer may need and more! The most common items found in a swimmer's bag are wet clothes after a practice, goggles, snacks, swim caps, waterproof headphones, and much more.
A swimmer will often have a mesh bag to carry their fins, kickboard, buoy, or other training equipment. These three bags, a swim backpack, a duffle swimming bag, and a mesh bag, make for great gifts for swimmers.
20. Gift Card or Gift Certificate
If you're still not sure what to get the swimmer in your life, you can always give them the gift of a gift card! This is a perfect gift if you're not sure exactly what they want or if you know they'd prefer a unique gift. The plus side of gifting a gift certificate is that they can even get a multitude of items using one card. On the swim outlet website, you can either send a gift certificate through email or you can have one sent via mail.
Gifts for Swim Coaches
We sure have given you a ton of ideas for gifts for swimmers, we can't leave out swim the coaches. We had to include gifts for your favorite swim coach which are both essential and might be something they need a replacement on. Though they may like some of the same gifts listed above, coaches also may want some new gear as well. Eck out these few gifts they are sure to love!
21. Swim Clipboard
Something many coaches can't live without is their clipboard. It can hold different practice times, meet events, and other important info they need for their job. Check out this neat one we found on amazon that doubles as a clipboard and dry erase board. It can also hold papers inside an inner compartment to minimize the risk of the papers getting wet.
22. Whistle
Unless your coach is amazing at naturally whistling, they most likely also have a whistle in hand at all times. For each training session or through multiple swim meets coaches use their whistle to help swimmers know when to start or so swimmers can hear them under the water. Check out this whistle that comes in a ton of different colors and comes with a lanyard.
23. Stopwatch
Last but very not least a stopwatch! So essential to practices and helping many swimmers beat their record times! Gift your favorite coach or coach's assistant with a high-quality stopwatch to make their day and help swimmers reach their next best time.
Swim Gear Gifts
We hope you found a special gift on this gift guide that the swimmer in your life will love. The unique attire, accessories, and equipment listed above can help swimmers and their teams swim their best.
Be sure to share this article with a swim-lover, your favorite swimmer, or anyone else that loves the water. And for other gift ideas and family-related content check out FamilyApp.
The author of this article, Adrianna, was a competitive swimmer throughout high school and her college years. She has many fond memories on both swim teams and made countless friends through her swimming experience. Adrianna mainly swam breaststroke and freestyle in singular events and relays. Her love of swimming still lives on and she sure does know some great gifts for swimmers! Happy Swimming!