The Best Holiday Gifts for the Whole Family
The holidays are almost here! That means it's time to find holiday gifts for the whole family to unwrap. Some family members may know exactly which Christmas gifts they want this year. Others in the family may have it all, leaving you on your own to search for perfect gift ideas.
This holiday season, you can find the perfect holiday gifts for everyone on your Christmas list. We have some excellent gift ideas for kids, parents and ideas for the whole family to enjoy together. From personalized one-of-a-kind holiday gifts to gifts that will work for your child and family, there is something for everyone. Many have free shipping too!
Read on for our family holiday gift guide from a game that goes over well with everyone to panini makers. Our guide will make finding the perfect gift a no-brainer for everyone on your list, from grandparents to the newest kid in the family. We have you covered, from splurge gifts to stocking stuffers. Grab the popcorn popper and take notes on our recommended holiday gift ideas!
Holiday Gifts: Toy Ideas
Your child has been very good this year! Find the perfect gift to make Christmas morning special for your child and the entire family. There are plenty of gifts for kids that everyone will like. Find the right one and watch your child light up!
Beyblades
Beyblades never go out of style! This Beyblade Burst Surge Storm Motor Strike Battle Set comes with two Beyblades and everything needed to battle. That makes it an excellent choice for siblings or families.
Minion Duet Buddy
Did someone say bananas? This Minion Duet Buddy is not just a stuffy ready for cuddling, but it also provides hours of family entertainment. Bob the Minion will sing Cool and the Gang's Celebration when kids hold the microphone near him. Then, they can take turns singing along.
Ponies
Did your child ask for a pony this year? It may not be exactly what they want, but a good alternative is a barnyard playset. A Breyer Horses Mane Beauty Set comes with everything your child needs to style their Breyer horse's mane. Another option is the Spirit Untamed Barn Playset that comes with its own Spirit horse and everything your child needs to care for and groom Spirit. Add more horses, and you have a wonderful gift for siblings to share!
LEGOs
Legos are a classic gift for children that are also great for the whole family. Everyone can get in on the fun of building sets like Attack of the Spider Lair. Once built, your family will have a great playset that can be used, taken apart, and built again a different way!
Playmobil
Playmobil is another excellent gift the entire family can use. The themes for sets are endless. Go for classic Scooby-Doo, a throw-back Back to the Future, or firetrucks and fairies!
Walkie-Talkies
Walkie-Talkies are an excellent toy for kids to keep in touch with their next-door neighbor or sibling upstairs. Look for a model with a large range for even more fun.
Holiday Gifts for the Whole Family
Gifts that everyone can enjoy make the best Christmas gifts to bring everyone together. These family gift ideas will be appreciated by everyone! Family gifts are the best must-have gifts of all this holiday season.
Family Card Game Gifts for the Holidays
Card games are great for grown-ups and kids. That means they make a great holiday family gift. Queeng Cards are updated playing cards for everyone. Instead of Kings being worth more than Queens, this deck comes with Monarchs. That way, males aren't worth more than females. They also come with multi-ethnic characters. You can use the same deck for many different card games, so the family can still play favorites like Go Fish and Gin Rummy.
Taco vs. Burrito is another fun card game for families. It's easy to learn and fast-paced with disgusting foods that will keep kids (and adults) laughing. There is even an expansion pack to keep the game interesting.
Family Board Game Gifts for Christmas
Game night is a great family activity! One fun idea for a fun family game night is Throw Throw Burrito and Throw Throw Avocado. In these family games, everyone in the family has permission to throw things at one another. This may be the best family gift of all! Or, look for a family classic like Pictionary. Another fun option is Willie Wonka's The Golden Ticket game from Buffalo Games. This game is double-sided for beginner and advanced play. That means you decide how to steal candy and warn Wonka bars! Or, for a twist on a favorite, try Monopoly Builder. In this version, players don't just buy property – they build their own! For kids who won't put down their Joy-Con, bring a video game to the kitchen table. The Space Invaders board game brings the classic off the screen, complete with an arcade-style shooter.
For a game that promotes family bonding, try TableTopics with plenty of questions to get to know each other even better. If game night isn't right for your family, try a puzzle night instead for a fun gift with the same vibe. Order games together to qualify for free shipping.
Family Movie Night Gifts for Christmas
The best family gift idea of all may be one your family can use all year long! Get everything you need for a family movie night for the ultimate Christmas gift. A popcorn maker to make sure there is plenty of popcorn on hand is a must! A projector like the lightweight Anker Nebula is an excellent choice for movies inside or out. Just add a blank wall or a large sheet for an instant family night with a big screen. Everything for a family movie night can double as a great idea for a get-together with friends. Just find an age-appropriate movie, and you are ready to go!
Family Ornament Gifts for Christmas
Old World Christmas makes beautiful high-quality ornaments in just about every style imaginable. Add one of these ornaments to your collection for each family member as a keepsake of what they liked that year. Ideas range from video game controllers to your favorite NFL team. Or, use a TreeMendous Christmas ornament kit that has everything you need for each family member to create their own holiday ornament.
Holiday Gift Ideas for Parents
Mom and Dad work hard! Give them a thoughtful gift that recognizes how much they do for their family. Here are some great Christmas gift ideas for the special parents in your life.
Mug Holiday Gift Ideas
There is a good chance Mom and Dad drink a lot of coffee or tea to keep up with their busy family. A great idea this holiday is to give them a personalized mug. Well Told glass and ceramic mugs can be ordered personalized with a map of their hometown or the sky as it looked the night of their kid's birthday. Or, give them a gift that is a sign of the times. A COVID-19 mug from Giant Microbes makes an on-point gift this pandemic Christmas! If they have too many mugs already, look for some new cutlery or a new Cuisinart to give.
Pajamas Holiday Gift Ideas
A gift that helps Mom and Dad relax will be a gift that keeps on giving long after Christmas ends. The Clea Bamboo Classic pajamas set from Kindred Bravely is a super-soft option that Mom won't want to take off. There is a maternity version that makes an excellent gift for an expecting Mom. Add a pair of Bombas gripper house socks or Dearfoams slippers for a truly cozy gift. Get matching pajamas to turn this into a family-themed present.
Holiday Gifts for Snackers
Parents can't always sit down for a full meal. If the parents in your life enjoy their snacks check out CraveBox. CraveBox comes in different themes, including healthy and a Christmas version complete with a Christmas stocking. S'mores pack, like these from City Bonfires that even come with their own micro firepit are another fun idea. Foodies will appreciate a pizza-making package from KettlePizza that turns an existing grill into a pizza oven. Or, a box of gourmet Wisconsin Cheese may be the perfect splurge for the Christmas holiday.
The Gift of More Power
Moms and Dads are always on the go! A Biolite Charge powerband they can use to power up on the go makes a valuable gift for any busy family. This will be useful in the busy Christmas season and beyond.
Holiday Gifts of Reading
Parents may be too exhausted to read! Break them out of their family bubble and transport them into another world with an audiobook subscription. These Amazon Echobuds are small, light, and have effective noise canceling. This makes them a great choice for parents. Even better, these are Alexa-enabled and are compatible with Audible audiobooks. If Mom and Dad prefer to read their books, an Amazon Kindle Paperwhite is a great choice to allow them to read with one hand or read in the dark. They will only need Wi-Fi to get started.
Holiday Gifts for Grandparents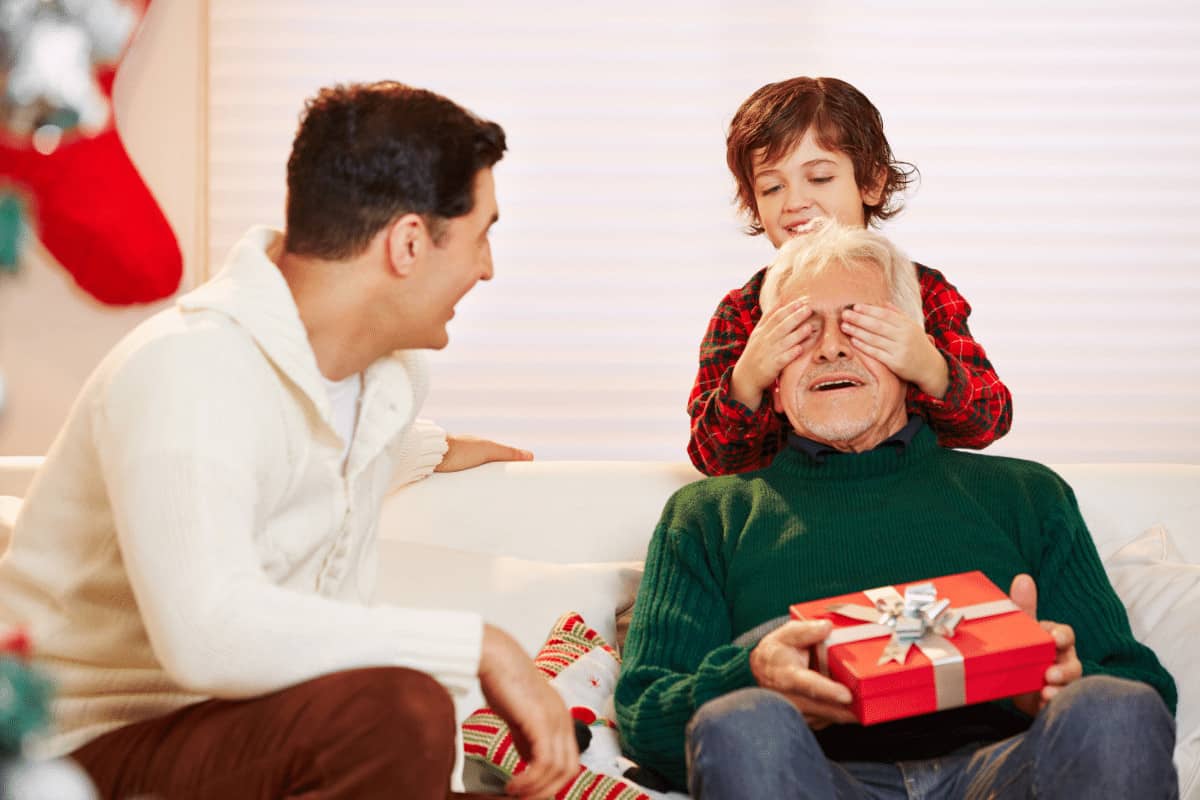 Homemade Holiday Gifts
Grandmothers and grandfathers love anything personalized and hand-made from their grandkids. A great personalized gift is a handprint made from a kit, a t-shirt, or a Christmas ornament hand-painted by a child with one-of-kind art. There are many great kits available to help you make the perfect custom gift. As a bonus, the process of making these gifts for Christmas is a lot of fun for kids! In years to come, they will also be a warm memory.
Holiday Gifts for the People Who Have Everything: Gift Cards
If the Grandma and Grandpa in your life have downsized, a gift card to their favorite restaurant is a practical gift. To make this a family gift, grab a gift card to a family-friendly restaurant so that you can treat them to a fun night with the grandkids. This also makes a great last-minute, ready-made gift. Many gift cards are available digitally, so you don't need to worry about looking for free shipping.
Uncommon Goods
If grandparents are too hard to buy for, check out Uncommon Goods. They truly have it all, from custom socks to pretty jewelry. This site can help you solve the puzzle of what to get the Grandparent who doesn't need anything. This is also a great place to find housewarming gifts!
Experience Gift Ideas for the Holidays
Gift-giving does not always have to involve more stuff! There are so many experiences the entire family can enjoy.
Family-Friendly Outing Holiday Gifts
Kids get a lot of toys for Christmas. Get a gift that knocks an experience off their bucket list. Family gift ideas include zoo memberships, a museum membership, or season passes to a local amusement park. You could even give your child a preview of an upcoming summer trip as one of their holiday gifts. A kid who gets a card to their favorite arcade will be happy with their gift too! These types of family Christmas gifts give the gift of something to look forward to for everyone. They are also eco-friendly since they don't involve a lot of packaging and trash.
Cooking Gifts
Cooking kits are a great hands-on activity that can be enjoyed by the whole family at home. Make a basket with everything you need to make great cookies or homemade pasta. Or, instead of a basket, get a ready-made kit delivered. Kidster makes kid-friendly cooking kits great for making classics and holiday-themed baked goods. Cooking together is a great way to create a fun family memory!
Finally, when shopping for Christmas gifts this season, look for deals with free shipping to help keep costs down. Also, be aware of shipping delays related to the supply chain shortage. If your gift does not arrive on time, don't worry! A great way to let someone know their gift is on the way is to give them homemade cookies with a note letting them know the elves are running a little behind.