20 Incredibly Cute Easter Dogs to Brighten Your Day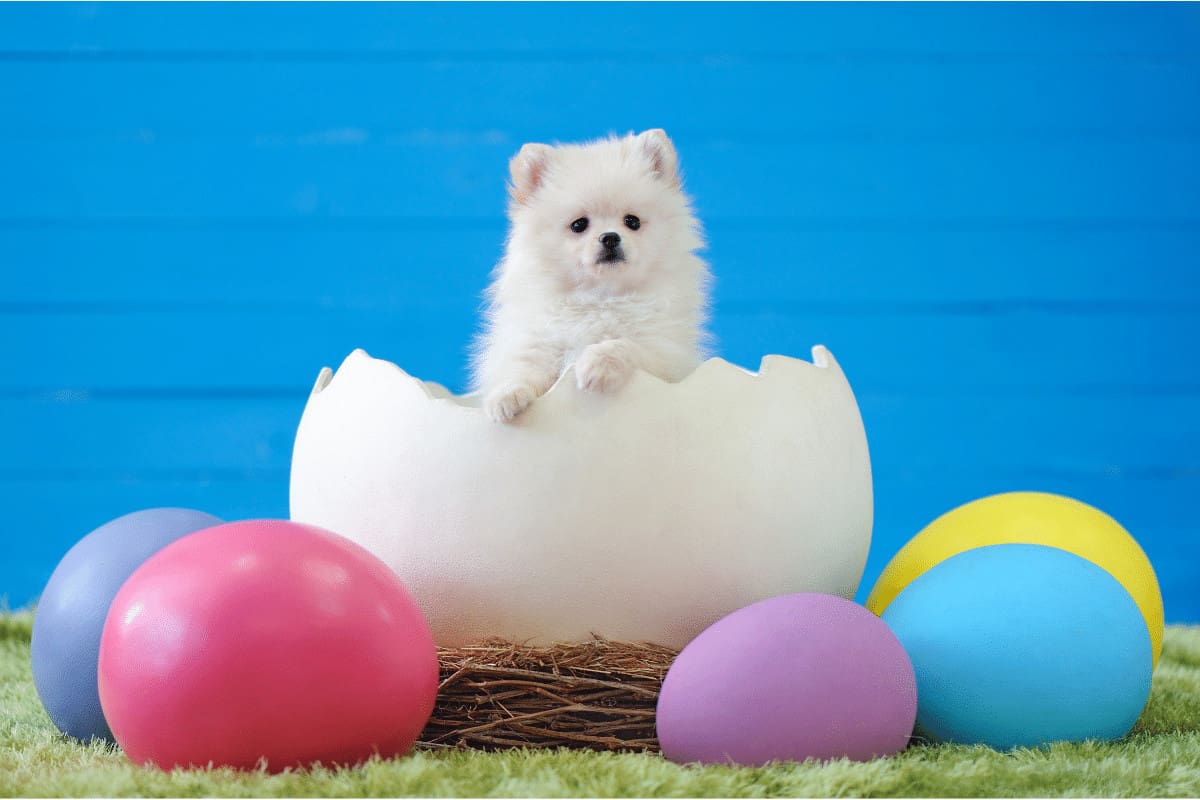 We have a lot to celebrate in the spring–and these Easter dogs know that for a fact. Here are some of our favorite pups decked out in their Easter best!
Dash the Doxie
Dash looks like he's telling us something very important with his eyes…probably that they didn't hide those Easter eggs very well.
Kopa the Doodle
"Cone of Shame?" We think not. When life gives you lemons, or in this case, Easter eggs, you make the most of it.
Remus the Mini Wolf Pomeranian
If that's not a smile, we don't know what is. This Easter dog is ready for his Easter portrait close-up.
Teddy the Shih Tzu
Teddy most certainly is ready for spring–and he appears to be Easter's biggest cheerleader.
Teddy Lupin the Cavapoo
Do you think a goose laid those big, golden eggs like the ones in Willy Wonka and the Chocolate Factory? If so, we think the Easter Bunny brought them for Teddy because he's definitely a "good egg."
Chorizo the Dachshund
Yellow is Chorizo's best color, for sure. He's got a lot going on, from the baby chicks and feather boa to the regal crown on his head. And we're totally here for all of it.
Archie the Aussie
Archie may just have the most beautiful eyes we've ever seen. We also love that his fur matches the Easter décor like a true style icon.
Julian the Cavalier King Charles
Juju's future is so bright he has to wear shades. This pup has some serious swag, and he looks like one of the coolest dogs in Hawaii.
Lilly and Winny the Westies
These guys are just two peas in a pod…or maybe two eggs in a basket. One chick and one bunny in a basket? Who's to say.
Whizz the Mutt
This doggo makes balancing look easy, especially with a carrot in his mouth! We can only imagine all the other tricks he has up his sleeve!
Stella the Golden Retriever
Stella poses much better than most toddlers I know! Although toddlers do set the bar pretty low when it comes to photography. This golden cutie is ready for a fun day filled with Easter eggs, good food, friends, and of course, treats.
Cedric the Chihuahua
First, we'd like to acknowledge the name "Cedric" for this dog as an excellent choice that suits him perfectly. Second, we'd like to recognize the tiny tongue sticking out of his mouth. 'Cute' does not begin to express strongly enough how adorable this pup is.
Mabel the Labradoodle's Siblings
If the Easter bunny brought me these little guys in a basket, I think I could die happy. Who could deny those little faces?
Remy the Cavapoo
Remy is ready for ALL the Easter festivities dressed in his best Easter! He definitely wins for most committed to the theme with this costume!
Daisy the Golden Retriever
Looks like the adorable Daisy found plenty of Easter eggs this year! Those eyebrows say it all, don't they?
Phoebe the Pomeranian Papillon Princess
Not only is Phoebe making the flower crown/bunny ear combination WORK, but we also love the addition of the long-sleeved tee.
Pierre the French Bulldog
This is Frenchie perfection: the blue hat, the bow, the ears, the face…you can't help but want to squish those little cheeks.
Finnegan and Claire the Dachshunds
If I found these two siblings in my Easter basket, I don't think I'd ever think about Easter candy ever again. Dogs are all you need.
Pixel the Chihuahua
We think this technically counts as a stylish Easter balaclava, making it all the more perfect. Also, the specked nose is everything.
Asher the Golden
Asher looks like he's just spent the day sniffing for Easter eggs and the Easter Bunny (he'll catch him one of these days). We also want to know where he got that adorable felt garland!
A Very Doxie Easter
What's better than one dachshund? Four dachshunds. We're sure there's never a dull moment around this house, whether it's Easter or just a plain Wednesday. Also, props to whoever knitted those stylish Easter hats!
Hoppy Easter to All You Easter Dogs Out There!
Easter is a time for food, friends, and family. That includes the ones with fur and paws! Maybe these Easter dogs will inspire your own Easter pup photoshoot! Deck them out in bunny ears, surround them with Easter eggs, and have fun! Share these Easter dogs with the people you love to brighten their day with come cuteness overload.