Ready to experience BBQ like never before? Find the right BBQ smoker for you so you can start cooking impressive meals for family, friends, and neighbors!
*As an Amazon affiliate we earn from qualifying purchases.
Jump to Recipe
Which BBQ Smoker Is the Best?
That all depends on your level of expertise, cooking space, size of the meat you're cooking, and how much effort you want to put in. Some models will take more of your attention, while others are more set-and-forget. You can also get them in different builds like a vertical smoker, an offset smoker, or an unconventional smoker.
The Four Kinds of BBQ Smokers
Electric Smoker
If you want to smoke meat, but sitting out in the rain tending a fire doesn't sound appealing, electric smokers are a perfect choice. It's also the perfect model for beginners because you can just set it and forget it! An electric coil creates smoke by burning wood chips in a smoker box. With these, all you have to worry about is maintaining the proper amount of smoke and airflow.
Our recommendation: Masterbuilt MB20070210 Analog Electric Smoker. With the Masterbuilt 30-inch Analog Electric Smoker, you'll achieve top-notch results in your own backyard, without the hassle of charcoal or propane. Simply plug this smoker in, set the analog controls to your desired temperature, and it does the work! The three chrome-coated racks provide plenty of room to smoke up to 3 chickens, 2 turkeys, 3 racks of ribs, or 3 pork butts.
Charcoal Smoker
Charcoal smokers behave similarly to their wood-burning counterparts, which is probably what most people call to mind when they think of smokers. The main benefit of this model is its ability to produce a smoky flavor, though charcoal models can be difficult to use and take a bit longer to master than other smoker types. The trade-off may be well worth it, especially if you have a smoker temperature controller to adjust airflow.
Our recommendation: For a beginner charcoal smoker, your best option is the Weber 18-inch Smokey Mountain Cooker. This pit barrel-style smoker is easy to use yet built to last. A reliable machine from a great brand at a reasonable price point, and your family will be ecstatic about the new dinner options with this pit barrel cooker.
Our top pick for a high-end charcoal smoker is Kamado Joe. This may be a more expensive option, particularly for a beginner looking for their first smoker. However, if you're serious about cooking your meat, The Big Green Egg is a ceramic kamado-style charcoal grill that's also on the higher end price-wise, but this top-notch grill with a cult following is a game-changer.
Propane Smoker
Gas BBQ smokers are incredibly easy to use, so they're popular with people who are just getting into smoking. They're usually built vertically with a gas burner at the bottom of the smoking chamber. Gas burners generate stable heat to light wood chips or chunks, which makes smoke and temperature control much easier than other models. Your main concerns are time and your food's internal temperature (so grab a good remote thermometer).
Our recommendation: Masterbuilt MB20051316 Propane Smoker with Thermostat Control. Its temperature sensor controls the stainless steel burner to maintain the desired cooking temperature. Use its four chrome-coated smoking racks to easily smoke all kinds of delicious meals.
Wood Pellet Smoker
Also known as "pellet grills," pellet smokers combine the best of both worlds: the rich flavor or charcoal smokers with the temperature control of an electric smoker. They can manage fuel and heat levels while also regulating smoke and airflow. Some even have programmable cooking cycles that will give you perfect BBQ with the push of a button. Wood pellets create their own excellent flavored smoke, so you don't even need to use wood chips or chunks! And, with a wood pellet smoker, it is very hard to over-smoke the meat. Select "smoke mode," which lowers the heat to create a burst of mild smoke, creating a mild but irresistible flavor.
The main con is that these models can come with a hefty price tag, which isn't always ideal for beginners. But if you've got the budget, this is the way to go.
Our recommendation: Z-Grills ZPG-450A. Not only can it cook a wide variety of food, but it can also be used to smoke, grill, bake, braise, or roast. Its digital remote control board helps you achieve precise temperature smoking, and its electric feed system monitors the amount of heat and smoke it produces.
What's the Best Smoker for a Small Cooking Area?
Char-Griller 2-2424 Table Top Charcoal Grill and Side Fire Box is a great option if you already have a grill because you can convert it into a smokebox that you attach to a larger grill. However, if you don't have a grill and are low on space, a vertical smoker like the 14″ Smokey Mountain Cooker is perfect works wonders.
What to Cook in a BBQ Smoker
When you barbeque meat low-and-slow, all the fat and juices locked in the meat render and create unbeatable flavors. There's no other type of cooking quite like it. That being said, any meat can be cooked in a BBQ smoker, but some of our favorites include beef brisket, pork butt, prime rib, spiral smoked ham, beef cheek, ribs, and chuck roast. Check out some more of our favorites below!
BBQ Smoker Recipes– Appetizers and Sides
Smoked Mac-N-Cheese
Smoked Mac and Cheese is comfort food in a cast-iron skillet. Creamy and rich macaroni and cheese with a crisp panko topping and the perfect kiss of smoke flavor. For this, you'll want to keep your smoker temperatures low. Anything over 225 degrees F will overcook your noodles and make your mac and cheese dry. Use mild wood like cherry, apple, maple, or pecan wood. Feel free to mix it up and add a little bit of rub to the panko topping! This cheezy comfort food will never be the same!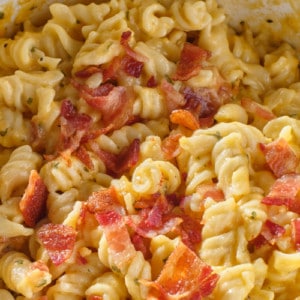 Smoked Mac 'n' Cheese
The irrestistable, smoky flavor of this mac 'n' cheese will have you wondering if you'll ever go back to baking it.
Ingredients
1/2

lb

bacon

chopped

1/2

cup

butter

1/2

onion

finely chopped

1

clove

garlic

chopped

2-3

tbsp

all-purpose flour

3

cups

whole milk

salt and pepper

to taste

2-3

cups

sharp, aged cheddar cheese

grated

1-2

lbs

macaroni

or your choice of pasta

2

cups

jalapeño (pepper) Jack cheese

grated

1

cup

parmesan cheese

grated
Instructions
Smoked Mac 'n' Cheese
Line a plate with paper towels. Place the bacon in a pan and cook on medium-low heat until crisp (but not overcooked). Using a slotted spoon, transfer the bacon bits to the plate to drain. Pour 1-2 tablespoons of bacon fat into a clean sauté pan, and reserve the rest for another use.

Heat the bacon fat over medium heat. Add the butter and onions and cook, stirring often, until the onions are soft (not brown). Add the garlic and stir until it releases its flavor. Add the flour, stirring the mixture until it comes together. Cook the roux for a couple of minutes.

Slowly add the milk to the roux, 1 cup at a time. Mix well after each addition so there are no chunks of flour and the mixture is creamy. Season to taste with salt and pepper. Once the liquid is warm, mix in the cheddar cheese. Remove from the heat and cover to keep warm.

Bring a large pot of salted water to a boil. Add the macaroni and cook according to package directions, slightly undercooking. Drain the pasta and mix it into the roux. Stir well.

Prepare your smoker at medium heat.

Pour half of the mac 'n' cheese into a large baking dish. Cover it with half of the jalapeño Jack cheese, and then smother it with the remaining mac 'n' cheese. Top with the remaining jalapeño Jack cheese, Parmesan and bacon bits.

Smoke with the lid closed for 20-30 minutes, until the mixture is bubbly and the top is slightly browned.

Remove from the heat and allow to cool slightly before serving.
Nutrition
Serving:
1
serving
Calories:
764
kcal
Carbohydrates:
50
g
Protein:
33
g
Fat:
48
g
Saturated Fat:
26
g
Polyunsaturated Fat:
3
g
Monounsaturated Fat:
15
g
Trans Fat:
1
g
Cholesterol:
122
mg
Sodium:
859
mg
Potassium:
382
mg
Fiber:
2
g
Sugar:
7
g
Vitamin A:
1111
IU
Vitamin C:
1
mg
Calcium:
685
mg
Iron:
1
mg
Smoked Corn on the Cob
Buttery, Smoked Corn on the Cob is easy to make, and smoking adds so much flavor it turns a simple side dish into something gourmet and simply delectable. Place shucked corn (in their husks) in a large pot of water and soak for 2 hours. Soak wood chips in another container of water for about 30 minutes. Preheat the smoker to 250 degrees F, then place corn (unstacked) onto the wire racks, then place in the smoker. Add wood chips, then smoke for 60-75 minutes. Combine butter, cilantro, lime juice, lime zest, and paprika in a small bowl. Peel back the husks and brush corn with the butter mixture. Season with salt and pepper. Yum!
Baked Beans
In a large bowl, combine one 53 oz can of Van Camp's Pork and Beans, 1/4 cup of light brown sugar, 1/4 cup of molasses, 1 small onion (finely chopped), 2 Tbsp of yellow mustard. Pour it all into a disposable aluminum pan, then cut 12 strips of bacon into 2 inch long pieces and lay them on top of the beans mixture. When the smoker is preheated to 225°F, place the aluminum pan in the smoker uncovered. Smoke for 2 hours. Serve as a sweet and savory side to your favorite BBQ recipe!
Main Dish Smoker Recipes
Smoked Pulled Pork Shoulder
Preheat your smoker to 250°using a wood like cherry, oak, hickory, pecan, or apple. Then, place a metal drip pan under the grill grates and fill it with water. Then, make a rub with cumin, garlic, onion, paprika, sea salt, pepper. Trim your shoulder how you'd like, then coat with mustard, then the rub. Place it in the smoker.
As a general rule of thumb, you'll need 90 minutes of cooking time per pound at 225° to 250°. Remove it from the smoker once it reaches an internal temperature of 165°. Wrap the pork shoulder in foil, spritz with a combination of apple juice, apple cider vinegar, and water, and return it to the smoker and cook until the internal meat temperature is between 200° and 205°. Remove it and let it rest for 30-60 minutes before serving. Top with your favorite barbecue sauce and serve it shredded on a bun with a homemade aioli topping! Serve with classic BBQ sides like coleslaw or potato salad.
Smoked Turkey Legs
First, if you're looking for fair-style legs, go to a market or butcher and see if you can get male turkey legs. These will be much larger. For out-of-this-world juiciness, brine the legs before you smoke them to add flavor and moisture. You can either make a wet brine (soaking the legs in a saltwater solution overnight) or a dry brine (sprinkling the legs directly with salt). Give them a quick rinse after brining. Make sure to pat the legs dry with paper towels to get perfect golden brown skin. Lightly rub the turkey legs with high-heat oil like vegetable, canola, corn, grapeseed, safflower, or sunflower (don't use olive oil), then apply your favorite combination of spices or seasoning rub. Add your favorite wood chips or charcoal to a smoker, and preheat the smoker to 250- 275 degrees F. Smoke the turkey leg or legs low and slow until the internal temperature reaches 165 degrees F. This could take three to six hours, depending on the size of your turkey legs.
Brown Sugar Smoked Salmon
A bit of salt and pepper, some dill, and brown sugar are all that you need to make a smoked salmon rub to top this simple smoked fish. If you have the time, rub this mixture on top of the salmon and let it dry brine in the refrigerator for about an hour. Your goal is to get the salmon to an internal temperature of about 145 degrees Fahrenheit. For salmon, maintain your smoker at a temperature of 250-275 degrees Fahrenheit. Smoke the salmon for about one hour. This is a lean, healthy, and flavorful main dish. Our favorite combo is smoked salmon on a bagel with cream cheese, topped with a jalapeno glaze or mango chutney.
More BBQ Smoker Recipe Ideas You Should Try
Who said smoking is only limited to your favorite meat dishes? With plenty of alternatives and side dishes, there's something for everyone at the BBQ!
Get Ready for Re-vamp Dinner With a BBQ Smoker!
With these recipe ideas, you'll be giving your local smokehouse a run for its money. Use FamilyApp to create a group message where you can plan your next backyard barbecue with family and friends! Whether you smoke a main dish or a side (or both) for dinner, everyone will be absolutely raving about what your amazing BBQ smoker can do.