Favorite Tailgate Food for a Party in a Parking Lot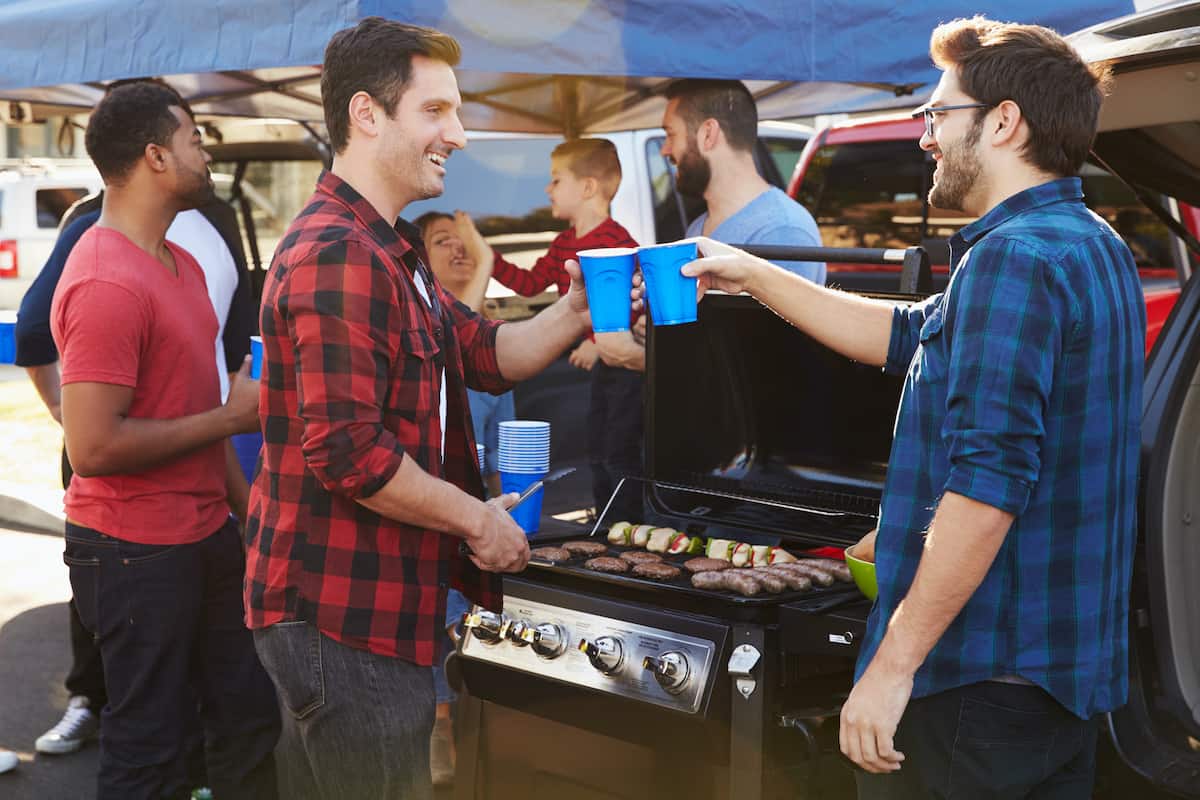 Josie Ortega samples the favorite tailgate food that makes for a fancy-yet-easy parking lot party on game day!
*This article contains affiliate links. It doesn't cost you anything, but if you click on the link and buy something, we'll earn a small commission to help our writing team create more great articles.*
Jump to Recipe
Favorite Tailgate Food
The genius of the tailgate party, I think, lies in that perfect combination of high and low. The table cloth covering an old battered card table. The men and women, carefully dressed to impress in their team colors, whether that's in a jersey, a bow tie—or a statement necklace that one only bought for the sake of football games at one's dear alma mater. (Otherwise, I'd never wear orange.) One way or another, everyone's dressed up, hanging around in a parking lot.
The tailgate party serves as a preamble or sideshow to a big game or another main event. As parties go, the tailgate is a relatively casual and low-key festivity. We're all here to enjoy ourselves and watch a game, after all. We get to release some pressure while enjoying the sense of anticipation. Importantly, although it's by definition not the main event, tailgating features the best parts of a well-planned party — namely good food and drinks.
Favorite Tailgate Food to Make Ahead of Time
The setting for a tailgate party can range from campers equipped with full kitchens all the way down to the cooler bag I pack for my daughter's Friday evening soccer practice for an impromptu snack and happy hour. Everybody wins! The common themes: good food and drinks, a festive atmosphere, a common purpose that's bonding the crowd.
Before anything else, it's important to know the regulations and situation at your tailgate site. If we're benefiting from an elaborate tailgate setup or a venue that allows a smoker or propane grill, then it makes sense to go wild with barbecue, grilling burgers, hot dogs, sausages, you name it. And if you haven't invested in a fancy grill or smoker, yet, be sure to do your research with an electric smoker comparison before you make a purchase.
Usually, though, at a more standard lift-the-vehicle's-tailgate tailgate party, we've got to narrow our scope and prepare everything ahead of time. I recommend sticking with food that doesn't require utensils and that everyone can nibble on without a big mess.
Make your tailgate party a potluck where everyone brings their favorite entree, appetizer, side, or dessert. Whether you're sitting down in your camp chair for a big meal or snacking as you hop from car to car all day long, you'll be loving all of your favorite tailgate party food.
Hearty Tailgate Crowd Pleasers
Just because technically we're serving finger food, that doesn't mean anyone should leave hungry. These filling, protein-rich choices will disappear quickly:
Turkey, Roast Beef, BLT, or Hamburger Sliders. Whether you opt for mini burgers with blue cheese, turkey with provolone, or a bacon, lettuce, and tomato with dill pickles, sliders are great. Switch things up by using pretzel buns or Hawaiian rolls!
Flame-Cooked Pizza. With a portable pizza oven, you can serve a crowd favorite from anywhere! Ooni Pizza Ovens heat up in just 20 minutes and cook each pizza to perfection in only 60 seconds! These are great for tailgates since the pizzas are completely customizable.
Build-it-yourself Nachos with Toppings. Who doesn't like nachos? With a variety of toppings, everyone can find something they like. You could even substitute tortilla chips for french fries and make it DIY-loaded french fries with chili, sour cream, guacamole, jalapeños, black beans, salsa, and melted cheese. Just be sure to pack plenty of baby wipes for cleanup!
Pot of Chili. The ultimate fall comfort food. Although transporting this can be a pain, it works well if you bring it in a slow-cooker with a lid that locks. Don't forget the cornbread, too!
Southern-Style Bourbon Meatballs. We promise that delicious boozy, Southern-style Bourbon Meatballs are going to be the hit of your next tailgate party. Don't forget to pack the toothpicks!
Ham biscuits. Here's our favorite tailgate food recipe from my friend Ashley's mom:
Tailgate Ham Biscuits
The perfect hand-held food for a crowd
Ingredients
1

12 count package

Hawaiian Sweet Rolls

1

lb

country ham

thinly sliced

1

lb

swiss cheese

thinly sliced

1

stick

unsalted butter

melted

1

tbsp

dijon mustard

1

tbsp

poppy seeds

2

tsp

dried minced onion

2

tsp

Worcesteshire sauce

salt and pepper

to taste
Instructions
Sliders
Preheat oven to 350F.

Slice the rolls in half so you have a section of tops and section of bottoms. Try to keep them together as one unit. Put the bottom sections of rolls in prepared pan.

Evenly layer half of the ham over the rolls.

Evenly layer the cheese.

Even layer the other half of the ham.

Add the top section of rolls and set aside.
Sauce
Put the butter into a bowl and heat in the microwave until melted (about 1 minute).

Whisk together the mustard, poppy seeds, onion, Worcestershire sauce, salt, pepper.

Evenly pour the butter mixture over the rolls. Use a spatula to spread over the tops.

Cover with aluminum foil and allow rolls to stand for about 5-10 minutes.

Bake covered for about 20 minutes or until cheese is melted. Uncover and bake about 3 to 5 minutes.

Slice into individual sliders and serve immediately.
Nutrition
Calories:
309
kcal
Carbohydrates:
3
g
Protein:
19
g
Fat:
25
g
Saturated Fat:
14
g
Polyunsaturated Fat:
2
g
Monounsaturated Fat:
8
g
Trans Fat:
1
g
Cholesterol:
78
mg
Sodium:
547
mg
Potassium:
155
mg
Fiber:
1
g
Sugar:
1
g
Vitamin A:
551
IU
Vitamin C:
1
mg
Calcium:
317
mg
Iron:
1
mg
Don't Underestimate the Convenience of Takeout
A platter of chicken tenders from your favorite chicken place. For us, that's Chick-Fil-A nuggets in general, Raising Cane's chicken strips when we're in Charlottesville.
Buffalo wings. Although these can be messy, they really are just the essence of game-day food. Spicy, savory, deep-fried chicken wings are such a cultural staple that we have a restaurant chain dedicated to buffalo wings and watching sports. I think that pretty much sums it up.
Fried Chicken. Whether it's KFC, Popeyes, or even your favorite local spot, a bucket of crunchy, juicy, bone-in fried chicken is always a crowd-pleaser! Family meal deals usually come with hot biscuits or an option for 1-2 pints of sides like mashed potatoes, baked beans, mac-n-cheese, or coleslaw. You say "fast food," I say convenience and an extra hour or two without cooking.
Classic Tailgate Sides
You could easily make a meal out of all these delicious sides, am I right?
Jalepeño poppers
Cheese straws
A cheese board or relish tray with plenty of pickles!
Chips and guacamole, salsa, or cheese dip
Spinach and artichoke dip
Apple slices with caramel dip
Favorite Healthy Sides and Snacks
Try to at least make it an opportunity to get some fruits and vegetables. But if not, that's okay.
Veggies and crackers with hummus or your favorite dip recipe.
Sheet pan roasted veggies
Easy-to-Grab Desserts
Peach cobbler bread pudding. Have some old bread lying around, about to go stale? Well, here's your solution!
Pound cake parfait cups. With layers of store-bought pound cake cubes, Cool Whip, fresh fruit like strawberry slices, and whipped cream, this easy dessert is perfect and virtually mess-free!
Buckeyes. (chocolate and peanut butter balls): A classic melt-in-your-mouth treat–you really can't go wrong.
Cookies or bar desserts like brownies or blondies. In mixed company–meaning tailgate attendees who are supporting different teams–you might offer competing platters of cookies with icing in team colors. Whoever's cookies disappear first is most likely to win the game!
Favorite Cold or Hot Tailgate Drinks
Hydration is key, and it's a great area to have some fun in an otherwise simple menu:
In warm weather, I like to mix up a pitcher of Pimm's for a refreshing signature cocktail
For a morning or mid-day event, a Bloody Mary station with fixins' is a hit!
Your favorite beer, whether it's a pale ale, lager, amber ale, or dark beer. Be sure to bring some to share!
A pitcher of Sangria can really hit the spot, especially on a hot day.
In cold weather, offer hot cider (with an option to spike it or not) or hot chocolate. If you have access to an outlet (most cars have cigarette lighters–you can use a power inverter so you can plug in appliances), you can keep beverages hot with a slow-cooker!
For the kids, provide juice boxes or a fun spritzer with sparkling water or sprite. And don't forget to add a lime slice or sprig of mint to make them feel oh-so-grown up.
Be sure to include non-alcoholic drinks and plenty of water. Watch out for heat and dehydration.
Other Favorite Tailgate Essentials
Presumably, the family is out for the day to tailgate and watch some kind of sporting event, so we can't neglect those items that mothers everywhere know someone might need! Including, but not limited to:
napkins, paper towels, wet wipes
garbage bags
towels, blankets
a change of clothes for every family member!
Remembering that details make a difference. Great hosts and hostesses don't have to make all the food from scratch! But they do think things through, and they have fun themselves. So we might want to consider:
table cloth, flowers, napkins in Team Colors!
music
using one cooler for cold drinks; another cooler for hot food and drinks
Corn hole, a football, play-doh in team colors to entertain crabby kids
A sharpie to write names on solo cups, like my great aunt Reba!
And one of my favorite pieces of party advice: "Decant everything." Bring your platters, plates, and bowls, and display those delicious store-bought cookies to their best advantage!
Embracing That Tailgating Mentality
For seriously elaborate tailgate parties, visit the Grove before an Ole Miss football game. It's the tailgate version of glamping!
My husband grew up in New York City, then attended a small liberal arts college upstate. While he loves tailgating with me in Virginia, he was staggered when we visited my brother in Oxford, MS, and saw the scene ahead of the Rebels' game against LSU. We're talking tents with chandeliers and spreads of party food that beat most wedding receptions.
Even at the Grove, it's portable. That ornate chandelier will be packed away in a truck until next time. Anyway, some might call chandeliers with beads and faux feathers in team colors tacky. But—I think they're fun! And that's the ticket. A tailgate party is fun, and our favorite tailgate food need not be SEC-level to be excellent.
Favorite Tailgate Food for Many Occasions
Few events are more fun than a tailgate party with good friends at a college football game in the fall. Whether the level of sport is collegiate, professional, or preschool — being outside and enjoying each other's company, as well as our favorite food and tasty treats, is a recipe for lasting friendship.
To tailgate is to pack a literal party into a vehicle. Can we please create a culture of tailgating at the opera? I don't go to the opera, but you get the point. In my opinion, we'd benefit from expanding this mobile party mentality beyond the confines of sporting events.
We recently invited friends with kids for a weekend brunch, and when it was upon us, our house was a mess, and we lacked menu inspiration. Until we made it a tailgate party. We made the ham biscuits, brought grapes and applesauce pouches, and packed a cooler. And we dined at the local playground. I actually did bring flowers and a table cloth. At that moment, adding those extra touches was way more fun than cleaning my house.