Refreshing Summer Cocktails to Kick Off the Season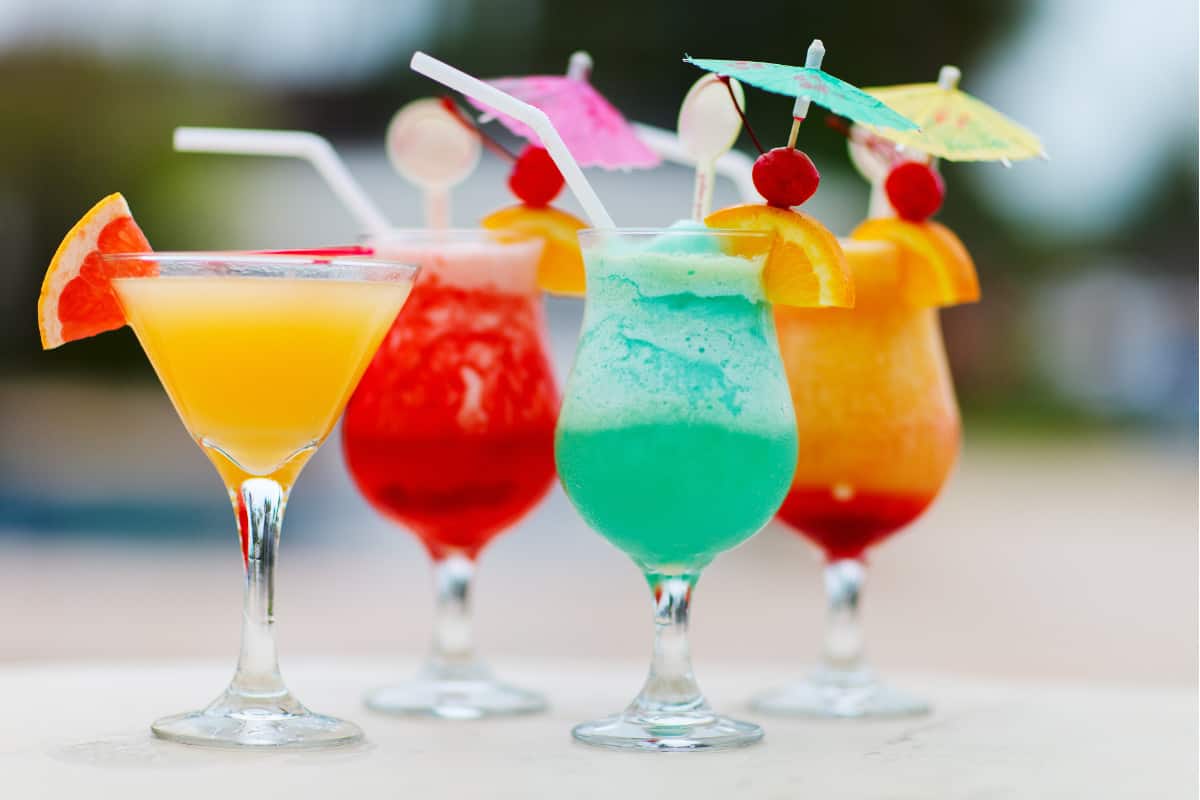 Refreshing Summer Cocktails to Kick Off the Season
Nothing is better than sipping a refreshing summer cocktail after a long, hot day. Or sitting by the pool with a prosecco in hand. I can almost feel the rays of sunshine now. Whether you're a tequila girl or more of a whiskey guy, here are some ideas for refreshing summer cocktails you can sip on all season long.
Jump to Recipe
What Are the Best Summer Cocktails?
Sweet Summer Concoctions
Sometimes a little bit of sugar helps the medicine go down, right?
Mai Tai: This classic cocktail is one of my favorite. It's a blend of Polynesian and Caribbean flavors. Its also one of the main staples of "tiki culture" and is meant to be reminiscent of tropical islands. It traditionally has dark rum, light rum, orgeat syrup, orange curaçao, lime juice, and simple syrup.
Frozen Strawberry Daiquiris: Daiquiris always just felt like fancy smoothies but for adults, and I'm not mad about that. In a blender, combine 12 oz of frozen strawberries, 6 oz light rum, 4 oz lime juice, and 5 tbsp sugar. Blend until smooth and divide among 6 hurricane glasses. Garnish with a fresh strawberry slice and enjoy!
Painkiller: Talk about easy-drinking….this cocktail will have you feeling no more pain as you dream of tropical beaches. It's 2 oz of light rum, 4 oz of pineapple juice, 1 oz orange juice, 1 oz of cream of coconut. Garnish with nutmeg and a pineapple wedge.
Piña Colada: Do you like getting caught in the rain? Odds are, you probably like Piña Coladas, too. Blend 6 oz of white rum, 6 oz of cream of coconut, 6 oz of pineapple juice, 1/2 cup frozen pineapple chunks, 4 cups of ice in a blender until totally combined. Float 4 oz. golden rum on top and add pineapple wedges for garnish.
Tequila Sunrise: This beautifully layered drink is always the prettiest on the menu. In a highball glass filled with ice, pour in 1-1/2 oz tequila and 3/4 cup of orange juice. Slowly pour the 3/4 oz grenadine into the glass over the back of a spoon or by drizzling it down the side of the glass, allowing it to settle at the bottom. Garnish with an orange slice and maraschino cherry.
Not-Too-Sweet Summer Cocktails
Because not all drinks have to be syrupy-sweet to be a refreshing treat.
Aperol spritz: An ultra-refreshing, not-too-sweet bubbly cocktail. Sometimes called simply a "Spritz."All you need is Aperol, prosecco, club soda, and a slice of fresh orange.
Negroni: This popular Italian cocktail is made of one part gin, one part vermouth Rosso, and one part Campari, garnished with orange peel. It's typically stirred and not shaken. It's not at all sweet–but rather strong and bitter.
Mint Julep: This bourbon-based concoction is pretty straight-forward. A southern classic, with 2 oz bourbon whiskey, 1/4 oz simple syrup, 8 mint leaves, and angostura bitters for garnish (optional).
Paloma: This Mexican cocktail will give the margarita a run for its money. Pour some kosher salt on a plate. Rub half of the rim of a highball glass with a grapefruit wedge and dip the glass's rim in salt. Combine 1/4 cup grapefruit juice, 1 tbsp lime juice, and 1 tsp sugar in a glass. Stir until the sugar is dissolved. Stir in tequila, add ice, and top off with club soda. Garnish with a grapefruit wedge.
Sloe Gin Fizz: The classic gin fizz has egg whites, but since we're basking in the summer heat, we'd prefer our gin fizz sans raw protein. Add 1-1/2 oz sloe gin, 1 oz freshly-squeezed lemon juice, 3/4 oz. simple syrup to a cocktail shaker with ice and shake until well-chilled. Fill a Collins glass with ice, strain the shaker's contents into the glass, and top with club soda. Garnish with a lemon wedge and a cherry.
Easy Summer Cocktail Recipes
You don't necessarily need a cocktail shaker to make a refreshing drink, although sometimes it helps. Here are some recipes for summer cocktails that will keep you feeling bubbly and bright:
Pineapple ginger mojito: Who knew these flavors would go together so well? Ginger is the perfect addition because it adds some spice to fruity, sweet cocktails. Switch up your regular mojito recipe with pineapple juice, fresh ginger, and fresh or canned pineapple.
Strawberry Basil Gin Cocktail: Three of my favorite flavors all in one. This easy-to-make cocktail will have everyone impressed with your bartending skills, and you'll have a new favorite refreshing summer drink.
Cucumber Watermelon Cooler: These garden-fresh ingredients really celebrate the flavors of the season. Check out this recipe that includes Aviation gin.
Strawberry Lemonade Martini: Martinis aren't my go-to drink, but with these fruity flavors, and I may just be converted. In an ice-filled cocktail shaker, add 2 oz of strawberry lemonade, 2 oz vodka, 1 oz of St. Germain liqueur, and the juice from a lime wedge. Shake vigorously, then strain into a martini glass and garnish with a fresh strawberry or lemon wedge.
Sensational Strawberry Mojitos
The perfect refreshing cocktail for a hot summer day!
Ingredients
6

strawberries

hulled and quartered

6-8

mint leaves

torn

2

oz

silver rum

2

oz

strawberry simple syrup

4

oz

club soda

1

cup

sugar

for the simple syrup

1

cup

water

for the simple syrup

2

cups

fresh strawberries

washed and stems removed– for the simple syup
Instructions
Strawberry Mojito
Add fresh strawberries and mint to a large glass muddle the berries

Fill glass to the top with ice cubes.

Add rum and strawberry simple syrup then top with club soda.
Strawberry Simple Syrup
Add sugar and water to a saucepan and boil over medium-high heat until sugar is dissolved.

Add strawberries and continue to boil at a low boil for 12 – 15 minutes being careful not to let it bubble over.

Remove from the heat and strain through a sieve into a bowl or similar.

Use the back of a spatula or wooden spoon to push as much of the juice through the sieve as possible, then toss the remaining mushed up berries.

Allow the syrup to cool completely before using.
Nutrition
Calories:
345
kcal
Carbohydrates:
32
g
Protein:
3
g
Fat:
1
g
Saturated Fat:
1
g
Polyunsaturated Fat:
1
g
Monounsaturated Fat:
1
g
Sodium:
77
mg
Potassium:
628
mg
Fiber:
8
g
Sugar:
20
g
Vitamin A:
298
IU
Vitamin C:
214
mg
Calcium:
94
mg
Iron:
4
mg
Summer Cocktails You Can Make in a Big Batch
For those boozy bashes, those sophisticated soirees, and everything in between.
Frozen Old Fashioned Slushies: This is a classic drink, but making it a slush takes it to a whole new level. In a large saucepan, bring cups of water and 1 cup of sugar to a boil. Cook and stir until sugar is completely dissolved. Let it cool completely, then stir in 2 cups of brandy, 12 oz frozen orange juice concentrate (thawed), 1/4 cup of maraschino cherry juice, and 1/4 cup of bitters. Pour into a 3-quart container and freeze overnight. For each serving, scoop 3/4 cup of slush over some crushed ice in a glass. Pour 1/4 cup lemon-lime soda over the slush and enjoy garnished with fruit!
Pineapple, Mango, and Basil Sangria: Sangria is one of my go-to party punch bowl drinks. Combine 1 bottle of dry white wine, 2-1/2 cups of pineapple juice, 1 cup St. Germain, 1 cup diced pineapple, 1 cup fresh mango, and 6-8 leaves of fresh, chopped basil. Add some ice (or frozen fruit juice) and serve it up in a large punch bowl at your next gathering!
Sangria Frosé Popsicles: All it is? Rosé with simple syrup, frozen on a stick. Perfect for lazy days by the pool or an after-dinner treat.
Rum Punch: Mary Poppins had me wanting to try this as a kid (I never did, of course, but why did she make it sound so good?). It'll be the hit of your summer soiree. 2-1/2 cups pineapple juice, 2-1/2 cups orange juice, 1 cup 151 proof rum, 1/2 cup dark rum, 1/4 cup coconut rum, 1/4 cup fresh lime juice, and 3 tbsp grenadine syrup make this rum punch one of my favorite summer mixed drinks for a group. Served in a hurricane glass with a little umbrella, garnished with citrus slices, it just says radiates "summer party" energy.
What's Your Favorite Summer Cocktail?
Whether you have a go-to signature drink or are looking for something new, we hope you enjoy these refreshing cocktail recipes. If you want something without alcohol, check out some of our favorite mocktail recipes! And be sure to share your favorite recipes with your people on FamilyApp, and of course, pictures of your fancy cocktail!