7 Ways to Host an Amazing Pool Party for Kids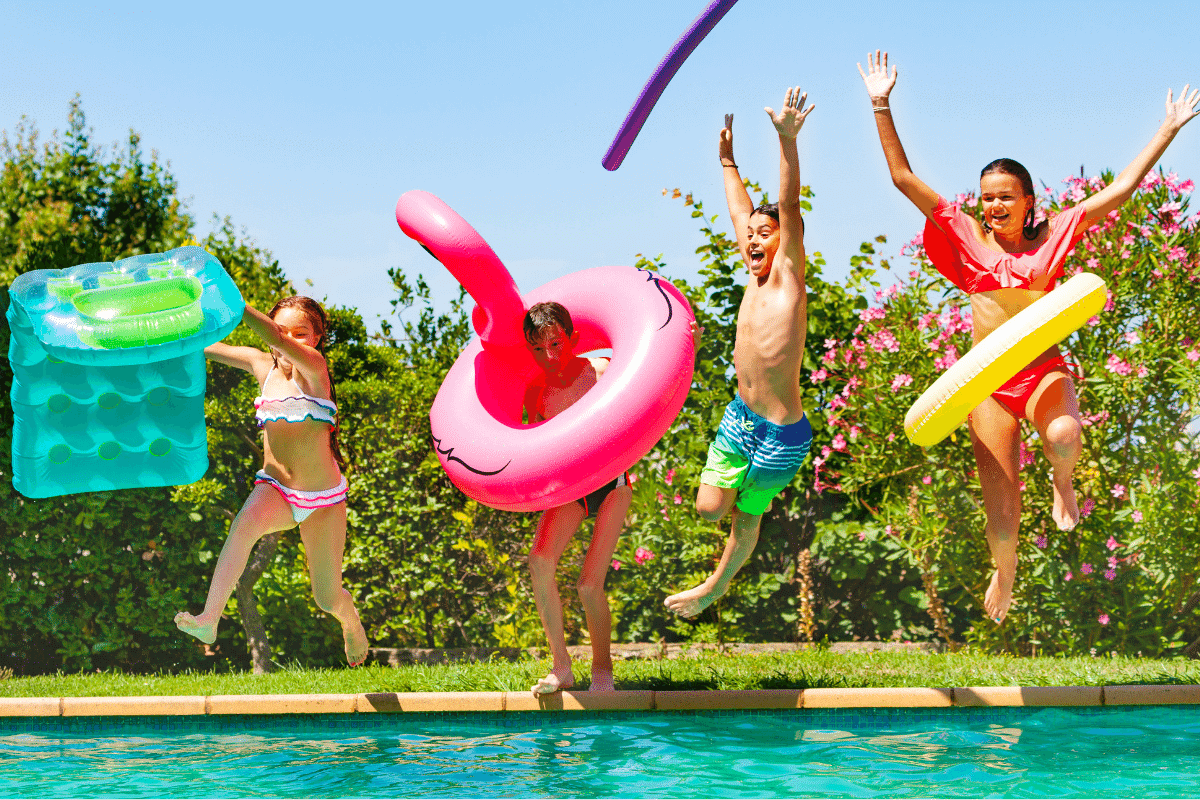 A pool party for kids is the perfect solution for a group of rowdy children who are filled with potato chips, punch, and birthday cake. Get ready for a day filled with "Marco Polo," "Sharks and Minnows," and a great time.
But if you're the one planning a pool party for kids, you may feel overwhelmed about where to start. Never fear; we've got a step-by-step guide for planning the perfect kids' pool party.
Decide on a Party Theme
Some of my favorite birthday parties as a child had themes. My 9th birthday was Wizard of Oz themed, complete with a yellow brick road and ruby slippers. But since it's a pool party for kids, one of these water-based themes may be the way to go. Here are some of our favorite pool party ideas for kids:
Sharks
Beach
Jungle Island Paradise
Under the Sea
Pirates
Mermaids
*Pro Tip: I saw jellyfish lanterns at Party City. They'd be perfect for an underwater, beach, or mermaid theme.
1. Make Fun Invitations
Get the kids involved with the invitation process! Get creative with fun, witty puns. "Ava requests you to make a splash at her party!" You could even include a pre-party favor like sunglasses or pool toys to get kids excited for the big day!
2. Plan Fun Food and Drinks
You could go the themed route with menu items or just serve your kiddo's favorite snacks. Kids aren't super picky when it comes to junk food at a party. Here are some more ideas for cool-themed snacks. Get creative!
Serve cheese balls (beach balls), chips, pretzels, cheddar wales, peach rings (life preservers), or Chex Mix out of toy sand buckets. Use small sand shovels for serving
One word: "SANDwiches." But hold the sand in favor of turkey or ham.
On top of cupcakes frosted with blue icing, place Teddy Grahams lounging in ring-shaped candies with cocktail umbrellas for shade. Alternatively, use finely crushed graham crackers as "sand" and have the Teddy Grahams relaxing on "beach towels" (fruit roll-ups). If you'd rather serve Jell-O, top mini cups of blue Jell-O with "seafoam" (whipped cream) with Teddy Grahams lounging on floaties (ring-shaped candies). Not a Jell-O fan? Use some blue food coloring in vanilla pudding instead.
Serve carrot and celery sticks with dip next to a sign that says "take a dip."
Put out some ocean animal gummy candy-like Swedish Fish, Scandinavian swimmers (from Trader Joe's), or gummy sharks
Grilled fruit kabobs: If someone is willing to fire up the grill, grilled fruit kabobs treats will be the party's hit, especially with a scoop of vanilla ice cream. Grilled fruit is better than regular fruit; I don't make the rules.
If you have a snow-cone machine, it's the perfect hot-weather snack that kids (and adults) go crazy for.
Serve "fish sticks." No, not real fish sticks. Dip pretzel rods in white chocolate colored with blue food coloring. Before the chocolate solidifies, add cheddar goldfish and tiny white sprinkles (bubbles)
Don't forget to keep some coolers filled with ice and beverages handy–we don't want anyone to get dehydrated! You could even plan a mocktail for kids to sip on!
3. Set Up Some Other Water Activities and Fun Games
Whether it's relay races, fights with water guns, or a water balloon toss, having some planned activities outside of free-range water play is a great way to keep everyone engaged. Keep the music pumping, so guests feel energized and pumped to play games! A loudspeaker and a great playlist can take any pool party for kids from good to unforgettable. Here are some fun games to get you started:
A life-sized version of "Hungry Hungry Hippos:" Each team has a plastic basket they use to try to capture as many ball pit balls from the center of the pool as they can. The "Hippo" is on a pool float and the other players have to navigate the pool float as the "Hippo" captures the balls. The winner is the team with the most plastic balls when the timer runs out!
Beach ball races: Fill some super soakers to see who can get a beach ball all the way across the pool first using their water gun only.
Floating musical chairs (with pool noodle chairs): It's just like the game you know and love, with a fun twist!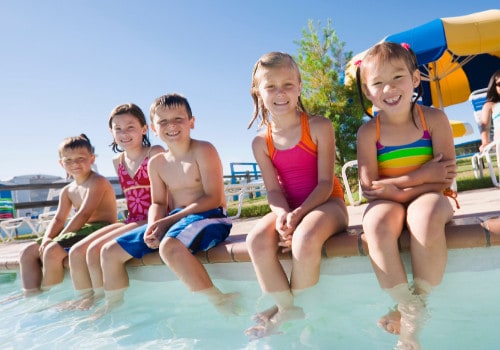 4. Keep Extra Towels on Hand
Hopefully, most kids will bring a towel. Make sure to mention it in the invite But someone will forget to bring one. Keep extra towels readily available to grab just in case! Be careful if you let kids take them home assuming they'll return them. I guarantee the chances of you seeing that towel again are minimal.
5. Don't Forget Sunscreen
Again, you'd hope parents would lather up their kids with SPF before heading to a pool party, especially if they're particular about the brand or SPF level. It may be helpful to mention it in the invitation. Inevitably, someone will forget. And if the party lasts longer than an hour, kids will need to re-apply. Set timers if you have to. You don't want to be held responsible for a kid's second-degree sunburns. Make sure there are plenty of shaded areas if kids (and adults) need to seek protection from the heat.
6. Plan Party Favors
When you're a kid, party favors make the sad experience of a party's end a little easier to bear. My advice is to head to Dollar Tree for cheap, fun items that are great options for no-stress party favors. A beach ball, candy, activity books, and small toys are great options.
7. Put Safety First
When I was a party guest, I was shocked when my mom dove into the pool to save my friend, Michael, who was drowning. None of the other parents were paying attention. It didn't occur to me that other kids may have trouble swimming or never took swim lessons or that my mom would wear a swimsuit just in case she had to rescue someone. When it comes to kids in large groups around a pool, you want to take every precaution.
Have a few life vests on hand and close to the pool. Have an adult designated to keep a constant eye on what's going on in the pool. At the very least, take shifts. Nothing will put a damper on a child's special day like a close call with drowning. If you know any certified lifeguards who can keep a close eye, even better. Keep some pool floats and pool noodles nearby, too!
Host the Perfect Pool Party for Kids
Kids with summer birthdays are in luck–pool parties over the summer break are unbeatable! Don't get too caught up in the details. It's all about having fun. Whether you keep it low-key or throw an all-out summer bash, any of these ideas and tips will help make the day memorable.