If you have kids at home, chances are you are very familiar with how expensive birthday parties can become. Read on for some cheap and easy birthday party ideas that can help keep your parties on a budget while ensuring that the birthday kid still has a very happy birthday.
*This article contains affiliate links. It doesn't cost you anything, but if you click on the link and buy something, we'll earn a small commission to help our writing team create more great articles.*
Planning a Cheap and Easy Birthday Party for Kids
No one should have to dip into savings to host great parties. Some great party ideas are very inexpensive! Even if you don't have event planning experience, your birthday party can still be fun and fabulous. Remember, the goal of your kid's birthday should be to celebrate with friends and have fun. It's possible to have a great birthday party on the cheap. Your kid will remember what a great birthday they had – not how much you spent.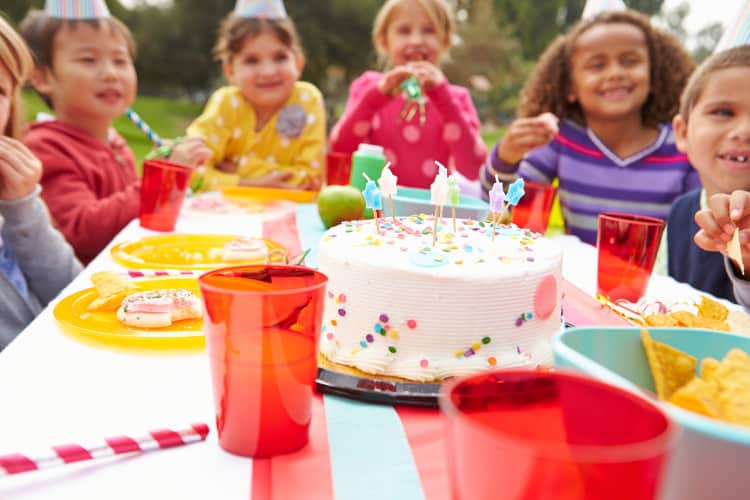 Avoid Mealtime
Scheduling a birthday party at noon means you are obligated to serve a meal or an entire platter. Instead, plan a party before or after lunchtime. That was you can avoid incurring the expense of meals for your guests. It is much cheaper to stick to tasty snacks or inexpensive party food. As long as there is cake, it is a celebration and officially a birthday party!
Keep Birthday Party Food Simple
Food and drink are an important part of any birthday party, but you don't need to serve anything elaborate. Chances are bacon-wrapped asparagus, a baked potato bar, or deviled eggs are not your kid's idea of a great snack or party food anyway. This means it's simple to stick to easy party food. There are plenty of cheap party food ideas! Kids love to dip! Having a variety of dips like hummus and veggies and pretzels and cheese sauce are good ideas.
Turn to tater tots and honey mustard dip for a kid favorite. Or, set up an ice cream sundae bar with a couple of different flavors and a few toppings. Keep things simple and on the cheap, with tasty no-bake ideas that you can prepare in advance. If any parents attend your birthday parties, buy some small appetizers, cut veggies, or finger foods for them.
Skip the Goody Bag
While there is pressure to send kids home from a birthday with something, it doesn't have to be a full goody bag. A tip for keeping birthday parties inexpensive is to send kids home with something you used during the party. Did you use balloons as decorations? Send each kid home with one for a cheap party favor. Did the kids make a homemade DIY craft like these DIY party hats during the birthday party? Let the craft double as a take-home birthday party favor.
Consider the Cake
Some parents go all out and order a custom cake – which quickly gets gobbled up. Avoid such an expensive dessert. Instead, cut the budget for your kid's birthday party by serving a homemade DIY birthday cake. A full birthday cake isn't necessary to have a great birthday party. Consider cupcakes, which are easier to make DIY. Cupcakes also mean no worrying about plates and forks but can sick with napkins for wiping hands after dessert. Your partygoers will not mind if you are not the best baker in the world. So don't worry if your DIY cake or cupcakes aren't perfect. No one will mind if you use a cake mix either! If a homemade cake is not something you want to take on, go for a store-bought sheet cake. Some supermarkets will even personalize the cake with your kid's name and a simple design idea for free.
The Guest List
Some parents invite the whole class or homeschool group to birthday parties. Others create a more modest birthday party guest list and are more selective. Consider carefully who gets a birthday invitation to keep costs down. No matter how many of the birthday kid's friends you invite, make it clear that siblings are not invited to avoid unexpected costs. If the kids' ages allow it, make the birthday party a drop-off party so that you do not have to provide any food or drinks for parents who stick around.
The Location
A house party is the obvious birthday party idea that comes to mind when looking to save money. There are lots of great birthday ideas for at-home parties, but that's not the only option for a cheap birthday celebration. Places like the playground, basketball court, and park pavilions are often free or can be reserved for a nominal fee. In some towns, the fire station will host a birthday party in exchange for a donation. Other inexpensive birthday party ideas include the bowling alley, gym, YMCA, and public indoor pools. Pricier venues may offer discounts if you schedule at an off-time like early in the morning or on a weekday and are a great option to prevent wear-and-tear to your house! If a location is popular, be sure to snag your reservations early to get the best time for your family.
The Activities
It's not necessary to hire a high-priced entertainer to keep kids occupied and having fun at birthday parties. Low-key parties are often the best and most fun. You don't even need a party theme. Quarantine birthday party ideas during COVID-19 taught us that it's possible to throw a fun birthday party completely outdoors. Try a scavenger hunt with older kids. Host a Netflix Party or play tag while carrying cheap glow-in-the-dark sticks. In some towns, you can even arrange for a local police car or two to drive by.
Cheap and Festive Birthday Decorations
Fortunately, it's very easy to decorate with low-cost options like balloons, so don't fret about making the party festive. You don't need to go all-in with a birthday party theme to give your kid the kind of party they want. If your kids loves Fortnite use green, gray, and black balloons, plates, and napkins. Go for red and blue if your kid loves spider man or pink and grey for Peppa Pig. If you want mylar balloons, the Dollar Tree has several fantastic options for just $1.
Stay away from age-specific decorations like banners and cake toppers. That way, you can reuse birthday party decorations for festivities through your child's first birthday and beyond. If you take this approach when you decorate, you will avoid going on a scavenger hunt for new ideas every year.
Other Cheap Birthday Ideas for Kids
All-inclusive packages may be the best birthday idea ever. They take all of the pressure off to come up with original ideas. Even better, they often come with a discount. Or, double up parties for a fun birthday celebration! If kids are close in age, you may be able to get away with this for at least a few years. Sometimes close friends with close birthdays double up on a birthday party since they will have most of the same kids on the guestlist anyway. Telling your child they will still get plenty of birthday presents will help get their buy-in!
If you have skills, you can barter for birthday party items that can help with costs. This option will dip into your personal time. But, you can save a bundle if you have a skill like family photography that you can barter in exchange for a cake or a princess showing up at your kid's birthday party.
It may be helpful to stay away from a character theme, too. Spending money on items with licensed characters will never be as cheap as other options you can choose. If your child must have a theme, sticking with more generic options like rainbows or trucks will help make birthdays more affordable.
What are your favorite cheap and easy birthday party ideas for kids? Let us know on social #getfamilyapp! And be sure to share ideas and photos from your big day with your loved ones on FamilyApp!