Glamorous Comfy Mom on the Street: Amy Crain Gober
It can be hard to stylish while you're chasing down two toddlers, but Glamorous Comfy Mom on the Street Amy Crain Gober is living proof that it can be done! Whether she's serving her community or taking her kids to the park, Amy Crain Gober is looking gorgeous.
Meet Amy
Amy Crain Gober is a wife, mom, and communication specialist. In 2011 she graduated from the University of Arkansas with a Bachelor of Arts Degree in Communications. In 2013, she won the title of Miss Arkansas, which led her to compete at Miss America where she placed in the Top 15 and was honored with a Quality of Life Award for her efforts in her home state to end bullying.
Throughout her year as Miss Arkansas, she served as the official ambassador for the state. She also spoke to over 90,000 constituents on hundreds of occasions about the importance of kindness, respecting others, and instilling these values in our children.
Since then, Amy has served in numerous leadership roles including the Director of Community Development for the Rogers-Lowell Chamber of Commerce, and the Executive Director of Big Brothers Big Sisters of Northwest Arkansas. She loves all things creative – from hobbies of dancing and enjoying the arts, to creating branding campaigns and using her graphic design skills to serve several nonprofit organizations. Amy is the mother of Irish twins – two babies born within one year's time. She has Lincoln Walker, who is two, and Chanley Brooke, who is one. She and her husband, Kirk, reside in Bentonville, Arkansas, and love watching the rapid growth in their area!
Glamorous Comfy Style
Which three words best describe your style? Comfortable, Trendy, and Practical
What are your favorite places to shop? I am all about shopping online! As a working mom of two toddlers, there isn't much time for strolling through the mall. I love ASOS, SheIn, and even use Amazon often when I need something new, quickly! I also love swimsuits from Venus. I've been wearing them for years, and I've always been able to find a style that flatters my ever-changing body type. Two babies in two years can make swimsuit shopping really intimidating!
Who's your favorite style icon? The one and only, Marilyn Monroe. As you walk in our home, you'll see four extremely large portraits of my style icon! To me, she was the epitome of sultry, yet classic, and unforgettable!
What article of clothing/accessory would you not want to live without? Honestly, a good pair of black leggings. I can wear them with a sweatshirt or a cute dress, and I am all about versatility.
Glamorous Comfy Style Advice
What's your best style advice?  If you feel good, you look good, so dress for YOU! Confidence is the brightest accessory you can wear. If you love your earrings, your shoes, your dress, whatever it is, that is all that matters. Fashion is intended to show your personality and make you feel good about yourself, so don't worry about what your friends or the social media world thinks; dress to please you!
Which trend would you want to see make a comeback? Bell bottom jeans/pants seem to be on their way back in style, and I am not mad at it! I have tiny little calves, so that style is more flattering on me than a skinny jean.
What should NEVER make a comeback? Those '80s wind suits! Oh my goodness, that fabric needs to be destroyed!
What fashion/style did you love at the time, but now cringe when you see old photos? High-heel flip flops! I thought they were so cool when I was in high school, and looking back, I just shake my head… what a ridiculous concept! Ha!
What's your best style secret? When you are in a hurry, but aiming to look presentable, grab earrings, concealer, and lip gloss. Earrings will always dress up your look, concealer can be applied in the car to cover any blemishes, and the gloss gives your face just enough shine/color to have that fresh face look!
Stilettos or flats? Neither. Platform heels or booties, please! 🙂
Glamorous Comfy Family
What's your favorite way to spend time with your family? Our quality time with the kiddos typically happens on weekends. We love going to get doughnuts as a special treat, going to the park, and playing with the kids in the neighborhood. We are incredibly blessed to have so many young kids in our neighborhood, so weekends are full of fun and fellowship!
It's also important for us to establish attending church as part of our family's regular, weekly schedule. The days we dedicated our babies to the Lord were two of the most special days of my life. I look forward to watching them grow up with our church family.
What's been your best family vacation? Well, my youngest, Chanley, is one, and my oldest, Lincoln, is two. If you are doing that math, yes, they are 11 months apart – Irish twins! 🙂 Thus far, we haven't been on any big vacations, but plan to take them to the beach this summer, and of course, Disney World is on the list for a trip in the future! Both mine and my husband's parents live on a lake a few hours away, so our kids will likely grow up living the boating life in the summers!
What's your go-to family dinner? At this age, fruits and veggies! My kids are not big meat eaters yet, but they love their fruits and veggies, so most dinners consist of fruit and vegetable-based dishes.
What's your favorite family restaurant? We've learned with two toddlers, restaurants can be a dangerous place for us and those around us trying to enjoy their meal, so I will say Krispy Kreme! The kids love watching the doughnuts-making process, and it's fast enough that we can get in and out before anyone has a meltdown! 🙂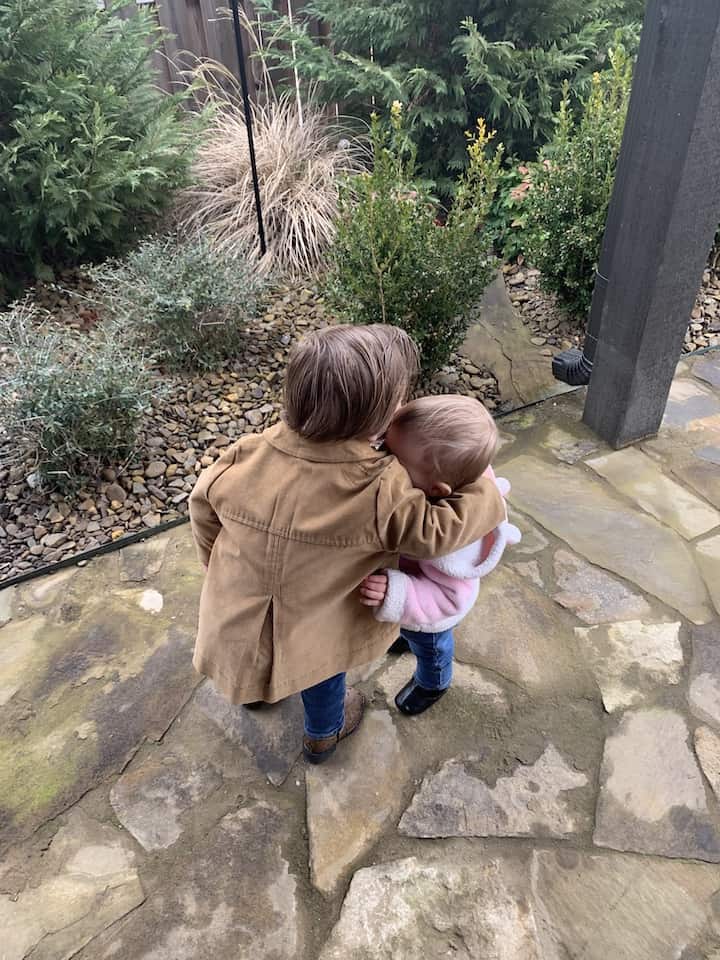 Glamorous Comfy Parenting
Best parenting advice: Give yourself grace. You are learning the process, and every child develops and grows differently. It's incredibly hard not to compare your child to their peers, but know that as long as you are loving them and spending quality time with your child(ren), you are doing awesome! You'll have new questions about what's best for your kids every single day, but the fun part of that dilemma is that you will also learn something every single day. You may learn what works and you may learn what doesn't, but you'll inevitably be learning either way.
Parenting true confession: I sent my one-year-old to school (daycare) with one shoe on this week… true story. #momfail
Glamorous Comfy Life
What's your favorite show to binge watch? Law and Order: SVU – I've seen every episode multiple times. I've been a huge fan for years!
If you could pick anyone to star as you in a movie based on your life, who would it be? Julianne Hough. We are close in age and both love dance. Her bubbly personality and unapologetic realness on social media are infectious!
What's your favorite beach read? I'm an audiobook person, but I am all about the Rachel Hollis books right now: Girl, Wash Your Face and Girl, Stop Apologizing. They are both incredibly empowering with lots of tangible and direct advice!
What's the best song to dance to when nobody's watching? I'm all about some good, early 2000s rap when the kids are not around! Turn on some T-Pain or Usher, and it's like I am back in college again! Ha!
If you could go shopping with anyone from history, living or deceased, who would it be? Carson Kressley! Not only would I be getting some awesome fashion advice, but I am sure I would be laughing hysterically all day, too!
What's at the top of your travel bucket list? In the next five years, Disney World; in the next ten years, Paris, France!
What's your favorite way to unwind at the end of a long day? I love taking a long, warm bath. I will turn on a good podcast or audiobook and relax in the tub once the kiddos are down for the night.
Your Glamorous Comfy Style
We love how Amy's glamorous comfy style is still chic and glamorous, but practical and perfect for her busy lifestyle. She's a great example of how you can still be stylish while chasing around two toddlers– which is no small feat! We love her statement earrings and the way she beautifully incorporates accessories to add extra glamour to her outfits.
But as much as we love Amy's style, we also love the way her bubbly personality and gracious approach to parenting shine through all that she does. Be sure to follow her on Instagram and Twitter!
And for more stylish moms, check out FamilyApp's Mom on the Street Channel!