10 Favorite Super Bowl Snacks for Everyone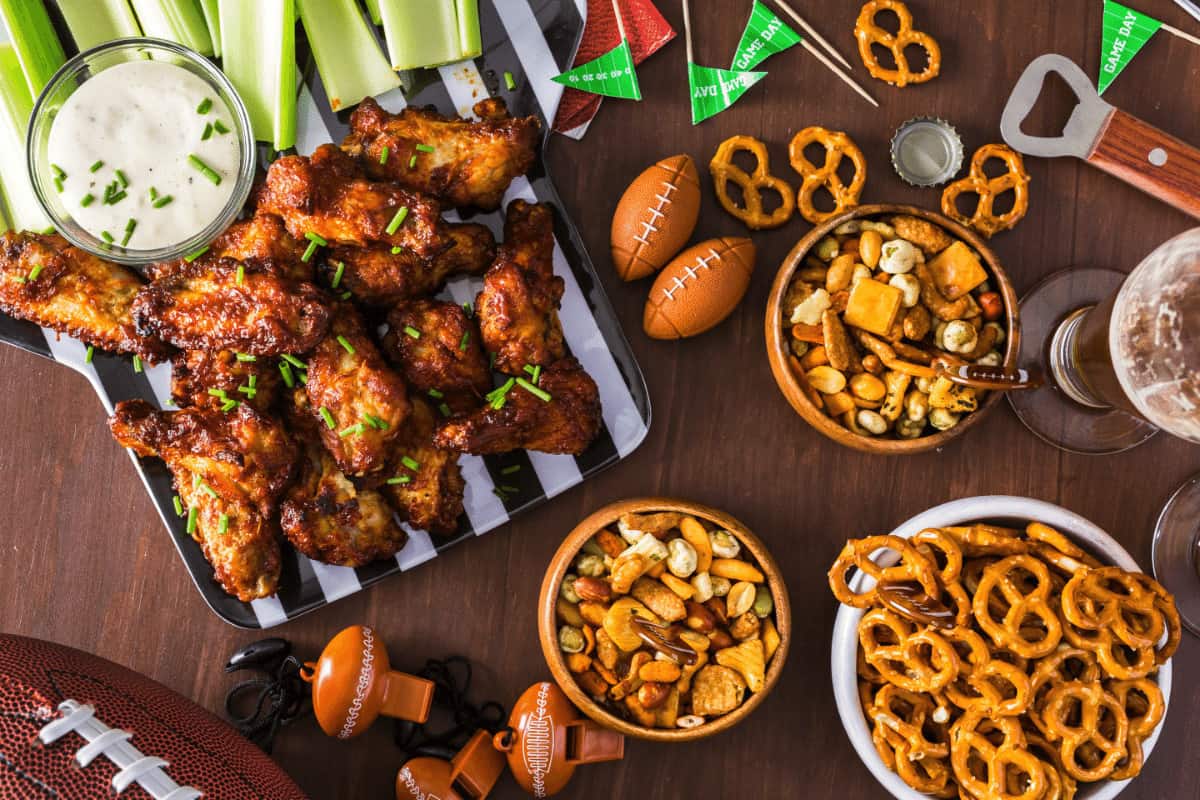 When it comes to Super Bowl snacks, you want your food to be both tasty, hearty, and easy-to-grab. Here are some of our favorite dishes that you can serve at a watching party with your family and friends.
Winning Super Bowl Snacks
These are tried-and-true classic Super Bowl snacks that are guaranteed to be a hit!
1. Coconut Shrimp
My family loves Trader Joe's coconut shrimp from the frozen section. And if you're as busy as I am, the less you have to cook from scratch will always be a blessing. But if you're feeling ambitious, here's my favorite recipe for coconut shrimp:
Air Fryer Coconut Shrimp
Easy, tasty, and great for a crowd!
Ingredients
1

lb

large, raw shrimp

peeled, de-veined, tails still attatched

1/4

cup

all-purpose flour

1/2

tsp

salt

1/4

tsp

black pepper

2

large eggs

3/4

cup

unsweetened, shredded coconut

1/4

cup

panko breadcrumb

cooking spray
Instructions
Preheat the air fryer to 360°F. Once it's heated, spray the basket with cooking spray.

Combine the flour, salt, and pepper in one bowl. Whisk the eggs in a second bowl. Then combine the shredded coconut and panko breadcrumbs in a third bowl.

Dip the shrimp into the flour mixture, shaking off any extra. Then dredge the shrimp into the egg, and then the coconut/panko mixture, gently pressing so it sticks.

Put the coconut shrimp in the air fryer so they're evenly spaced. Spray the top of the shrimp. Cook for 10-12 minutes, flipping halfway through.

Serve immediately with a sweet chili sauce, if desired!
Nutrition
Calories:
384
kcal
Carbohydrates:
18
g
Protein:
41
g
Fat:
16
g
Saturated Fat:
11
g
Polyunsaturated Fat:
1
g
Monounsaturated Fat:
2
g
Trans Fat:
1
g
Cholesterol:
404
mg
Sodium:
1827
mg
Potassium:
438
mg
Fiber:
3
g
Sugar:
2
g
Vitamin A:
580
IU
Vitamin C:
1
mg
Calcium:
169
mg
Iron:
2
mg
2. Tater Tot Nachos
Also known as "Tater Tachos," this hearty snack will likely have everyone asking for your recipe. Luckily, with frozen tater tots, it's simple to make and hard to mess up.
For these, you'll need two bags of frozen tater tots you've prepared according to the package's instructions. Next, in a skillet over medium heat, heat 1 tbsp olive oil. Add 1 lb beef, cook for about 6 minutes (until no longer pink), and drain the fat. Return the skillet to the stove and add 1 tbsp taco seasoning. Then, add the beef to the top of your tots along with your favorite nacho toppings like diced tomatoes, black beans, jalapeno, cheese, guacamole, and sour cream.
3. Baby Bloomin' Onions
Outback Steakhouse brought this appetizer snack to fame. But you can easily modify this classic appetizer for a house party by scaling down and making "baby bloomin' onions" that everyone can grab! Check out this recipe that's been perfected!
4. Meatballs
It isn't a Super Bowl party without a crockpot filled with meatballs in sauce. My family's favorite is Rosina Italian Style meatballs, but you can use any frozen meatballs. Heat them in a crockpot with your favorite BBQ sauce, or try a sweet and spicy variation with 1 (10 oz) jar of chili sauce and 1 (12 oz) jar of grape jelly.
Delicious Dips for Your Super Bowl Snacks
You can't go wrong with a dip. They're easy to make and you don't have to worry about presentation– a win-win to guarantee successful Super Bowl snacks.
5. Cheeseburger Dip
The Pioneer Woman inspired this idea, and it's the ultimate game-day snack.
For the dip: Heat 1 Tbsp of vegetable oil in a medium skillet over medium-high heat. Add 1 lb of ground beef, 1 Tbsp of Worcestershire sauce, 1 tsp salt, and 1 tsp pepper. Cook and break apart until lightly browned and no longer pink, about 6 minutes. Remove from the heat.
Spread 12 oz of cream cheese to fill the bottom of a cast-iron skillet. Top with 4 oz of the shredded cheddar jack cheese, the cooked ground beef, then another 4 oz of shredded cheese on top. Bake for 18-20 minutes until the edges are bubbly. Let cool slightly, about 10 minutes.
Top the dip with 1 cup of shredded lettuce, 1/2 cup of diced tomato, 1/4 cup of sliced red onion, and 1/4 cup of sliced pickles.
Now for the "special sauce:" In a small bowl, stir together 1/3 cup of mayonnaise, 1 Tbsp of mustard, 1-1/2 Tbsp of ketchup, 1/4 tsp garlic powder, 1/4 tsp onion powder, 1/4 tsp of smoked paprika, a d 1 Tbsp of pickle brine. Drizzle the sauce over the top of your dip, then serve it with your favorite chips!
6. Buffalo Chicken Dip
Every single Super Bowl party I have ever been to has served buffalo chicken dip. Every. Single. One. So you don't want to be the one host who breaks the mold. It's one of our favorite quintessential Super Bowl snacks. Buffalo chicken wings are messy and not easy to eat. Buffalo chicken dip is easy-to-eat and has the same tasty flavors. Here's one of my favorite recipes for the classic dip that pleases every crowd:
Heat 2 cans of drained chicken (you can substitute shredded rotisserie chicken) and 3/4 cups of hot sauce in a skillet over medium heat until heated throughout. Stir in 2 packages of cream cheese and 1 cup of ranch dressing. Cook, stirring until well blended and warm. Mix in 3/4 cups of shredded, sharp cheddar cheese and transfer the mixture to a slow cooker. Sprinkle another 3/4 cup of cheese over the top, cover, and cook on low until hot and bubbly. Serve with celery sticks and crackers.
7. Pepperoni Pizza Dip
Most everyone loves pizza, so this dip is likely to be a hit. And, you don't have to fight over toppings!
Start by preheating the oven to 350 degrees F.
Combine 1 8 oz. package of cream cheese, 1/2 cup of sour cream, 1 tsp of oregano, and 1/4 tsp garlic salt in a medium bowl and mix well. Spread the mixture into the bottom of a 9-inch pie pan.
Spread one can of your favorite pizza sauce evenly over the top of the cream cheese mixture and top with a few pepperonis. Bake for 10 minutes in the preheated oven.
Remove from the oven and top with 1 cup of shredded mozzarella cheese and a few more pepperonis. Return to oven and bake for 7-8 additional minutes, or until cheese is melted.
Broil the top for about a minute or two until the cheese is dotted with brown and the pepperonis crisp up a bit. Be sure to pay close attention–you don't want it to burn! Remove from oven and sprinkle the top with Italian seasoning. Serve with crackers, pita chips, or crusty bread. Enjoy!
Super Bowl Finger Foods
When it comes to Super Bowl parties, it's good to serve food that guests can quickly grab their food during commercial breaks. That's why finger foods are some of our favorite Super Bowl Snacks. Check out some of our favorite ideas and recipes for game-day finger food :
8. Smoked Gouda and Chorizo Jalapeno Poppers
Jalapeno poppers are another one of the classic Super Bowl snacks. But these are next-level. Start by browning two links of Mexican chorizo (casings removed) in a skillet over medium-high heat for 8-10 minutes. Drain and place in a large mixing bowl. Add 1/2 lb of shredded, smoked Gouda, 1/2 cup finely chopped red onions, one egg, 1/2 cup of cream cheese, 3 Tbsp of sour cream, 1 Tbsp of hot sauce, and salt and pepper to taste. Press this mixture into halved and cleaned Jalapeno halves on a baking sheet lined with parchment paper. Bake 20 minutes or until they're golden and bubbly.
9. Pigs in a Blanket With Spicy Hot Dip
Sure, you can make pigs in a blanket from scratch..but who has the time for that? I like to buy the Trader Joe's Parmesan Pastry Pups and make a homemade hot dipping sauce. My favorite recipe? 4 Tbsp of dry mustard, 4 Tablespoons of Dijon mustard, 2 Tablespoons of honey, and 1-2 Tablespoons of hot sauce. Happy dipping!
10. Loaded Sweet Potato Skins
Potato skins are a classic appetizer, but use sweet potatoes to take these Super Bowl snacks to the next level.
Pierce 4 medium sweet potatoes a few times and bake at 400˚F for 50 minutes, until they're soft. Let the potatoes cool, then cut in half lengthwise. Scoop out potato flesh (leaving a thin layer of sweet potato inside) and add flesh to a medium bowl. Place skins back on the baking sheet, drizzle with olive oil and bake at 400˚F for 10 minutes. Mash sweet potato flesh with 1/4 cup of whole milk, salt, and pepper until smooth and creamy. Remove the sweet potato skins from the oven, fill each with an equal amount of potato mixture, and top with 1/2 cup of shredded cheddar cheese Bake at 400˚ for 15 minutes until the cheese is melted. Remove the skins from the oven and top with crumbled bacon. Serve with sour cream and chopped green onions.
When talking about loaded potatoes, you can't forget to mention loaded waffle fries! These finger food delicacies are sure to put a smile on your guests' faces regardless of who wins or loses.
Get Ready to Serve Sensational Super Bowl Snacks!
SuperBowl LIV is rapidly approaching, and we can't wait to create the perfect party menu with delicious Super Bowl snacks. Which is your favorite Super Bowl snack recipe? Share your favorites on FamilyApp, and make a group chat to plan and coordinate your Super Bowl party with friends and neighbors!