Fall Family Movies for Your Next Movie Night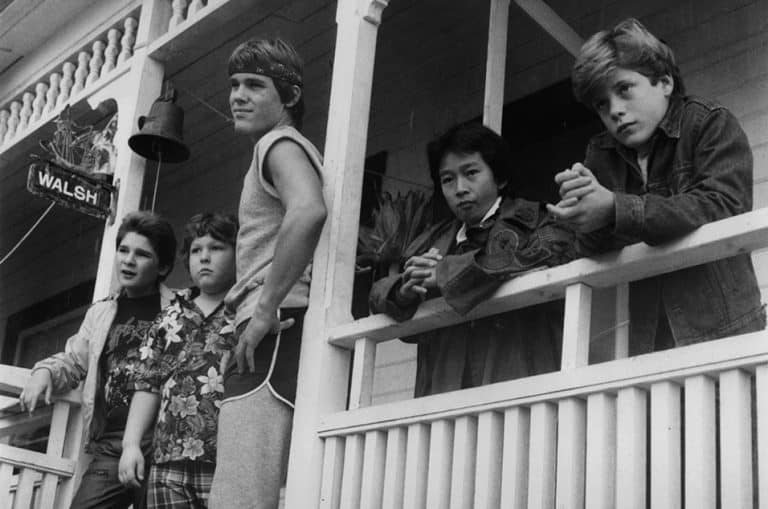 Enjoying a movie together offers an easy, relaxing way for families to bond . . . if only the parents and siblings can settle on which one to watch! Josie Ortega lists nine solid fall family movies that adults and kids will love.
*As an Amazon Associate, we earn from qualifying purchases.*
Fall Family Movie Night Crowd Pleasers
Like all good residents of the Northern Hemisphere, my husband and I mirthfully anticipate the arrival of autumn. We look forward to using words like "crisp" and "brisk" to describe the outside air. I long for the smell of bonfires. We enjoy dressing our kids in puffy vests and brainstorming about Halloween costumes.
We also embrace our slightly embarrassing love of nostalgic 80s movies like St. Elmo's Fire and Flashdance for low key date nights after the kids are asleep. As families settle into school year routines, it just feels right—obviously—to watch a classic John Hughes movie like The Breakfast Club.
Though the films above aren't appropriate for kids, we're enjoying the challenge of finding movies that both parents and children will enjoy. Some are classic movies —1980's counts as classic, right?—and some are new. All the following meet my primary personal requirement: they don't annoy me.
Grab some popcorn and apple cider for Fall Family Movie Night!
Back to School Fall Family Movies
Wonder. Based on R.J. Palacio's excellent book of the same name, Wonder follows a boy with a facial deformity as he heads to a "real school" for the first time. Expect great discussions about school, friends, and family dynamics. You'll cry. (And you'll wonder what Owen Wilson's character does for a living for the family to live in a Manhattan brownstone while Julia Roberts homeschooled Auggie for so many years!)
Back to the Future. Great Scott! This movie is good. You may want to skip quickly through the parts where Doc is chased by terrorists. But then, kids will crack up at Marty trying not to let his mom know who he is; and they'll definitely crack up when Biff crashes into manure.
To All The Boys I've Loved Before. I felt that this was a nearly flawless high school rom-com! Lana Condor perfectly, charmingly portrays Lara Jean, whose letters to her crushes are mailed accidentally.  My kids are too young for this one, but it'll be so fun to watch and chat about when the girls get older. The story brings up issues about siblings, style and appearance, friends and groups of friends at school, social media, a discussion of sex, how guys and girls should treat each other. All under the watchful eye of John Corbett as the loveable dad.
Football Fall Family Movies
Rudy. Say it with me: RU-DY. RU-DY. This classic underdog tale will, perhaps, get your kids more excited when you turn on the football games that you'll be watching every. single. weekend.
Remember the Titans. A family-friendly sports movie about working together to overcome challenges both on and off the field. Or: we can do anything with Denzel Washington as our coach and a soundtrack of 60s Motown classics. The movie also provides a gentler way for children to understand our country's racial history, without getting too far into traumatic content.Bend it Like Beckham. OK, so this one absolutely counts as a football movie! And it will get everyone pumped up for the way our fall Saturdays revolve around youth soccer games. My girls loved this story about a British girl who has to convince her traditional Indian family that joining a soccer club is the right path for her. Mature-ish content/potential for a conversation: Both the main character Jess and her teammate Jules become romantically interested in their coach; and there's also confusion when Jules' mom thinks the girls are romantically interested in each other.
Classic 80s Fall Family Movies
Goonies. A group of kids looking for pirate treasure in order to save their neighborhood from being developed into a golf course, surviving booby traps, and foiling the criminals on their tail. So funny and enjoyable. Hey, you guys!
Baby Boom. Diane Keaton randomly inherits a baby, and turns her life upside down by moving from New York City to the country. Great fall foliage. Plenty of applesauce. My kids love this movie.
Princess Bride. No explanation needed. (I mean NEVER limit your viewing of Princess Bride to the fall. It's one for all seasons.)
Parental Screening of Fall Family Movies
We've watched some of these movies as a family, but not all! As always, it's up to parents to decide what their kids should watch. In terms of questionable content, I've noted some of the problems to look out for, but it's worth a look at Common Sense Media or PluggedIn for more details about what each movie contains.
If we stop to think about it—clearly, Chunk's friends in Goonies shouldn't have made him do the Truffle Shuffle.
You might want to skip certain scenes, or mute bad words. You might stop to discuss something or other . . . or you might decide to let it ride. (That's what I think of as the Grease strategy: when girls my age watched Grease over and over as kids, we loved the music, were clueless about the innuendo.)
Fall Family Bonding
With the various problems or questions that arise in the stories we read and movies we watch, we hope to set a tone of open family dialogue. As parents, we should expect to have many short conversations about these topics through the years, rather than counting on one major conversation when the time is right.
Still, for me, in terms of maternal sanity, these awkward conversations cause fewer problems than the soul-crushing children's movies my kids might have selected for movie night. And if you have a wider age-range in your family, check out Nina's post for six movies that your tweens and preschoolers will watch together.
Here's to family togetherness! What are your favorite fall movies? Tell us in the comments and your friends and relatives on FamilyApp!