Easy Hanukkah Crafts for Kids of All Ages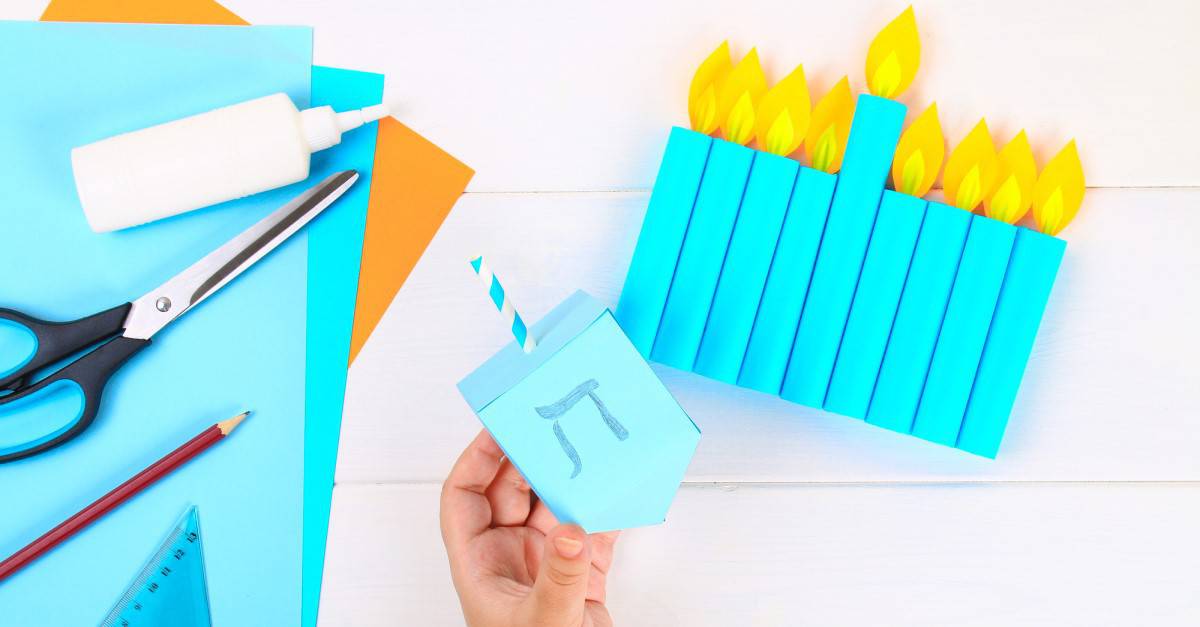 Celebrate the eight days and nights that make up the popular Jewish holiday! Try some of our ideas for Hanukkah crafts for kids to get your home ready for the festivities.
Also known as the Festival of Lights, Hanukkah is a Jewish celebration occurring on the 25th day of Kislev in the Hebrew calendar. Jewish people celebrate the holiday for eight days and nights, starting Sunday, November 28, 2021.
Kids especially look forward to Hanukkah! With a few simple crafts and a little cooking, you can keep your favorite little artists busy all season long. Share your
Hanukkah crafts ideas
for kids on your favorite family app!
What Are Some Hanukkah Crafts for Toddlers?
1. DIY Hanukkah Calendar
If your kids have ever wanted to rifle through your magazines, they'll love this inspired DIY craft calendar! Have them cut out any blue and white scraps and/or tissue paper into the shape of rectangles, six-sided Stars of David, and numbers one to eight. Glue the numbers onto rectangles and paste them onto streamers. Attach envelopes to the ends of the streamers and put a treat inside for one of the best Hanukkah crafts for kids!!
2. Dreidel Crafts
Few things are more symbolic of this Jewish holiday than the dreidel. Luckily, it's easy enough for your kids to make their own at home! All they'll need is a pencil, scissors, cardstock, a marker, a popsicle stick (or a craft stick), tape, and ribbons. Print a dreidel template, cut it out and then trace it onto your cardstock. Follow the instructions to assemble the dreidels. You can also then hang up your dreidel craft as a mobile!
3. Hanukkah Holiday Card
Use your toddler's
fingerprints
to create unique
Hanukkah gift cards
with a
menorah
motif. First, paint their palms blue. Then let them place their hands with slightly spread fingers but touching thumbs on your construction paper. After washing your
toddler's hands
, let them dip into yellow to fingerprint the candles' flames. Let the paint dry, fold it up and send it out to your loved ones with a warm note.
If your kids would rather do something less messy, they can make an equally adorable dreidle card using cut felt for the candles and menorah.
4. Star of David Mobile
Use six different fabric trims in different shades of blue and gold, each one cut into six 3″ strips. Dip the strips into fabric stiffener (or white glue, if you don't happen to have a bottle of fabric stiffener around) and squeeze out the excess. Lay them out on wax paper in the shapes of Stars of David. We let ours dry overnight before peeling them off the wax paper. Then use covered dowels with blue ribbon, tie the stars up with embroidery thread, and add another string of floss for hanging. It looks neat if it's hung where the stars can turn freely!
5. Tape Resist Star of David
Use painter's tape to make the Star of David on a piece of watercolor paper. Then, have your child use watercolors to paint (there's no wrong way to do this!) Wait for the paint to dry, then carefully remove the tape. Use crayons, markers, or glitter glue to outline the star and really make it pop.
What Are the Best Hanukkah Crafts for Preschoolers?
6. Paper Tops
If you have some construction paper, toothpicks, scissors, and glue, you can make one of the best Hanukkah craft ideas! Take your paper and cut it into strips 1/4" wide. Glue the toothpick to the edge of the paper so the end sticks out. Let it dry and then roll it around the toothpick, gluing the rolled end. Continue gluing with pieces of paper until the 'top' is about 1" thick. Push the paper down and then spin away!
7. Sand Art Menorah
This is the kind of DIY Hanukkah decoration your kids will love bringing out year after year. Start with small glass jars and one big jar, a funnel, different colored sand, scissors, straws, and some ribbon. Fill each jar with sand, creating layers by pouring in different colors. For the candle, cut straws, push them into the sand, and tie a ribbon knot for the flame. You can cover the jars and put them away until next year!
8. Paper Plate Star of David Sun Catcher
Suncatchers are a great way to use sunlight to illuminate your room with beautiful colors. Start by cutting out the middle of a paper plate (leaving only the ridged edges). At this point, you can paint or color the plate rim any color you'd like. Measure out some contact paper, cut the sticky back plastic to shape if you need to, and secure it to the back of the paper plate. Make sure the whole center of the paper plate is covered in contact paper. Now, place a Star of David cut-out right in the middle. Add scraps of light blue and dark blue tissue paper until there's no more blank space, then hang it in a window with lots of light!
9. Toilet Paper Tube Menorah
The best part about this craft is that you can hide little gifts inside! You'll need 9 toilet paper rolls, tissue paper, small gifts or fun treats, a glue stick, and tape. Cut dark blue tissue paper into rectangles, then glue and roll them on the outside of the toilet paper rolls, tucking and gluing the ends. Use yellow and orange tissue paper to wrap each gift or Hanukkah-themed treat. Twist one end and slide into each tube. Tape the twisted end to the bottom inside of the tube. Tuck the tissue paper down into the top end of the "candle." Now when each gift is open, the tissue will look like a paper flame. Place the paper candles all together into a menorah shape and enjoy!
Hanukkah Craft Ideas for Older Children
10. Festive Hanukkah Garland
It's easy enough to find a Christmas garland, but a Hanukkah garland can be a little more difficult. That's why you can make your own at home with some blue and white fleece, pins, thread, yarn, and scissors! Cut the fleece into small strips and then make cuts up it, leaving a little in the center uncut. Roll up the strips and use a pin to secure them, then tie them and attach them to your garland yarn! You can also use cardboard dreidels, menorahs, gelt, or Magen David for a DIY Hanukkah garland.
11. Hanukkah Wreath
Cover a ring with blue and white ribbon, and use cardstock or construction paper to make stars and dreidels. You can also use some vegetation as the base of your wreath and add in your Hanukkah-themed decorations after. Add a golden chain to have a little highlight that represents the eight candles of the Hanukkah miracle. If you want a more rustic look, you could attach wooden dreidels to a live wreath and hang that on your door.
12. DIY Candles
Candles play the most important role in the Festival of Lights, so why not make your own? There are plenty of candle-making kits out there but if you keep kosher, you might need to dig a little deeper.
Hanukkah is an important time for families to celebrate their Jewishness, but store-bought decorations can sometimes be hard to find. Some simple crafts can be the best way to deck out your home and make the time memorable!
Edible Hanukkah Crafts
13. Delicious Dreidels
This is the perfect treat for everyone around Hanukkah! Marshmallows form the dreidels' bodies, chocolate kisses serve as the tips, and pretzel sticks act as the knobs. A quick dip in melted chocolate provides a surface for piping white-chocolate Hebrew letters.
14. Glittering Gelt
Chocolate gelt (Hanukkah coins) are one of kids' favorite holiday treats, no question. The Daily Meal suggests making your own kid-friendly versions by dipping Oreos or Nilla Wafers in chocolate, then using edible paint to give them a golden coating.
15. Chocolate-Covered Stars of David
Dip matchstick pretzels into melted dark chocolate (it works just as well with milk or white chocolate) and arrange the sticks into star shapes on greaseproof paper, sprinkle with colored sprinkles, and let them set in the fridge. They're simple, amazing, and tasty.
What kind of Hanukkah crafts will you make this year? Share ideas for your favorite holiday craft projects on FamilyApp with the people you love! And check out some of our favorite ideas for Hanukkah recipes, including a delicious and simple latke recipe!