Creative Grilling and Barbecue Ideas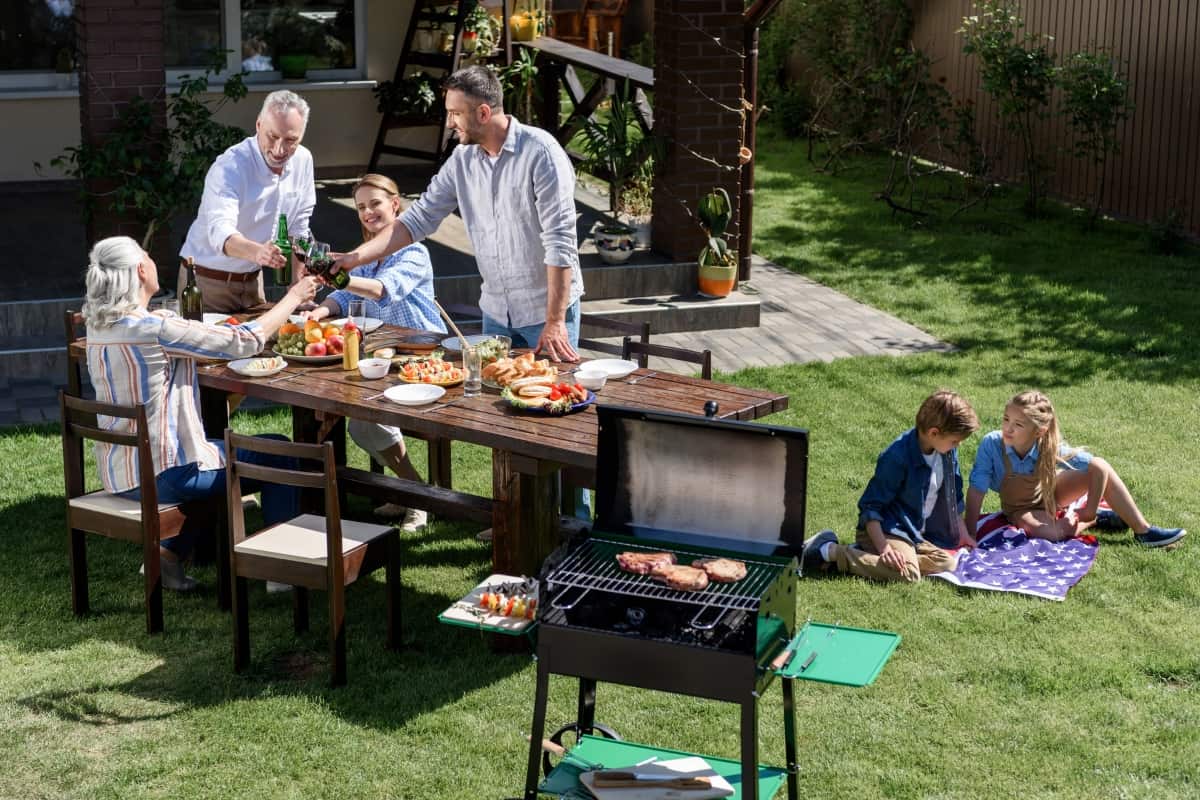 Friends, family, summer, and tasty food: Barbecue is the epitome of good cuisine and cozy get-togethers. But are you ready for some game-changing creative grilling ideas?
Burgers, hot dogs, and (if you're lucky) steaks come to mind as the typical American cookout. Lots of families have their own special secret recipe for the perfect BBQ. One generation will pass down all of its knowledge about spices, ingredients, cooking time, and heat to the next. So it is no surprise that for most Americans, a charcoal grill in the summer is perfect for an outdoor meal with the family.
There are so many spontaneous and creative possibilities beyond the classic BBQ. Try these delicious and creative grilling ideas for your next meal or get-together!
Jump to Recipe
Barbecue vs. Grilling
In Texas, the Holy Trinity of barbecue is ribs, beef brisket, and sausage. We somewhat agree as we believe pulled pork deserves its place at the table.
But what differentiates barbecue from grilling? While "barbecue" may just refer to the kind of sauce used on the meat, a barbecue smoker is different from a grill. You'll need a lot more time and perhaps even a whole different appliance for cooking smoked meat. Here are some of the differences between the two forms of cooking.
So, grilling is the more flexible method when it comes to a spontaneous meal. You just need a portable grill, a few sausages, and some vegetables. Then, you're good-to-go for the beach or park with your friends.
Creative Grilling of the Classic Cookout Food: Burgers
As for most of us, the recipe for the perfect burger patty is practically written into our DNA. It's always a good choice for a spontaneous BBQ with only a little time for preparation.
However, if you're trying to step up your burger (or cheeseburger) game and make things a little bit more creative, here are some recipe ideas that will impress the crowd:
Angus Beef Burgers with Mushrooms and Chipotle Aioli: The right sauce or aioli can make all the difference with a burger. And a creamy, spicy chipotle sauce slathered onto a bun, topped with perfectly tender, sauteed mushrooms is exactly what every burger enthusiast needs.
Black Bean Burgers: Yes, we know that Black Bean burgers have already hit menus and store shelves as a delicious meat alternative, but meat-eaters and vegans alike, I'm sure, would agree that the right black bean burger recipe can be a game-changer. Top with your favorite toppings like pickles or cheese (we highly recommend Monterey Jack)!
Greek Burgers: Fresh toppings like cucumber, tomato, and feta allow for the pure flavor of this burger idea to really shine. Creamy tzatziki would be a great topping for these Greek-inspired patties.
Grilled Pineapple Hawaiian Burgers: Now, normally, we like our pineapple with chicken, but we love this idea adapted for burgers. The caramelized pineapple goes perfectly with the savory burger, and be sure to top it off with a tangy swiss cheese.
Jalapeno Turkey Burgers with Grilled Corn Cotija Salsa and Avocado: Take your BBQ south of the border with this lightened-up burger recipe idea with plenty of fresh and spicy toppings.
Creative Grilling With Bratwurst – Germany's Most-Loved Cookout Food
One of Germany's most famous foods is also getting more popular in the USA: bratwurst. Most of us have heard of it alongside sauerkraut, but what you might not know: It is the typical German food to be grilled. Ask a German, and he will tell you that there is no charcoal-grilling without brats.
Bratwurst isn't just a sausage. Nowadays, there are so many different flavors that you're certain to find something you like. Be it the Beer'n'Bratwurst, Jalapeno & Cheese Brats, or the Smoked Brats – the variations are nearly endless. So no matter whether you are of German ancestry yourself or simply like Oktoberfest: You should definitely give bratwurst a try!
Here is one bratwurst recipe we recommend:
Summer Bratwurst
Tasty and simple summer dinner! Perfect for an outside grill night with friends.
Ingredients
4

Brats

2

Onions

Sauerkraut

to taste

Ketchup and Mustard

to taste

4

hot dog buns

1.5

tbsp

butter

1

tbsp

olive oil
Instructions
Summer Bratwurst
Cut onions into thin slices.

Melt butter into skillet on medium heat and add olive oil.

Add onions and let caramelize for 40 minutes at medium-low heat, stirring occasionally.

Grill brats til they are golden brown. This should take about 20 minutes at 300-350°F. Final internal temperature should be 160°F.

Toast buns on grill until golden brown.

Place brats in buns and add toppings. Enjoy!
Nutrition
Calories:
429
kcal
Carbohydrates:
28
g
Protein:
14
g
Fat:
29
g
Saturated Fat:
10
g
Polyunsaturated Fat:
3
g
Monounsaturated Fat:
14
g
Trans Fat:
1
g
Cholesterol:
60
mg
Sodium:
811
mg
Potassium:
365
mg
Fiber:
2
g
Sugar:
5
g
Vitamin A:
137
IU
Vitamin C:
5
mg
Calcium:
106
mg
Iron:
2
mg
Creative Grilling with Veggies
Grilled Vegetable Sandwich
There are hardly any limits to your imagination here. We recommend using vegetables that can be cut into slices like celery, eggplant, and zucchini. To do this, cut the respective vegetables into slices, grill briefly, and then cover as desired or place the whole sandwich directly on the grillage. To give the sandwich a little more hold, you can also stabilize it with wooden skewers.
Bell Pepper Sandwich
Bell peppers are easy to fill due to their hollow shape and make a flavorful substitute for bread or hamburger buns. Simply cut the pepper in half and remove the stem and seeds. Then fill to taste with tuna, hummus, sausage, avocado, or feta cheese, for example. Afterward, place the pepper's second half on top of the other and charbroil for about ten minutes. The colorful bell pepper sandwich is ready and makes your barbecue complete. What are your favorite ways to grill or barbecue? Let us know in the comments or on FamilyApp!
Creative Grilling Ideas: Chicken
Just because you're grilling on the barbecue, it doesn't mean that you have to use barbecue sauce exclusively! Try some different flavors and seasoning like grilled Teriyaki chicken with a brown sugar and soy sauce marinade or a garlic paprika dry rub.
My favorite dry-rub for chicken wings: brown sugar, sea salt, onion powder, garlic powder, chili powder, smoked paprika, ground cumin, and black pepper.
If you want spicy chicken wings, use a marinade of black pepper, salt, crushed garlic cloves, fresh lemon juice, crushed red pepper flakes, a dash of hot pepper sauce, and olive oil.
You can also take the flavors to the tropics with a Hawaiian grilled pineapple chicken. The sweetness in the fruit caramelizes with the chicken to make the perfect sweet, tangy, and savory dish.
Creative Grilling: Vegetarian!
Who says barbecue has to be exclusively meat? Some of our family's favorite grilled items are sans-meat, especially as a side dish. Whether it's red peppers, eggplant, Brussels sprouts (on a skewer), cauliflower, or zucchini, it's the perfect way to get some fiber, vitamins, and minerals, even at a cookout! Make sure to use plenty of seasonings like garlic powder, black pepper, sea salt, or any of your favorite flavors! One of our personal favorites is grilled vegetable fajitas!
Don't Forget the Sides
Sometimes, the sides are what can take your bbq from basic to fantastic. While the classics like coleslaw, potato salad, and mac n cheese are hard to beat, kick things up a notch with a new side like char-grilled asparagus tips or sweet potatoes with a sprinkle of brown sugar and cinnamon!
Get Into Creative Grilling
Which of these ideas inspires you to pull out the smoker or grill? They all sound super tasty to us! Share your favorite ways to get creative with the grill at your next cookout!