The Best Family Movie Musicals: Classics and Modern Hits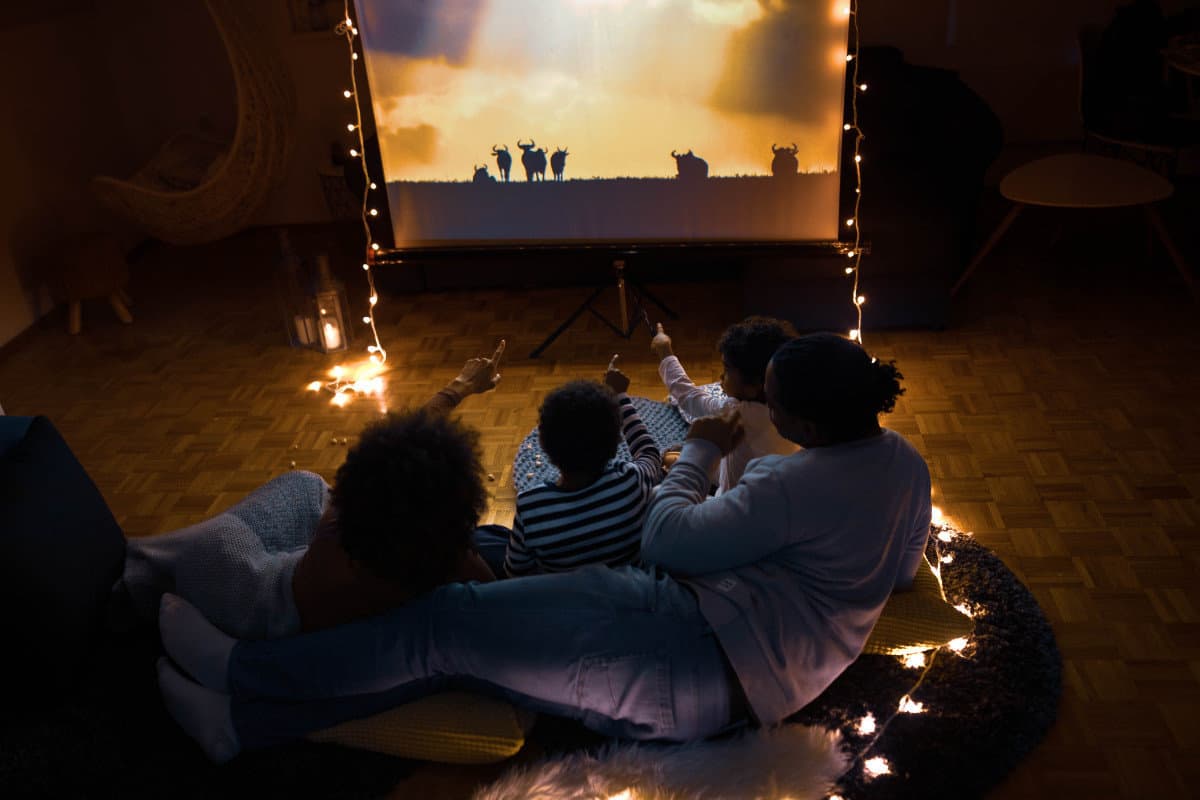 Looking for the best family movie musicals? We've got you covered!
Musicals are timeless and entertaining and use music as a creative expression of both plot and emotion. What's not to love? Okay, sorry, my inner musical theater nerd sometimes shows. Some of my best memories growing up were road trips where everyone was singing along to the soundtrack of our favorite family movie musicals. So here's a definitive list of some of the best movie musicals that everyone can enjoy together. Grab the popcorn, tissues, and maybe a hairbrush (for the microphone, of course)!
Movie Musical Throwbacks
Now when I say "throwbacks," I mean that I'm partial to musicals in the 1950s and 1960s (for the most part).
Annie
Who could forget that curly red hair and those freckles? Annie is a must-see for anyone, even if just to understand the pop culture references. Oh, don't make me choose between the 1982 and 1999 adaptations; both are top-notch. The story follows a young orphan girl named Annie who dreams of finding her parents while living in a foster home run by the mean Miss Hannigan (Carole Burnette really knocks it out of the park in the 1982 version!)
When a wealthy businessman named Oliver Warbucks invites Annie to spend the holidays with him, she soon discovers that her luck may be changing for the better. I had the soundtrack to this one on a cassette tape karaoke. Did I sing "It's a Hard Knock Life" as I begrudgingly cleaned my room as a child? Well, that stays between me and my Beanie Babies.
The Music Man
When people ask me about my favorite musical, this is always on the tip of my tongue. There's something about the 1910s fashion and the big sounds of the marching band. In a small Iowa town full of salacious gossip and general curmudgeons, a traveling conman, "Professor" Harold Hill, tries to run his usual con but finds it hard to get out of dodge once he's got the money. It turns out residents of the Iowa town and Harold Hill experience transformation. This movie may just inspire your kiddo to pick up an instrument!
Mary Poppins
The nostalgia is strong with this one. Mary Poppins is a magical nanny who comes to the aid of the Banks family in London to improve their relationship with their children. Alongside Bert, a lovable chimney sweep, Mary uses music and dance to teach the children valuable life lessons while also bringing the family closer together. This ending will have everyone on the brink of tears (or an all-out sob if you're me) and wondering whether it's a good day to go fly a kite with the whole family. This one's one of the best musicals for toddlers, too–they'll love the animated sequence.
Singin' in the Rain
The film follows the story of Don Lockwood, a famous silent film star, and his co-star Lina Lamont as they struggle to transition into talking pictures. With the help of a talented young actress named Kathy Selden, Don must navigate the challenges of fame, love, and the changing times in Hollywood. This one really shines with costumes, dancing, and physical comedy. Beware–there's definitely lots of smoking and a particularly sultry Cid Charisse number.
The Sound of Music
Loosely based on a true story, this classic musical film tells the story of a young prospective nun named Maria who becomes a governess for the seven children of a no-nonsense widowed naval officer, Georg von Trapp. Despite initial challenges, Maria forms a bond with the children through fun and music and falls in love with Georg.
Trouble brews as the Nazis begin to take control of Austria, and the family must make some tough decisions about their future. The movie features beloved songs, stunning landscapes, and a message about the importance of standing up for one's beliefs. As a side note–this movie is such a fan favorite at my house that we've made the effort to travel to all the film locations.
The Wizard of Oz
The Wizard of Oz is a classic fantasy film released in 1939. The story centers around a young girl named Dorothy, played by Judy Garland, who is transported to a magical land called Oz after a tornado hits her home in Kansas. Along with her new friends, a scarecrow, a tin man, and a cowardly lion, Dorothy embarks on a journey to find the Wizard of Oz and returns home while facing the wicked Wicked Witch of the West.
The Wicked Witch might be a bit scary for the youngest kiddos; I know as a 4-5-year-old, I spent some time hiding behind the couch when I heard her theme music. Still, with all the fantasy and whimsy, this is really one of the best musical movies for kids.
The Pirates of Penzance
The Pirates of Penzance is a comic operetta adapted into a film in 1983. The story follows Frederic, a young man who was mistakenly apprenticed to a band of pirates as a child. When he falls in love with the daughter of a Major-General, Frederic must navigate the hilarious antics of the pirates, the Major-General's family, and the police to win his love's hand in marriage. Honestly, there's not too much to be learned from this crazy musical, but that's right on par for Gilbert and Sullivan. I would include a photo of me dressed in costume when I played one of the General's daughters in 7th grade, but I'll spare you.
Newsies
Newsies is a musical film based on the real-life newsboys' strike of 1899. The story follows Jack Kelly, a charismatic newsboy who leads a group of fellow newsies in a strike against the powerful newspaper publishers of New York City. With the help of a young reporter named Katherine, the newsies fight for their rights and make their voices heard. One of my first big crushes, a young Christian Bale, struggling to rasp through "Santa Fe" stole my whole heart as a middle school chorus girl.
Chitty Chitty Bang Bang
The movie follows the story of Caractacus Potts, an eccentric inventor who restores a magical car that can fly and float. Together with his children and love interest Truly Scrumptious, they embark on a wild adventure to rescue their grandfather and a kingdom from the evil Baron Bomburst and his henchman, the Child Catcher. This musical is filled with charming characters and lots of great dance numbers. And who doesn't love a magical flying car? The Child Catcher may be a bit much for sensitive little ones to handle, so be conscious of that.
Animated Classics
Disney was going through a "Renaissance" from 1989-1999, and it really was a period of rebirth and new creative heights. Lots of classic family musical movies were born.
The Lion King
I would argue this is my top favorite animated Disney movie of all time, mostly due to the incredible musical score by Hans Zimmer. It's nothing short of a masterpiece. The story follows a young lion named Simba who must take his rightful place as king of the Pride Lands after the death of his father, Mufasa. However, Simba's uncle Scar has other plans and plots to seize the throne for himself.
Through the guidance of his friends and a wise mentor Rafiki, Simba learns to embrace his destiny and save his kingdom. I may have completely worn out this CD soundtrack when I was a kid– you just can't help but sing along. If you ever get a chance to see it onstage, do it. It's one of the best family-friendly Broadway musicals ever made.
Alladin
A street urchin named Aladdin falls in love with Princess Jasmine and discovers a magical lamp containing a genie who can grant him three wishes. With the help of his new friend Genie, Aladdin navigates the dangers of the villainous Jafar and his schemes to take over the kingdom. Eventually, Aladdin learns the importance of being true to oneself and that being royalty doesn't necessarily equate to happiness. The standout in this movie is the Genie character, voiced by the late and great Robin Williams. While it's a voice-over role, everything about Robin Williams's energy, comedy chops, and brilliance shines through.
Robin Hood
Technically not part of Disney's "Renaissance," but this is still a classic. The story follows the adventures of the legendary outlaw Robin Hood, who steals from the rich and gives to the poor in Sherwood Forest. Along with his friend Little John and the rest of his band of Merry Men, Robin Hood faces off against the tyrannical Prince John and his henchman, the Sheriff of Nottingham. The story of Robin Hood is a timeless message about fighting for justice and the greater good. This is another movie that hits hard on the nostalgia for me. Roger Miller both narrates and sings throughout, giving the movie a 1960s Nashville sound.
Beauty and the Beast
Belle is a young, misfit woman who finds herself imprisoned in a castle by a prince cursed to live as a monstrous beast. With the help of the enchanted objects in the castle and her kind heart, Belle begins to see the humanity in the Beast and helps him break the curse.
The movie features memorable songs and a powerful message about inner beauty and compassion. You'll be singing "Be Our Guest" on repeat for the next few days after watching this one. It's worth noting that the live-action 2017 film was good, but I'm a firm believer that you should always watch the animated original first.
Tarzan (honorable mention)
This movie receives an honorable mention because, technically, I don't think it's a musical in that characters aren't interrupting dialogue with song to further the plot. However, Phil Collins scored and sang an utter masterpiece of a soundtrack. I'm not kidding you; as a fully grown adult, I'll un-ironically listen to this soundtrack occasionally–it's just that good.
The story is about the adventures of Tarzan, a man raised by gorillas in the African jungle, as he tries to find his place in the world. When a group of humans arrives in the jungle, Tarzan is torn between his loyalty to his gorilla family and his attraction to a young woman named Jane. Oh, and did I mention the soundtrack?
Modern Animated Gems
While I'm a sucker for nostalgia, Disney and Pixar both stepped up their game in the last few years with these musicals.
Coco
The story is about a young boy named Miguel who dreams of becoming a musician like his idol, the late Ernesto de la Cruz, despite his family's ban on music. On the Day of the Dead, Miguel finds himself transported to the Land of the Dead, where he must seek the help of his ancestors to return to the living world. Along the way, Miguel learns the importance of family, tradition, and following one's passions while also discovering a shocking family secret. The movie is a heartfelt tribute to Mexican culture and will absolutely have you in tears.
Tangled
Tangled follows the beloved fairytale character Rapunzel, who has been locked away in a tower by an evil woman named Mother Gothel for her entire life. When a wanted thief named Flynn Rider stumbles upon her tower, Rapunzel strikes a deal with him to help her escape and see the world outside. This movie has got it all: a heroine with a frying pan, a charming rogue with a heart of gold, and a horse that's smarter than most humans. And yes, you'll be doing a Google search for "where to buy floating lanterns" after watching this one.
Frozen
The story surrounds two sisters, Elsa and Anna, who are princesses of the kingdom of Arendelle. Elsa has the power to control ice and snow, but she isolates herself from her sister and the world due to fear of hurting others. When Elsa accidentally plunges the kingdom into eternal winter, Anna sets out to find her sister and help her restore the balance.
On their adventures, they encounter a talking snowman named Olaf, a rugged ice harvester named Kristoff, and his loyal reindeer Sven. The movie features a message about the power of sisterhood and self-acceptance. As much as I love it, I do believe I deserve some financial compensation for the sheer exposure my brain had to the song "Let it Go" when I was working in a daycare in 2014.
Sing
This modern story follows a koala named Buster Moon, who owns a struggling theater and decides to host a singing competition to save his business. He meets a full cast of animal characters who are each chasing their own dreams of stardom, including a shy elephant, a teenage porcupine, a stressed mother pig, and a smooth-talking mouse. As the competition heats up, the contestants face various challenges, but they learn to overcome their fears and support each other. You'll likely recognize plenty of the pop songs featured in this movie–and be singing them for a while.
Moana
A young Polynesian princess named Moana sets sail on a dangerous mission to save her island and her people from a mysterious darkness. With the help of the demigod Maui, Moana navigates treacherous waters, encounters fearsome creatures, and confronts her own self-doubt. She learns about her culture, the power of her ancestry, and the importance of following one's own path. The memorable songs written by Lin Manuel Miranda will have everyone singing along, especially the unforgettable "You're Welcome!"
Live-Action Modern Musicals
Thank goodness live-action musicals are making a comeback. These modern stories bring new life to the genre and have the potential to reach and delight younger audiences.
Enchanted
This story is about Giselle, a princess from a magical animated world who is transported to modern-day New York City by an evil queen. There, she meets a cynical divorce lawyer named Robert and his daughter, Morgan, and learns about life outside of fairy tales. Giselle's infectious optimism and kindness begin to change the people around her, and she must figure out the true meaning of "happily ever after." Enchanted expertly employs a clever twist on classic fairy tale tropes, and it's seriously one of my favorite roles that Amy Adams has ever done.
Matilda
Based on the beloved children's book by Roald Dahl, this story follows a gifted young girl named Matilda, who is neglected and mistreated by her parents and headmistress at school. With her intelligence and extraordinary telekinetic powers, Matilda sets out to outsmart her enemies and help her kindhearted teacher, Miss Honey. You'll laugh, you'll cheer, you'll root for Matilda the whole way. Both the 1996 (though not a musical) and 2022 versions are worth watching, so the choice is yours. I'm a child of the '90s, so you know where my loyalty lies.
Mary Poppins Returns
This musical fantasy film, released in 2018, is a sequel to the 1964 classic "Mary Poppins." It's important to note that a sequel is not a re-make and to view it through that lens. The story takes place in Depression-era London, where Michael Banks, now grown up and a widower with three children, is struggling to keep his home and family together. Mary Poppins, the magical nanny, returns to help the Banks family once again.
With the help of her friend, Jack the Lamplighter, Mary takes the children on a series of fantastical outings, helping them learn important lessons and rediscover the joy of childhood. Lin Manuel Miranda knocks it out of the park as Jack, and the whole movie beautifully pays homage to the original without being too derivative.
The Greatest Showman
The story is about P.T. Barnum, a visionary showman who rose from poverty to create a circus spectacle that captured the world's imagination. Despite facing criticism and discrimination, Barnum remains steadfast in his belief in the power of entertainment and inclusivity. You've got your underdog story, your epic musical numbers, and a cast of lovable misfits that'll make you feel all the warm and fuzzies. Plus, Hugh Jackman, Zac Efron, and Zendaya as the leads? What's not to love?
Make It a Family Movie Musicals Night!
Movie musicals are a great way to bring the whole family together, and they never go out of style. So grab some popcorn, turn up the volume, and get ready to sing your heart out. If you're looking for more ideas for a movie night, check out some of our other suggestions.