Thanksgiving Movies for the Whole Family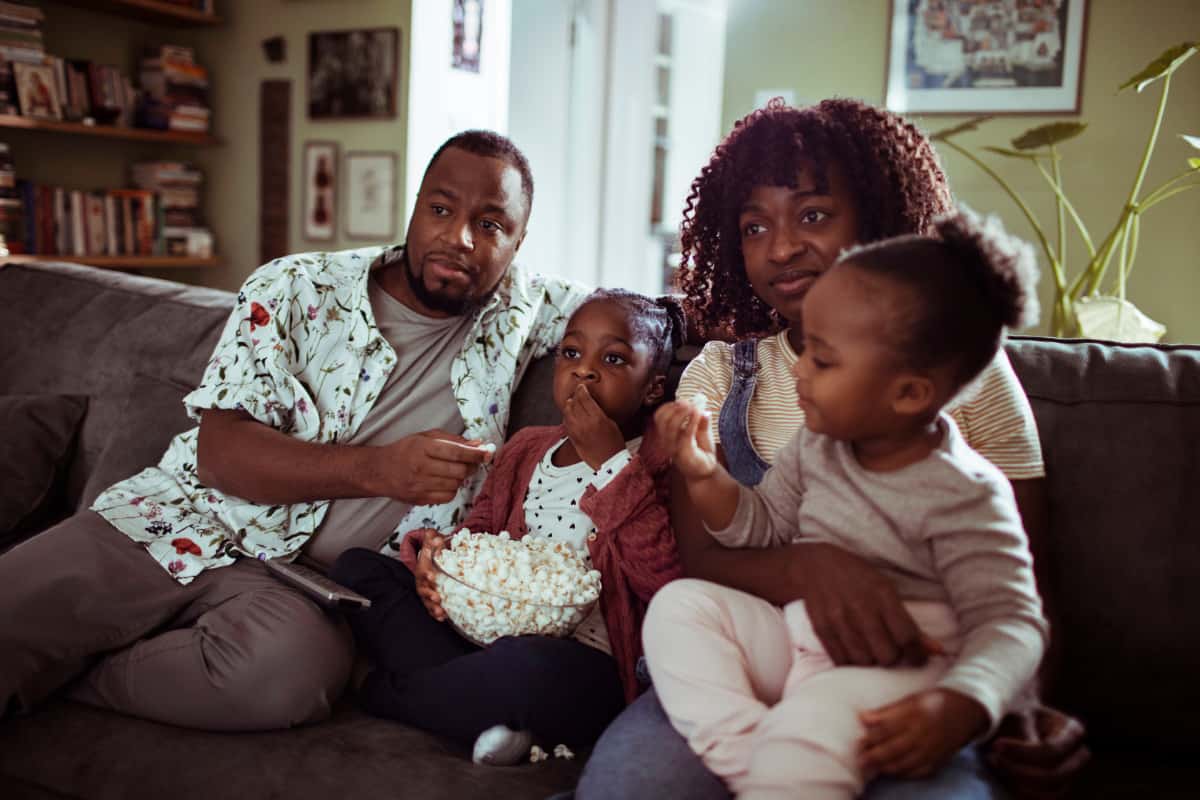 When the turkey's been put away, and everyone's on the verge of a food coma after that last slice of pumpkin pie, it's the perfect time to settle in for some Thanksgiving movies. Whether you had a Friendsgiving feast, a large gathering, or even just an intimate dinner with your immediate family, a movie is a perfect way to end the night and kick off the Christmas season.
Now, we all know that there's no shortage of Christmas movies, but Thanksgiving movies are much harder to come by. That's why this list doesn't necessarily just have films that focus on the theme of Thanksgiving, but also Christmas, food, family, and thankfulness.
*This article contains affiliate links. It doesn't cost you anything, but if you click on the link and buy something, we'll earn a small commission to help our writing team create more great articles.*
What Are the Best Thanksgiving Movies to Watch With Family?
When you pick a movie to watch on Thanksgiving, you never know– you may just start a new family tradition. That's why we chose movie classics that the whole family can watch together.
One of the Best Thanksgiving Movies of All Time: A Charlie Brown Thanksgiving
Any Charlie Brown movie is going to be a win for the family. Its nostalgia mixed with child-like innocence and witty humor has made Peanuts cartoons a family favorite for decades. Even if your kids aren't familiar with these classics, they may recognize the Snoopy balloon from the New York Macy's Thanksgiving Day parade!
One of My Favorite Thanksgiving Movies: Planes, Trains, and Automobiles
John Candy and Steve Martin are quite the comedic powerhouse in this laugh-out-loud holiday classic. Neal Page (Martin), a bit of a control freak, tries to get home to spend Thanksgiving weekend with his family. But when his flight is rerouted because of a freak snowstorm, his sanity begins to go off the rails. Even worse, he has to bunk with chatty and over-the-top Del Griffith (Candy). Together, they must overcome the perils of holiday travel to arrive at their intended destination. This is a Thanksgiving-themed comedy classic that everyone should watch at least once.
Garfield's Thanksgiving
In this 1989 made-for-TV short, Garfield's owner, Jon, falls for Garfield's veterinarian, who he invites over for Thanksgiving dinner. One problem– she puts Garfield on a diet. For a lasagna-loving cat, that's a bleak fate. You can even show your kids some old Garfield comic strips to give them some context!
Free Birds
Okay, to be fair, this animated film isn't going to win any major awards based on its rating on Rotten Tomatoes. This movie is about time-traveling turkeys who attempt to save their kind from becoming the main dish on the Thanksgiving dinner table. Despite the critics, this movie turned out to be a box office smash! For what it's worth, it's a lighthearted romp (with darker themes if you analyze it as an adult from a historical perspective), and the kids will probably like it.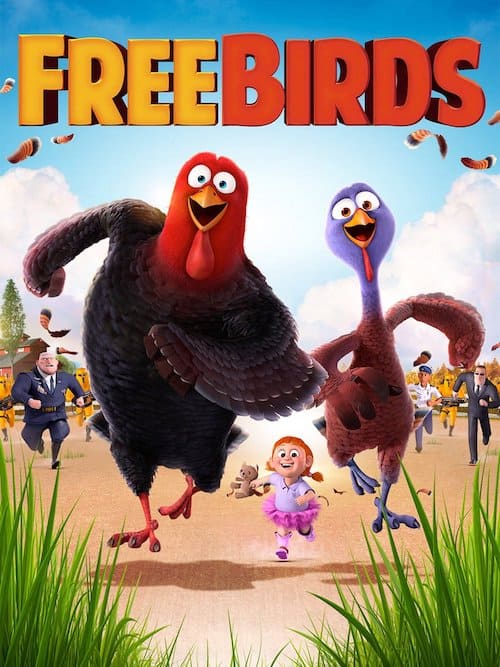 Coco
Thanksgiving is often a celebration of family, and this film celebrates family and tradition with lots of color, music, vibrance, and culture. Coco follows a 12-year-old boy named Miguel who is accidentally transported to the Land of the Dead (an afterlife realm known in Mexican folklore as the final destination for the spirits of the deceased). There, he seeks the help of his deceased great-great-grandfather to return him to his family among the living and reverse his family's ban on music.
Ratatouille
During a very food-centric holiday, there's no better movie to celebrate appetite than a budding young chef…who just happens to be a very talented rat. Although his family isn't initially supportive of his dream, he befriends a dishwasher who helps him climb his way to the top of the culinary world. While a rat may not be the one preparing your Thanksgiving meal (hopefully), it's a valuable message of breaking the mold and challenging the status quo.
Home Alone
Although technically a Christmas movie, we think Home Alone still counts. Especially if you're watching at the end of the night as Thanksgiving Day festivities come to a close. When Kevin's family accidentally forgets him at home as they embark abroad, he must learn to fend for himself. While he's initially very excited to be rid of his parents' rules and torturous siblings. But after a few days alone, he learns how much he really needs his family. Since Thanksgiving is a celebration of family, this is the perfect crowd-pleaser to kick off the holiday season.
Jim Henson's Turkey Hollow
Nothing says Thanksgiving celebration like a puppet spectacular. It's about kids who investigate a monstrous local legend while visiting relatives. It's humorous, heartwarming, and whimsical. Jim Hensen always delivers when it comes to spectacular effects and magical storytelling.
Thanksgiving Movies Featuring Football
Rudy
For many families, Thanksgiving means football! Rudy is the perfect football movie that celebrates the resilience of the human spirit. Everyone will feel inspired by Rudy as he attempts against all odds to reach his dreams of making it onto Notre Dame's prestigious football team. This is one of my dad's favorite movies, and it never ceases to make him cry.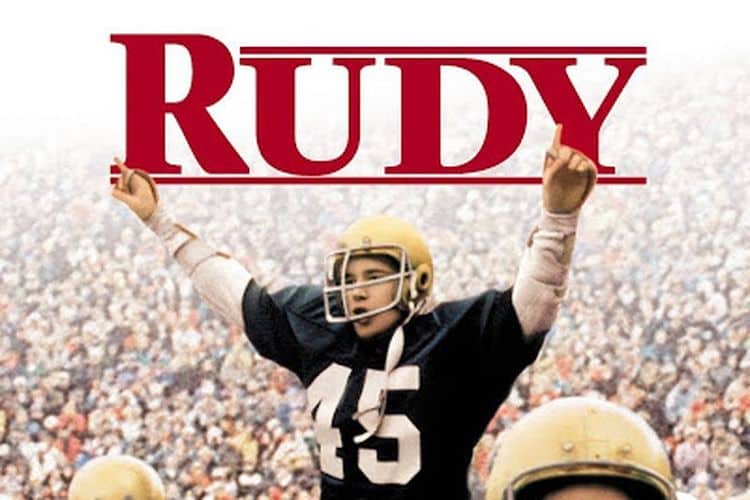 The Blind Side
This movie is loosely based on the life of Michael Oher, a former American football offensive tackle. It tells the story of what it means to be a family, even if you're not blood-related. It also highlights that an intelligent and hardworking person can overcome their troubled upbringing with a support system. There is a comical and touching scene where the Oher family realizes they should eat Thanksgiving dinner at the dinner table instead of in front of the TV. You'll laugh, you'll cry, you'll want to go out and win the Super Bowl. You'll have all the feelings.
Little Giants
Everyone loves an underdog! Since childhood, nerdy Danny O'Shea (Rick Moranis) has felt inferior to his former college football star brother, Kevin (Ed O'Neill), who coaches the local youth football team. Kevin's team rejects Danny's daughter, Becky, because she's a girl. Becky convinces her dad to start a rival team, though the city can only support one. To prove himself against his brother, Danny begins coaching his team of misfits for a playoff game. This playful and lighthearted movie about family and football is perfect for Thanksgiving!
What Are the Best Thanksgiving Movies for Adults?
If you have younger kiddos, the excitement of the day may have them ready for bed pretty early. That's when you can watch these Thanksgiving movies that are more appropriate for an older crowd!
Addams Family Values
While this may not necessarily be a good choice for the little ones, it can be a fun choice if you have older kids (over 12). This sequel revolves around Wednesday going to camp and being part of a Thanksgiving-themed play. All hell breaks loose when Wednesday turns the tables on an annoying camper and ends up lighting the entire set on fire before escaping camp. Hopefully, your Thanksgiving celebration is a little less explosive.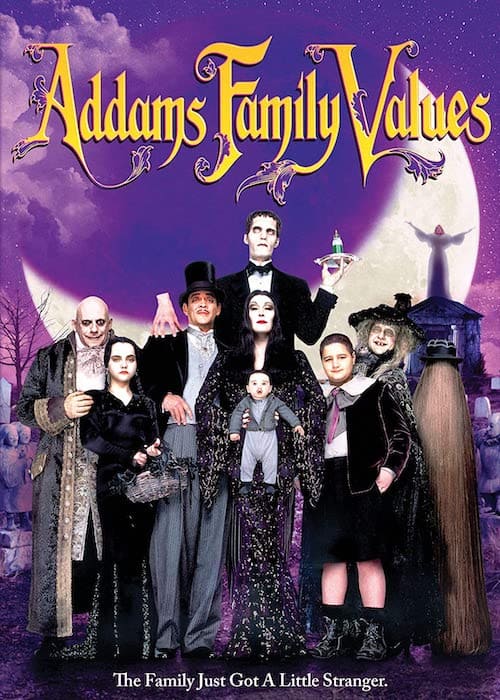 Home for the Holidays
Jodie Foster directs this comedy-drama about Claudia Larson, a woman who, after losing her job, kissing her ex-boss, and finding out that her daughter has made separate plans for the holiday, departs Chicago to spend her Thanksgiving with her dysfunctional family. If you're someone who loves your (extended) family but knows that some family members are best in small doses, then this movie will definitely resonate with you.
Funny People
In this psychological comedy-drama, successful movie star and former comedian George (Adam Sandler), who has a terminal illness, invites his assistant Ira (Seth Rogen) for Thanksgiving dinner with his friends in an attempt to fix the relationships in his life. It's a feel-good Thanksgiving movie for adults— with some vulgar jokes for good measure. We should expect nothing less from an Adam Sandler and Seth Rogen Film.
For Your Consideration
This Christopher Guest film is a pointed satire of Hollywood. With everything from flaky agents and shallow interviewers to unstable stars, it pokes fun of the film industry's less-glamorous underbelly. It shows how normal and not-so-normal people can lose themselves in it. I included it as a Thanksgiving movie because one of the main plot points is that while they're trying to make a movie that revolves around a family celebrating an authentic Jewish holiday, the producer comes in and asks them to "tone it down." Consequently, they change the whole plot of the movie to revolve around Thanksgiving. This choice arguably ruins the entire vision of the film. It's a tongue-in-cheek masterpiece that the adults (and teens) will love. I convinced my own family to turn this film into an annual Thanksgiving tradition.
What Are Some of Your Favorite Thanksgiving Movies?
These are just some of our favorites, but any movie can be a Thanksgiving tradition if your family chooses to make it one! Whether it's about family, food, or adventure, there's plenty of movies that are perfect for after the big meal. Plan a movie night for Thanksgiving with your favorite people on FamilyApp!