Family man, entrepreneur, and Swaggy, Clean, Fresh Dad on the Street Andrew Suggs has great style!
Meet Andrew
Andrew Suggs, AKA "Swaggy, Clean, Fresh Dad" is a family man, married to his lovely wife Jasmine and raising their beautiful daughter Soriya. Andrew is the CEO of Live Chair, a barber booking platform, and healthtech startup, that supports preventative health screenings by empowering barbershops to actively engage in building healthy communities.
Swaggy, Clean, Fresh Style
Which three words best describe your style? Swaggy. Clean. Fresh.
What are your favorite places to shop? Allen Edmons. Cigars International. Amazon.
What's your best style advice? Your belt color must match your shoes.
What fashion/style did you love at the time, but now cringe when you see old photos? Tall tees. Lol. It was an urban Atlanta thing while I was in high school. It's a shame that much cotton produced that long shirt.
What's your dad superpower? Finding a way to make things happen.
Facial hair or clean-shaven? Facial hair
Swaggy, Clean, Fresh Family
What's your favorite way to spend time with your family? My wife loves food, so any Asian restaurant always puts me in the winners' corner. 🙂 My daughter loves hyper kids. Fun interactive indoor play place in Maryland where we live.
What's been your best family vacation? Virginia Beach. It was right after my wife graduated from optometry school.
What's your favorite family activity? Family walks. It allows us to detach from the world and bond.
Best parenting advice: Be the example you preach to your kids; they are always listening and looking.
Parenting true confession: There are days where my daughter gets the iPad longer than she should because of work. 🙁 lol
What's your go-to family dinner? Quinoa chipotle bowls
What's your favorite family restaurant? Any Thai spot. The Suggs loves Thai and spring rolls.
Swaggy, Clean, Fresh Life
What's your favorite show to binge-watch? I'm a nerd. I read a lot and haven't watched T.V in over 5 years, besides the occasional Netflix documentary. Haha!
If you could pick anyone to star as you in a movie based on your life, who would it be? John Legend. For obvious reasons 🙂
What's your favorite sport and why? Basketball. Played college and I love the action like when a smaller player rises up and throws it down on a big guy.
What's the best song to dance to when nobody's watching? Baby shark or Elmo brush your teeth song lol
If you could hang out with anyone from history, living or deceased, who would it be? Jesus and Seth Godin.
What's at the top of your travel bucket list? Tour of northern African because of its rich history.
What's your favorite way to unwind at the end of a long day? Cigar and a good book.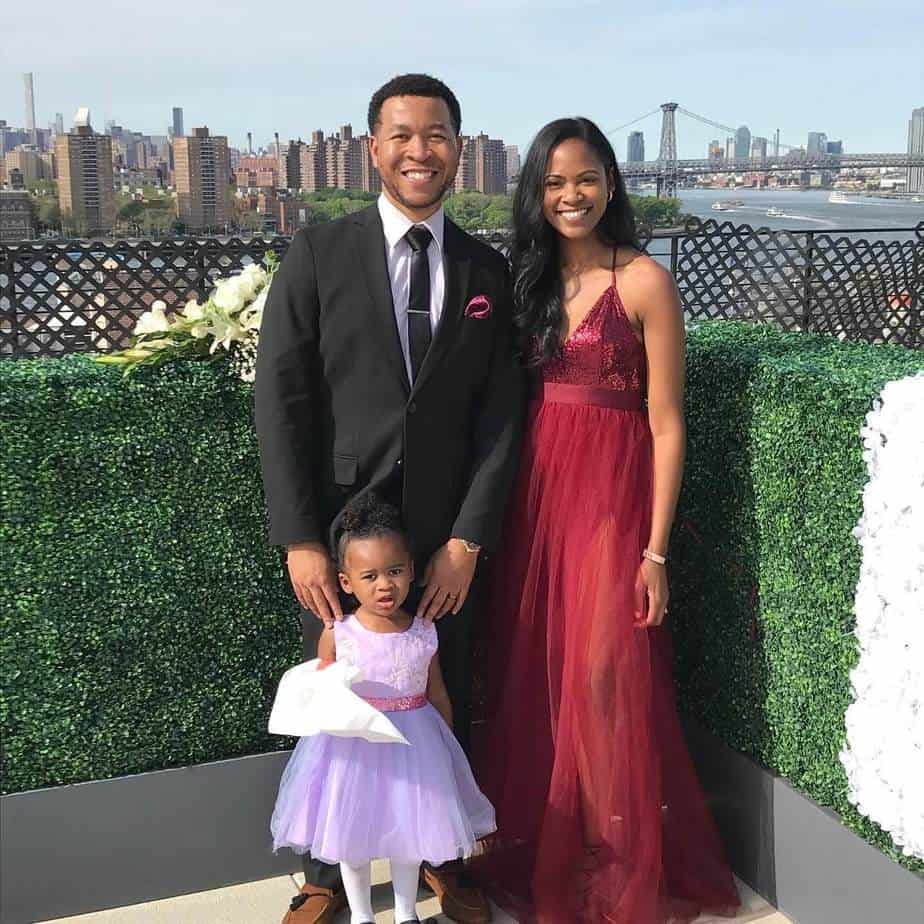 Your Swaggy, Clean, Fresh Style
Swaggy, clean, fresh style clearly runs in the whole Suggs family! We love how Andrew, Jasmine, and Soriya all look just as stylish when dressed up for formal events as they do in more casual attire. They have mastered the balance of looking coordinated and sophisticated, without being too matchy-matchy.
We're also big fans of Live Chair and the way that Andrew's company is using barbershops, one of the ultimate style centers, as a means to promote greater health and well-being nationwide. Be sure to check it out, and follow them on social at Live Chair.
And for more fun and stylish dads, be sure to check out FamilyApp's Dad on the Street Channel!