Shabby Chic and DIY Interior Design Ideas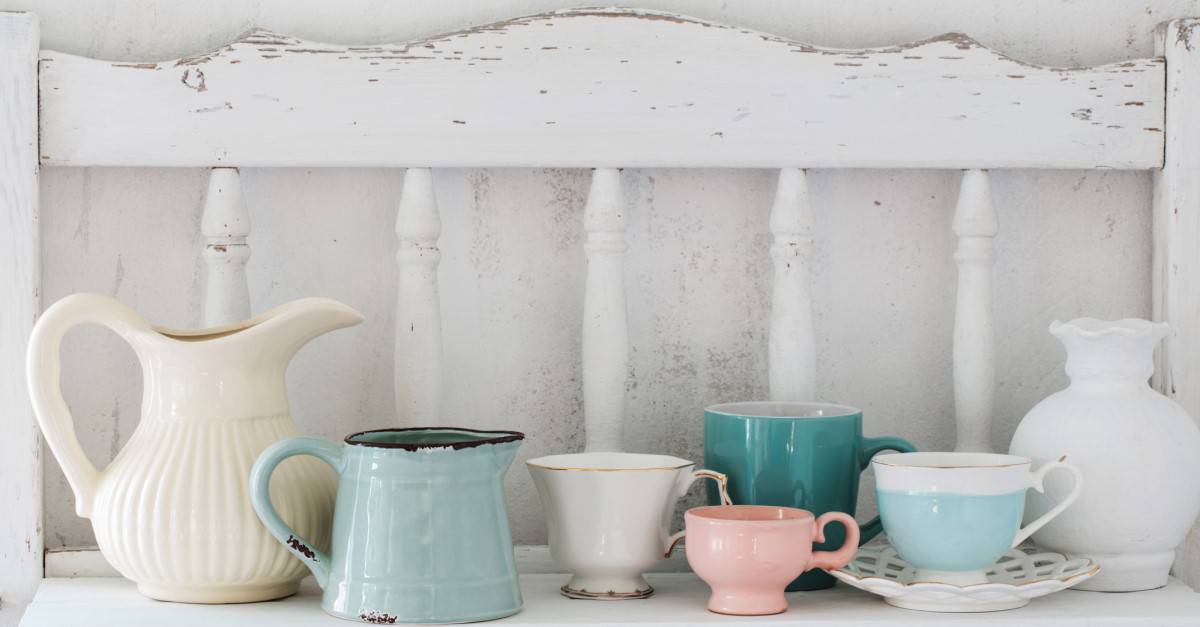 From mid-century modern to bohemian, there's a home décor style to suit every taste. But, for one that weds elegance and DIY simplicity, shabby chic might be the right fit!
Home design can change in the blink of an eye with so many trends hitting the mainstream all the time. Luckily, there are certain aesthetics that never go out of style, and shabby chic interiors are among them! If you're a fan of old and new, and bohemian and modern, you might want to try this aesthetic. You can do-it-yourself and upcycle an old piece of furniture for a unique DIY look or shop around for chic and shabby items like crisp white lamps or frilly floral pillows.
What Does Shabby Chic Mean?
There's a lot of wiggle room when it comes to this style, since on the surface, chic and shabby are opposites. But that unlikely fusion has made the style so iconic! Much like rustic modern, shabby chic can be likened to the look of an old-style farmhouse. It includes unique pieces like vintage mirrors to antique furniture, but at the same time, it's warm, inviting, and casual. Whether it's for your main home, a cottage or a barn, it can make for an instant ambiance that's eclectic and inspired. With so many ideas, you may want to share them with others on a family app.
Where Did the Shabby Chic Style Start?
It might sound like a laid-back style, but this aesthetic actually has less than humble beginnings! In fact, most of this look actually stems from the large country houses that can be found in Great Britain. This style centered around items owned by the well-to-do like sofas and chairs with shabby chic fabric called chintz. Nowadays, this phrase refers to both the décor style as well as the world of high fashion. While much of its inspiration can be considered Victorian, the modern interpretation represents a toned-down version.
What Is Shabby Chic Interior Design?
There are a few limitations when it comes to shabby chic décor ideas. So that means there are plenty of ways you can make this fun aesthetic your own! Whether it's the living room or the bedroom, you may want to share the following ideas on FamilyApp.
Living Room
Consider some ornate lamps or light fixtures when it comes to creating your shabby chic living room. In addition to regular furniture pieces, have a distressed white coffee table or ottoman that ties the family room together. Remember, mixing new and old will make for the kind of room your family values!
Kitchen
When it comes to a shabby chic kitchen, a muted shade that you can add colorful pieces to is best. If you have open cabinets, items like colanders, dishware, and glasses can add a much-needed punch. Old floral tea sets are really fun, too. You could even create a wood shiplap wall for a vintage feel, just like Chip and Joanna Gaines on Fixer-Upper. Why not share your design on a family app!
Bathroom
It can be easy to add some fun little shabby and chic touches to your bathroom. Consider a vintage, wall-mounted cabinet for all the toiletries and a doorknob for bathroom hooks! Or just add some fun knobs and pulls to your existing cabinets. You can even add a whimsical chair and table for musing, and a homemade wreath for country house comfort.
Bedroom
Making the perfect shabby chic bedroom is all about embracing the feminine. So have fun with a ruffled bed cover or weathered cotton pillows. Chintz it up with the curtains. You may also want to consider an antique night table and an old, elegant mirror for added effect. Whatever you come up with, share it with other DIYers!Whether the bedroom, the bathroom, or the laundry room, there are plenty of ways to try out this style. You can paint your own shabby chic furniture or find an elegant accouterment that fits the bill! Do you have a favorite room design in your house? Share it with us in our comments or on social using #getfamilyapp. With an aesthetic choice like this, every room can have its very own look and feel!