8 Gorgeous Autumn Crafts With Natural Materials for Kids of All Ages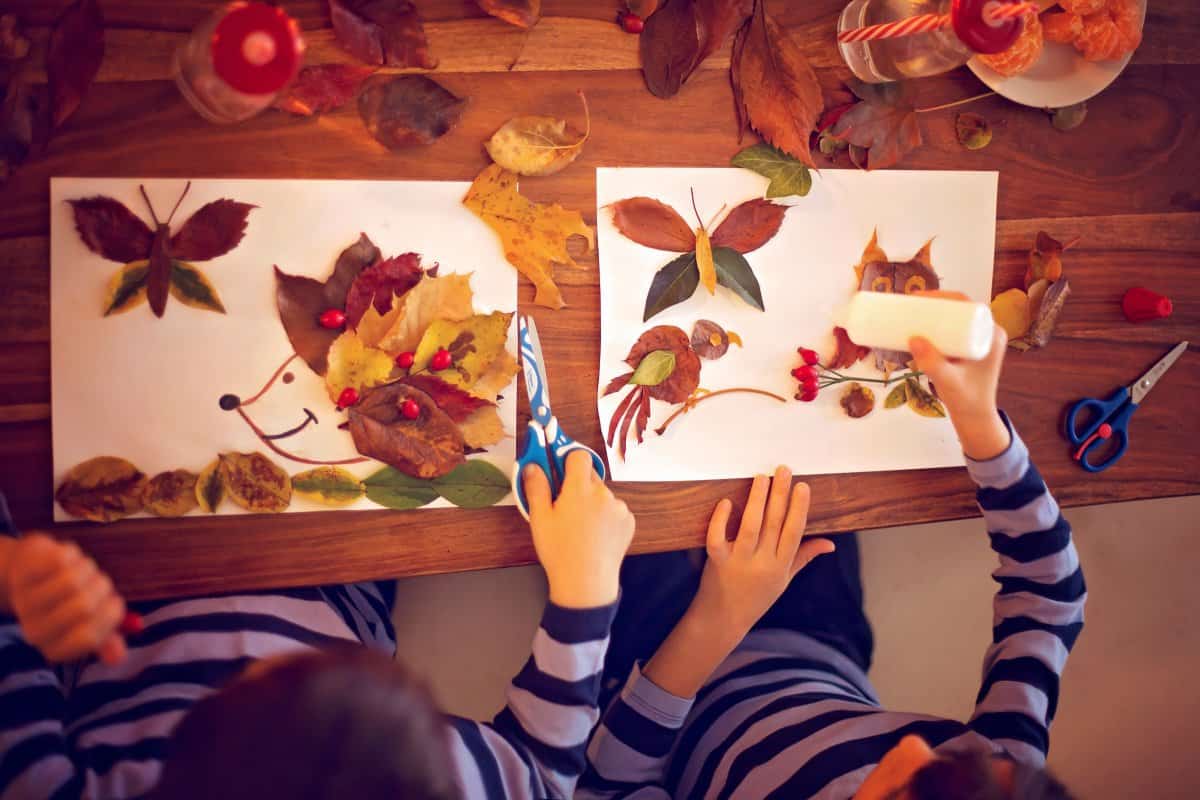 The weather is cooler; the leaves are changing, and what better way to celebrate the season's natural beauty than with some charming autumn crafts.
Autumn-themed crafting is a calming way to unwind, whether it's an after-school activity or the end of a fun day playing in the sun. Take advantage of all the season has to offer and keep kids busy by crafting with natural materials. Get ready to fall in love with these fun ideas!
Crafting With Natural Autumn Materials
During the crisp days of fall, have your children collect natural materials for autumn crafts during a walk in the woods or an excursion to the park. Chestnuts, acorns, beechnuts, pinecones— all treasures that little ones love to collect. Colorful autumn leaves like maple, oak, and chestnut are especially lovely color combinations, perfect for decorating.
Once you're back from a walk with the kiddos with your collected "treasures:" rocks, twigs, leaves, acorns, tall grass, pinecones, autumn flowers, etc. Now what? It's time to get to work making creative masterpieces with the kids!
Easy Autumn Crafts With Natural Materials for Kids
Acorn Figures
These chestnut figures or acorn figures are some of the most adorable autumn crafts! With the help, the little ones drill holes in chestnut or walnut representing the torso. Short pieces of toothpicks or matches, which represent arms and legs, are inserted into the chestnut. Two smaller chestnuts or acorns cut in half can be the feet. An acorn or smaller chestnut forms the head. Add a touch of chic with the addition of an acorn with a cap. A beechnut can also work!
You can craft animals in the same way. Horses, squirrels, and giraffes are also a fun idea! You can use a toothpick or match to create a long neck. Adding googly eyes can give the chestnut figures some extra character.
An Autumn Collage
Toddlers and preschool kids can also create a picture with glue or mod podge and collected and pressed leaves. Encourage them to think outside the box and create familiar figures from the leaves' shapes! They can create pictures of people, butterflies, pets, anything they can think of! We love this collage from @slowly_we_go.
Window Luminaries
We love these ideas from Heidi at @twigandberry_homeschool! Start by collecting leaves and pressing them for a few days between books. For the "window," lay out your leaf design on wax paper, then place another piece on top and iron the waxy sides together, so they stick. Take some thin, flexible branches (willow and birch work well) and make a "frame" for your luminary by fastening the edges together and secure with a wire. Hot glue your window to the frame, then cut off the edges. Hang your suncatchers in the window to see the sunlight light up the beautiful colors in the leaves!
Crafting With Natural Materials for Kids of All Ages
Chestnut Garland
For this one, a parent will probably have to help. Although, older children may be able to drill the holes themselves with supervision. Thread the nuts on a string (or twine for a rustic look) to create a beautiful chestnut garland. For some extra sparkle, dip them in glue, then glitter! Feel free to incorporate other natural materials you can find, like acorns or fall leaves. Your bunting decorations will be the star of the show and will change the ambiance from bright summer florals to autumn colors.
Autumn Wreath
With a hot glue gun, your child can also glue different natural autumn materials together to create a door wreath. All you'll need to purchase from the craft store is a wreath frame or base. My family likes to make the autumn wreath base made of sturdy grapevines from the garden.
Paper Crafts With Autumn Natural Materials
DIY Stationery and Cards
You can use this technique for all other types of paper, especially card making. A designed leaf motif also looks very pretty on invitations to a children's birthday party in autumn. You can even use a paper punch to make leaf cutouts in fun shapes that you can mod podge to your card.
Scrapbooking
Keeping a scrapbook is a great way for teenagers to express their thoughts, memories, and emotions. Scrapbooks can also be a great way for teenagers to use their creativity. They can capture memorabilia of a family trip to the national park with laminated autumn leaves, flyers, tickets, and photos. Laminating helps to preserve the leaves, which keeps the scrapbook beautiful.
While rubber stamping is a common scrapbooking method, it also works well with leaves! Start by painting the leaves with watercolors. Then briefly put the leaves on an old newspaper to remove excess color. Afterward, press them firmly onto your scrapbook page. The delicate veins of the leaf leave a cool impression. This is a great way to decorate the background of pages and create a unique, natural look.
Crayon Rubbings
Sure, crayons are great for a doodle or drawing on yet another printable coloring sheet. But another idea is to put an autumn leaf under your sheet of paper and then rub it with a colored pencil or crayon. Even young children can enjoy seeing an imprint appear. Try it on pastel-colored paper, too! Then, use a pencil or sharpie to trace the outline of a leaf. This is great for practicing fine motor skills, as they have practice using just the right amount of pressure on the paper to get an imprint.
Gather Your Natural Materials and Start Making Autumn Crafts!
Autumn crafts with natural materials are a simple yet fun activity for everyone, art lovers and novices alike. It can provide hours of enjoyment, especially on a rainy day when you're snuggled under a cozy blanket with the aroma of pumpkin spice from your artisan coffee filling your house.
Do you have any ideas for DIY autumn crafts with natural materials for kids this autumn? Share your ideas and creations with the ones you love on FamilyApp! And don't forget to make space on the fridge for some new artwork!