Tips for Kids Cooking With Grandma
Few childhood memories are more precious than those of cooking with grandma. Whether it's learning how to make the best lasagna or classic apple pie, share your stories and make some great recipes together!
Spending time with grandparents is one of the most important parts of childhood. Whatever the activity, time with elders besides their parents is an important part of a child's development! And few things can provide the necessary bonding quite like cooking with grandma. Whether it's homemade cookies or heart-healthy casserole, time in the kitchen is a great way to learn grandmother's story!
Jump to Recipe
Is Cooking With Grandma a Bonding Experience?
Of all the traditions that a grandchild can share with their grandma, cooking together is one of the best. There are many recipes that are passed down through the generations and baking or cooking them together can be meaningful. If there's a story behind a food dish, it can be a great way to learn about grandma's history!
Of course, there is also the automatic bonding that comes with spending time in the kitchen. It can help to learn teamwork, build trust, and truly engage with a different generation! Plus, learning how to prepare a homemade meal teaches kids a useful life lesson. Share your tips for cooking with grandma on your favorite family app.
What Are Some Tips for Cooking With Grandma?
Cooking with grandma can make for a memorable tradition, but it's important to keep a few things in mind. The following tips will ensure you can make the most of it:
Allow Extra Time – The experience of cooking together is all about making the effort. Instead of rushing it, ensure that there's plenty of time for children to learn in the kitchen. This will leave room for developing new skills and having an unexpected conversation.
Expect Some Mistakes – We all know that cooking mistakes don't always mean catastrophe. However, when children start cooking with grandma something's probably going to go wrong. Instead of worrying about it, let it be a part of the fun!
Teach a Lesson – One of the most important parts of being an elder is teaching our kids about the world. Whether you want to teach them about the importance of fruit and vegetables or eating their breakfast, use the opportunity!
Celebrate Culinary History – There's nothing quite like learning a traditional family recipe while cooking with grandma. Whether it's perogies, ravioli or apple pie, there's no better way to commemorate history. Share your own cooking ideas on FamilyApp!
What Can You Cook With Grandchildren?
Depending on your family's tradition, there are meals that you as a grandmother may be set on making when you're in the kitchen. Here are a few of our most delicious ideas for a child cooking with their grandma!
Lasagna – There are few oven dishes that will be met more favorably than this one! While this classic is old school, you can add your very own twist to it. With Italian sausage, fresh basil, and ricotta cheese, you can even add special ingredients of your own!
Chicken & Dumpling Soup – This great recipe for a cold day will give kids an opportunity for plenty of chopping when cooking with grandma! Since there are carrots, peas, celery, and potatoes, this creamy soup may become a family fixture. Knowing how to cook a soup will also help kids to keep a healthy lifestyle.
Apple Pie – There's no dessert quite as classic as grandma's delicious apple pie. Instead of buying a piecrust, you can teach your grandchildren your very own tricks for baking the flakiest crust. Share your best recipe on your favorite family app!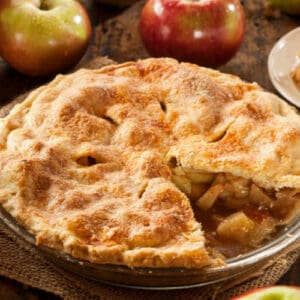 Classic Apple Pie
Simple and delicious, you'll love making this classic with your family!
Ingredients
2

pre-made pie crusts

6

cups

thinly sliced, peeled apples ( about 6 medium)

3/4

cup

granulated sugar

2

tbsp

all-purpose flour

1

tsp

ground cinnamon

1/4

tsp

salt

⅛

tsp

nutmeg

1

tbsp

lemon juice
Instructions
Classic Apple Pie
Heat oven to 425°F. Press 1 pie crust firmly against side and bottom of an ungreased 9-inch glass pie plate.

In large bowl, gently mix the filling ingredients; pour into crust-lined pie plate. Top with second crust. Wrap extra top crust under bottom crust edge, pressing edges together to seal; flute the edges. Cut slits or shapes in several places on top.

Top with second crust. Wrap extra top crust under bottom crust edge, pressing edges together to seal; flute the edges. Cut slits or shapes in several places on top.

Bake 40 to 45 minutes or until crust is golden brown or apples are tender. Cover edge of crust with 2 or 3 inch wide strips of foil after first 15 to 20 minutes of baking to (this prevents excessive browning).

Cool for at least 2 hours before serving.
Nutrition
Calories:
324
kcal
Carbohydrates:
54
g
Protein:
3
g
Fat:
11
g
Saturated Fat:
4
g
Polyunsaturated Fat:
1
g
Monounsaturated Fat:
5
g
Sodium:
248
mg
Potassium:
147
mg
Fiber:
4
g
Sugar:
29
g
Vitamin A:
52
IU
Vitamin C:
5
mg
Calcium:
17
mg
Iron:
1
mg
Time to Start Making Memories
Many special memories are made with grandmother, and some of the best ones happen in the kitchen. Whether sharing cooking tips or making a traditional recipe, there's a lot to be learned around the stove! There's nothing quite like bonding over cooking a meal together. Do you have any cooking advice for other grandmas to share? Tell us about them in our comments!