14 Awesome Easter Egg Hunt Ideas for All Ages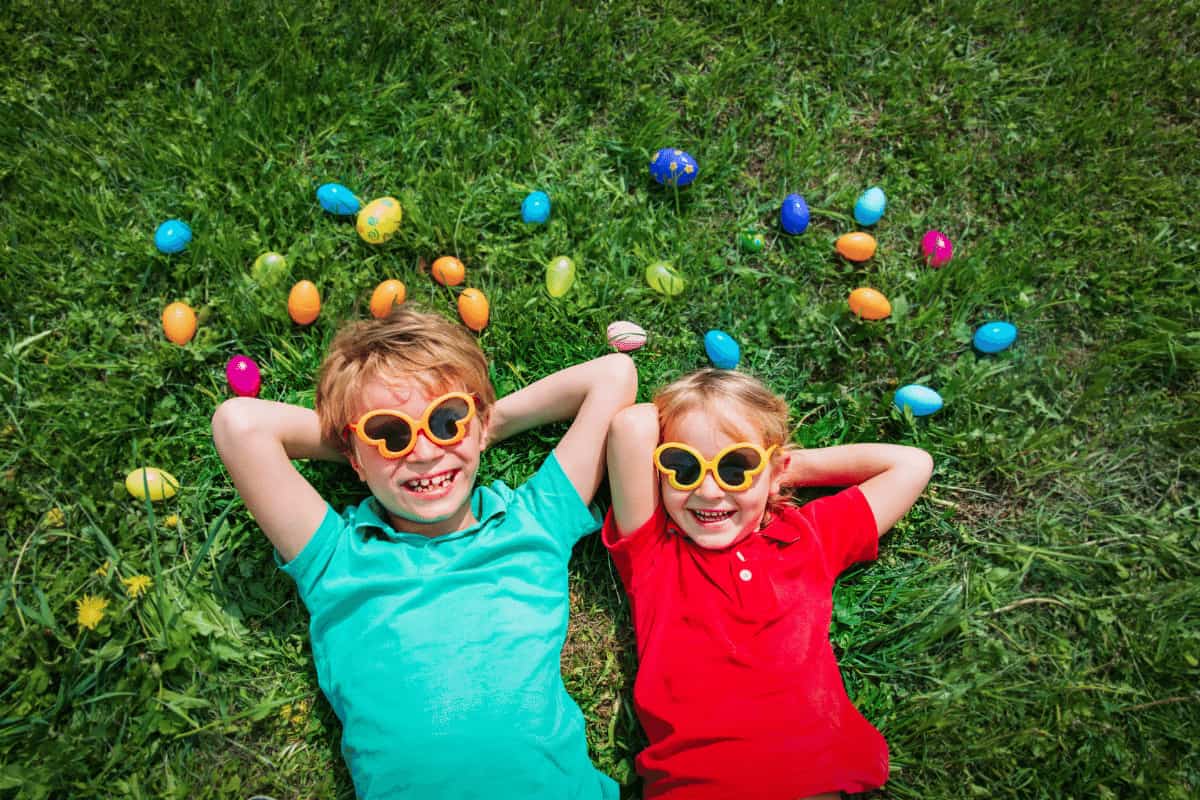 It just wouldn't be Easter without a big ole' Easter egg hunt. Whether the colorful eggs are filled with candy or a special prize, one of the best feelings is watching kids find all the eggs on Easter Sunday. Check out some of our favorite Easter egg hunt ideas that break the mold, but hopefully, none of the eggs.
Our Favorite Easter Egg Hunt Ideas
With a traditional Easter egg hunt, it's all over in a matter of seconds, and it feels a bit anti-climactic. But with these fun ideas, little kids and big kids alike will enjoy seeking eggs filled with treats, prizes, and activities of all kinds!
1. Find Your Egg or Find Your Color
With little ones, an Easter egg hunt can quickly turn into a meltdown when the 10-year-old grabs 30 eggs and the 5-year-old is left scrambling for the three that are left. While I'm convinced this is a universal experience that everyone needs to live through at least once, we have some helpful ideas on avoiding it. If you buy a multi-color pack of plastic eggs. Assign each child a color and explain that they can only collect eggs of their color. If you don't have enough variety of color, write the older kids' names on eggs with Sharpies!
2. A Treasure Hunt Adventure
While the free-for-all method is always fun to experience with Easter egg hunts, sometimes a little bit more structure, logic, and mystery add to the fun. Hide eggs with riddles inside! You can also include a small piece of candy for them to collect along the way, or you can make the end prize something extra special!
Outdoor Clues for Kids:
Fill me with seeds and put me up high. Diners like spring robins will come from up in the sky. (bird feeder)
I am a box with a door. I'm where you'll find mail and maybe something more! (mailbox)
Fill me up at the kitchen sink if you see the plants need a drink! (watering can)
You can reach new heights by swinging on my seat–a break from boring chairs is always a treat! (swing)
I sit very still when I don't have a rider. Check on my tires to get what you desire. (car)
Guests clean their feet as they pass by me. For your next clue, go check and see! (doormat)
I keep you safe inside the yard, so finding me on this (wooden) wall won't be hard! (fence)
Easter Egg Tag
I found this idea from "Get Your Holiday On." It sounds like the perfect way to get out all that extra energy the kids will have after the initial Easter basket candy sugar high!
One player will wear an Easter shirt (usually the oldest child). That shirt will have goodies, treats, Easter eggs, and a golden egg attached with adhesive, tape, or velcro. The designated player will run around the yard, and the kids will chase after that player and catch as many goodies as they can before they're all gone!
Easter Egg Scavenger Hunt
Turn your Easter egg hunt into a fun-filled race to find things and complete activities! Kids can look indoors and outdoors for Easter-themed items, and the first one to complete the whole list wins! Here are some suggestions for tasks and things to look for:
find Jelly Beans
find a plastic easter egg
hop like a bunny
find a decorated egg
find Easter grass (crinkle paper)
peep like a chick
find a stuffed animal (bonus points for a bunny)
Easter Egg Hunt Ideas for Older Kids (and Adults!)
Younger kids aren't the only ones who get to enjoy egg hunts! With these modified ideas for Easter egg hunts, older kids, teenagers, and even adults can participate in the excitement!
Flashlight Egg Hunt
When kids get older, sometimes a traditional easter egg hunt gets to be old hat. The Easter bunny starts thinking about retirement, too. When I was a teenager, my parents invited over family friends (including other teenagers) for Easter dinner and dessert. After the feast, we would cut off all the lights in the house and yard. Every person received a flashlight, and we'd search for easter eggs in the nooks, crannies, and high places of our back and front yards. It was always a fun way to end the Easter weekend, and as the organizer, my mom had a blast watching the older kids enjoy a tradition in new ways.
Neon and Blacklight Egg Hunt
Paint your Easter eggs with blacklight-reactive paint, wait for the sun to go down, and hand out black lights! You can get neon acrylic paints from any craft store, and it's a fun way to switch things up from the regular pastels. Just make sure to count them! If you are using hidden eggs that are hard-boiled, make sure they're all found! You don't want to find a hard-boiled egg in the yard weeks later! Yuck!
No Candy? No Problem!
If the kiddos have already opened their Easter baskets before the egg hunt, chances are, they may just go into candy overload if they eat any more. Plastic eggs don't have to have candy in them! Fill your plastic eggs with one of these alternative suggestions that the kids will love:
Quarters: I was quite the entrepreneur as a little kid, so I would be much happier with some extra pocket change than candy.
Small toys: Amazon sells pre-filled eggs with anything you could imagine, from tiny plush toys to race cars.
Puzzle pieces: If your kids are avid puzzlers, then this may just be the activity for them. Put a puzzle piece in each egg and have them return to one specific spot to put it all together!
Legos: Do you have Lego fans at your house? Walmart sells pre-filled eggs with mini Lego excavators and construction vehicles!
Pre-packaged Snacks: If you purchase larger plastic eggs, fill them with small, snack-sized packs of pretzels, fruit snacks, or gum.
A golden ticket: One of my favorite Easter traditions for our egg hunt–we always hid one enormous, special egg with something different and unexpected inside. This bigger prize can be a golden ticket (worth special privileges) or even a gift card to 5 Below!
Egg-stravaganza: When the finder finds a plastic egg, they can bring it back to you and do the task written on a slip of paper inside! After they've done the task, they can either pick out a piece of candy or a toy or give them tickets that they can turn in for something bigger at the end of the hunt!
Hosting The Best Easter Egg Hunt Ever
Are you ready for the big event? Whether you have a big party or just intend on switching things up for your kiddos this year, share these fun egg hunt ideas with the people you love! And if you're hosting a party, check out these ideas for tasty appetizers that your guests will love!