Williamsburg Gymnastics Owners Pete and Cindy Walker and their four kids don't have a swing set or a trampoline or a backyard zip line. They have a gym. A real big gymnastics gym. And together, they're serving the community with gymnastics and life skills, on and off the beam.
Williamsburg Gymnastics: Team Family
The Williamsburg Gymnastics program began in 1973 under Cliff Gauthier as a way to provide gymnastics instruction to the WJCC community. The college men's team coached in the basement of Kaplan Arena at The College of William and Mary.
Pete took over the program in 1996 when he became the assistant coach for the men's team and started youth competitive teams. The recreational program and the teams outgrew our space at W&M. We built our new gym, an 18,000 sq. ft. state-of-the-art gymnastics training facility for men and women's gymnastics.
We are the official "Home Training Facility" for the W&M Gymnastics teams and believe in the true "Scholar-Athlete." Most facilities in the country cater to women's programs, but we have top-of-the-line training and competitive equipment for both men and women. We're able to train all levels of athletes, provide a great space for recreational classes as well as cheer tumbling, trampoline training, open gyms, agility (Ninja) training, meets (youth and collegiate), and birthday parties.
The entire family is involved in running the gym – a true "Mom and Pop" shop. This gym is a definite blessing. The gym allows for us to be together as a family. And it allows us to provide for our family and the community.
Williamsburg Gymnastics Team Marriage
We never planned on working together! I was doing my dissertation when we got married and then became pregnant quickly into the marriage. Pete said, "Hey, I need some help in the gym with x group. You're a teacher; come help me." That's how it all started.
He taught me how to spot, and I learned the routines, and away we went. My little group of girls all qualified for states and even placed on events (It had nothing to do with me, but I claim it all the same). It was a lot of fun to learn to grow differently for me, and it allowed us to be together.
Pete is really an amazing teacher. We often call him the Pied Piper in the gym. He can teach anyone anything. He's the quintessential coach – loves the gym, loves working with the kids, and always thinks about making changes to the workout.
I'm a Music Therapist/Music Educator by trade, and I worked in the Virginia Beach school system before we got married. I like to get silly and crazy with the kids, so we're similar in that way.
Our biggest struggle working together was Pete's aversion to technology. It took me 5 years to get him to let me set up a gym website. We used to register everyone by phone, and I would sit in the hallway with a yellow pad of paper with a list of who'd registered and take their money. I like to think that I ushered Pete into the technological era.
Williamsburg Gymnastics Gym Family
When we first got married, we only had the two of us to worry about, which was super easy. Then you add three kids in six years and a fourth, four years later, and life became very crazy, very fast.
We first decided to homeschool our kids because it's hard to argue with a man who wants, desperately to be with his kids. Pete has a degree in Elementary Education from W&M; I am ABD for my Doctorate in Education, so we agreed to try homeschooling year to year. This allowed Pete to be with his family and me to work on the business side of things for the gym. He did school with the kids during the day and then coached afternoons, evenings, and weekends. We did this for 10 years.
Then we eventually put the two oldest into school but kept the other two home. Our third child is training on the elite path for gymnastics, and homeschooling was still beneficial for travel to meets and extra training time. Last year we decided to put our youngest in school, and she thrived.
This year, they have been amazing at adapting to virtual learning though they would all rather be in the classroom. Luckily, we could come to the gym during the lockdown, and the kids could burn off energy. They were great at helping us with our team Zoom workouts, demonstrating moves, and helping to pick the music. Our kids know this is a family business, and we all have to do our part to make it work. They want to help, most of the time:)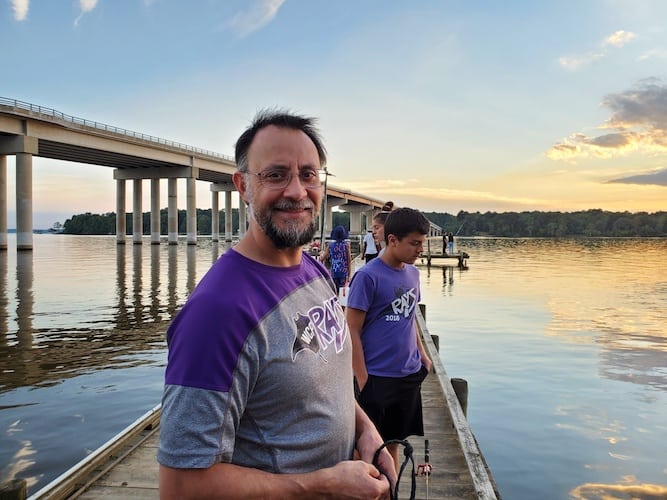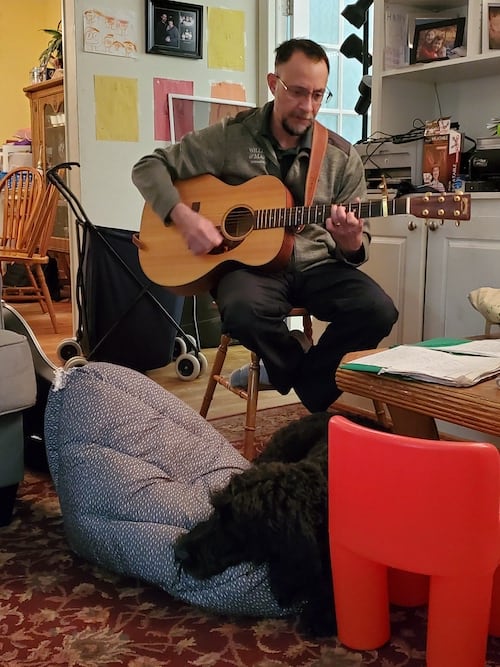 Gym Kids
Our kids are total gym rats. They grew up going to the gym 6-7 days a week. When the third one arrived, the college men's team treated him like their mascot. They taught him skills that they were doing as elite-level athletes. I would cringe seeing it, but Pete would just laugh and say it was fine.
Each of our kids has done competitive gymnastics. The older two transitioned to swimming year-round, but the younger two are still competing in gymnastics. They all coach, clean, organize events and do landscaping to maintain the facility we now own.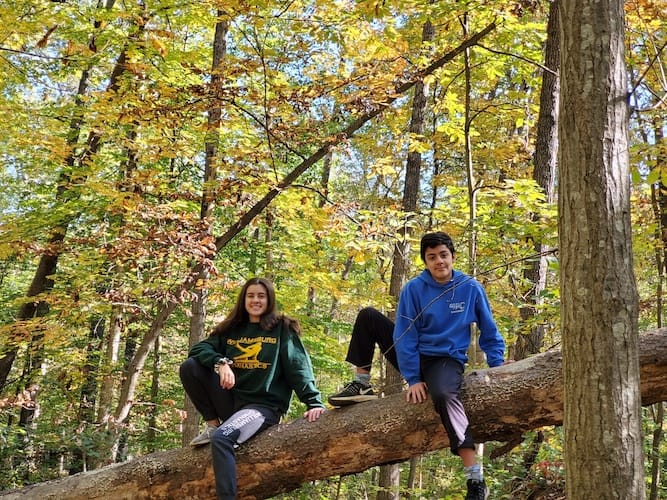 Gym Parents
Being a coach/teacher has helped us be better parents. We tell people who want to join our team that we run our business the way we run our family. For us, it's faith first, family second, school third, and gymnastics fourth.
We care more about the person than the gymnast. Pete and I use the skills from coaching to help us lead and guide our own kids in whatever they're working on in life. We encourage our kids to push through struggles and break down whatever is blocking them from understanding or growing.
Then we take the patience and motivation we use at home and use it in the gym, and vice versa. The kids in the gym often think of us as another set of parents, and we think of them as our own.
Williamsburg Gymnastics Fundamentals
Not everyone will be an elite-level gymnast. And not everyone will go to the Olympics or even go to college and do gymnastics. We are an elite training facility for men's and women's gymnastics that is dedicated to training all levels of gymnastics from the parent-tot classes to the Elite level gymnast training to compete at the collegiate level.
Because what you get from gymnastics, no matter what, is dedication, determination, perseverance, work ethic, time management, and overall life skills. When you're learning a skill in the gym, you're trying it over and over again to perfect your ability. Gymnastics helps with so many fundamentals for other sports: body and spatial awareness, flexibility (great for injury prevention and skill development), and strength. At a minimum, it's a great place to begin your athletic journey.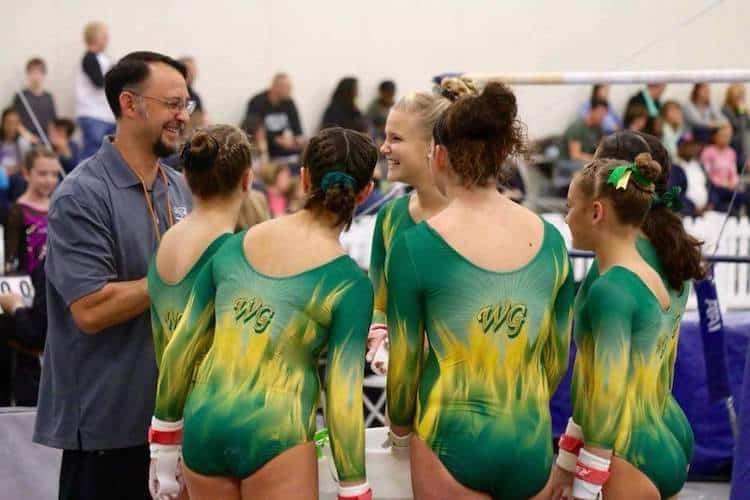 Team Family Good Days
A good day comes in many, many different forms. For us, it is more of a mindset than specific activities. A GOOD day can be morning coffee (a must), kids getting up and doing school, going to work, great classes in the gym, kids getting new skills in the gym, going home, praying, and going to bed to start the next day.
Another GOOD Day could be hosting a gymnastics meet. A GOOD day could be going to church, grabbing donuts, change back into our PJs, watching movies, or playing games as a family. One of our favorite days is going to the pool in the summer, cooking out, and then getting dessert afterward. We all like to play music, and it's a huge part of our lives. Pete and I actually met in the church choir in Virginia Beach – Pete played the guitar, and I was singing.
Join the Family
We're definitely open for business, offering recreational, preschool, cheer tumbling, and trampoline and tumbling classes. On days that schools are closed for holidays and Spring Break, we've added mini camps. We're always looking for ways to offer new and fun things for our gym families and community in our facility. You can find classes and connect with the Walkers and Williamsburg Gymnastics on their website and on Facebook @wmbggym.