Wall Painting Ideas to Spruce Up Your Space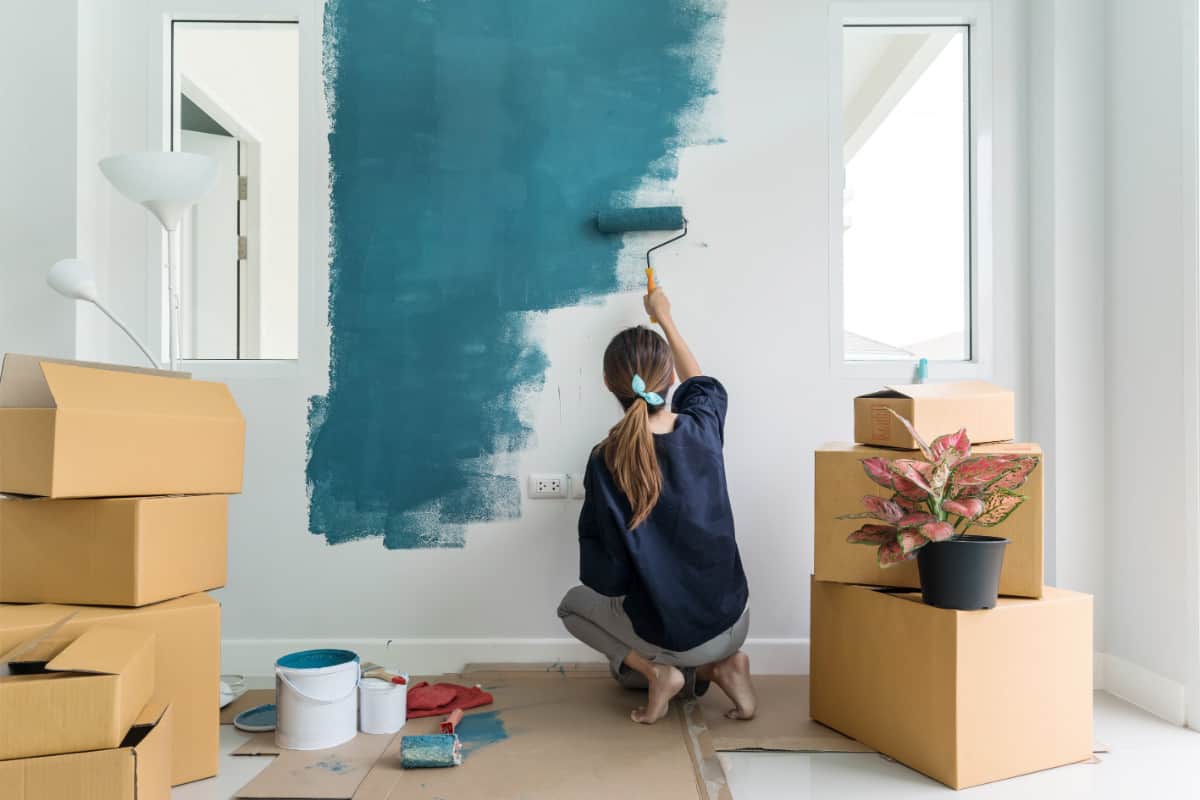 Choosing a wall painting idea is no easy task. Whether you're looking for a way to spruce up the bedroom or looking to add some dramatic decor to the living room, a new coat of wall paint can be the perfect solution. From accent walls to dramatic murals, check out these DIY wall painting ideas you don't want to miss.
*This article contains affiliate links. It doesn't cost you anything, but if you click on the link and buy something, we'll earn a small commission to help our writing team create more great articles.*
How Do I Choose a Room Color?
Think about what you want your space to say and what kind of atmosphere you're trying to create. What will people be doing in the room, and how can color be used to set the tone? Colors are always a matter of taste and personal style, but when in doubt, consider a neutral.
For a bedroom, blues and grays are typically colors that promote relaxation, calm, and sleep.
Dark, moody colors can bring a dramatic, yet cozy feel to living rooms, libraries, and dens.
Warm neutrals like earthy shades of gray can give rooms a cozy depth.
For a playroom or kids' room, bright, cheery statement colors like orange and yellow can be a playful way to stimulate creativity and imagination.
Neutral blues and olive green are always a classic choice for kitchens and will stand the test of time. However, recently there has been a trend in brighter shades of blues and greens, and even mustard. These colors give a 1960s retro feel to kitchens without compromising modern style or amenities.
One of the most important aspects of wall painting is choosing the right type of paint. Check out these tips for selecting the right kind of paint for your needs from Joey Corona, a senior merchant at The Home Depot.
Easy Wall Painting Ideas
Accent Wall
Sometimes, all it takes is an accent wall to change the whole dynamic of a space. In my dining room, we have a deep red that really brings some drama to the mood (Since we only eat there on holidays or special occasions, why not have a little drama?) While you generally want three neutral walls and one pop of color, don't be afraid to play with different color combinations!
Chalkboard Wall
This gives a dark, dramatic look to any space and adds whimsy to a house with kiddos. I actually had an entire wall of my house in college covered with chalkboard paint. We would have visitors sign it, write funny quotes we heard during the day, or give encouraging messages to each other. It could be a great way for kids to express their creativity, keep track of chores or homework assignments. You can also turn your chalkboard wall into a magnetic wall!
Color-blocked Walls
Color-blocked walls are a great way to give your interior decor some personality. Also, they typically only require a few hours and basic painting skills. Since you're only painting part of the wall, it's budget-friendly and a great way to use leftover paints or samples!
Wallpaper
In all fairness, this doesn't count as one of the wall painting ideas. But it's still an option when deciding how to decorate your walls. Wallpaper is a trend that ebbs and flows. Recently wallpaper has made a comeback as midcentury re-emerged in decorating trends. Wallpaper streamlines your entire aesthetic and pulls together your look, adding a unique blend of color and texture.
Unique Wall Painting Ideas
Stenciled Walls
If you have a steady hand and a vision, a stenciled wall can be a great way to achieve that one-of-a-kind accent wall you're looking for. It takes a lot of patience and precision, especially with geometric patterns. Check out this option from Royal Design Studio!
Textured Roller
This isn't the most seamless method, but test it out on a smaller surface first to see if it will give the desired effect. It could be fun for kids' bedroom walls, too, because they come in many different animal prints.
Murals and Decals
Do you see your wall as a blank canvas ready to be filled? If you have a specific vision for a mural or pattern, plenty of companies have decal murals that can bring your inspiration to come to life. You can even find them on Etsy! Whether it's a beautiful landscape, a botanical pattern, or an abstract design, make your wall art into a show-stopper. If you're feeling adventurous, you may even attempt a beautiful mural with acrylic paints yourself. As a formal mural painter myself, I would venture to say that painting a mural is not for the beginner artist. If you want something one-of-a-kind, but you don't have much experience, try a hand-painted mountain mural with different shades/gradients of blue.
Ombre Wall Painting
Ombre is the blending of one color to another. So, for this, choose two hues that will blend well. While you can use different shades, you can also use one color. Continue to add white so that it blends into a lighter pastel shade as you paint. Instead of acrylic paint, you may want to use oil-based paint so that it dries slower and you can optimize blending.
Why Just the Walls?
Some unique color trends don't have to do with walls! Consider painting your kitchen cabinets or even an accent color on the ceiling. A light blue ceiling painted with a high-gloss sheen in a coastal house gave an ethereal look to the room, especially with lots of natural light.
A personal anecdote: When given a chance to choose his own wall design and paint, my teenage brother chose a dark red ceiling with black and white diagonally striped walls. Please, for the love of Joanna Gaines and Nate Berkus, do NOT make that choice.
Paint Color Suggestions From the Experts in Wall Painting
If you're not sure where to start when picking a paint color for your room, check out some of the larger paint company's "color of the year." They have plenty of wall painting ideas and color trends that will make a statement in your interior decor.
Pantone: "Illuminating" and "Ultimate Gray"
Behr: "Canyon Dust"
Minwax: "Vintage Blue"
Rust-Oleum: "Satin Paprika"
Benjamin Moore: "Aegean Teal"
Sherwin-Williams: "Urbane Bronze"
Here are some tried-and-true colors that designers and paint experts can't get enough of:
Memorybook Blue 4007-5C by Valspar: Sue Kim, color marketing manager at Valspar
Rocky Coast 1595 by Benjamin Moore: Jessica Davis of Nest Studio
Calke Green 34 by Farrow and Ball: interior designer Jeff Andrews
Tony Taupe SW 7038 by Sherwin-Williams: John Cialone, John Stringer Design Partners
Classic Gray 1548 by Benjamin Moore: interior designer Mary Hickey
Naval SW 6244 by Sherwin-Williams: Sue Wadden, director of color marketing at Sherwin-Williams
Calamine 230 by Farrow and Ball: interior designer Summer Thornton
Glowing Apricot 165 by Benjamin Moore: interior designer Danielle Rollins
Let the Wall Painting Begin!
Are you feeling inspired by any of these interior paint ideas? When you've re-vamped your space with all new wall painting ideas, be sure to share pictures of your final wall painting design with your people on FamilyApp!