4 Healthy Brunch Ideas to Add to Your Menu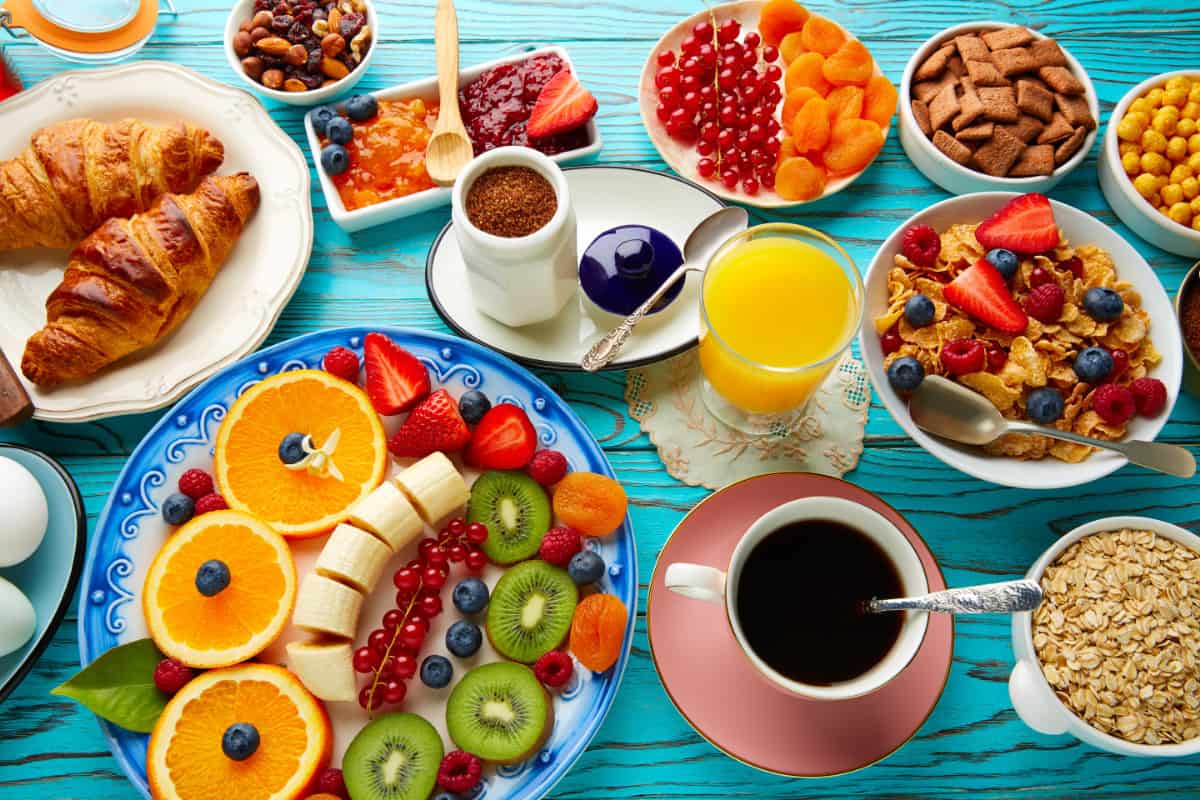 Finding healthy brunch ideas isn't always an easy task. The very nature of the meal lends itself to pancakes, French toast, and buttermilk biscuits. It's usually just a carb-fest. But it doesn't have to be that way.
Read on for some healthy brunch ideas, so you don't have to feel like you need to spend the rest of the day working off your meal doing lunges while swinging your kettlebells.
Jump to Recipe
*As an Amazon Associate, we earn from qualifying purchases.*
Brunch After a Pandemic
In the early days of the pandemic, self-care often looked like finding comfort in junk food that we craved and impulse-ordered through curbside pickup. While that may be a short-term solution, with extended self-soothing like this, it's a bit of a shock when we come to the actualization that we may not fit back into our jeans. While a little extra body fat is a small price to pay for making it through a pandemic, you may be ready to adjust your habits. That deep-dish pizza and dark chocolate were just so comforting when the world was in coronavirus chaos. It's going to be hard to quit cold turkey.
But now that we're getting vaccinated and starting to be more comfortable in small gatherings with close friends, you may be looking for ways to switch up your brunch menu, so they are low-carb and fit into a healthier diet in your preparation blitz for summer.
Healthy Brunch Ideas You Need to Try
Making a healthy breakfast or brunch does not need to be a chore. Here are some brunch recipes that make a great weekend brunch or healthy breakfast any day of the week. Instead of opting for your usual smoothies and flapjacks, try some new brunch recipes to liven up your mornings.
Baked Asparagus and Goat Cheese Frittata Brunch Recipe
Go beyond a simple quiche to make a delicious baked frittata for breakfast or brunch instead! This healthy recipe is full of flavor and protein-rich. This frittata pairs well with a healthy salad for a healthy breakfast or brunch that is veggie-filled, too!
Start by preheating the oven to 400º F with the rack in the middle. In a large bowl, beat together 4 eggs, 1/4 cup Fairlife® 2% Ultra-Filtered Milk, 1/4 tsp salt, and a generous pinch of pepper, then beat in 1/3 cup thinly-sliced basil leaves. Heat 2 tbsp olive oil in an 8 to 10-inch oven-proof nonstick skillet over medium-high heat until hot but (not smoking)
Add 10 medium asparagus spears cut into 1-1/2 inch pieces and a generous pinch of salt and pepper. Reduce heat to medium and cook, stirring occasionally, 5 minutes, then add 2 tbsp finely-chopped shallots or red onions. Continue cooking until asparagus are lightly golden and just tender, 2 to 4 minutes more. Pour in egg mixture. Cook 1 minute, then top with 1/4 cup soft goat cheese. Bake in the oven until frittata is set, 4 to 6 minutes. Using a spatula, slide onto a cutting board, then sprinkle with pinch salt and more basil. Cut into wedges. Serve warm.
Easy-to-Make Fluffiest Scrambled Eggs
Eggs are an easy-to-make healthy breakfast that is good for you and can be made in a total time of under 15 minutes. There is no shortage of healthy recipes for eggs, but this recipe for fluffy, protein-packed scrambled eggs is sure to become a household favorite. These eggs make a delicious healthy breakfast on their own. They also pair well with oatmeal, muffins, and smoked salmon for a complete and healthy breakfast. This healthy brunch recipe requires very little meal prep because there are so few ingredients.
Vigorously whisk 6 large eggs in a medium-size bowl until about double in volume and light and lemon-colored (about 1 minute). Set aside. In another bowl, vigorously whisk 1/3 cup Fairlife® Ultra-filtered Whole Milk until very light and frothy (about 30 seconds). Then gently fold the frothy milk and 1/8 teaspoon kosher salt into the fluffy eggs. Pour the egg-milk mixture into a lightly greased skillet over low heat. Let them sit for 1 minute, then use a silicone spatula to begin to gently fold the eggs over on top of themselves. Rest and repeat until cooked through. Serve with a sprinkling of salt and pepper (to taste).
Delicious Brunch Spiced Blueberry Waffles
Waffles make a great grab-and-go breakfast. If made with whole wheat flour and fruit, they can also be part of a healthy breakfast! Pair with a quiche, salad, smoothie, or yogurt and granola for a complete breakfast.
Spiced Blueberry Waffles
A whole-grain waffle that's perfect for a laid-back brunch!
Ingredients
1-1/2

cups

Fairlife® Ultra-Filtered Whole Milk

1-1/2 cups

cups

unbleached all-purpose flour

1/2

cup

whole-wheat flour

1 tablespoon

tablespoon

granulated sugar

plus 1-½ teaspoons sugar, divided

2

tsp

instant yeast

3/4

teaspoon

kosher salt

1/2

cup

unsalted butter

melted and cooled

1

tsp

pure vanilla extract

2

large eggs

separated

1/4

tsp

baking soda

1/4

tsp

ground cinnamon

2/3

cup

blueberries

plus more for serving

nonstick cooking spray

pure maple syrup

for serving
Instructions
Spiced Blueberry Waffles
In a large bowl, whisk together all-purpose flour, whole-wheat flour, yeast, salt, and 1 tablespoon sugar.

Heat milk to lukewarm (95ºf to 105ºf). Stir warm milk, butter, and vanilla into dry ingredients, just until combined.

Tightly cover the bowl with plastic wrap and let the batter stand at room temperature, at least 1 hour or overnight.

Heat waffle iron until very hot. Meanwhile, whisk egg yolks, baking soda, cinnamon, and remaining 1-½ teaspoons sugar into the batter.

Beat egg whites to medium peaks, then fold into batter. Then gently fold in blueberries.

Coat waffle iron with nonstick spray and pour batter into waffle iron (amount of batter needed will vary according to machine). Cook waffles until golden and cooked through (About 5 minutes).

Serve immediately, or keep warm in a 200ºF oven while you cook remaining waffles. Pass around extra blueberries and maple syrup at the table.
Nutrition
Calories:
189
kcal
Carbohydrates:
11
g
Protein:
3
g
Fat:
9
g
Saturated Fat:
5
g
Polyunsaturated Fat:
1
g
Monounsaturated Fat:
2
g
Trans Fat:
1
g
Cholesterol:
49
mg
Sodium:
185
mg
Potassium:
76
mg
Fiber:
1
g
Sugar:
2
g
Vitamin A:
298
IU
Vitamin C:
1
mg
Calcium:
22
mg
Iron:
1
mg
Healthy Brunch Hot Chai Tea Latte Recipe
Beverages like orange juice and smoothies are a part of many brunch menus. But to make your healthy brunch more interesting, add a chai tea latte that is full of flavor. This is a quick breakfast idea that is also great on the go. Homemade Chai tea lattes are better than anything store-bought!
Combine 3 cups hot black tea (brewed with 4 bags), 1/2 tsp ginger, 1/4 tsp allspice, 1 tsp cinnamon, and 6 tbsp brown sugar in a saucepan. Heat 1 cup Fairlife® 2% Ultra-Filtered Milk for 30 seconds in the microwave. Blend into the tea mixture slowly while stirring. Pour and enjoy!
The Healthy Brunch Sides
To make any brunch seem like an experience, be sure to add some fresh fruit, fruit salad, or whole-grain muffins on the side! Or, get in on a favorite brunch trend and serve nutrient-rich avocado toast on whole-wheat bread. Other brunch favorites that pair well with these healthy brunch recipes are make-ahead overnight oats, whole grain oatmeal, low-calorie smoothies with veggies thrown in, or Greek yogurt topped with granola or oats. You can also add some mashed sweet potato or avocado to pack some nutrition, color, and interest to your brunch!
What are your favorite ideas for a healthy brunch? Share them with your friends and family on FamilyApp! Better, yet, invite them over to enjoy a meal together.