How to Design Your Own Backyard Ninja Course
When you design your own backyard zipline and ninja course, you make staying home, and outdoors an adventure. Read on for tips to constructing your own course, with a few purchases, trees, and enthusiastic kids.
Zip Lines for the Backyard Ninja Course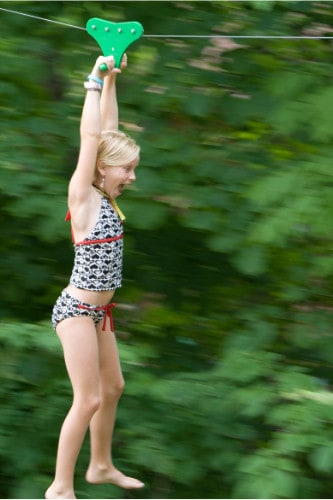 I grew up going on a zip line at summer camp. We'd put on the harness down by the lake, hike up a mountain trail, zipline off a platform and ride back into the water. There were two zip lines, and friends could ride side by side, attempting to race. This activity was the high point of free time every afternoon.
With backyard zipline kits, you get everything you need to create this sense of adventure for kids at home.
Because this isn't camp, your zipline needs two anchors, usually trees. You connect the zipline cable between the trees and then add the stop block and trolley. Finally, you need either a seat if it's a quicker ride and closer to the ground or a harness.
Kits vary in price and complexity based on the length of the cable. You need different equipment depending on how far you want to go when you zipline. Often you can save money, and shipping, by purchasing a cable-free kit. You obtain your own 1/4 inch cable, and the kit has everything else you need.
Backyard Ninja Courses
Backyard obstacle courses create fun challenges for kids to overcome without leaving home. Often, these are called ninja courses, based on the popular show American Ninja Warrior.
Little ones may not have the strength to master these obstacles quickly. But if you're looking for long-term adventure and strength-building for kids and teenagers, a backyard Ninja Course could be shouting your name. With weight limits around 250 lbs, adults can often participate in the fun challenges as well.
Ninja lines come with various attachments, similar to what you can find on playground sets, but with more elaborate ones. You can get ninja course kits with monkey bars, gymnastic rings, and rope knot handles, among other attachments.
Swings are also popular additions to obstacle courses, but not your everyday school playground swings. Who needs a seat when you can fly on the Original Swurfer or soar through the air on the Orbit Tree Swing?
Slacklines
Slacklining is growing in popularity with kids and families. What is a slackline? It's a two-inch-wide stretch of nylon that you anchor between two trees using a ratchet tensioning system. This simple system produces endless balancing challenges.
For beginners, position the slackline close to the ground and ratchet it as tight as possible. Start by balancing on one foot at a time, holding the rope overhead. Learn to balance on each foot before trying to walk. With step-by-step practice, slacklines promote balance, core strength, develop coordination and improve focus.
Since they're simpler and have less hardware than zipline kits or other backyard obstacle course elements, you can easily take slacklines anywhere.  In fact, I've seen adult "slackers" put them up temporarily at parks and on college campuses for an afternoon or just an hour.
You can attach a slackline to your ninja courses as well,  adding challenge and balance to overhead obstacles.
First Safety, Then Endless Fun
When designing your backyard course, be creative, and be safe. Follow all guidelines and installation rules. Pick and choose different elements for your kids. And then let it grow with them. Start simple and add on obstacles as kids are able to meet new challenges. The adventure awaits you, right in your own backyard.