Get Pumped for Pancake Day: Celebrating Fat Tuesday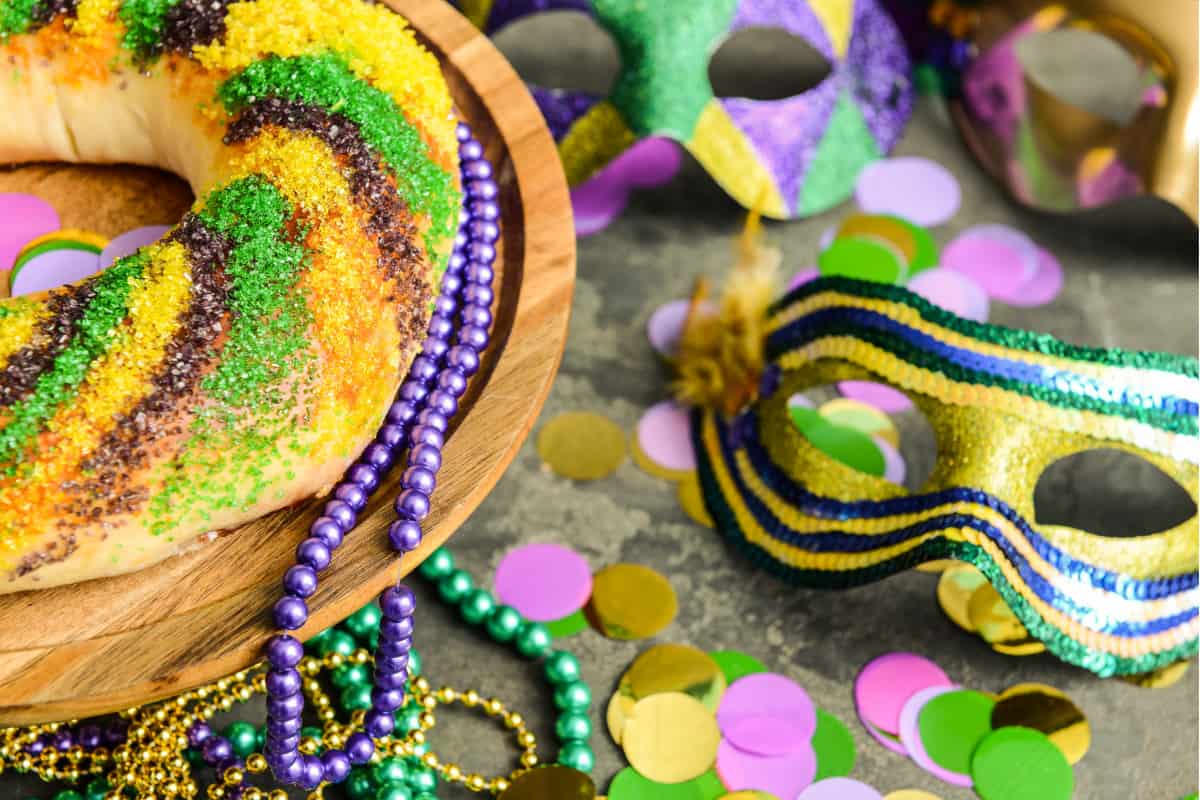 Mardi Gras is one of the most exciting and vibrant holiday seasons, especially for cities with rich traditions surrounding the holiday. One of our favorites? Pancakes on Fat Tuesday.
The Carnival season begins on Twelfth Night (January 6th–also known as Epiphany) and culminates on Mardi Gras, which is French for "Fat Tuesday." It's also known as Shrove Tuesday, Pancake Day, or Carnival Tuesday, depending on where you're from.
In New Orleans, Louisiana, and Mobile, Alabama, marching in parades, parties, fancy balls, wearing fun costumes, and Krewes tossing colorful beads are all on the schedule. Oh, and fried foods, indulgent beverages, and King Cake are all on the menu. This Carnival is steeped in tradition and celebration, and one of my personal favorites: eating rich foods loaded with fat and sugar.
Why Do We Eat Pancakes on (Shrove) Fat Tuesday?
Fat Tuesday or Shrove Tuesday is the same observance as Mardi Gras in that observers eat richer, fattier foods as a last indulgence before the 40 days of Lent until Easter. During this season, Christians would typically abstain from certain indulgences. For those who observe Shrove Tuesday instead of an entire Mardi Gras season, that richer, fattier food is pancakes.
In 600 A.D, Pope Saint Gregory prohibited Christians from eating all meat and animal products during Lent. St. Augustine of Canterbury began to enforce those rules in England, so Christians chose to make pancakes on their last day to use up all their rich foods such as eggs, milk, and sugar before Ash Wednesday! Thus began the Fat Tuesday tradition.
The term "Shrove Tuesday" comes from the Old English term shrive, meaning "to confess." Christian tradition is that people not only physically clear indulgence from their systems, but spiritually too. Confession is typical before Ash Wednesday. That way, Lent begins with a "clean plate."
What Are Some Fat Tuesday Traditions?
Along with pancakes, paczkis are a famous Polish pastry eaten on Fat Tuesday. While these pastries are popular in the US, the custom of eating pancakes in the United Kingdom takes place on such a massive scale that the tradition has basically been renamed "Pancake Day."
One of the most fun traditions is having "pancake races." The most famous pancake race in England has been held annually since 1445 in Olney at Buckinghamshire. The legend goes that a housewife was once so busy making pancakes that she lost track of time. When she heard bells ringing for the church service, she ran out of the house. She was in such a hurry that she still was carrying her frying pan with pancakes. The modern English event pays homage to this legend. Contestants must carry a frying pan and toss pancakes along the racecourse. Afterward, the town holds a church service.
What Are Some Good Pancake Recipes for Fat Tuesday?
To begin your Fat Tuesday celebrations, try one of these delicious pancake recipes.
Nothin' But Sweet Pancake Ideas
Cinnamon Roll Pancakes: Cinnamon rolls are one of my favorite indulgences, and this recipe idea takes the best of my two favorite breakfast treats and takes them to a whole new level!
Cannoli Pancakes: Holy cannoli, what an idea! The sweet cannoli cream could only make these pancakes more indulgent.
Sweet Potato: Sweet potatoes are truly a marvel. They can be sweet, savory, baked in a casserole (with marshmallows, of course), boiled, mashed, fried, and now made into pancakes. You'll get some good nutrients, too, with that beta-carotene. These buttery-cinnamon babies will make you wonder why you never made these before.
Sweet Potato Pancakes
A hearty, yummy breakfast that everyone will love.
Ingredients
¾

pounds

sweet potatoes

1-1/2

cups

all-purpose flour

3 1/2

tsp

baking powder

1

tsp

salt

1/2

tsp

ground nutmeg

1/2

tsp

cinnamon

2

eggs

beaten

1-1/2

cups

milk

1/4

cup

butter

melted
Instructions
Sweet Potato Pancakes
Boil water in a medium saucepan. Add potatoes cook until tender, but firm. This should be about 15 minutes.

Drain, and immediately submerge in cold water to loosen the potato skins. Drain, remove skins, chop, and mash.

In a medium bowl, sift together flour, baking powder, salt, nutmeg, and cinnamon.

Mix mashed sweet potatoes, eggs, milk, and butter in another medium bowl.

Form a batter by blending the sweet potato mixture into the flour mixture.

Preheat a lightly greased pan over medium-high heat. Drop batter onto the prepared pan by heaping tablespoonfuls, and cook until golden brown. Turning once with a spatula when bubbles appear on the surface.
Nutrition
Calories:
214
kcal
Carbohydrates:
16
g
Protein:
10
g
Fat:
12
g
Saturated Fat:
6
g
Polyunsaturated Fat:
1
g
Monounsaturated Fat:
4
g
Trans Fat:
1
g
Cholesterol:
243
mg
Sodium:
643
mg
Potassium:
259
mg
Fiber:
2
g
Sugar:
3
g
Vitamin A:
6563
IU
Vitamin C:
1
mg
Calcium:
171
mg
Iron:
2
mg
Brownie Batter: The best part of making brownies? That last little bit of brownie batter scraped from the bowl. Anything "batter" flavored—I'm in, and these pancakes are no exception.
Nutella-stuffed Pancakes: When I moved to Germany in 2nd grade, I was introduced to Nutella (it's originally from Italy, but it was a staple in Europe before it boomed in the United States). My world was never the same. While I typically ate them on crêpes, the only thing that could possibly be better is a pancake stuffed with this chocolatey and nutty goodness.
Fruity Pancake Ideas
Pineapple Upside-down Pancakes: Can pancakes even be upside down? The jury's still out on that one. But the sweet and tropical flavors of this recipe will bring back all the memories of that classic fruity cake.
Blueberry Pancakes: This is a classic. The tangy blueberries (especially good if they're fresh) contrast with the sweet batter and make an irresistible breakfast or brunch entree.
Bananas Foster: These may not be served flaming, but the flavors are still on fire! Take the idea of "banana pancakes" (Thanks, Jack Johnson. Now that's going to be stuck in my head) to a whole new depth with flavors like brown butter, banana liqueur, brown sugar a little bit of rum.
Jelly-filled Donut Pancakes: While it may not be a beignet from Bourbon Street in New Orleans, these jelly donuts pancakes give a nod to the indulgent pastries typical of the Carnival celebrations.
Let the Good Times Roll!
Whether you spend Fat Tuesday feasting on yummy foods, or just spending time with your family, enjoy the end to the Mardi Gras season! Don't forget to share your favorite Fat Tuesday Pancake creations and recipes with the people you love on FamilyApp!