Millions of Americans will be taking a family road trip this summer. Here are some tips and activities to help you all enjoy the ride!
Family Road Trip Adventures
This time of year, we may find ourselves on longer road trips than we are typically used to! This year, because of the new COVID-19 related risks of traveling in airports, more and more people are taking summer road trips. According to a recent survey from the travel app GasBuddy.com, nearly a third of Americans still plan on taking a road trip this summer. So, whether you are traveling down Pacific Coast Highway or Route 66, you will need ways to keep yourself and the family entertained during the drive.
Here are some ideas for doing just that!
Take Advantage of the Scenery on a Family Road Trip
The entire road trip may not be the most picturesque, but when you are going through beautiful scenery it's important to enjoy the view. Not only that, but scenery scavenger hunts may be just the trick to keep the kids busy. These can be done regardless of how scenic the view is. For example, give each kid a list of things to look for and treat it as a scavenger hunt or bingo game. Here are ideas of things to search for on the route.
Green car
Convertible
Billboard with food on it
Car with a bike rack
Mountain
A lake or pond
Bridge
Cow
Dog
Road work
Cornfield
Exit sign
National Park (or a sign for one)
Listen to Audiobooks and Podcasts
These are both great (and sometimes more educational) alternatives to movies or video games. Plus, a visual break from screens or books can help prevent car sickness. The exciting thing about these is that the whole family can listen together and have a discussion about it afterward. Or, if there are several different age groups in the car, then everyone can listen to their own age-appropriate book or podcast. There are free audiobook options online and you can also take advantage of free trials for the purpose of your road trip!
Get Outside for Lunch on a Family Road Trip
Especially for longer trips, it's best to take advantage of lunch breaks. Instead of quickly going through the drive-through, take a little extra time to eat outside (assuming the weather permits!). Even if you don't have your own picnic ready and need to buy food at a restaurant, I still recommend finding a picnic table to eat at! This can really refresh the whole family and allow the kids to get some energy out.
What are Fun Crafts and Games for a Family Road Trip?
Here are some fun crafts and activities to keep everybody occupied on your family road trip.
1. ABC's Game
This one is a classic in my family. Anyone can play and it keeps the family busy for a while. The goal is to find every letter in the alphabet, in order, on signs or billboards. As you find each letter, you must say the letter and the word you saw it in. The same letter from the same word cannot be used more than once. Whoever gets to the end of the alphabet first wins. It sounds super simple… and it is! But it's also a classic game that the whole family will love competing in.
2. Coloring (or Sticker) Books
These are great for keeping younger kids entertained! They're really cheap at convenient stores and are a low-maintenance, low-mess art project.
3. Friendship Bracelets
"Friendship" or embroidery string bracelets are the perfect car craft for older kids. Because the bracelets take a while to create, this craft will use up a good amount of car time. You can find endless bracelet making tutorials online and this only requires string and some scissors!
4. Play 20 Questions
Games can't get much simpler than this! Just choose and object or person and have everyone in the car try to figure out what you're thinking of. As the name of the game goes, they can ask 20 questions until it's game over and you've won.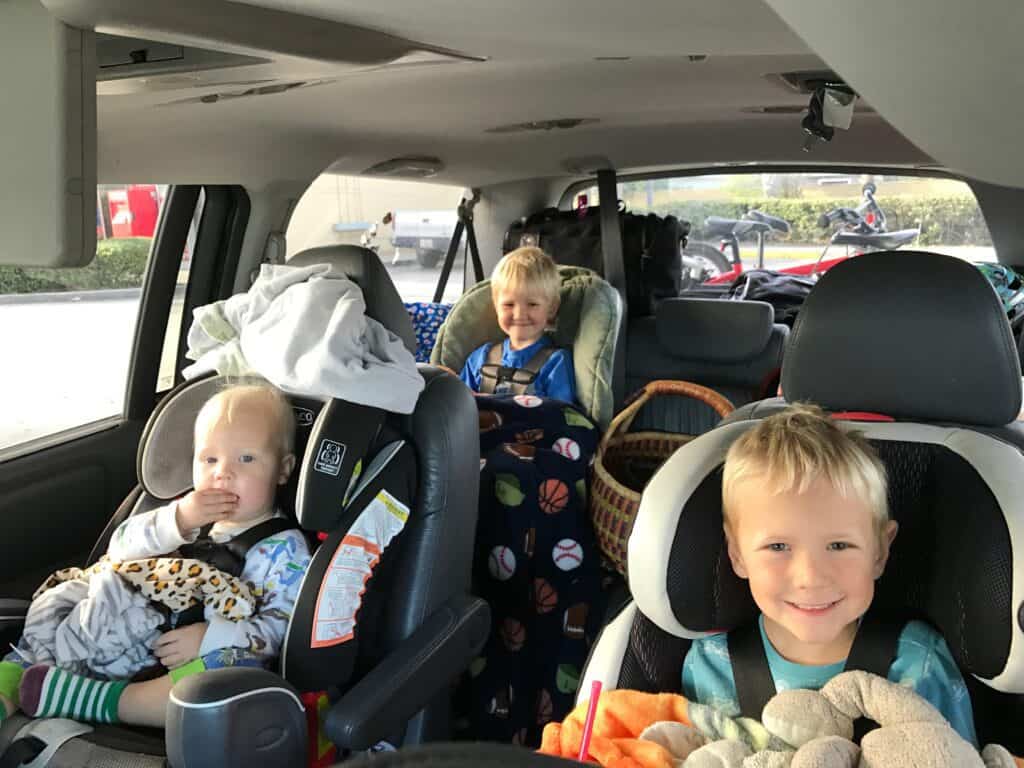 Your trip isn't just about your destination. The journey there can be just as important. So even if the route is miles long, we hope these easy, affordable, and fun ideas will keep you and your loved ones occupied for your family road trip!