Dressember Advocate Anna Shannon fights for justice in the midst of parenting small children. By taking on the Dressember challenge, she supports global humanitarian work as she goes about daily life.
*As an Amazon Associate, we earn from qualifying purchases.*
Meet Anna
I am a wife to JM, who I started dating back in 2006. High school sweethearts – woohoo! I'm a mom to two kiddos – almost 4-year-old Savannah and 2-year-old Michael. We live in Norfolk, VA, along with our dog Snoopy. I am mostly a stay-at-home mom, and I work part-time as an oncology dietitian. I love spending time with family and friends. Anything outdoors is my happy place.
I'm also an Enneagram 1 and have always been passionate about justice and advocacy. This year, after watching a ministry leader from Virginia Tech do it for 3 years (I'm inspired by you, Ruth Bethany!), I decided to participate in Dressember, "a community of advocates using fashion & creativity to fight human trafficking."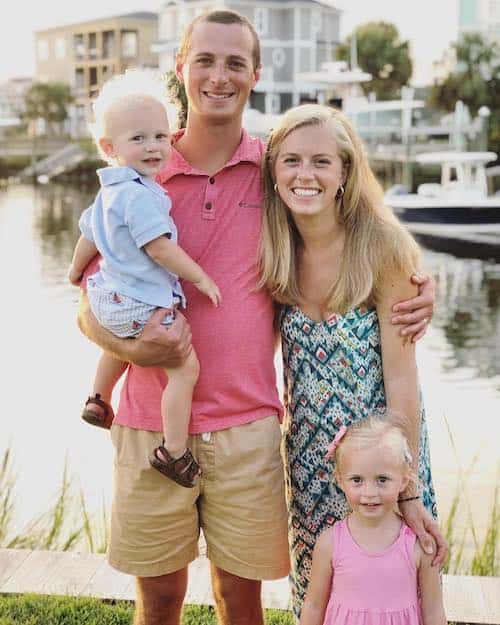 Dressember Advocate
While they raise money to help end human trafficking throughout the year, every December, Dressember does their biggest fundraising challenge. Advocates commit to wearing dresses every day throughout the month. They post pictures of themselves in dresses while sharing information about human trafficking on their social media platforms to raise money and awareness. The money raised goes to 12 different organizations tackling the issue of human trafficking in different ways.
As a stay-at-home mom and someone who feels passionately about advocating against injustice, it can feel daunting to think about making an impact when I spend my time wiping faces and baby bums, making PB&Js, and doing dishes and laundry. I love how Dressember allows advocates to participate in an advocacy challenge that you can do wherever you are with whatever sphere of influence you have.
Hope in Advocacy
Their approach, according to their founder Blythe Hill, is to equip people with both reliable data on the heartbreaking realities of human trafficking AND a fun, tangible way to engage. Blythe talks about how the fun, fashion side is an engaging entryway and helps to keep advocates from drowning in the difficult reality of this issue.
Dressember also believes that there is HOPE in the fight against trafficking, and the impact they are making is worth celebrating in a dress! They have raised OVER $13 million in the fight against trafficking since it was founded in 2013. As a mom of two littles, I am learning to find tangible ways to advocate for issues that weigh heavy on my heart, even while doing "mom life." I'm thankful that Dressember gives me an opportunity to do this!
Dressember Advocate Family
What's your favorite way to spend time with your family? Going for walks, playing outside, going to the beach! Anything outside and in the sunshine.
What's been your best family vacation? My grandparents have a house in Holden Beach, NC, that I have been going to since I was a baby. I love taking my kids back there in the summer. It feels so special to watch them experience a place that has been so special to me for my entire life.
What's your favorite family game? With a 4-year-old and a 2-year-old, the extent of the games we play is a good game of "tag." We are working on "hide and seek," but Savannah (4) loves to say, "Mommy, you can't find me! I'm behind the couch!" Ha-ha!
What song gets everyone in the family dancing? We LOVE some Raffi in our house!
What's your go-to family dinner? A family recipe called "Christie's pasta." It's famous amongst my friends and always a family/crowd favorite.
What's your favorite family restaurant? Chipotle. Tough to beat
Dressember Advocate Parenting
Best parenting advice: Give yourself so much grace. Try to embrace each season. The "seasons" change so quickly. With my second child, I really tried to soak up each season, even the hard ones, and keep my expectations low.
Instead of trying to do "all the things," I embrace the fact that with two under two, most productivity will look like simply surviving the day. This perspective really helps me enjoy the season of having a baby and a toddler so much more!
What are some of the best things your kids have taught you? Extend grace, be quick to forgive, find joy in the little things, snacks are important, and don't take yourself too seriously. These are just a few things they have taught me. They teach me so much every day!
Parenting true confession: Ummm. So many confessions. I mess up a lot. I'm so thankful that children are the best grace givers. They teach me about extending grace and being quick to forgive.
What 5 things are you most likely to have in your purse at all times? Hand sanitizer and a mask (thank you 2020), diapers, WIPES, snacks, snacks, and more snacks.
What's your favorite part about being a parent? Experiencing the world through my children's eyes. It is hard to beat the joy and delight they find in all the little things. I'm so thankful for how they remind me to do the same.
Favorite parenting hack: TV. Just being honest!
Dressember Advocate Lifestyle
What's your favorite show to binge-watch? The Office, always.
If you could pick anyone to star as you in a movie based on your life, who would it be? Reese Witherspoon. I've always loved her.
What's your favorite beach read?Where the Crawdads Sing
If you could spend a day with anyone from history, living or deceased, who would it be? I'm currently reading a book called Jesus and the Disinherited by Howard Thurman – highly recommend! His writing is incredible and very thought-provoking, and convicting. I would love to have the opportunity to listen to him in person.
What's at the top of your travel bucket list? I've never been to Europe and would love to go!
Do you have any guilty pleasures? Chocolate… I have a major sweet tooth 🙂
What's your favorite form of self-care? An afternoon cup of coffee. Gets me through the 5-7 pm grind. Fellow moms, you know what I'm talking about!
What's your favorite way to unwind at the end of a long day? With a cozy blanket on the couch reading or watching a show OR sitting outside with some wine.
Your Advocate Life
Anna reminds us that we can shape our most ordinary lives around service and justice. You can follow her @annashannon and @Dressember on Instagram and learn what you can begin to do today to end human trafficking.
For more interesting and passionate Moms, check out our Mom on the Street Channel.